Playback Menu
John Greengo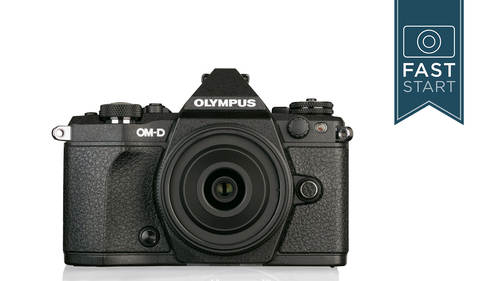 Playback Menu
John Greengo
Lesson Info
20. Playback Menu
Lesson Info
Playback Menu
next up is the playback menu. This is going to be fairly quick and easy menu. Here we have a slide show mode. If you want to hook the camera up to your HD TV and you want to do a slide show there or you just want to do it on the back of the camera, that's perfectly fine. You get to choose background music. Do do you think we should place a background music because they have. They have some really cheesy music in here that we're not We're not going to do. But if you want some cheesy music, they got some cheesy slideshow music in here. Then you can choose the interval and some other variables about how your slideshow looks moving down to rotate and so rotate deals with how you look at images when they're played back, and so normally, rotate is turned on so that if you take a vertical image and your viewing the camera horizontally, it rotates the vertical image, which is a very nice gesture. But I don't like it because I would rather just turn the camera and see the image much larger. And...
so I leave this off on my camera, so that's my recommendation on this now. No matter which one of these you choose, the camera will still rotate images in your computer when you download it, because it knows whether you shooting vertically or horizontally. There's a little sensor in there that detects that, and so I prefer off here because I want to see my pictures in the greatest detail possible. You can edit your images. This is photo shop in the camera, and there's all sorts of things you can do. So for any images, no matter what you have, you can add audio annotations to something. So, for instance, if you're traveling and you take a picture of somebody who said, I'll send you, send you my photo. You could go into edit and you could turn on the microphone and say, What's your email address? And they could just say their email, and it would be a part of that Pictures file that which is kind of a neat thing to do for your raw images. You can create a J peg if you're traveling and you were at an Internet cafe and you needed to downloaded JPEG image, but you were shooting raw exclusively, you could go back to a previous raw and create a J pig image for it. You can also do composites, which is, of course, our multiple exposures. When you shoot J pegs, you can go in and you can do all sorts of adjustments to them. And, as I say, photo shop in the camera, you can crop changed into black and white. Change the saturation, do all sorts of things, and this is mainly intended for people that don't have computers. I would much more recommend taking your images downloading. I'm looking at him on a computer and working with a nice program like Light Room or Photoshopped, if you want, took your camera up to a printer, something I've never done you could and print directly from your camera saves the whole process of the computer and so forth. You're going to get better quality pictures when you can go in and control them and have a little bit more control of that printer in your computer. But it can do it straight out of the camera. Reset. Protect. So one of the things that I had talked about earlier when you were playing back images is that you can lock images which prevent them from getting deleted. If you have put that lock on a bunch of images and you said, you know what, I just want to turn them all off. I want to reset the protection on all the images. You could go here, and it basically just cancels the protection from all the photos that you've added that little lock or protection on to those other feet of photos connection to the smartphone. And this is where you could hook the camera up for downloading or reviewing images on your smartphone. I'm not gonna do an actual demo right here right now, but the kind of concept behind this is that you need to goto Olympus and you need to download the appropriate app for your phone. And so you can do that through the APP store or the Google Play Store, where it is that you get these filters or filters, but programs for your phone download that to your camera once it is in your phone. Excuse me. Once you don't let that to your phone, you will be able to use your phone as a visual remote control, so you build the see what the camera is pointed at. You'll be able to import photos to your phone, which means you'll be able to forward them, email them, post them on the Internet and so forth. You could do a little bit of editing. It's fairly limited. There. You can add geo tag information that comes from your phone, and you can synchronize the time and date if you don't have the time and date set right in your camera. And so for all of this, the process for this whole thing is you need to go to connection and smartphone, which is right where we are in the menu. You then need to go over to your phone. You need to go to your WiFi settings and choose the Olympus camera that is currently turned on and sending out a WiFi signal. And then you need to open the Olympus share application, and then you're going to see a bunch of options that are going to give you the options of remote control or playing back images or editing your images and play around in there. We're not going to do a full class. We could probably do a couple hours just on that app if we wanted to shooting with that app. But it's pretty simple. There's not that much to it. And so I think most of you will be able to navigate your way around that and then to get out of this, you can just press the menu button on the camera, because when you do have the camera connected to the smartphone, it's kind of locked up for normal shooting. You don't just pick the camera and start shooting because it's designed specifically as that remote for the smartphone. Now there are gonna be additional settings in the WiFi setting sections in the set up menu for controlling how this system is all set up. This is just the most basic connection that you would use on a regular basis for connecting your phone kind of for some of those based level settings. You could go into that WiFi settings to make the adjustments, and we will cover that later in the class because we still have yet to get to the set up men. You
Ratings and Reviews
I had previously purchased the Fast Start for the earlier OM-D E-M5 model and found it invaluable. I was lucky to catch this E-M5 Mark II Fast Start when it was live and had my camera set up beautifully - until I updated the firmware recently and discovered how uncooperative the camera can be in the absence of the combination of settings recommended by John. So I bought the course, which enabled me to restore the camera to the optimal settings and gave me may "Aha" and light-bulb moments about things I'd forgotten or not understood the first time around. I am glad I now have this course so I can revisit it as needed. NOTE: There IS an option to save settings to the PC before updating firmware. I will be doing that in future!
Excellent course. John's ability to patiently and throughly cover all elements of this detailed camera is impressive. He converts the stress level of learning a new camera to a fun level.
I watched most of the live broadcast and just finished going through all of the modules with my camera. I learned so much!! My camera is customized to my preferences and I am now very comfortable shooting in M mode. My picture quality has already improved. John is an excellent instructor.
Student Work