Custom Menu G: Quality/Color/White Balance
John Greengo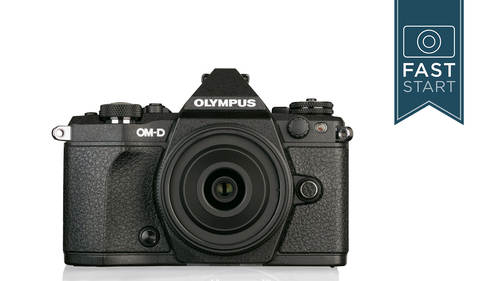 Custom Menu G: Quality/Color/White Balance
John Greengo
Lesson Info
27. Custom Menu G: Quality/Color/White Balance
Lesson Info
Custom Menu G: Quality/Color/White Balance
next section is G, which deals with quality color and white balance. So we talked about the image quality settings things like raw and J pay, and you can go in and you can adjust exactly the size of J pegs that you are recording along with your rahs. And, for instance, you can choose large, medium, small, fine and normal compression settings in here. And so if you have very specific J. Peg needs, I know some people they will shoot raw for themselves, but for whatever business corporation or group they're working with requires specifics on the size of J pegs for whatever it is that they're doing. You can go in here and really go in and customize those exact J peg so that the camera is recording exactly what you need without any computer manipulation. Later on, pixel count will allow you to go in and choose the exact pixel dimensions of these J pegs that you are recording. And so you have a small and medium size that you can go in and customized to your heart's content shading compositio...
n. And so this is one of a number of different modes in many cameras today, that likes to go into your images and say, That's nice, but I think it would look better if we change this. And you always have to be a little bit careful when you're having your camera change your image that you've already taken. So what this one is doing is that all lenses exhibit a little bit of vignette ing or darkening of the corners. This one, it's a little exaggerated so that you can clearly see what's going on. The camera would like to go in and compensate for those dark corners and lighten the corners up, and in many cases this might be a nice thing to have. It won't do this on raw images, but there are other types of images where you may like a little bit of in getting. In fact, I add vignette in tow a lot of photos just cause I think it helps center the interest in the middle of the frame. And so this is something that I think many photographers who are pretty serious are gonna want to leave, turned off. They just want to shoot their lenses the way they are, And there might be some basic photographers out there who just don't want to deal with that sort of thing and they can leave. That turned on. So that's a bit of personal preference on your part. Next up, we have our white balance settings. There's plenty of other places to set it. We've already talked about it so we can move on. Next up is an adjustment for our white balance settings. One of the things that we can do is we can go in and we can change the way our white balance looks. For instance, if we feel like all of our white balances just seem a little too yellow, we can go in and correct it, either individually or on all of them at the same time, something I would not touch with a 10 foot pole again. So if you are shooting under tungsten lights like in a lot of people's homes, you get this very orange look. So what you do is you switch your camera all the way to tungsten light, and now everything is perfectly clean and white. But to your eyes, you still see to stunk tungsten light, and it has kind of a warm feeling to it. and now you've cleaned it up so perfectly in your camera. It's lost a little bit of that warm feeling to it. So this is a way for keeping a little bit of that warm light in your shots, and I think it actually looks kind of nice. I think I think we have been over cleaning up our white balance, trying to get it to perfect on. So this is an option. Try it, see if you like it. I think it's kind of a nice thing to have. One of the tricky situations is when you add a flash onto this camera and you are playing with white balance and you are shooting in, say, your living room with tungsten lights. Should you have white balance set at flash because you have a flash on their Or should it be a tungsten because you're in a room filled with tungsten light, and this is where you can kind of let the camera work things out, and so you would want to turn this off. If you are filtering the flash and you're wanting to tell the camera, forget that I have a flash on here because I'm going to match up with what? The ambient light ISS. For the most part, you're gonna want to leave this on white balance auto and just kind of let the camera do its thing. It usually does a pretty good thing, or you could have it. White balance flash. So as soon as you have a flash on it, it knows you have flash on it and adjust the white balance to that flash system. So it depends on how you want the camera to ignore or accept the fact that you have a flash on your camera. And once again, I'm going back to the point. I don't think I see this this camera being used by a lot of people who uses a lot of heavy flash. And so it's not a major issue now why This mode is not in the flash settings, I don't know, but it's here because it deals with white balance, I guess. All right. Dealing with color, your camera comes set to the S RGB color spectrum, which is standard for the world of J peg images. Raw images live in adobe rgb, which is a larger gamut of colors, and if you have any higher aspirations for your photos. You want to print them potentially print them large, gather as much color data as possible. You can set your cameras to Adobe RGB and get J peg images in this larger color space, and I think more colors is better than less colors in most all cases. And so I think that would be the safe change to make on your camera.
Ratings and Reviews
I had previously purchased the Fast Start for the earlier OM-D E-M5 model and found it invaluable. I was lucky to catch this E-M5 Mark II Fast Start when it was live and had my camera set up beautifully - until I updated the firmware recently and discovered how uncooperative the camera can be in the absence of the combination of settings recommended by John. So I bought the course, which enabled me to restore the camera to the optimal settings and gave me may "Aha" and light-bulb moments about things I'd forgotten or not understood the first time around. I am glad I now have this course so I can revisit it as needed. NOTE: There IS an option to save settings to the PC before updating firmware. I will be doing that in future!
Excellent course. John's ability to patiently and throughly cover all elements of this detailed camera is impressive. He converts the stress level of learning a new camera to a fun level.
I watched most of the live broadcast and just finished going through all of the modules with my camera. I learned so much!! My camera is customized to my preferences and I am now very comfortable shooting in M mode. My picture quality has already improved. John is an excellent instructor.
Student Work