Super Control Panel: Flash Options and Image Stabilizer
John Greengo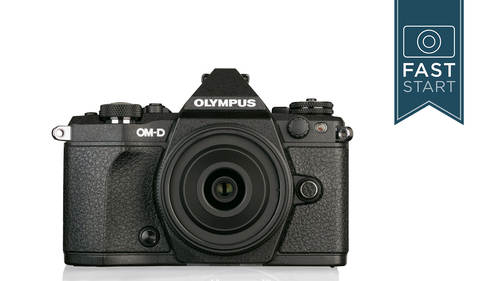 Super Control Panel: Flash Options and Image Stabilizer
John Greengo
Lesson Info
13. Super Control Panel: Flash Options and Image Stabilizer
Lesson Info
Super Control Panel: Flash Options and Image Stabilizer
next up on the camera is something called the Super Control panel, and this is activated by pressing the okay button on the camera. And it goes into this control panel that has a lot of the most important functions that you probably don't want to die all the way into the camera on. And it's a few of the controls that we have already seen but just gives us another interface in which to see it. So first, off the top and bottom of this little graphic is general information. You can't really select it or change it. It's just what is set somewhere else in the camera. So the different boxes in here are the ones that you get to go in and control. And sometimes it's easier to do this with the displays on the back of the camera where the otherwise there's just options we're going to see, like I s so we have the lever on the top of the camera. We have it in the super control panel. We will see it again in the menu system, so sometimes certain controls air in three different places, and so here w...
e have the same options that we had talked about before so we could move quickly onto the next thing. Next box over is the white balance setting, which we talked about before. That's the lever on the back of the camera when you put it into the number two position, same options as we had before. We have a group of him over here and these air ones that you are likely not to use ever. In my opinion, my suggestion is generally leaving these at zero, unless there is a really good reason that you want to adjust the color that you were recording the sharpness and contracts that will Onley be impacted on images that are taken with JPEG formats. But if you do need to adjust it, I could see some people who want to tweak the J pegs a little bit might adjust sharpness or contrast. But for the most part, I think most people are gonna leave those at zero. The slightly more important one is the picture mode. If, uh, for those of you who are old enough to remember the days of film we had, we had these companies called like Kodak, Fuji and Konica, and they made different types of film, and they had slightly different looks to it. It's like, Oh, was that was that Fujifilm used or was that Kodak film? Because there was a different look to it. Well, now we can do that digitally in the cameras with these different picture modes, and you can go into these picture modes, and you can select whether you want it a little more vivid or little bit more muted in colors. It's mostly controlling the types of colors and the contrast and the sharpness. Now you can also go in and do those little funky modes that we talked about earlier in those earlier in the day. The art Moz. And so that is also where you might see that information in here. Normally, I like to leave this in a pretty neutral mode because I'm gonna want to play with things later on in the computer when I have a much better screen to look at and when I have much more manual control of the way that image is gonna look in its final four. All right, let's move around a little bit over the left hand side. The flash mode now Once again, the camera does not have a built in flash, but if you do have a flash added on to it, you can go in and control a number of the flash modes. Fill in flash basically means the flash is going to turn on and fill in the shadows. We have a red eye reduction option so that you don't get red eye and photos. Flash off would be pretty easy. Just take the flash off the camera. But if you didn't want it to fire, you could electronically turn it off. There is also a special mode for second curtain synchronization. I'll show you a photo where that eyes kind of nice for action photography, and then you can also go in and have full manual controls. So for just a little side topic for a moment on flash but avoiding red I, as I say, we have the red eye reduction mode in there. Phil flashes firing the flash when it normally when it need the flash, but you do want to add the flash in there. Slow sake will allow you to use slow shutter speeds so that you can get a bit of motion blur, along with the flash freezing the action. That second curtain synchronization that I talked about allows you to have the flash fire at the end of the shutter speed rather than at the beginning, which can be very nice with subjects that are moving, for instance, like a cyclist moving down a path. There is also the option, and we don't have time to get into it into this class to doing some off camera work. There's a whole remote control section where you can use this camera and multiple flashes together, and that right there is a 500 class. All right, so we we don't have time to do everything in there, but it can do it in here Now. Something to be aware of is that 1 to 50th of a second is the top shutter speed. So if you have a flash attached and you're manually shape changing cheddar speeds, the camera will top out at 1 2/50 of a second. If you are hooking this up to studio strobes, it's recommended that you said it to 125th of a second, although I've done test with my studio strobes and it does work in 2/50 so you'll have to see how well they work with your lights that you hook them up to. So the reason for using flash is filling in those shadows, and so getting a little highlight in the eyes filling in a little bit of that light under the nose and in the eye sockets is a great way to help improve your people. PHOTOGRAPHY. If you have a subject that's fairly close up to you, especially if they're in bright sunlight, they're gonna have really nasty shadows cutting across their face and the fill light If it's close enough to the camera, if your subject is close enough to the camera, is going to be able to fill that ad and really enable you to see your subject much more clearly. One of the things that you can do with this camera is that you can power down the flash. Ah, lot of times a flash at natural power. Well, that's the standard look at the Department of Motor Vehicles is full on flash, and a lot of times we like to tone the flash down. I think of flash a little bit like the way I do. If seasoning of my food. I like food that has a little bit of flavor, but I don't want it overpowering. And so you want just a little bit. Fill flash in there and depending on the situation to set up the background, foreground the lighting. You might want to set your camera at minus one, which is minus one stop of exposure or minus two stops of flash exposure. And so it's powering the flash down by one or two stops or increments that you have a choice in there as well. And so, under a bright light condition, you can see in this case that T TL minus two is giving us probably the best skin tones. The normal onboard flash is overpowering the situation, overpowering the photograph on the left because she has a dark top on and there's a dark background and the flash doesn't understand. Skin tones are more important than background information, and so if you want to get in and manually control things, play around with E T. T l flash exposure compensation, and you do that right here in the super control panel on the bottom, and that's that lightning bolt with the plus and minus, and it's a default. If you're going to use flash a lot, I would leave it at minus one. Has a good starting point play around, see what sort of seasoning you like, And it might be a plus, 0.0.7 or plus 1.3 or whatever it is that you like. But if you do a lot of flash, you definitely want to play around to see what works for you right below That is our image stabilizer. This camera has a built in stabilization system that, frankly, in my own review is awesome works really well and there's a number of different options on controlling it. If you know that you're going to be doing panning. They have two special modes s I s Mode two and S. I s Mode three if you are doing horizontal or vertical Pani, There's also one for auto detection, pani. But most of the time I just leave it in S I s one, which is normal. Handheld movement works very well in Still pictures works very well when shooting videos. And as I say, it has a very good system. So you'll be able to shoot pictures under much, much lower light levels with this camera, so long as your subjects not moving. Remember, image stabilization on Li controls camera movement. And it does it by moving the sensor in this case. So we don't need lenses that have image stabilization, which is really nice so that we can take our choice between Olympus and Panasonic lenses. And we get stabilization with everything right in camera. Very nice to have. I do recommend turning it off. I will have to say, if you are using a tripod. All right, we have our focusing system. We talked about this just a moment ago, but this is yet another way that we can go in and do this on the super control panel.
Ratings and Reviews
I had previously purchased the Fast Start for the earlier OM-D E-M5 model and found it invaluable. I was lucky to catch this E-M5 Mark II Fast Start when it was live and had my camera set up beautifully - until I updated the firmware recently and discovered how uncooperative the camera can be in the absence of the combination of settings recommended by John. So I bought the course, which enabled me to restore the camera to the optimal settings and gave me may "Aha" and light-bulb moments about things I'd forgotten or not understood the first time around. I am glad I now have this course so I can revisit it as needed. NOTE: There IS an option to save settings to the PC before updating firmware. I will be doing that in future!
Excellent course. John's ability to patiently and throughly cover all elements of this detailed camera is impressive. He converts the stress level of learning a new camera to a fun level.
I watched most of the live broadcast and just finished going through all of the modules with my camera. I learned so much!! My camera is customized to my preferences and I am now very comfortable shooting in M mode. My picture quality has already improved. John is an excellent instructor.
Student Work