Olympus® OM-D® E-M5 Mark II Fast Start
Lesson 13/33 - Super Control Panel: Flash Options and Image Stabilizer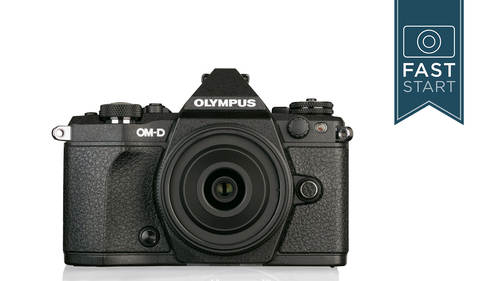 Olympus® OM-D® E-M5 Mark II Fast Start
Lesson Info
Super Control Panel: Flash Options and Image Stabilizer
Class Description
Ready to make the most of your Olympus® OM-D® E-M5 Mark II? Join expert photographer, John Greengo for a fast-track introduction to taking full advantage of your camera's features in 
Olympus® OM-D® E-M5 Mark II Fast Start
.
John will teach you how to navigate and set up your camera's menus and guide you through its buttons, dials, and features. You'll learn how to take full advantage of your camera's super-fast live view focusing. You'll also learn how to optimize your camera for sports and other high-motion photography. John will teach you about your camera's high-resolution sensors and settings and help you get them attuned to your shooting style so you get the picture you want, every time.
This course will have you using your Olympus® OM-D® E-M5 Mark II like a pro in no time – no complicated manuals required.
Lessons
1

Course Introduction
2

Olympus® History and Product Overview
3

Photography Basics
4

Basic Controls and Touch Screen Demo
5

Mode Dial: Auto, Art, Scene
6

Mode Dial: Movie Mode
7

Mode Dial: Program, Aperture Priority, Manual
8

Top Deck: Function Buttons, Microphones, Flash
9

Electronic View Finder
10

ISO and White Balance
11

Auto Exposure Lock, Info and Playback Buttons
12

Focusing Options
13

Super Control Panel: Flash Options and Image Stabilizer
14

Super Control Panel: Sequential Shooting and Quality
15

Super Control Panel: Auto Focus, Metering, and Aspect Ratio
16

Left, Right, Front and Bottom Sides
17

Lens Options
18

Shooting Menu 1
19

Shooting Menu 2
20

Playback Menu
21

Custom Menu A: Autofocus/Manual Focus
22

Custom Menu B: Button/Dial/Lever
23

Custom Menu C: Release/Drive Mode
24

Custom Menu D: Display Items
25

Custom Menu E: Exposure/Metering/ISO
26

Custom Menu F: Flash Sync
27

Custom Menu G: Quality/Color/White Balance
28

Custom Menu H: Record/Erase
29

Custom Menu I: Movie Mode
30

Custom Menu J: Built-In EVF
31

Custom Menu K: General Utility
32

Setup Menu
33

Camera Operation
Reviews
I had previously purchased the Fast Start for the earlier OM-D E-M5 model and found it invaluable. I was lucky to catch this E-M5 Mark II Fast Start when it was live and had my camera set up beautifully - until I updated the firmware recently and discovered how uncooperative the camera can be in the absence of the combination of settings recommended by John. So I bought the course, which enabled me to restore the camera to the optimal settings and gave me may "Aha" and light-bulb moments about things I'd forgotten or not understood the first time around. I am glad I now have this course so I can revisit it as needed. NOTE: There IS an option to save settings to the PC before updating firmware. I will be doing that in future!