Mode Dial: Auto, Art, Scene
John Greengo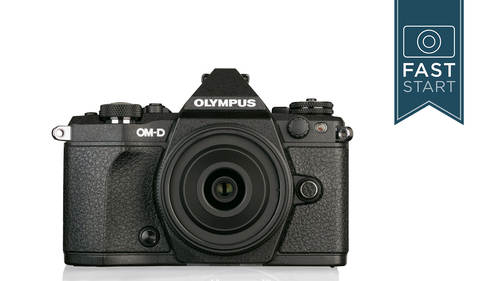 Mode Dial: Auto, Art, Scene
John Greengo
Lesson Info
5. Mode Dial: Auto, Art, Scene
Lesson Info
Mode Dial: Auto, Art, Scene
next up is the mode dial on the top left of the camera. So this is the dial for controlling shutter speeds, apertures and many other things on the camera. So let's go in and talk about what the mode I'll dio. So we'll start with the simplest of the modes, which is the I auto mode. And this is where the camera's gonna figure out shutter speeds, apertures and a whole bunch of other things for you. So using the arrow pat on the back of the camera, then the okay button if you press that you're going to get a live guide where you can go in and you can start changing some things about the camera Now, you're not quite going into full manual control here, but you are kind of tweaking with the automatic controls on this. Now you'll be able to go in, and you can do this on the touch screen as well. And let me, uh, let you just show you on the keynote here, you press a little side panel off to the side and you can open up and you could do a variety of different things and let me see if I can do a...
little live demo here for you. If you see over on the right hand side, there's like a little tab that you need to pull out. Cameras go to sleep there. And so if we hit that little arrow on the side, we open up that little side panel. Come on, there we go, and then we can go in and we can start playing with some of these different controls in here. And I don't really play with these at all cause there's no real true manual control. There's a few things that you can kind of play around with, and they're kind of goofy, fun things. Little tips for shooting photos in here. You want to know how to shoot photos with flowers. It will give you a few little quick tips in here, and I don't know if you're waiting for the boss of the airplane and you want to goof around with your camera. There's some things you can goof around here, but it just doesn't give you full manual control. And so that's one of the reasons that I don't spend a lot of time in these modes myself. Now one of the things that you can do when you are in the eye auto mode is you can adjust the focusing area by using the four way tab on the back of the camera, and I guess we better go back to a live demo on this one, too. And so if you press off to the side, you'll see pointed upon the camera a little bit better, we can go around. And if you go all the way over to the sides, it goes to all of the focusing points. And if you press any direction, it will go to a single focusing point, and you can choose anyone you want. And if you want all of them back, just go all the way to the edge and it selects all of them. So you need to go all the way to the edge, were in back to go back and forth between all or choosing an individual single point. And there are many other ways to adjust the focusing points. But that will be in the more manual sections Here in the eye auto section. Things are very simplistic for people who just don't want to have too many controls to have to work over. So let's go to the next mode, and this is a special mode. It's the art mode. It's a fully automatic mode where it's going to shutter speeds and apertures, and it's gonna add an effect for all of you with your phones. And you have your instagram filters that do all sorts of crazy things. These are the instagram filters in the camera, you might say, and so let's take a look at some of the examples. So this is what a natural or normal photo would look like. And then we have ones like pop art, which adds a lot of color, or ones that play around with the focusing on it or reduces the amount of color or lightens it in an unusual way could take it into a black and white. Make it a very grainy photo. I would be I would be a little careful about using this mode on important images. It's gonna be fun to play around with for certain things, but there's certain things that you don't want your images taken out like this because it's very hard to get them back. Looking normal in many cases, and in most cases it's impossible to make him look normal again once you've shot them in this way. But there's Ah lot of different options for playing around for these built in filters. So, John, just a quick question on on that, because I could see that some people would enjoy playing around with these features. If you are shooting in raw, can you access thes features? Or like is there a way to have two different copies that you're shooting, one that has that has all the regular information? And one has these dramatic tones? Or is it just saving a J peg in those tones? Well, can. I do not know the answer to that question, but I'm going to see if I can figure it out right now and so I can shoot. Let me make an adjustment in here. And so you know, people always wanted What's he doing? And so I'll let you see what I'm doing, and I'm looking at the menu system real quick, and I'm going to change the camera to shoot Well, it's shooting Rahm plus J pig, and so I was going to see if I could shoot raw only. And what would happen? And so in this case, it doesn't allow me to shoot raw. Only it's it's great out. And so if I shoot the raw, I'm going to get a raw. But it's the J. Peg is the one that's going to be messed up. If you'll forgive my terminology here, the J Peg will be. And so if I take this and let's let's put it into one of these mouths, do we have a favorite one? Let's go with grainy film cause that's clearly going to be black and white and look very different. And so let me zoom in on one of these lenses and focus, take a picture. So that's obviously a black and white image. Now what I see back when I play back this image in the camera, so I'm playing back in The image is a black and white image, and that's going to be seeing the J peg. But this did get recorded, and I'm trying to read it here, and I just want to make sure Sorry, folks, I gotta put my glasses on and it does say raw plus J. Peg. So yes, you can get a J Peg tweaked version and the raw original version at the same time. So even I learned something about it. I hadn't thought about using it. Well, frankly, in this mode, it all a little loan shooting droplets J pick. So that does work. All right, so a few more colors that we got in here partial color, which let's just a little bit of a light through. And so it's It's a way to play around, and I don't know of anyone who takes a lot of photos like this, but you know, it's fun. Play around. All right, so that is the art mode. And there are lots of other ones now, one of the kind of cool once, if you know anyone who's indecisive, everybody like they go out to buy a pair of shoes that they just don't know which one to buy. They want to get all of them. Well, how would you like to have all of them at one shot? And so there is an art bracket mode where it will shoot one photo with every single filter on it, so you'll end up with, like 14 photos with each different setting done to it automatically. It takes a little while the process in camera, so it's gonna be a little bit slower shooting. So don't shoot sports like that. But you can very quickly do a bracket. Siri's with all the different art filters at the exact same time, and that is the art bracket mode. All right, Next Mountain. Let's turn the dial on the scene mode, All right, so the scene mode is a group of modes set up by Olympus that have kind of a tweak the camera to a certain type of mode and let me show you on the back of the camera what this looks like. And so they will show you a little graphics about portrait mode. Now, come on, stay on there. And so landscape mode in all these different types of modes that will give me a little photograph. And then, if you notice there's a little arrow down here to the right for more information, you can find out a little bit more information about what they're trying to do in this particular mode. And so if you did not watch the rest of this tutorial, this class this is be a good way for taking quick pictures that we're pretty good with pretty much the right settings in these different scenarios. However, once you said okay, well, I want to do this thing, but I want to make a small adjustment. You're not gonna be able to do it because the camera is still in very much a complete auto mode. And so there's a number of good ones to play around with here. They're good for kind of a simple start. But the problem is, is that they will limit you in the amount of manual control over everything else that you can have. And so you would just go up and down, find the when you want to select hit, okay, and it's gonna be select into that particular type of mode and it will show you down in the bottom left corner, which mode it's in. And once again, you're just pressing the okay button to go in and turn this on and off. And so that's what the mode I'll is doing allows you to get into all those other special, different modes. And we did talk about going to the right for more information. Always be aware of looking at the little controls in the camera if there's gonna be additional information by pressing the button in one direction or the other. Now there are a couple, actually a few lenses that are what are called add on lenses. They are lenses that you add onto the front of a few Olympus lenses. They have a fisheye converter, a white converter in a macro converter, and I think these air working like with their 14 to something zoom 14 to 40 to zoom. They don't work on most of the lenses, and so you have to be very sure that they're the right ones. But once you put those on, then you can put the camera in the fisheye converter mode in order for the camera to operate properly. So you if you use one, the lands you need to use the right scene mode for it. The scene mode doesn't do much if you don't have the lens on it. There is also a three d lens made by Panasonic, and because this lens shares the same lens mount as the Panasonic micro 4/3 lenses, you can use this three D Lens on here. There are very few people who use that because you need a three d platform in which to use those images in any sort of way. So be aware of that. All right, next up is the photo story mode. Now I went to school for photojournalism, and I like to tell photo stories on this photo story mode is a very special effect mode. If you're into creating your own albums, this is a way to create kind of an album within the photo. And so there's some interesting things that you can dio, and there's a number of options in here. We're not gonna go through all these options. One option is that you can take a slice from five different photos and make one photo of it. So this case I can. It made a It's kind of a pseudo panorama stitch image. Or in this image, or these two images you can take to images and combine them on top of each other to create one image that's kind of got a final packaged in a photo album type. Look to it and there's a variety of these options, as I say, We're not going to go through all the different options in composites in ways that you can put multiple pictures together. But once again, that's it might be a fun, little way to play around with camera. I would hesitate doing that on anything where you want really high image quality, you know, with your raw images and so forth.
Ratings and Reviews
I had previously purchased the Fast Start for the earlier OM-D E-M5 model and found it invaluable. I was lucky to catch this E-M5 Mark II Fast Start when it was live and had my camera set up beautifully - until I updated the firmware recently and discovered how uncooperative the camera can be in the absence of the combination of settings recommended by John. So I bought the course, which enabled me to restore the camera to the optimal settings and gave me may "Aha" and light-bulb moments about things I'd forgotten or not understood the first time around. I am glad I now have this course so I can revisit it as needed. NOTE: There IS an option to save settings to the PC before updating firmware. I will be doing that in future!
Excellent course. John's ability to patiently and throughly cover all elements of this detailed camera is impressive. He converts the stress level of learning a new camera to a fun level.
I watched most of the live broadcast and just finished going through all of the modules with my camera. I learned so much!! My camera is customized to my preferences and I am now very comfortable shooting in M mode. My picture quality has already improved. John is an excellent instructor.
Student Work