Photography Basics
John Greengo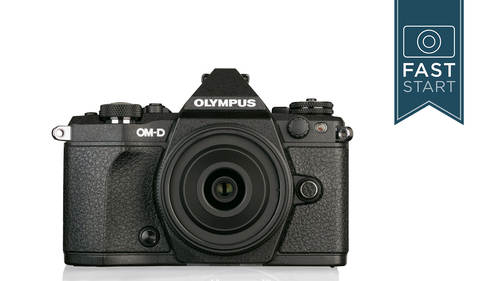 Photography Basics
John Greengo
Lesson Info
3. Photography Basics
Lesson Info
Photography Basics
all right, so let's talk a little bit about some of the basics on this camera. So this is a muralist camera. We have taken the mere out as we have talked about before, so let's just talk a little bit more about the design of this Cameron. Some of the implications of using. So we have lots of high energy, high quality, interchangeable lenses that we could, of course, put on this. In the lenses are the aperture unit, and that is for controlling the amount of light coming through the lens. And so it's one way of three different ways that we can control how much light is coming in. So besides controlling the amount of light, it also controls the depth of field that you're going to get. So as you can see in this example, as we're stopping our lens down to smaller and smaller apertures, the numbers actually get bigger because they're fractions and our depth of field over on the right hand side, you can see is increasing. And so we can either shoot pictures that have lots of depth of field or...
shallow depth of field. Depending on a number of variables. One of them being the aperture Back in the camera side of things. Light goes through the lens and come straight to the image sensor where it feeds the information to the LCD on the back of the camera. And that's very convenient because we can use to eyes. We could hold the camera at arm's length and look at the images. But if you really want to check sharpness, the sharpness in the E V F is about to almost 2.5 times sharper than the information on the back of the camera. So it's gonna be a better place for judging sharpness now in at the sensor level. What's going on is that that's where the light is being recorded and we have to shutter Kurds. We have the first curtain and the second curtain, and they have to be open because you want to see what's going on through the lens. And so when you take a picture, the first curtain has to close. The sensor is then prepped for shooting effect picture, and then it's time to shoot the picture. Here's your exposure, and then the second curtain will come in and block it off So that is your short shutter speed now, because you want to see what the next photo is gonna look like. That shudder needs to open again. So there's a lot of shutter movement going on, and something to take note of that we were going to talk about later in this class is that each time that cheddar opens and closes, it's doing so as quickly as it can, and it causes a little bit of vibration in the camera. And this camera has a couple of options for a vibration free shut Earless option where the shutters do not work and what it uses is it uses the sensor to turn on and off very quickly in order to set the shutter speed. Now there are some implications where the camera can't be shot quite as quickly as doing this, but it does reduce the amount of vibration. And so there are some people who might take this camera, hook it up to a telescope and pointed at the stars, and they have any sort of vibration is gonna cause a blurry image. And so you could put the camera into a vibration free mode where it's not using any mechanical movements when it takes a picture. There's also the option for a silent option for just turning the shutters off so that they don't make any noise so that when you fire a picture, it is virtually silent in its operation. Now there is still some very tiny sounds that you can potentially here, but if you were on like a movie set or in a stage play in a theater and you wanted to shoot pictures, that was really, really quiet and nobody noticing. You can set this camera to take pictures that are much, much more quiet than a traditional SLR, and we'll talk about that as we get further into the camera. Next up, as far as the shutter recording light for a period of time, we have shutter speeds. How long is that shutter open? 2/1000 of a second is a very fast shutter speed for stopping very fast. Action 500 is a good cheddar speed to remember because it's usually 500 or faster that you will need for stopping fast. Human action 125th of a second is kind of in between kind of more casual shutter speed. Good for stopping some camels walking in the desert down around the 30th of a second. We're getting into slower shutter speeds, and the more movement we have, we're gonna have a little bit more blurriness. And there are pictures that are good, blurry and bad, blurry. There is a difference. And these are just some examples. Down an eighth of a second, you can see how much blurriness we're getting and this cameras on a tripod, you can see cause the bridges sharp people are blurry cause they're moving at a fairly normal walking pace down in a full second, you could get those shots of waterfalls and rivers that are blurry. Good cheddar speed for doing that. If you want to get into nighttime photography, you might leave the shutter open for 30 seconds or longer. This camera has some very interesting low light capabilities I'll be talking about. We have this new live composite feature that no camera has ever had before, and I was doing some tests just the other night with it. I'm gonna be showing some of those results to you later on in the class in the menu section because this camera as I say does things that no other camera can do. All right, so that's what's going on at the sensor level in the camera itself. And so that's a little bit about how the camera works, all right, and so that covers that little basic section now the sensor sensor size. We talked about this a little bit before. I just want to go back and talk about this kind of in the greater context of what else is on the market. Sensor is a very important thing in the camera, obviously, because it's the image quality. It's also the size which will determine the lenses that were using. And there are many different sensors out on the market. This camera is using, as I said, the micro 4/3 system, which is kind of an in between two smaller size compared to phones and little point shoots. It's much, much larger than that. It's well into the category of what I call serious and good cameras, but it is on the smaller size of the three main sizes that you're likely to see out there full frame or a PSC systems. Now full frame is based off of 35 millimeter film, and that's probably the easiest understand for people who ever shot with that film. And so that's a very common size for the professionals. But the 4/3 size is going to be a lot nicer for people who want a much smaller camera. The thing that is most noticeable about the 4/3 system to me is that the lenses are so much smaller and lighter weight. And so for anyone who does traveling, anybody who just has a lot of gear to carry around, either they're going to work or they got kids, and they just want a smaller camera that takes better quality pictures. But they still want the versatility of different lenses. This one really offers some great capabilities. So the full frame sensor, as as many of you have taken my class no, I like to measure it. Corner to corner is a 43 millimeter censor. The A P S C is going to be 28 millimeters, and the 4/3 is known as a two times crop factor. So if you're comparing lenses, you're gonna have to multiply the lenses by to to get their equivalent in a full frame camera, and so that has a little bit smaller 22 millimeters sensor. One little note on attaching the strap is you want to make sure that there's a little strap adjuster that the little tailing and goes through the bottom of that adjuster just so that there's a little bit of pressure on the top and that keeps it locked in on it. If you have the camera in front of you, pick the camera and hold it and just take note of how you're holding the camera. And the two basic, most common ways is thumb on the bottom like this, or thumb on the top like this. Now the correct system is with the thumb on the top side of the lands, and the reason for that. Let me demonstrate that for you. Here's if it's on the bottom side, that leaves your elbow can about here without any support. If you put it down here, kind of forces your elbow into your torso, where you're gonna be in a more steady position for holding the camera. It also allows you to kind of put the base of the camera in your hands so that you can control zooming and focusing without trying to support weight and do fine tune controls all at the same time. And so allows you a little bit more control over the features of the camera. And so that's just something to take note of their now as we go through this class, one thing to keep a mind on is the words auto and manual, because we're gonna have a lot of these options in the camera, for instance, focus or exposure. You can let the camera do it for you or you can do it yourself. And that goes through the white balance and on and on and on and on Now, for simplistic reasons. Sometimes you want to have the camera and auto other times for control reasons. You know what you're doing. You know exactly how you want it done. You're gonna want to put the camera in manual. And so I think, being able to use this camera, get the most out of it. You should understand how to use each of these features both in automatic and in manual, because you're gonna want to mix and match these things up as you go through and as you have various amounts of time, more time or less time to shoot your photos. But as long as you have the knowledge and how to do it, you'll be able to control it very well. And so all of that information is covered in my class fundamentals of photography. And so there is a link here it creativelive. If you go to my type and John Gringo, you'll find all my classes and you'll be able to find it there, and that's got a lot more information. So if any of thing and there was of interest to you a lot more of it in that class, it's a five day class.
Ratings and Reviews
I had previously purchased the Fast Start for the earlier OM-D E-M5 model and found it invaluable. I was lucky to catch this E-M5 Mark II Fast Start when it was live and had my camera set up beautifully - until I updated the firmware recently and discovered how uncooperative the camera can be in the absence of the combination of settings recommended by John. So I bought the course, which enabled me to restore the camera to the optimal settings and gave me may "Aha" and light-bulb moments about things I'd forgotten or not understood the first time around. I am glad I now have this course so I can revisit it as needed. NOTE: There IS an option to save settings to the PC before updating firmware. I will be doing that in future!
Excellent course. John's ability to patiently and throughly cover all elements of this detailed camera is impressive. He converts the stress level of learning a new camera to a fun level.
I watched most of the live broadcast and just finished going through all of the modules with my camera. I learned so much!! My camera is customized to my preferences and I am now very comfortable shooting in M mode. My picture quality has already improved. John is an excellent instructor.
Student Work