Custom Menu C: Release/Drive Mode
John Greengo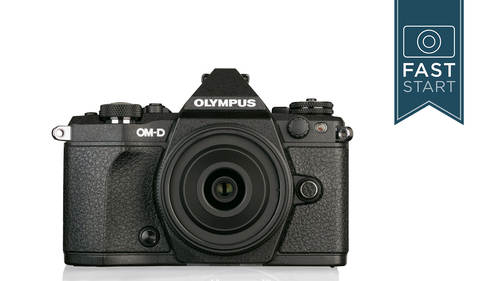 Custom Menu C: Release/Drive Mode
John Greengo
Lesson Info
23. Custom Menu C: Release/Drive Mode
Lesson Info
Custom Menu C: Release/Drive Mode
All right, so moving on to group see things that deal with the release or drive mode of the camera. So the first one is the release. Priority s and what this means is, let me double check my notes. The image must be in focus before the shutter is released. Release priority in the single shot mode, and generally, you know, I think I might have got this one wrong. Let me see. I think this it's supposed to be on release priority. If I leave it in off, do a little test here, we'll see if I could take it out of focus. Picture it's, probably still in manual focus. So I got to get that changed out of manual focus into single auto focus. And so if I have something that is way out of focus. It will not allow me to take a picture. Who did wait? What's going on? It's trying to focus it won't let me take a picture. How it did. Was that an out of focus picture, or did it take it after I left? It took it after, so it waited after. So if I go in and I change this mode, two on. It allows me so I do wa...
nt this off, they have kind of the wording backwards on this sorry, folks. So if you turn this on, it'll allow you to shoot out of focus pictures, which you probably don't want. And so what? It would be safer to leave this in the off mode now in the released priority see it's a little bit different, so for shooting continuous photos, you don't want the camera to be too fussy about being perfect on the focus when it's taking pictures. And 00:01:57.603 --> 00:02:00. so in this case, we're going to leave this on, which 00:02:00.42 --> 00:02:03. means that occasionally, when you are taking a syriza 00:02:03.75 --> 00:02:06. pictures of a subject moving, you might get some slightly 00:02:06.11 --> 00:02:08. out of focus pictures. But for sports photographer, 00:02:08.94 --> 00:02:12. sometimes getting the perfect moment is more important 00:02:12.56 --> 00:02:15. than absolute perfect focus. And so this is kind of 00:02:15.41 --> 00:02:18. the way that most cameras are set is a default. If 00:02:18.72 --> 00:02:21. you do need to vary it, you can not many cameras can 00:02:21.95 --> 00:02:24. you vary both of these on this is generally a professional 00:02:25.06 --> 00:02:27. level feature, and so the normal settings are the 00:02:27.79 --> 00:02:31. off for s and on for sea, and I wouldn't change it 00:02:31.86 --> 00:02:33. unless you're pretty sure about what you're doing. 00:02:35.92 --> 00:02:40. If you set the camera too low speed motor drive frames 00:02:40.48 --> 00:02:43. per second, you can choose the specific number of 00:02:43.38 --> 00:02:45. frames per second that you're getting anywhere from 00:02:45.7 --> 00:02:49. one, two, five frames a second. If you are choosing 00:02:49.63 --> 00:02:52. the high frames per second, you can choose anywhere 00:02:52.59 --> 00:02:57. from five upwards to ten frames per second, so if 00:02:57.15 --> 00:02:59. you know exactly the numbers you want and you might 00:02:59.98 --> 00:03:01. think, well, this is kind of strange. Why would you 00:03:01.87 --> 00:03:03. really want to get that exact about it? We'll give 00:03:03.65 --> 00:03:07. you a good example. I shoot a lot of runners and runners 00:03:07.0 --> 00:03:10. run at a certain cadence and almost no matter how 00:03:10.11 --> 00:03:13. fast you are olympic runners versus high school runners, 00:03:13.24 --> 00:03:15. they all have about the same cadence, and if you shoot 00:03:15.74 --> 00:03:19. them at six frames per second, every other photo of 00:03:19.36 --> 00:03:23. them running looks almost identical. And so I would 00:03:23.08 --> 00:03:25. like to get things were different foot positions and 00:03:25.51 --> 00:03:28. leg positions, so anything other than six frames per 00:03:28.72 --> 00:03:30. second works quite well, so I wouldn't want to shoot 00:03:30.72 --> 00:03:34. it three frames or six or nine frames, ten frames, 00:03:34.25 --> 00:03:36. we better eight frames would be better. And so you 00:03:36.21 --> 00:03:39. might find, with some types of events that a certain 00:03:39.56 --> 00:03:42. frame rate will get you the types of images that you're 00:03:42.0 --> 00:03:42. looking for. 00:03:44.72 --> 00:03:48. We also have low frames per second. But this is the 00:03:48.4 --> 00:03:51. silent. And so this is where the camera is extremely 00:03:51.43 --> 00:03:54. quiet in its shooting. And so it can shoot anything 00:03:54.66 --> 00:03:59. from one to five frames in the low or five up to actually 00:03:59.85 --> 00:04:02. eleven frames for a second. Because we don't have the shutter opening and closing, we're able to go a little bit faster. And it actually goes up to eleven in this case. The image stabilizer. We saw this back in the super control panel, and this is where you can control the type of stabilization you have both for still images and movie images. And the standard s I s auto mode is gonna work fine for most people on this it's, a very good stabilization system. You can also choose the different types of stabilization for the movie modes. And, as I said, this has a fantastic stabilization system. So when your handheld, I would leave it on all the time. It uses up a little bit of battery power, but not enough to be concerned about, in my opinion. All right, so next up, another image stabilization, and this is when it's activated, and so, in this case, I s is on with the shutter release. Let me check my notes here, okay, so if you turn this off, the image stabilization will on ly be active during the exposure, and you won't notice its effect in the viewfinder. So by leaving this on, you're going to see it, and I sometimes like it on for compositional reasons. But sometimes it's distracting, and you just want the straight image out of the camera. Some people get a little seasick. If you get seasick or carsick, you probably want to leave this in the off position. And so halfway released with I s do you want the camera? That's? The only. Don't check with double check my notes here. So, do you want it to come on with a halfway release or not? And okay, so the previous setting will slightly increase 00:06:02.02 --> 00:06:05. frames per second on image stabilization. And so this 00:06:05.45 --> 00:06:08. is the one. Where do you want it to be stabilized 00:06:08.07 --> 00:06:10. while you are looking through the viewfinder or when 00:06:10.87 --> 00:06:13. you press halfway down, sometimes you only want it 00:06:13.14 --> 00:06:14. when you're shooting a picture. 00:06:15.76 --> 00:06:20. All right, next up, the lens I s priority. What this 00:06:20.28 --> 00:06:22. deals with is that there are some lenses that have 00:06:22.76 --> 00:06:27. stabilisation built into them, and when you have a 00:06:27.07 --> 00:06:31. lens that has image stabilization built in which one 00:06:31.08 --> 00:06:32. do you want? Do you want to use the camera, or do 00:06:32.95 --> 00:06:35. you want to use the land because it doesn't use both? 00:06:36.11 --> 00:06:37. And so, in this case, 00:06:39.41 --> 00:06:41. you generally want to leave it on, because it's probably 00:06:41.9 --> 00:06:44. the case that the lens has a more. 00:06:46.21 --> 00:06:51. Specified or as a better stabilisation system designed 00:06:51.65 --> 00:06:54. for that lands, then the generic one that's in the 00:06:54.67 --> 00:06:57. camera for all the lenses. And so, if you are going 00:06:57.23 --> 00:06:59. to use one of those lenses, I would probably recommend 00:06:59.5 --> 00:07:01. turning this on. You can always tested to see which 00:07:01.42 --> 00:07:04. one actually works better. But from what I understand, 00:07:04.49 --> 00:07:07. the on will be a slightly better position with lenses 00:07:07.39 --> 00:07:08. that have stabilisation. 00:07:10.51 --> 00:07:14. The release lag time you can either have this as normal 00:07:14.04 --> 00:07:18. or short. Now, part of me says, well, I want the lag 00:07:18.2 --> 00:07:20. time, which is the light time between pressing the 00:07:20.26 --> 00:07:23. shutter release and the shutter actually firing. I 00:07:23.93 --> 00:07:27. want that to be a short as possible, but that will 00:07:27.51 --> 00:07:30. short in the battery life. I'm not sure exactly why, 00:07:30.22 --> 00:07:32. but it shortens the batteries. Life takes a little 00:07:32.01 --> 00:07:35. bit more juice out of it, and they say that a sharp 00:07:35.74 --> 00:07:39. impact of the camera may interfere with the lcd. And 00:07:39.24 --> 00:07:42. so once you get used to the normal lag time, which 00:07:42.22 --> 00:07:43. isn't longer than 00:07:44.64 --> 00:07:46. anything else, in my opinion, I think it's probably 00:07:46.92 --> 00:07:50. best to leave it there and so you can shorten it if 00:07:50.77 --> 00:07:53. there are some sporting or action events that you're 00:07:53.01 --> 00:07:54. finding that there's just a little bit too much like 00:07:54.89 --> 00:07:57. time. Uh, you can use, but I think it's probably better 00:07:57.8 --> 00:07:59. just to leave it in the normal life, because there's 00:07:59.46 --> 00:08:01. not much difference between the two.
Ratings and Reviews
I had previously purchased the Fast Start for the earlier OM-D E-M5 model and found it invaluable. I was lucky to catch this E-M5 Mark II Fast Start when it was live and had my camera set up beautifully - until I updated the firmware recently and discovered how uncooperative the camera can be in the absence of the combination of settings recommended by John. So I bought the course, which enabled me to restore the camera to the optimal settings and gave me may "Aha" and light-bulb moments about things I'd forgotten or not understood the first time around. I am glad I now have this course so I can revisit it as needed. NOTE: There IS an option to save settings to the PC before updating firmware. I will be doing that in future!
Excellent course. John's ability to patiently and throughly cover all elements of this detailed camera is impressive. He converts the stress level of learning a new camera to a fun level.
I watched most of the live broadcast and just finished going through all of the modules with my camera. I learned so much!! My camera is customized to my preferences and I am now very comfortable shooting in M mode. My picture quality has already improved. John is an excellent instructor.
Student Work