Custom Menu K: General Utility
John Greengo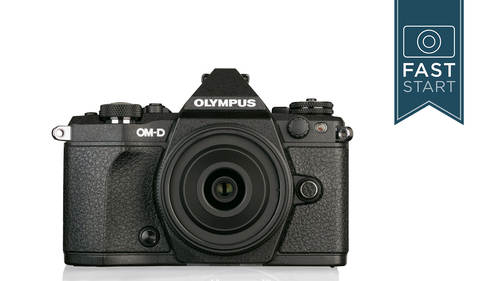 Custom Menu K: General Utility
John Greengo
Lesson Info
31. Custom Menu K: General Utility
Lesson Info
Custom Menu K: General Utility
some general utility things. So one of the problems with digital cameras is dust on the sensor dust on the sensor will appear is a black spot or essentially a shadow. And if your picture looks like this, you've got serious dust problems, and there are ways of pixel mapping or mapping out which pixels have problems and what this is doing. This is basically checking the sensor for problems, and what you'll end up doing is photographing a white sheet of paper. And then the camera will figure out where the dust is and then clone over it. And then you'll have nice, clean images and life will be perfect. And you'll be happy forever because all your images are nice and clean. The only problem is, is that you do need the Olympus software to make this work. It's not gonna work with Light Room or Photoshopped or the other programs out there. So I not actually use this cause I'm not a big fan of the Olympus software. Nor is many other people, and in theory it works, and that's how it works. All r...
ight, next up is exposure shift. If you found that your camera was miss me, uttering things. It was constantly overexposing or under exposing because of one particular meter pattern. You could go in here and make that adjustment. I assume that you have not made this adjustment so far. I assume that you will not likely need this adjustment. Hopefully, no one will need to make this adjustment. But it is possible if it does need to be done. Simple little warning level of how your battery is doing pretty obvious. And, oh, actually, what's going on here is that you can change your warning level as to don't warn me until it gets down to the very, very end or warned me very quickly. If even its the slightest bit low, and so you can change how quickly your battery level will come on. I don't think this is something most people are going to need to play with battery priority. If you have more than one battery in your camera, meaning that you have that vertical grip attached to the camera, you can choose to have one battery replaced or the other first, depending on how you're shooting it. And different people with different priorities might want one battery versus the other battery. Depending on how many battery changes they need, this could be done. For instance, if you're shooting a time lapse sequence, I know that I've wanted to have two batteries in my camera if I'm shooting a time lapse sequence over night time, where it gets kind of cold outside and it goes to batteries a little bit more quickly. And so there is that option for changing which battery gets used first. If the level adjustment. Remember how your left and right adjustment level if you felt like that was not correct? It's telling you it's level, but your cameras at a noticeable angle. You can correct for that by going into the level A just to kind of reset those parameters. I hope you don't need to do that. Next up is the touchscreen settings. If you don't want to use the touch screen, you can plain old just turn it off. If I settings, you can hook up a I fi card into the camera and uh, allows you to download your images directly to a computer that is hooked up to that WiFi system. Next up is the Elektronik Zoom's speed. There are very few image are very few lenses that have Elektronik zooms built into them. I think there's only one or two lenses that have Elektronik zoom. And so this would allow you to use that electronic zoom when shootings, stills or movies not likely to be used by most people. All right, I got a problem here, folks. This camera has a selfie adjustment is the first camera that has the word selfie in it. Now, as much fun is, I would like to make fun of this. I will actually say that it works quite well. You see, when you put the camera in a selfie mode and I'm told that in order to this, you need to flip the camera around and this is this is just wrong. This just doesn't look right at all. What the selfie mode does is it flips the image so that it appears like a mere because people are so used to looking at the mirror as to how do I point the camera and it makes the camera a little bit easier to shoot with. So if you are popular on instagram with your selfies, this camera would like to assist you in doing that? Eso by all means use the selfie assist. It's a very nice little twist. Flipping of the image is what it is. Quick sleep mode. So I need to apologize. Publicly, somebody emailed me a question said that when they have their camera set to where the screen is turned around and closed and back and they pick it up and they view it, it looks nice. They can see what's going on, and then they let the cameras sit for a few seconds and then they pick it up and they press the shutter release and they wait and they wait. OK, now it's back on. It takes a while to come back on and they said, Why is it doing this? And I said, I don't know. I thought there was something else that wrong with it. It's because the quick seat sleep mode was on, and what it does is it puts the camera into a deep, quiet sleep, and it takes a long time for it to wake back up. If you want your camera to be more responsive, turn this off. You are going to use a little bit more power and your camera will come back on much, much more quickly. A za like when you are using this in the outward position, the camera normally flips back and forth very, very quickly, and so it is a little bit of a drain on the battery power. But it does allow you to hold the camera up to your eye and just have things ready very, very quickly. And so I recommend that leaving that off for anybody who really wants to have the camera very responsive to their needs.
Ratings and Reviews
I had previously purchased the Fast Start for the earlier OM-D E-M5 model and found it invaluable. I was lucky to catch this E-M5 Mark II Fast Start when it was live and had my camera set up beautifully - until I updated the firmware recently and discovered how uncooperative the camera can be in the absence of the combination of settings recommended by John. So I bought the course, which enabled me to restore the camera to the optimal settings and gave me may "Aha" and light-bulb moments about things I'd forgotten or not understood the first time around. I am glad I now have this course so I can revisit it as needed. NOTE: There IS an option to save settings to the PC before updating firmware. I will be doing that in future!
Excellent course. John's ability to patiently and throughly cover all elements of this detailed camera is impressive. He converts the stress level of learning a new camera to a fun level.
I watched most of the live broadcast and just finished going through all of the modules with my camera. I learned so much!! My camera is customized to my preferences and I am now very comfortable shooting in M mode. My picture quality has already improved. John is an excellent instructor.
Student Work