Lens Options
John Greengo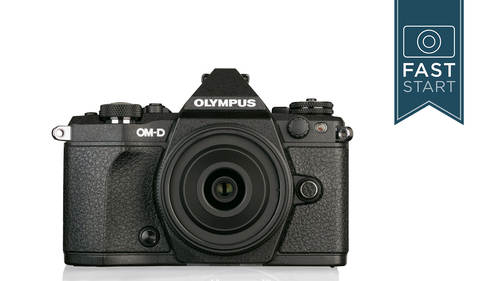 Lens Options
John Greengo
Lesson Info
17. Lens Options
Lesson Info
Lens Options
I want to go through some of the lens options that are available for you. And so one of the more popular lens is one of the ones that I've been using here in the classes, the 12 to 40 lands we have our focus ring. We have our zoom ring on this. This one, as I noted earlier, has that push and pull option on the focus ring that will take it in and out of manual focus and auto focus. And most all of their lenses air gonna have controls like this in various different places. Now, this lands is kind of cool, and we might want to get a close up shot of this. It actually has an L f ed, which is a lens function button. And when you get into the button controls, you will actually be able to see where you can program this to do something in particular. For instance, if you like to manually focus, maybe that would magnify the image so that you can see it a little bit more clearly. And so it's just a simple little button. And not all lenses have this actually very few lenses, handout and It's a ni...
ce little feature to have on some of the lenses. Okay, so on all the lenses, you're going to see a little mounting index Mark, that little red indicator you just lined that up on the camera body for mounting your lens is up. Some lenses will have distant scales. This one does. Most of them don't. Very few have actually have that. The hood markings are so that you will use these little hoods. And this is gonna help block extraneous light from hitting the front of the land so that you get the best image quality possible. The most contrast possible. Each lens is gonna have its own filter size. This particular lands is 62 millimeters in size. So if you want to use a polarizer or UV filter, for instance, that's what size you need. But different lenses need different size filters, so you got to check out each lens individually. One of the things that's kind of interesting is that you can adjust the way the camera focuses in manual focus. Which direction? Because Nikon and Canon have different ways of focusing. To be blunt about it, canon is normal, and Nikon is different most all lenses. Whether you're choosing Zeiss, Olympus, Panasonic, Sony, anyone, they all focus in one direction. And what that is is it's a counterclockwise to infinity attorney. And if you are coming to this camera from Nikon, you can switch it to focus more like a Nikon. Or if you come from Canon or any other brand, you can have it switched like that. So if you don't like the way the direction manually focus. You can switch that in the camera sections in that autofocus control city. Now Olympus has of the last couple of years been bringing out a number of lenses that are part of their pro Siris of lenses. And a lot of these lenses do have a little blue stripe around the front of them, and these air lenses that are weather sealed. They have fast, constant apertures. They have just the best optics that they could really put in them, and so recently we've just seen them bring out eight millimeter full frame fish. I We have a really wide angle, good landscape architectural type lens, the 7 to 14 to 40 which I think is a great general purpose range you can shoot travel wide angle stuff you can shoot Portrait's 40 millimeters adept 2.8. They also recently brought out their big gun, the 40 to 1 52.8 So if you shoot a lot of telephoto, you want something fairly fast, shallow depth of field for faster shutter speeds and a variety of other reasons. There, 40 to 1 is really nice. It's a little big, in my opinion, for the micro 4/3 system. It's got a big, big chunk of a collar on there, but it is a beautiful lands. It is a really, really nice lands. So a little bit of trade offs they're now coming. Soon they're gonna be having their big telephoto this 300 millimeter. Now remember, with the two times crop factor on the micro 4/3 system, this is the equivalent of a full frame 600 millimeter F four. Now, this is gonna be a reasonably sized lance. A 300 millimeter F four lands is going to be a reasonable handful of lens, but it's not gonna be anywhere near the size of a 600 millimeter efforts probably gonna be 1/6 the size and weight of one of those lenses. Olympus, in my opinion, makes some really nice little prime lenses, and they make a wide variety of these. They have wide angles 12 millimeter and 17 millimeter. I know a lot of people who enjoy street photography with this camera because it's a small camera. They like that 17 millimeter lens for travel photography. I kind of like the 12 a little bit wider. They make a nice, simple, normal fast lens, the 25 and then they have some nice little tele photos I have of the 45 18 right here. Let's get a maybe a close up this. I'm gonna take the lens hood off. And so this is a really nice portrait lens right here, 45. When we double that, it comes upto a 90 millimeter with 1. aperture on it is gonna allow you to shoot with fairly shallow depth of field. And having that as a lens on the camera is just so small and light for shooting portrait photography. It's just a really a very nice lands. So highly recommend that one. I don't own the 75 18 every report I've ever heard from it. It's just one of the best lenses. Sharpness, optical in all of photography. World eso I've heard lots of great things. It's a beautiful. It is a pricey bit of glass there. It's probably around $800. Right now. The other lenses are generally much less than 12 is kind of pricey as well. But I think very good deals on many of those now. The beauty of this system, one of things that I love the most is being able to change with other manufacturers. Because Panasonic and Olympus developed this 4/3 system and mounting system. Their lenses are 100% compatible, and so you can buy any of the Panasonic Micro 4/3 lenses, and they're gonna work with 100% compatibility on the camera. And so one of the lenses that I picked up recently is the 35 to 100 this is a short telephoto lens. It's the equivalent of the 72 200 because remember, we just double that 35 to 100 numbers. So this is the equivalent off a 72 202.8 lens. And if you look at the size of this. On the weight of this, it is tiny compared to a 72 202.8 lens, and it has the same angle of view and the same light gathering ability as that full frame lens. Now it's a little different when it comes to how shallow, adept the field you're going to get because we're in a 4/3 system. We're not gonna get in that whole thing right now. But, yes, there is a it's equivalent. It's not the same. There is a difference between equivalent and different, but that is just a really small package for a nice telephoto lens. And so many times I will take out these two lenses right here as my only two lenses. If we get maybe a tight shot of just these two lenses, the this is the 12 to 42.8. This is the 35 to 10 to 102.8 these two lenses, which are not very big or heavy lenses, and you've got yourself just a really nice professional package in a very small thing. In fact, I was doing some canyoneering down in Zion, where I was climbing repelling through these canyons, and I wanted a really small, waterproof package. And this is what I brought because it's smaller than my sl ours and takes great image quality and shoots great video with it. And so very nice little system here. And so Panasonic has a number of lenses that I really like. And so let's go back to the keynote shot and the 35 to 100 highly recommended they make their own 7 to 14. I think the new Olympus is probably better than this. It's actually a stop faster, so there's probably gonna be a price difference as well. And Panasonic has their own fast normal ends, the 12 to 35. But I do like the Olympus because it's got that five millimeters extra as well as the weather proofing. And Panasonic has their own designations. This isn't a Panasonic class. I'm not gonna go into all their detailed information, but here is some of the coding of what they use on their lenses and what it actually means. There are a couple of other lenses that I really like, and these are ones that have a lot of like a influence in their design and production. Definitely my favorite is the one that I have here on the camera. The 25 1.4. This is the normal lands for this form out of 25 millimeter lens. And this one, what I love most about it is the focusing ring is but a smooth. It is so smooth. I could just focus with this thing all day. It's so nice. I mean, it's it's got a rubber focusing grip and most lenses. I don't have this, you know, even their 45 which is It's pretty nice, but it kind of feels like that's plastic on plastic insight here. It's just I'm just turning butter right now. Just so smooth on DSO focusing manual focusing with this is just so nice. Beautiful. It's also very good optics, very fast aperture 1.4. It's one of the best lenses you can get for this camera, so highly recommend that some other ones I haven't had a chance to use all of these. The macro lens, the 45 really nice. If you need wide angle, they have a new 15. They just brought out. And if you are into portrait shooting, the 42.5 couldn't they have just called it a 42? Couldn't they have just rounded up called 40 42.5? Because they know some people really like an 85 42.5 matches up to 85 when you double it. So if you want to really shallow depth of field, that is even better than the Olympus 45 that I had shown you a little bit earlier. And that's the fastest aperture lens that you can get that will auto focus on this camera. There are some after market once that you could get there a little bit faster. But that's the fastest auto focus lens that you can get on this. There are some other favorites there, not so much personal favorites, but I just I follow the groups, and I know what lenses people like out there. Thes pancake lens is the 14 and 20 are really nice. If you want to keep things really, really tiny, you know, keep this camera in a coat pocket with one lands. One of these might be just the right lands. Some people like a little bit larger of a zoom, the 14 to 1 I'm not a big fan of super zooms, but the 14 to 40 is going to be your best quality option, and it retains quite a bit equality. And so, if you want one lands to cover the full range from why to fairly strong telephoto, I would look at the 14 to 1 40 And if you're in a wildlife burning photography, the to 300 is gonna be a nice option because it's not too big of lens, and it really reaches out to remember that 300 doubles to 600 Theo equivalents in full frame length. And so it's a pretty good draw for something that is further away. For those of you who don't mind going manual focus, you can go to Voight Lander, and you can get 0. Why? Because it's faster than a one point old lens. Now these lenses are gonna be in the $1000 price range. They are manual focus, so they are not for everybody. They are for certain people who want to get something a little extra special out of this 4/3 camera, and so that that's just a briefer on some of the lenses. That's one of the great things about a 4/3 system camera is that you can hook up so many different lenses to this with so much compatibility. And so you're gonna want to have a couple lenses, two or three lenses at a minimum. And so that should, uh I should cover this section for the class. They're all right, John. Well, we have, ah, Siris of questions about lenses that have been ah, lot of people have been asking earlier, but we will. You've answered some of them, of course, as we've gone through them. But can you talk a little bit about using extenders and attach? And if that sort of effects, whether you can get as fast of speeds? The specific question was, Charlotte Fruin said I do have difficulty keeping track of fast moving subjects like flying birds with the 4200 and 50 millimeter plus one point for extender attach. Is that something that you found with those extenders? Well, first off, when tracking birds in flight, this camera is not gonna perform up to the standards of the DSLR is due to the type of focusing system that it has in it. It is a very accurate, focusing system, but it is not incredibly fast at tracking moving subjects. And so, no matter what lands, no matter what combination of extenders or not you're using on their there is an inherent limitation in the 4/3 system and in this camera in particular. So taking that into consideration the 40 to 1 50 lands is as good a lenses you're going to get now. They sound like they were using an extender. On top of that. That will decrease performance a little bit. How much? I haven't had the chance to use that combination together, so I can't say specifically, but it will bring it down a small notch of some degree, I don't know. And so refining the way the camera focuses as faras, the tracking mode or the A F C mode for continuous focusing and playing around with the focusing points, which focusing points I would recommend either using the nine point focusing or the all point focusing might help out as well the the kind of intelligent tracking mode that it has may or may not do the job on, and so there are few controls that you can play within that in that scenario. But there's a few things that you are at the mercy of as faras just where the system is in its autofocus development. Okay, that's great. Thank you so much. Okay, so another lens question and you touched on it a little bit, John, But is what is the reason for turning off image stabilization when the camera is on the tripod? So image stabilization is the sensor. And let's just say that this is our sensor and it's gonna move around to compensate for your movement when you put it on a tripod. And let's just say for the moment that it's maybe this isn't most steady. But let's just say that it's a really good tripod, and it's perfectly still. You don't want that sensor going. Was that movement? Maybe I'll move and check it out. And so, if you know you're locked down solid turn off image stabilization it. What happens is there There could be a feedback loop where it maybe thinks it sees the movement so it moves, and then that causes blurriness during the actual photo, And so many of the manufacturers have said and claimed that they have intelligent tripod detection modes. And I have found that in all cases that I've seen, they're not accurate 100% of the time, it may figure it out some of the time. And so if you know you're in that situation, it's pretty easy just to go in and turn it off. Thank you. And another question was when you were talking about the different aspect ratios that you can see when the shooting and the question was, Is there a benefit to changing the aspect ratio in camera versus cropping to a different size in post processing? And is it actually cropping it? Or is it just showing you so tell you what, folks? Let's do a live demo, All right, So let's, uh, let's do our group shot of lenses here's lenses around a little bit here and get our camera pointed at our lenses. Let's do a little focusing here looking at images out of focus and how do we do that? Oh my gosh, I can't remember where it is. It's in the super control panel and we're gonna go down. Actually, I'm gonna get this out of silent mode and just go back into single shot mode. Come down here. Let's shoot a square image, okay? And so there's our square image. And now the benefit to shooting this is that I get to see this and let me turn off some of this extra information by hitting the info. And so now I can see exactly what that composition is and so I can see Well, I want this over on the edge. I don't want it right on the edge of one of a little bit over there and want this year and will flash, You're out of the picture there. Let's put you in the middle. And so now I can compose my image and I can see exactly what my final image is gonna look like. Whereas if I'm shooting it normally I would have to guess what it's going to look like. And you will also see this in the viewfinder itself. And that's a major advantage, because seeing your image is a huge part about composing properly and getting good image. And this just enables the artist to see what? The final vision is gonna look like their of their artwork. So whatever the file is that J pig or the ball will be cropped. It will be cross, but yeah. Okay, great. I have one final question. And that is what is that little mini tripod that you are? Always Get this question. But this is my special teacher Tripod. I had them build this for me, actually. No, this is a tripod. That is okay. I don't know why I date myself, but it's about 25 years old. It is from Manfredo. Uh, well, it's got Man photo and Bogan on it. It was a 3009 and I don't think it sold anymore, but they have other similar ones. But if you look from man photo tabletop tripods, you will find one similar to this Or maybe even better. I don't know. This one's been working for quite a while for me.
Ratings and Reviews
I had previously purchased the Fast Start for the earlier OM-D E-M5 model and found it invaluable. I was lucky to catch this E-M5 Mark II Fast Start when it was live and had my camera set up beautifully - until I updated the firmware recently and discovered how uncooperative the camera can be in the absence of the combination of settings recommended by John. So I bought the course, which enabled me to restore the camera to the optimal settings and gave me may "Aha" and light-bulb moments about things I'd forgotten or not understood the first time around. I am glad I now have this course so I can revisit it as needed. NOTE: There IS an option to save settings to the PC before updating firmware. I will be doing that in future!
Excellent course. John's ability to patiently and throughly cover all elements of this detailed camera is impressive. He converts the stress level of learning a new camera to a fun level.
I watched most of the live broadcast and just finished going through all of the modules with my camera. I learned so much!! My camera is customized to my preferences and I am now very comfortable shooting in M mode. My picture quality has already improved. John is an excellent instructor.
Student Work