Custom Menu H: Record/Erase
John Greengo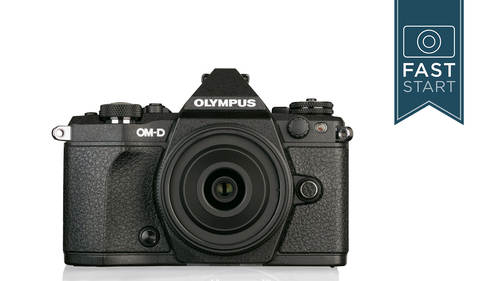 Custom Menu H: Record/Erase
John Greengo
Lesson Info
28. Custom Menu H: Record/Erase
Lesson Info
Custom Menu H: Record/Erase
and we have moved to the second page of letters. So we are in letter each now dealing with recording images and erasing images. So one of the questions and I'm gonna pose this to you in a couple different times. But when you want to get rid of an image, how many times would you like to press buttons in order to get rid of the image? If you are super confident in all of your movements in your finger pressing, you can turn this on. And when you press delete, no like, are you sure you wanted to lead? Is this the one you wanted to eat? No, it's just gone. And so I don't think most people I think this is a little too quick for most people, and so I'd recommend turning this off. But if you want to delete your pictures with one button press, this is how you can do it. There is another option coming up, so stay tuned. So with raw plus J Peg, you can choose. Let me check my notes either the J Peg, the raw or raw plus J peg you can choose to delete on Lee. The J peg or on Lee the raw, or you wou...
ld delete both of them at the same time. Usually you're gonna wanna have both of them select, because I just took a picture of the inside of my camera bag. You want to get rid of the raw and the J peg version of that? But if you do shoot raw plus J peg, it is potential that you could just get rid of one of those versions if you would have this selected the file name on your camera is an automatic counting system. You could reset it if need be. But I think most people are just gonna leave this an auto and you'll be totally fine. You can adjust the file name of your camera. You can go in and adjust the letters that are attributed to the file name of your camera. You can actually add in your own initials, and that is a very light way you're not gonna prevent your camera from getting stolen. But I know of a photographer who had their camera stolen and had put their name information in the camera, and they were able to recover their camera because they actually did a search on the Internet for photos with that serial number of the camera, and they were able to find the person who stole their camera and they got their camera back. And so this is to be a good reason to put your letters in here, because most thugs who don't know anything about cameras would have no idea to dive this far into the menu system to plug in their own initials. And even if they did, then their initials air on a stolen camera with the serial numbers of somebody else. So it would be foolish for them to do that in case there in case there's thugs watching this class. All right, let's go back to the question. When you press the delete button, how many times do you want to press about? And so what I don't like about this and all cameras is that when I pressed the delete button, it's as if the camera has said to me, I'm sorry, did you press the delete button? I'm sure you made a mistake. This is incorrect. Correct. And no, no, no. When I press the delete button, I generally want to delete so the standard processes you got, hit the delete button and then you have to confirm the deletion, and then you have to hit, okay? And so it's a three step process, and you can shorten this up by setting this to yes. And now you press the delete button and you press wants to confirm which is right in that perfect Goldie Locks area of not too few buttons, not too many buttons. I'm not gonna accidentally delete my images. So it all depends on how comfortable you are with pressing buttons. Question. Yes, John. This is from CH 28 Kid. Is there a way to select multiple images to delete like they do on other DSLR cameras? That seems to be missing because I was trying to do that myself because I had a need for that. And you do have to delete it. And just individually now you could go up too quick, erase and more quickly go through it if there was a large number. And so no, you don't not do it now. There is a philosophy, and I'm not fully bought into this religion. But there's a certain religion and photography that says that you should never delete in camera number one. You might want that. For some reason, I could just see some damn that have a collection of pictures of the inside of John's camera bag from different countries on. And so there's the other philosophy that you shouldn't delete, because deleting stuff on your memory card is just one more potential for something to go wrong in a miscommunication. And it's possible that in the process of deleting an image file gets corrupted and you could no longer access any information on that memory card. And so there are some people who, religiously, as I said, this is a religious issue, and I know we're not supposed to talk about religion here, creativelive. But this is a whole different type of religion who will not delete on their camera. I delete from time to time, but I don't make a big habit about I don't spend my airplane ride home deleting images that I don't want. I I want to look at those on the big screen, so just minimize deleting. But if you're gonna do it, set priority set to Yes, thank you. All right, Next up, DP I settings pretty much makes no difference. Reset this. When you output your images to a printer, it potentially might make any difference. But it's gonna matter more. The total number of pixels, not the dp I but 300 g. P. I is the standard printing setting, and so that's a standard print resolution. If you ever happen to be printing directly from your camera copyright settings, this is where you can put your actual name email, phone number, whatever contact information you want in here. And so if you do have your own website or an email, this is a great place to put it. Just a quick short story. When I was down and Zion National Park and Canyon Eri I found a camera and I was able to crack it open and get the memory card out of it. And I was looking at the photos, trying to find out who was the owner of this camera, trying to get it back to them. And if I had access to this information, I would have emailed them and mailed them the memory card. But instead I couldn't find anything, so I had to just turn the camera into the Parks Department, and hopefully, maybe it found its way back. I don't know. But if your camera got lost and the police department was smart enough to be able to go in here, they might be able to just say, Hey, we got your camera. And so it's also something that allows your name to be put onto the metadata the photos so that as pictures are taken, you don't need to add that later. It's automatically attributed. So if you were to take a card off with all J pegs and given to somebody, it's already got your copyright built right into those pictures.
Ratings and Reviews
I had previously purchased the Fast Start for the earlier OM-D E-M5 model and found it invaluable. I was lucky to catch this E-M5 Mark II Fast Start when it was live and had my camera set up beautifully - until I updated the firmware recently and discovered how uncooperative the camera can be in the absence of the combination of settings recommended by John. So I bought the course, which enabled me to restore the camera to the optimal settings and gave me may "Aha" and light-bulb moments about things I'd forgotten or not understood the first time around. I am glad I now have this course so I can revisit it as needed. NOTE: There IS an option to save settings to the PC before updating firmware. I will be doing that in future!
Excellent course. John's ability to patiently and throughly cover all elements of this detailed camera is impressive. He converts the stress level of learning a new camera to a fun level.
I watched most of the live broadcast and just finished going through all of the modules with my camera. I learned so much!! My camera is customized to my preferences and I am now very comfortable shooting in M mode. My picture quality has already improved. John is an excellent instructor.
Student Work