Custom Menu J: Built-In EVF
John Greengo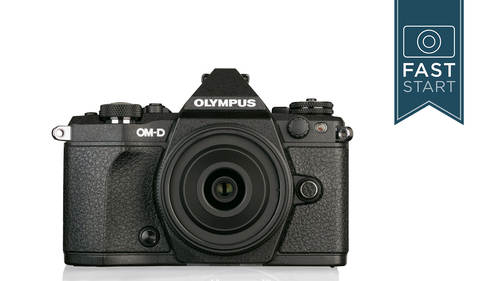 Custom Menu J: Built-In EVF
John Greengo
Lesson Info
30. Custom Menu J: Built-In EVF
Lesson Info
Custom Menu J: Built-In EVF
all right. So built in E V f. So we're talking about the viewfinder on the top of the camera. The one that you put your eyeball right up to. We have are three different styles. We looked at the styles earlier. My preference is a little bit of 2/3. I don't like the colors in there, so I'm not gonna choose style one. But it's a matter of personal preference as to how big you want it in the frame. I hate wasting that frame on information. I wish they would have have, like, a separate little control window. It doesn't feel like I'm using up pixels for that sort of information. But I like style, too. But choose whatever one works for you. Next up is our info settings. And you recall when you press the info button, you can get a variety of information. And here's where you get to go in and customize what you see. And so I'm gonna do a quick little live demo just to show you what some of these options are in here. And so let me find my place. Where are we? We are in the menu. We are in J comi...
ng down, J. There we are. And info settings is where we want to be. So I'm gonna go in here and basic information. That sounds pretty good. Notice the right arrow up here on the right hand side. That means if you go to the right, you can add in information. So maybe on custom one, I want the hissed, a gram and the highlight shadow information. And on custom menu number two, I want the level gauge. All right, That sounds pretty good. And I'm not gonna be able to show them because I can only see it in the viewfinder here and so well, in the viewfinder, you would see the level gauge as one option and the history Ram, this isn't really show you very well. The highlight information. And so this is what you would see in the viewfinder, and I can't show you. I forgot. I was thinking we were doing the live you in the back of the camera. But at least I showed you how you could make multiple settings in there. Not all is lost. Okay, So continuing on displayed grid. So in the viewfinder. Do you want to see a grid as you are shooting pictures. I know it seems like we saw this before, but this is for the built in E v f. I think we were talking about the LCD, the big screen on the back of the camera before. So this is what you see in the viewfinder E V F auto switch. We talked about this towards the beginning of the day. Do you want the camera toe automatically switch to the eye level finder when you hold it up to your eye. And in general, I like this, but I do want to turn this on and off from time to time. If you want, you can adjust the brightness of the electronic viewfinder and the color adjustment, which I would not touch with a very long Paul unless there is a serious problem. But you could adjust the brightness if, for instance, your viewing it under low light conditions that it just seems too bright to you. But normally I would just leave this untouched. All right, so the halfway levels kind of interesting. So normally you're composing your image, you're setting your exposure, and then it's time to actually take the photograph. This halfway level takes a level and replaces it on top of what was the exposure meter. So when you press halfway down, you can see if you're tilting your camera left or right right in the camera, and it's kind of a nice feature, And it's something that I find kind of handy because usually by the time that you're actually ready to shoot the picture, you have already figured out shutter speed aperture exposure information.
Ratings and Reviews
I had previously purchased the Fast Start for the earlier OM-D E-M5 model and found it invaluable. I was lucky to catch this E-M5 Mark II Fast Start when it was live and had my camera set up beautifully - until I updated the firmware recently and discovered how uncooperative the camera can be in the absence of the combination of settings recommended by John. So I bought the course, which enabled me to restore the camera to the optimal settings and gave me may "Aha" and light-bulb moments about things I'd forgotten or not understood the first time around. I am glad I now have this course so I can revisit it as needed. NOTE: There IS an option to save settings to the PC before updating firmware. I will be doing that in future!
Excellent course. John's ability to patiently and throughly cover all elements of this detailed camera is impressive. He converts the stress level of learning a new camera to a fun level.
I watched most of the live broadcast and just finished going through all of the modules with my camera. I learned so much!! My camera is customized to my preferences and I am now very comfortable shooting in M mode. My picture quality has already improved. John is an excellent instructor.
Student Work