Super Control Panel: Sequential Shooting and Quality
John Greengo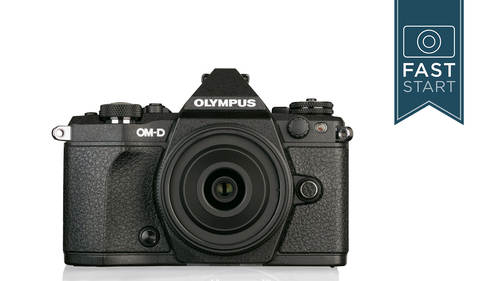 Super Control Panel: Sequential Shooting and Quality
John Greengo
Lesson Info
14. Super Control Panel: Sequential Shooting and Quality
Lesson Info
Super Control Panel: Sequential Shooting and Quality
Next up is the sequential shooting, often known as the drive mode, and this camera has more options than any other camera I have ever laid my hands on. And so most of the time I would leave this in the single mode. Now there are diamonds and there are hearts and let's play cards. Win way. Eso These have different meanings to them and the diamond mode. Let me check my notes here. That is an anti shock mode, which means that it is not going to be using the first shudder curtain. So there is no vibration from the shutter opening so fast that it actually vibrates the camera. And so, if you were going mounting this on a big telephoto lens or a macro lands or a telescope or some sort of scientific subject purpose, you might want to use the anti shock mode. I wouldn't use this on a regular basis. There some implications with it that we don't get into right now. But it's not the best standard melt. There is also a silent mode, and the silent mode will use an electronic front curtain and rear c...
urtain, and it will be incredibly quiet and I'm gonna try to do a demo here. And first off, I'm just gonna take a couple of pictures. Normal. I'm gonna hold it up close to my mike so that you can hear what normal sound is. Oh, I think I found the problem, folks. Let me. We had this camera. I wasn't able to make certain changes on this camera because I had set something funky. And that was because somebody asked me in the chat rooms to make a setting on the camera, which I went in and made and that did it. Allow me to make other changes. And I now realize what that IHS And so I'm gonna go back and turn my camera back into the normal mode. Get that set and let me make sure this is set and let's try this. It's back. So people asking me crazy questions and I want to answer, I want please. I want to answer the question. So I changed all the camera and so I'm now I'm gonna go back. It's too little live demo. How do you change the I s o You flip this dial down to two and then you turn the front dial now, why couldn't I do it before? Because I was in the HDR mode and I was locked into this HDR mode and I had to get back out of the HDR mode before I changed the Diallo again. And so that's why that mode was not particularly working in. So now I could just turn this style to change it because it is in the two position when I go back to the one position. Right now, it's changing my exposure compensation cause I'm in the aperture Priority mount now. There was one other problem that we were having, and that was with the focusing system. Let's see if that now works. It does work. I can change. You see little happy face over here. It can now change, and you can see that my face is happy cause I figured out what the problem was and what we're doing wrong. And there's so many controls in these camera. Every once in a while, you get something turned to the wrong direction. You won't have access to everything else, and so that solves that problem. All right, let's get back to the issue at hand. We're going to shoot a still photograph and listen to the sound of the camera. So I got it. Hold on. It's busy. It's telling me it's busy. Alright, let's try what? Notice it in now. And so it's Turn off the high rez mode and let's try shooting a photo ready. Here we go. Now it's still pretty quiet. This is the normal nut. And it's got the beep, which we're gonna turn out, folks, we're gonna trust me. That's coming up. All right, so let's change this. Let me go into the menu and change this. No, actually, we're doing super control panels, Right? Super Control panel. Let me navigate down here and anti shock mode and the silent mode. And so let me just lean in first the microphone really close it here. Almost there. OK, right there. Do you hear that? So let me change this to, uh, aperture priority. Let me close the aperture down all the way. And if you hear if you can hear it I don't know it might come pick this up. You'll hear the aperture closing. Actually, it's a long exposure now. Probably gonna be So let me do this. Let me turn the camera directly at that camera. Now, I'm gonna take your picture. Okay? So let's see if we can get this pointed straight in here. This helps at all, and so you'll be able to see the aperture closed down. Let me set a more reasonable aperture, considering the lighting conditions in here. Okay, so this is Ah, so one second exposure, so you'll probably be able to see something in the lines. I hope I've never done this. This is the first time Test help. Can't see anything in there. I really want this to work. And I don't care for next extra time. So I'm going to switch lenses, Teoh, a little lens that has a bigger opening. And I want to see if this works. I want to see this work. So we're going to stop this down. Teoh, John, What is it that you're trying to? I want Teoh while I'm making the camera as silent as possible, but I want you to see the aperture closing down on the front. I have no idea why. It just seems like it be cool to do. Okay, so I got to get this close down to F 16. And so when we get this pointed straight at the camera and it did, it, did it. There we go. So hopefully let's say so. Listen, now this lands makes a little bit more noise. Now, I still can't see the aperture there. Let me. Yeah, just the camera angle here. We don't have enough. We don't have enough light coming from that direction into the camera here, but that is the aperture closing down. So this is an aperture off the F 16. Let's change it, Teoh F 1.4 cause this is a 1.4 lines Now the aperture doesn't need to close, and there's virtually no noise at all. And so if you were shooting in a theater and you didn't want to make any noise, you could be shooting all the time. And so if you're a courtroom photographer, if you can get access to the courtroom, tell the judge my camera doesn't make any noise and you could go ahead and shoot photos in that situation. All right, so we were on the super control panel, and so we have all sorts of different combinations of motor drive on low speed and high speed. Low speed is five frames per second. High speed is 10 frames per second, and then we're gonna have different options of either silent, which is front and rear Elektronik shutter. Or the anti shock mode, which is the front Elektronik shutter but a normal rear shutter. And the anti shock mode would probably be sufficient for things like working off of large lenses or microscopes or things like that. And there's a few other options in there. We also have a custom self timer so that you can go in and set the camera to take up a certain number of pictures after a certain number of intervals. And for the most part, I think people are going to set it in single. They're going to set it in continuous low. I believe the camera does not track quite as well when you put it in 10 frames per second. And so if you just want to get a burst of something happening in one spot, you can use it there. So a lot of different options in there all right. Ah, question. Yeah, just quick question. What is the the anti shock? Anti shock is where it uses an electronic first curtain, but a normal second curtain. And so it's there to reduce vibrations before the pictures taken, so that during the exposure there is no vibration in the camera doll. All right, Next step below that is the quality of your images. And here we have the choice of raw or JPEG Doesn't sage a pig, but it's assumed you knew, that s so we have different types of J picks large, fine, large, normal, medium normal, small, normal. And you're gonna be able to actually go into the menu and customize these even further if you want. So the top item listed here raws what I would normally recommend shooting for most fairly serious photographers. If you don't have a computer that set up to work with raw images because you do have to have the right software for that, then L f, which stands for a large, fine quality J peg would be the next recommendation. And I probably wouldn't recommend probably any of the other ones other, just to let you know that the bottom ones are J Peg plus Ross. So you're gonna get a J pick and run a reason for doing that was we talked about earlier was the art mode. You could shoot raw to get the original clean image off of it, but then you would also end up with a J peg various different sizes, depending on what your needs are with that modified image. I don't like to shoot raw plus J Peg, because if I have the raw, I can do pretty much anything I want with it, and I can create my own J. Peg. The only reason to get the J peg is if I need to use it right away for something. And there are some people that have photos that are going to multiple locations for multiple purposes and you'll be able to go into the menu system and customized exactly the size that you get on these J pegs. So normally, number one reference reference is raw, and then my 2nd 1 is large fine for people who don't have great software set up at this time for shooting for looking and working with their raw images. We're going to see this a lot of these features again, folks, when we get into the menu setting, this is just kind of our shortcut quick menu
Ratings and Reviews
I had previously purchased the Fast Start for the earlier OM-D E-M5 model and found it invaluable. I was lucky to catch this E-M5 Mark II Fast Start when it was live and had my camera set up beautifully - until I updated the firmware recently and discovered how uncooperative the camera can be in the absence of the combination of settings recommended by John. So I bought the course, which enabled me to restore the camera to the optimal settings and gave me may "Aha" and light-bulb moments about things I'd forgotten or not understood the first time around. I am glad I now have this course so I can revisit it as needed. NOTE: There IS an option to save settings to the PC before updating firmware. I will be doing that in future!
Excellent course. John's ability to patiently and throughly cover all elements of this detailed camera is impressive. He converts the stress level of learning a new camera to a fun level.
I watched most of the live broadcast and just finished going through all of the modules with my camera. I learned so much!! My camera is customized to my preferences and I am now very comfortable shooting in M mode. My picture quality has already improved. John is an excellent instructor.
Student Work