Super Control Panel: Auto Focus, Metering, and Aspect Ratio
John Greengo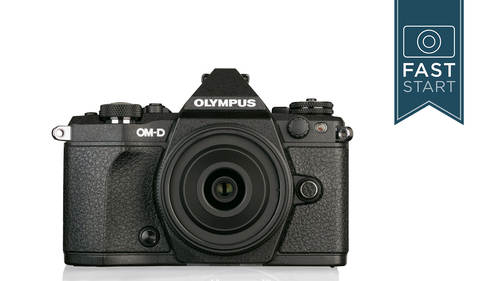 Super Control Panel: Auto Focus, Metering, and Aspect Ratio
John Greengo
Lesson Info
15. Super Control Panel: Auto Focus, Metering, and Aspect Ratio
Lesson Info
Super Control Panel: Auto Focus, Metering, and Aspect Ratio
next up is our autofocus mode. We have single and continuous single is where I would normally keep the camera, which means it's gonna focus once, find a subject and stop focusing continuous means. It is continually looking for focus no matter where that subject is. And this is going to be something that you would use with action photography, where the subjects are moving closer to you and further away from you. After that, we can switch into manual focus if we want to manually focus. Now there are some lenses and this particular lens right here maybe we'll get a close up on this lens. This is the 12 to 42.8 lens, and it's got a very nice manual Focus ring out on the front and it actually has a way to manually focus by pulling the ring down. And you can see the focusing scales right here. And if you want it in auto, focus right there. Now, if you pull it into manual focus here, it doesn't matter what you do on your camera. This lens is in manual focus, and so this kind of overrides the ...
function of the cameras. So if you accidentally bump this here and you're wondering. My camera says it's an auto focus. Or why does it? Why does it say this on my camera? Won't autofocus check the lens If you have one of these higher in lenses that has that particular feature to it. And then finally we have s a F plus MF, and that is single autofocus with manual focus override. So if you want to let the camera focus, but then you want to do what's called touch up focusing, you just simply press halfway down, let the camera focus, and then you could turn the focusing ring on the lens and have it adjust normally like I don't have it in that mode. Right now, I focus. The camera is done focusing and I turn this and it changes Absolutely nothing. And so that would be a special mode for people who have lenses that have nice manual focus rings who do want to adjust after the camera has auto focused. Now s a F plus T R stands for tracking, and this is a intelligent tracking mode that Olympus has for following subjects. It's kind of similar to see a F in the continuous autofocus ing mode, except for it's trying to figure out what your main subject is in tracking it. My guess is, is for somebody who has not done sports photography very seriously, the tracking mode is going to do a better job for them than anything else. But once you get used to the way cameras focus and the way you want to follow your subject, you may find it a little bit irritating that it's not doing what you wanted to do. In which case you might graduate to the next level, which would be CF your standard, continuous autofocus ing mode. Using that in conjunction with focusing points and my preference is CF with nine point focusing option and putting those focusing points where I want to track that subject because the continuous focusing does track and can do some prediction of where that subject is going to be. But one of the small gripes that I would have with this camera is that it is not a professional sports photography camera, and it's not designed for doing action photography on the level of the highest sports cameras out on the market today. It'll do a pretty good job for basic action work, and some people have had it actually do an excellent job in some fairly demanding situations. But it's not quite as reliable as some of the $ cameras from Nikon and Canon. I hate to say this camera doesn't match up to a camera that's five times is expensive, but that's the honest case in that particular scenario. Okay, moving forward right below that is Army during system and we have a number of different metering systems. Kind of the traditional three that you're going to see on most cameras these days is a multi segment option. This one is the digital E S P, and that's it's multi segment metering system, which is what I would recommend, and I leave my camera in virtually 100% of the time. We have a center weighted kind of an old classic metering mode system. We also have a spot system which a number of photographers like for getting a really tightly concentrated reading of the light so that if you wanted to get a reading, say, off of a particular rock or bird or a face or something like that, that was not close to you. You could do that with the spot mode. Now this camera adds in two more that you're not gonna find on other cameras. And so if you're coming from another camera system, these may seem kind of unusual. It is a spot highlight control and spot shadow control. And what this does is it's a spot meter combined with exposure compensation, which I find a little bit much. Combining features in this case is not such a great idea. And so what it does is it is gonna make your image overall brighter or overall darker, depending on the situation. I can imagine some scenarios where it might be nice, but for the most part, I have completely avoided these, and you can completely get away with them by using the digital E S P meter or the spot meter and using exposure compensation on your own. Because if you do it separately, you'll have more control over how much exposure compensation you have in the spot highlight control. It kind of has a preset amount that it wants to add in on any particular shot. And so I'm not a big fan of those two modes, but they're there because somebody likes him. Next up is our aspect ratio. Now this camera uses a four by three aspect ratio. Remember, it's a 4/ camera that was part of the reason it's called. 4/ is at the height to with aspect ratio. And to be honest with you, I'm not a big fan of a 4/3 aspect ratio for my horizontal shots for landscape shots. I prefer something more in the three by two or 16 by nine aspect ratio. And for my verticals, I do like four by three. I think that's a really nice size that's about an eight by 10 size. That's a very common size. And so I think that's really good for verticals. And while you can change it on this, I don't see a lot of reason for doing it because you're going to be basically cropping off information from your sensor that you're not gonna be able to get later now. The only reason to do this in camera is if you knew for a fact you were going to crop it later, and you would like to crop it ahead of time, so that you can actually compose with this new crop viewfinder, and it will show you what it looks like on the back of the camera or in the E V f. And that's one of the beauties of a muralist camera like this is, if you know you need a 16 by nine aspect ratio. You'll see that in the viewfinder when you're composing the image. And so you get to see what the final images like. And that's very important for knowing for taking good photos is seeing what they're gonna look like before they're taken. We'll see this again in the menu setting like most everything else, all right, Ah, whole group of controls that you're not likely going to be using. So we have our saturation and great Asian control and our color space, which is controlling a little bit of the look of the image. We also have another control for our face. Priority we had controls for are focusing a little bit earlier, and so if you want to do face detection, this is where you can turn it on and look for the eyes, or look for the right eye or the left eye But in my case, I usually leave. It turned off below. That is our function controls. And so this is where we can kind of have direct access and jump in and change some of the button functions on the camera. Now we've talked about what a number of these buttons already dio. We're going to talk more about this when we dive into the menu settings. But this is just a short cut to those menu settings. So that, folks, is your super control panel, which you can activate by pressing the okay button on the back of the camera. You can also navigate it using the touch part as well. So if you want to set it up for touch, you could just touch that item to change that item.
Ratings and Reviews
I had previously purchased the Fast Start for the earlier OM-D E-M5 model and found it invaluable. I was lucky to catch this E-M5 Mark II Fast Start when it was live and had my camera set up beautifully - until I updated the firmware recently and discovered how uncooperative the camera can be in the absence of the combination of settings recommended by John. So I bought the course, which enabled me to restore the camera to the optimal settings and gave me may "Aha" and light-bulb moments about things I'd forgotten or not understood the first time around. I am glad I now have this course so I can revisit it as needed. NOTE: There IS an option to save settings to the PC before updating firmware. I will be doing that in future!
Excellent course. John's ability to patiently and throughly cover all elements of this detailed camera is impressive. He converts the stress level of learning a new camera to a fun level.
I watched most of the live broadcast and just finished going through all of the modules with my camera. I learned so much!! My camera is customized to my preferences and I am now very comfortable shooting in M mode. My picture quality has already improved. John is an excellent instructor.
Student Work