Optimizing Grayscale with Levels
Ben Willmore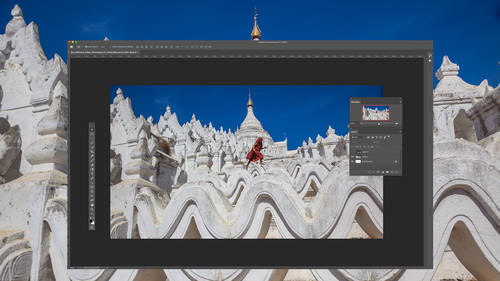 Optimizing Grayscale with Levels
Ben Willmore
Lesson Info
33. Optimizing Grayscale with Levels
Lesson Info
Optimizing Grayscale with Levels
And now let's think about what would I do if I've already adjusted an image with camera and then I need to do further adjustments? Well, there's a bunch of adjustments that we have available. Let's start talking about a black and white image. And let's say that this image, since it's an old picture, is one that it wasn't taken with a camera directly. Instead, this is a photographic print that was scanned, and therefore I don't have a raw file available. Well, I'd like to show you how in adjustment known as Levels works, and I'm gonna use to images to do so. We'll use this image and also use a simplified image, which is this generically known as a gray wedge. And I'm gonna start by choosing image adjustments. And here we have a bunch of adjustment choices, this images in grayscale mode. That means that Photoshopped knows it does not contain any color. If I come up here, you'll see that it's in grayscale mode and therefore any adjustments that require color become great out. If I wanted ...
to use any of those, I'd have to change the mode up here from grayscale to RGB, then everything would be available. But looking at the adjustments that do show up, let's just take a look at him. First. We have brightness and contrast with brightness and contrast. We just have to sliders. The brightness liner is gonna brighten or darken your picture in the one thing that's nice about it is watch what happens to the extremes of black and white. When I dark in the image noticed that white remains white and when I brighten the image noticed that black remains black. Therefore, if you had the full brightness range to begin with, your going to still have the full brightness range from black to white. When you're done, it's just everything that's in between. Those two will be brightened or darkened. Then we have contrast. In contrast, means how big of a difference is there between British areas in darkish areas. So if you look at areas that are relatively bright in areas that are relatively dark, if I increase, contrast will be a greater difference between the two, and therefore bright areas will get brighter in dark areas will get even darker Now there's a greater difference between bright and dark. If I reduce it. Then instead, the difference between bright and dark is gonna be more come more similar, and therefore both the bright areas and the darker is are going to get closer to middle gray. Yes, I lower this well. The problem with this is it's always thinking about an images if it has the full brightness range available. So if your image that you originally opened up was a picture of snow and the snow had no real shadows to it may just slightly shadowy areas so that the entirety of the image went from white down to about this brightness level here, that's the darkest there was in the entire photograph. Well, then, when I increased contrast, since it changes the relationship between British and darkish tones, increasing it, it's just gonna brighten that entire snow photograph because the entire images in that bright range in lowering contrast will just darken the entire snowy photograph. This doesn't allow me to really target things with precision. This is simply the simplest brightness or tonal adjustments. Now there is a check box called use legacy. There used to be a different version of brightness and contrast, one that was so basic that you almost never use it. And if you want to use the old version, you can turn on use legacy in. In that case, if I adjust brightness, every single tone in the images brightened an equal amount. So do you see what happens to black? And if I darken every single tone and the image will be darkened, an equal amount so you see what happens toe white and then, with contrast, it's going to make bright areas brighter, dark areas darker. But it'll be very easy for areas to turn solid white or solid black. And if you bring it down, it'll be much easier to get to, uh, like everything being identical for a photographic image that's not very effective. And that's what we used tohave. If he went with Photoshopped 1.0, up through photo shop. I don't remember what number but many years that's all we had for brightness and contrast. Now you mentioned that because the use legacy check box is extremely useful, just not when you're working on a photographic image. Instead, it's useful. When you're working on a mask, you can have a layer mask. We have a lesson about layer mass as part of the ultimate guide. And if I was working on that layer mask, I might want to take the entirety of whatever happens to be there in brighten or darken it, and this would be an effective way to do so. But you won't see me using brightness and contrast on any pictures unless I'm teaching an absolute beginner and Photoshopped because they usually want more control. So as you work your way down these top three choices, you get mawr, INM or control. So now let's go toe levels and see how it works with levels there a total of five adjustment sliders to work with. If you start with the upper right slider, it will force areas toe white as I bring it in towards the middle. More and more of my image will become solid white. But to truly understand the way it works, you need to pay attention to the Grady int That's right down here, this ramp that goes from black toe white and you need to look at where that slider is relative to that little bar. That bar shows you all the brightness levels you could possibly have in your picture. And as you move this slider to the left and you go straight down here, anything that's to the right of the slider in the bar at the bottom is going to turn white. And so if I were to bring it into the middle, that means go straight down from it. Anything that used to be this brightness level, my picture and anything brighter than that will be solid white. And then everything that's darker than that is going to be brightened along with it. Actually, yeah, So watch this. If I bring this in, you'll Seymour in Maura, the image becoming white because all those shades that turning white are found in this region right here. Then it just keeps h a consistent transition between all the other shades. So as they bring this up now that this shade here is white, this one is just a different from it, as it was before. And so it brightened up along with it. If I bring in the upper left slider, then it's going to force areas to black. Anything to the left of it will turn black. And when I say left of it, I mean in the Grady int at the bottom and therefore for bringing halfway in. Everything it was 50% gray or darker becomes black. Now that could be very useful. Let's say you're scanning your signature, and when you wrote your signature, used a pencil on a sheet of paper and the paper was not vividly white. It wasn't extremely bright. Instead, there had a little atonality to it. So when you scan in your signature, the paper comes in is a shade of gray in your signature comes in as a darker shade of gray. But what you want is solid white paper in a solid black signature. Well, if you brought this in, you could. You could end up getting that paper eventually to turn white because it would be in this general brightness range. Then, if your signature, let's say it was about this bright when you scanned, Ickes was in pencil. You could bring this slider over until it's beyond it, and you'd force it to black. So it being really nice way of working the middle slider, is going to force things to 50% gray. So that's why it starts out in the middle because if you go straight down from it, that's where 50% Gray has found originally. If I were to move in this direction, then what is right here? If I get it to be right above, that will end up being 50% gray. Well, this used to be darker than 50% gray. So moving in this direction will brighten your image, making what's directly below it 50% gray. If I move in the opposite direction, then something over here is gonna become 50% grade. These were originally brighter than 50%. So when I get it over here, it's gonna be darkening. Now that is very useful. When you're working with textures, we have a session within the ultimate guide that covers a feature known as blending modes. In blending modes. There's one set of modes that makes 50% go away, and so if you scanned in a texture, then you want the majority of the texture to go away. Then you want the majority the texture to be exactly 50% gray. When using those modes, will this middle slider right here if you can get it pointing at the exact shade of what's in your texture, it could be very useful. So it's really good to know how these sliders work because it's not just one adjusting normal images that you're going to be using this. It's also when you're applying textures when you're working with masks and all sorts of other things that you might want to think about this. There's two more sliders, and they're found down here at the bottom. The slider on the left, if I pull it in, is going to make what used to be white in our picture. It's gonna change it to the shade of gray. This points at so over here is white in this image, and if I were to pull this over to left, we're no longer gonna have any white. Instead, the brightest part of our picture will be whatever this points at. I bring in the opposite, one that controls how bright things are that used to be black. When you bring it in. Now black will become whatever this points at. There's a bunch of good reasons for using that. Let's say you prints on a printer that you have on your desk, and you find out that every time you print the dark part of your image, where you could see detail on screen comes out of solid black. It's just you're using cheap paper when you're using ink to print with, and that ink is absorbing into the paper. And as it does, it spreads out. Is it absorbs in in any variation there was in an area that was 98% gray, or something like that becomes solid black. Well, you could do a test. You could print an image similar to this, although you have it so all the shades or dark. So it's kind of like that. And then you could print it out and say, What's the 1st 1 of these? That actually looks different than black? And if you were to figure out how bright that shade waas, then when you're about to prepare an image to print on your printer, you could just take the slider and point it right at that shade, the darkest shade where you can still see a hint to detail. So that should give you an idea of what these sliders do. Let's use them now to adjust an image
Class Materials
Lessons 1 - 6 - Handbook 1: Introduction to Adobe Photoshop
Lessons 7 - 12 - Handbook 2: How to Use Camera Raw
Lessons 13 - 18 - Handbook 3: Making Selections
Lessons 19 - 24 - Handbook 4: Using Layers
Lessons 25 - 30 - Handbook 5: Using Layer Masks
Lessons 31 - 38 - Handbook 6: Using Adjustment Layers
Lessons 39 - 44 - Handbook 7: Color Theory
Lessons 45 - 51 - Handbook 8: Retouching Essentials
Lessons 52 - 59 - Handbook 9: Tools Panel
Lessons 60 - 64 - Handbook 10: Layer Blending Modes
Lessons 65 - 70 - Handbook 11: How to Use Filters
Lessons 71 - 74 - Handbook 12: Advanced Masks
Lessons 75 - 81 - Handbook 13: Using Smart Objects
Lessons 82 - 86 - Handbook 14: Photography for Photoshop
Lessons 87 - 93 - Handbook 15: Advanced Photo Retouching
Lessons 94 - 98 - Handbook 16: Warp, Blend, Liquify
Lessons 99 - 105 - Handbook 17: Advanced Layers
Lessons 106 - 112 - Handbook 18: Actions
Lessons 113 - 117 - Handbook 19: Troubleshooting Issues
Practice Images 1: Introduction to Adobe Photoshop
Practice Images 2: How to Use Camera Raw
Practice Images 3: Making Selections
Practice Images 4: Using Layers
Practice Images 5: Using Layer Masks
Practice Images 6: Using Adjustment Layers
Practice Images 7: Color Theory
Practice Images 8: Retouching Essentials
Practice Images 9: Tools Panel
Practice Images 10: Layer Blending Modes
Practice Images 11: How to Use Filters
Practice Images 12: Advanced Masks
Practice Images 13: Using Smart Objects
Practice Images 14: Photography for Photoshop
Practice Images 15: Advanced Photo Retouching
Practice Images 16: Warp, Blend, Liquify
Practice Images 17: Advanced Layers
Practice Images 18: Actions
Practice Images 19: Troubleshooting Issues
Ratings and Reviews
I am an avid reader of photoshop books, and an avid watcher of photoshop tutorials. I have attended (internet) several hundred of presentations. In the course of this endeavor, I have found my own favorite photoshop websites and instructors. Creative Live is probably the bargain out there as well as among the top three internet course sites. I have to say with great enthusiasm that the best Photoshop instructor is Ben Willmore. There are many great ones, but truly, he is the best I have come across, and, as indicated above, I have watched literally 100s of tutorials on Photoshop. I have seen all of Ben's courses, I think, and among them, this one is the best by far, and that is saying a lot, because that makes this course the best course on Photoshop to be found anywhere. I am going back and watching it twice. Not only is it comprehensive, but Ben is so familiar with his subject that he is able to explain it like no other. This is crème de la crème of Photoshop classes. I have been wanting to write this review for some time because I have been so thoroughly impressed with everything about this class!
Highly recommended if you want to take your Photoshop skills to the next level. Ben Willmore is clear, concise, and professional. He also has a good speaking voice that is not distracting but also keeps you engaged. Lastly, I would recommend that as you become more advanced, increasing the speed of the video (one of the options given on the menu)...especially if you've gone through the course once before and maybe want to watch it again. The double speed is very efficient as you become more advanced in Photoshop. Thanks for the help Ben!
Wow. I cannot communicate the value of this course!! The true value in this course is how the instructor identifies workflows you'll need before you'll ever realize it, repeats important information without it becoming annoying, and explains the "why" behind the techniques so well that even if you forget the exact method, you can figure it out via the principles learned. Excellent value, excellent material, excellent instructor!!!
Student Work