How to light only using two $10 bulbs
Albert Watson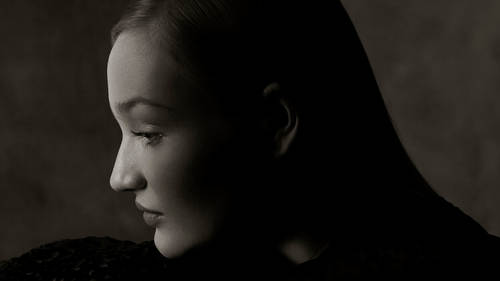 How to light only using two $10 bulbs
Albert Watson
Lesson Info
46. How to light only using two $10 bulbs
This is a incredible lesson where Albert demonstrates to you that expensive lighting equipment is by no means a necessity! Discover how to use two $10 bulbs to create a dramatic, high contrast shot. Simply genius.
Lesson Info
How to light only using two $10 bulbs
So a lot of times of course I'm using a lot of expensive lighting equipment. I'm sure sometimes upwards of 60, $70,000 worth of light. And here I thought we would just see if we can get a decent portrait using two basically $10 bulbs. So that you don't necessarily perhaps have to have a lot of expensive equipment. That you can maybe get started with something very very simple. So just the movements are fairly small that you would do. So if I asked you to turn your head to the side, don't just shoot it over. Because then I see the light travel across your face. So just bring the face, the head this way. A little bit there. Okay. So let's try this as a possibility. So you're here but now turn your head to me. In this case you might have to use the dreaded boom but maybe not. I think you can ease this light gently back a little bit. You know it's in a good position but if you kind of hold the, In the background or? Just away from him. So I know it'll bring the background up a little b...
it. Let's see how it looks. So we don't. And you're looking just great right now. Come forward a little bit, a little bit higher up there with the eyes. That's it. Just stay there. You have a little bit of card? So what we have to do here. Ed maybe and Taro, is move the light to the other side I think. Although it's quite nice. It's not bad really. Just a fraction turn your head this way. Keep turning. (camera clicking) You look at that right now. Even if you have closed your eyes. I certainly have, I can see the sweater. Very low contrast. I think it's probably pretty good. I think that we would take a little off the background it's too bright. All right just Edwin why don't you hit the frame there? Yes sir. Do you have another flag there? You good? Yup. (camera clicking) Tiny bit turn your head this way. Little bit more. Is this in frame? Out of it, no. Let's just do the very obvious thing here Taro. Just move the canvas. You're going to move the canvas back. And go slightly counter clock. Which would mean Ed would go at a faster rate than you. Just go back into it roughly. This way, good. About my hand here. Straighten a little bit that way. Turn your head this way a little bit. And a tiny cock, that's it. You're right on it right now. So if you look at the videos, when you use a bulb like this is obviously at really high contrast. So you're ending up with a high contrast shot. So the high contrast is really enabling you to, to do a dramatic shot. But what I've done is I've just softened the top a little bit to push the emphasis onto the center part of the frame by using this flag here and also this little flag here. Just to cut a little bit of light on this side. So if you're to exaggerate what these flags are doing, you can see there. That the flags are cutting some of the top. And the flag on this side is just taking some of the weight off of this cheekbone here. And then the second bulb is just putting a little bit of energy into the canvas at the back there. Now the camera angle, we're on a 110 lens here. The height of the camera is low. So you should always think about that. So the camera height is here. So we're looking up at him. So the shot's a little bit, the shot is a little bit heroic and dramatic. So it's a fairly just straightforward dramatic portrait. But the important thing is here, from beginning to end here, we're just a little bit more than five minutes. So it's just to let you see how quickly you can get to something that you might be able to use early on in putting together a portfolio. That you decide to find a lot of interesting people, take them in, but you have to begin to work with this. So as that you begin to see what the light, you know what light can do. And what the flags are doing and so on. So you have to begin to learn to really look at what light does on a face here you know. And you know, can I do something more unusual you know? Adrian if you hit that. (camera clicking) You can almost you know that very corny expression, you're painting with light here. And just hit it again. (camera clicking) You can just very simply create mysterious images, stranger images, if you're concentrating. And as long as you have a friend that's over their head in the shot of when you're creating it. Just go back one frame. You can see that you can create strange, unusual shapes with just something as simple as a $10 bulb. So although this is a very simple set, two $10 bulbs, there are limitations here. You end up, your ISO is very high here. Can be 1600, 3200 even. So you're really increasing the ISO because you have no shutter speed to work with and of course the great advantage of strobe is of course you have shutter speed and you have greater depth and greater power. But the important thing about this as a learning experience is that working with two bulbs like this can teach you how to work later with a strobe. Once you've made a few dollars then you can buy your first strobe and get a couple of heads and so on. But this is a great way of producing, you know you can produce a whole portfolio of work. But there are limitations to this. But it's a great, simple way to get started.
Ratings and Reviews
"Unless you're Mozart"...this course is an invaluable asset. I'm a pro, humanitarian/documentary photographer, & wilderness...and I've learned much from the 40+ sessions here. This is truly a Master Class...next best thing to being with Albert. And although I could watch studio sessions forever, this course offered a very balanced curriculum of technical information, artistic encouragement and guidance, and a open, generous window into the thinking of a gifted artist and photographer, sifted from decades of first class experience. Kudos to all involved. Excellent!
I purchased my first CreativeLive class in 2011 and have continued to purchase many classes over the years. I have learned so much from the many great instructors. This one is not a technical class that will tell you to set your camera at f4, 1/60, ISO 400 and you can get this shot. If you are looking for that, there are many other options. If you have a solid working knowledge of photography, this class is so much more. The way it was filmed is like you are there with him in conversation or in the room with him watching him shoot. To see and understand the how and why he does what he does. Not to take anything away from other classes that have helped to give me a strong understanding of photography, this is my favorite CreativeLive class so far.
Student Work