Photographing Breaunna
Albert Watson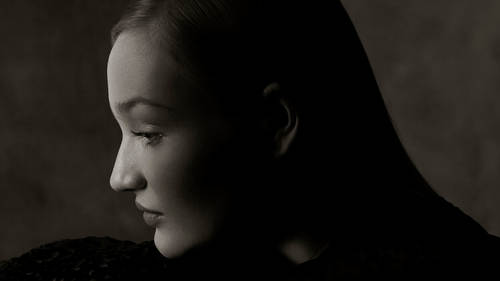 Photographing Breaunna
Albert Watson
Lesson Info
33. Photographing Breaunna
Albert tells you how to always be alert to chance encounters. He tells you how he met and was inspired by Breaunna. He explains how some of his most recognisable Strip Search photographs of her were created .
Lesson Info
Photographing Breaunna
One night I was in a bar. Walking through the bar, not sitting at the bar. But walking through the bar. And I noticed this girl sitting at the bar with kind of a fabulous hair cut. She was wearing a leopard jumpsuit with leather boots up to her knees you know? So I briefly talked to her. She was with her boyfriend. I said I've got a small studio set up in an old kitchen downstairs. Can I photograph you? She said sure. So she came down with her boyfriend. And I did a shot of her with her boyfriend. And has about five three and her boyfriend was six six. So it was like kind of a funny couple but rather fabulous. He was a rock musician so he was pretty funky looking. But there was one thing I noticed about her. I went in and did a close up on her and did two rolls of film on her. And she was absolutely truly remarkable in front of the camera. So as I've said several times and will say again, sometimes you get lucky. And sometimes you really get lucky. This girl turned out to be which I fo...
und out later. She turned out to be a professional dominatrix. And of course I didn't really know much about what a dominatrix was, I had a rough idea. I'm not that naive. But believe you me by the end of it I learned what a true dominatrix was doing you know? And I just found her charismatic. Now that's something as a photographer, if you ever find someone that you think is charismatic. Make sure you get their home number. That's exactly what we did. We got her home number. By the time I got back to New York and looked at the contact sheet, which was only about three rolls of film all together. I looked at it and I thought she was just absolutely sensational in front of the camera. I'd never seen somebody unless you're going to like a very high end model, like a Christy Turlington. I'd never seen somebody like that in front of the camera. (rock guitars playing) I called her up and said you know, and I felt she was worth on the next trip that I could book her for three days you know? We came back and I began an amazing kind of photographic journey with her in Las Vegas. Photographing her in Las Vegas. And to be quite honest I could never get enough of her. She was just absolutely sensational. And of course it was handy for me and I said would you ever do a nude? Oh she said she didn't care about that. She would do nudes. And so it was, she turned out to be great for me to photograph. And I think that, absolutely it's the small lesson in this, is keep your eyes you know and sometimes your ears open. And once again be switched on at all times. Because you know, don't let little gems like that go by you. Of course when I brought in Breaunna to the Strip Search Project and I booked her basically for three days to work with her. Of course I was going to really work with her. I was going to probably work 12, 14 hour days with her. And this is really what happened. So I ended up in a place called the Budget Suites. They're kind of a cheap motel. I was working with her and I, she had brought several of her outfits that she used in her dominatrix business. And she had brought these various outfits. And I began photographing her doing several details of these outfits. And I was in a room. I had created some green and blue light in the room. I was very happy with what I was doing. I was doing details of stripper shoes. So I was doing still lifes in between giving her a break so I could, I kept working and I did still lives, gave her a break then went back to photographing her. Then I did these shots of her leg. 'Cause she had great legs. And I did these shots in different colors, neon colors, after all we were in Vegas. The neon colors were created just by simply putting gels on strobe lights, it was that simple. And working out the direction of the light. Very often working in blues, greens, reds. And at one point she said, can I get a beer from the fridge? The fridge was behind me and I said sure, go ahead, take a break. She went over and she opened the door of the refrigerator. And she was just standing there deciding what she wanted to get and of course you know, I saw that shot. I'm afraid it's the same old same old. Stay awake you know. Keep looking. I then saw the shot. There was something rather wonderful about a dominatrix standing at a refrigerator. I don't know why I liked it so much. But in fact you know I loved the idea of it. So she went ahead and had her beer. And I reset her in that position, the very position that I'd seen her in. Well I hadn't planned a refrigerator shot but there it was. And once again it's just staying awake. Making sure that you see all of these things. And now the only thing technically I had to do there. I had a very very small strobe just to get the real effect. I had a small strobe that I put inside the refrigerator. The small strobe inside the refrigerator was just simply a clean, one light strobe. Outside in the room I already had bound several strobes with green gels on them. So that's why the green is the dominant color there. But of course I needed something to fight against that and I put the strobe inside the fridge. But it was essentially, what you see there in the shot is essentially what I saw when I did the image. It's just the same old story. You have to stay alive and alert and always be looking for shots. And when you're always looking for shots, shots will come to you. (rock music)
Ratings and Reviews
"Unless you're Mozart"...this course is an invaluable asset. I'm a pro, humanitarian/documentary photographer, & wilderness...and I've learned much from the 40+ sessions here. This is truly a Master Class...next best thing to being with Albert. And although I could watch studio sessions forever, this course offered a very balanced curriculum of technical information, artistic encouragement and guidance, and a open, generous window into the thinking of a gifted artist and photographer, sifted from decades of first class experience. Kudos to all involved. Excellent!
I purchased my first CreativeLive class in 2011 and have continued to purchase many classes over the years. I have learned so much from the many great instructors. This one is not a technical class that will tell you to set your camera at f4, 1/60, ISO 400 and you can get this shot. If you are looking for that, there are many other options. If you have a solid working knowledge of photography, this class is so much more. The way it was filmed is like you are there with him in conversation or in the room with him watching him shoot. To see and understand the how and why he does what he does. Not to take anything away from other classes that have helped to give me a strong understanding of photography, this is my favorite CreativeLive class so far.
Student Work