Studio session with a model - set up 2
Albert Watson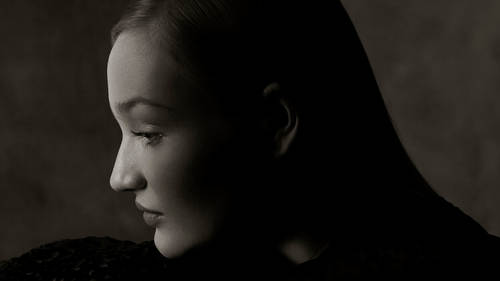 Studio session with a model - set up 2
Albert Watson
Lesson Info
12. Studio session with a model - set up 2
Learn how Albert creates his iconic beauty shots. See and listen to Albert as he explains his thought processes when creating this type of shot.
Lesson Info
Studio session with a model - set up 2
(dynamic music) Let's go back to where we were and come right down on the table. Taro, if you can life this up a little bit for her so she doesn't have to come down so far, we'll lift the table up a little bit and you're a little bit more like this, so the table should be pretty high. Yes, sure. How does that feel? Good, so like this? So you're not, I would say more like this, so the elbows are, exactly. So, higher? Yeah, a little bit, yeah, there. Perfect. Thank you. So when you look at something like this and you begin to look at her face, you should have a concentration on what's going on with what fashion she's wearing. So I'm going to make a slight adjustment here, grab the sleeve here and we pull the sleeve down a little bit. The sleeves are quite short, we just pull them down. So as you work with her, you've got to, at that point you know, somehow begin to examine what the clothing is doing, how everything is working here, you know? Just come towards the ligh...
t here, there. Now, let's just possibly, and I'll do this Louiz come on my other side here, and maybe we can give you, don't move I'm going to slide this board out. I'm going to give you this board here and from this angle over there you can give me just a little bit of movement. So we turn this shot more once once again into a beauty shot here, you know? Come down, then come up a little bit. Now she's come down, I still think the light is good so try just that little bit of movement in the hair. You can be closer Louiz. And sometimes the hair will fall into the same position here. It's very good there so just hold on a second, it might just stay, you know? Let me get back in here. Ah, Taro? Yes, Sir. I'm just gonna come up to here. Also very nice a little bit up like that, not quite so far but. Okay, now let me see the movement in the hair. Go a little bit back Louiz, that's it. Little bit lower with the eyes, about here. (camera clicking) Stay there. Now don't move at all. Right there, hold steady. Hold steady, hold steady, don't move. (camera clicking) I've done two hits here, there we go. Okay. Just relax there. I'm sure most photographers realize that, but, in here, I've got a medium telephoto lens, a 1:10 and I've done two hits here and the computer now allows you to splice these two shots, so why not just move back and do this shot as a complete shot and risk a split? Well of course you don't risk everything, you don't put all your eggs in one basket to risk that it matches. But what we're gonna do now, we're gonna splice these together so why do it as split there is a compression value of the lens because I'm so close to her and there is a slight sense of immediacy because I'm so close, so let's try, I think Adrian, you putting the two of them together? Yes, Sir. So there's a program in the computer which most computers have where you can splice these two together and you can get a slightly more powerful image when you splice the two of them together as opposed to moving back or changing the lenses. But it is a way of making perhaps a simple beauty shot just a little bit more powerful and more immediate, so now we'll crop this. You can see the close out, I'm actually working on a 100 megapixel camera so therefore I'm now essentially working with about 180 megapixels here. And of course I've changed this now into basically a landscape format and we can come in a little bit on the top. Keep coming in there, and a little bit on the sides here. On the left side it can come a little bit more. And we can, that's pretty good right there. So you can actually create a more powerful shot so, at first glance, it doesn't look perhaps a lot different to the way that you say might say put on a 150 or 180, but if you keep looking at this, you'll find that the shot actually for me anyway, has more power because of that double hit on it because there's something about the compression of the lenses and the closeness here, and it's just different if you move the camera back. So it's just a little extra thing that once in a while you can consider as something additional. But we'll actually, we can move this shot over now and we'll move it onto a Photoshop system and you can have look at how I would maybe analyze some of this and how I would put together this shot if I felt it was kind of strong enough. So we can do that. (vibrant music)
Ratings and Reviews
"Unless you're Mozart"...this course is an invaluable asset. I'm a pro, humanitarian/documentary photographer, & wilderness...and I've learned much from the 40+ sessions here. This is truly a Master Class...next best thing to being with Albert. And although I could watch studio sessions forever, this course offered a very balanced curriculum of technical information, artistic encouragement and guidance, and a open, generous window into the thinking of a gifted artist and photographer, sifted from decades of first class experience. Kudos to all involved. Excellent!
I purchased my first CreativeLive class in 2011 and have continued to purchase many classes over the years. I have learned so much from the many great instructors. This one is not a technical class that will tell you to set your camera at f4, 1/60, ISO 400 and you can get this shot. If you are looking for that, there are many other options. If you have a solid working knowledge of photography, this class is so much more. The way it was filmed is like you are there with him in conversation or in the room with him watching him shoot. To see and understand the how and why he does what he does. Not to take anything away from other classes that have helped to give me a strong understanding of photography, this is my favorite CreativeLive class so far.
Student Work