Crop vs. Full Frame Cameras
SLR Lounge, Pye Jirsa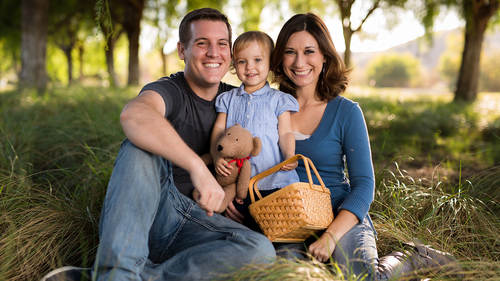 Crop vs. Full Frame Cameras
SLR Lounge, Pye Jirsa
Lesson Info
44. Crop vs. Full Frame Cameras
Lesson Info
Crop vs. Full Frame Cameras
In this video, I want to show you all the differences crop versus a full frame camera, we're going to talk about the difference in these formats, and we're gonna do it a little bit differently in a moment we're going to get a hero shot of our lovely models, which we used earlier. This is a vet and olivia, they are both very smart people, but they're not photographers, right? Okay, have you guys you guys have a dslr? You guys have any iphone, take pictures and any short, okay, so we're going to talk about sensors, and I want you guys to kind of help me to explain this back to the audience will at least help me answer questions, ok? And if we can teach it to somebody that doesn't have a camera or a dslr will, all of you guys should be able to understand as well. All right, so crop versus full frame now all we're talking about here with these different terms crop frame, full frame, medium format, large format, all it is is just the size of the sensor inside the camera now, back when we're...
shooting film that was the size of film now it's the size of the actual digital sensor inside of these dslr but basically full frame is based on the thirty five millimetre standard film format and you guys are looking to kind of glassy eyed right now. I'm not going to go into a whole speech on where this standard came out. I'm gonna give you guys two sentences basically using film from george eastman. You guys have you guys heard of this? These are some famous names. George eastman, eastman kodak, kodak. Ok, so using film from kodak, we have william dixon and also thomas edison. Another well, two actually famous things, but thomas, that isn't for sure. We all know it right now. In the early nineteen hundreds, this is when the motion picture patents company came along and they decided that the thirty five millimeter film gage was going to be adopted as this standard size. Okay, so that's basically, the history on that's all I'm gonna give you is an interesting read. So if you guys are interested in the history of film, go check it out, but that's all for we're going to be here. So this is what essentially kind of influenced all cinema and photography since then. So anything that was essentially smaller than thirty five millimeters became a crop sensor or crop basically film format. Anything that was larger became medium format or large format, and anything that was thirty five millimeters became thirty five million or full frame format okay, so everything we haven't photography is really based around this the thirty five millimeter format as faras this size and this is kind of tough to think about but it's twenty four millimeters tall by thirty six millimeters wide so if you take twenty four and he put it over thirty six if you simplify that basic math alright I hate math so I'm gonna give you the answer that I'm not gonna ask you if we simplified it becomes to over three right and two three is actually the standard aspect ratio of thirty five millimeter film and you might hear aspect ratio every now and then that's always talking about it's two units tall for every three units wide and that's what we get the four by six the most common print size of all we all love our four by six is what you can get for like seventeen cents now at costco pretty good deal all right, so that's the two by three aspect ratio now if people talk about other cameras like say for example a micro for third camera all it is is a small sensor that's a four third aspect ratio so it's just a different size and ratio it's basically four units wide by three units tall okay, so it's pretty simple now that's it for the size of sensor okay, so question time I'm gonna ask you guys help me out full frame camera what is the size of that sensor or film if it's thirty five thirty five millimeters awesome now a crop sensor camera for example this rebel is a crop sensor cameras. So is the sensor nous smaller or larger than full frame smaller you're answering all the questions olivia okay, what about medium or large format? Is it larger or smaller than full frame larger okay, so all we're talking about just the physical size right? That's pretty simple to understand but there's one other thing the physical size of the sensor inside the camera is also going to effect the actual well, I want to say the effective focal length of the lens it's not going to change the vocal length physically but it changes what you can actually see I'm gonna give you an example here. This is a thirty five millimeter lens. Okay, now you guys are familiar that with a thirty five versus fifty versus seventy the higher the number that you go in the focal length what happens the mohr that it zooms in because they're family with that okay, glassy eyed looking okay, okay. All right, so the more we go the more it's the higher the number, the more the zoom okay, but the thing is that ana thirty five millimeter lens if it's on a crop sensor camera we don't actually see the entire area of the lens for example if the area the lens is let's say we'll drop box like this all right so here's our box right here so if this is what the thirty five millimeters seeing if it's on a crop camera it's only seeing the inside portion of this so basically we're cutting out the outside edges now effectively what's happening is that is changing the view so it's actually kind of zooming in it's not zooming in physically it's just that the view changes all right so we're ready to move on a shooting you guys done with camera talk that was way more emphatic than I thought they would be apparently I bored them to death all right what we're gonna do is have him sitting down this pedestal what we want to do is get a nice kind of hero shot of our female athletes so we'll probably have invest sitting maybe olivia behind we're going to do some lighting we're going to do some compositional stuff and what I'm gonna do is I'm going to shoot it on my rebel which is our one point six crop we're going to use the thirty five millimeter lens again effectively this is going to be more like a fifty to fifty six meat well fifty six millimeters basically on this camera and we're going to shoot with the same lens on the five three where it'll actually be thirty five millions because I I want to show you how that effective you will change. Okay, let's, get started. We're gonna sit him down, and we're gonna get imposed. And then we're gonna go ahead and light. The scene composed the shot, and we'll go from there.
Ratings and Reviews
I watched this class "live" and was simply amazed at the amount of information Pye covered. Yes, he talks a little fast, and since I was streaming the class I couldn't stop it to review anything, but this guy really knows his stuff and explains it very well so I absorbed quite a bit. Bye is enthusiastic, clearly enjoys his craft, and delivers excellent information to students in a light heartedI and fun way. I think some reviewers are a bit harsh about his humor. Lighten up, people! His examples and the additional information his co-host provides are very worthwhile and you can tell the course was well thought out. I plan to buy the class to help me get back into DSLR photography.
I really enjoyed this class. I am not a beginner, but there were still things I learned here that I found helpful. I really enjoy learning from Pye. He is quick, gets to the point and doesn't spend a lot of time going over and over the same point. There is a wide variety of things that he covers, so really something for everyone. I would recommend purchasing this class if you want to understand your camera better, improve your technique and start taking better photos.
I have tried to learn photography myself via the internet / YouTube but always felt like I was missing something in my foundation. Sure I can zero out my meter...but why? How do I know the settings I've selected are the correct ones? I've been circling this drain for a year until this course. WOW! Pye has SO MUCH information in every video. He doesn't just stand in a classroom and talk, he's out in the field actually putting his settings into his camera, talking about why and why not and then shooting. He's hands on the entire course. You don't just hear him, you see exactly what he's doing! I'm a visual / listening learner and this is my eureka moment! Thank you Pye! Watching the Exposure video and how you changed the settings yet maintained the exact same exposure was mind blowing. Awesome course! I would recommend this to anyone new to photography or anyone that feels like they don't have all the info.
Student Work