Crop vs. Full Frame Cameras Demonstration
SLR Lounge, Pye Jirsa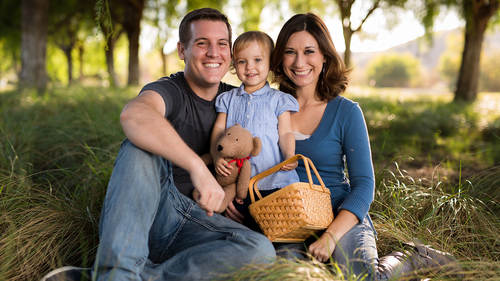 Crop vs. Full Frame Cameras Demonstration
SLR Lounge, Pye Jirsa
Lesson Info
45. Crop vs. Full Frame Cameras Demonstration
Lesson Info
Crop vs. Full Frame Cameras Demonstration
All right so let's go ahead and get our athletes set up in their hero shot event in olivia come on in we're going to set you guys up right here on this little pedestal there's a spider no spy there ok I hope with gone okay so event let's have you kind of pointing towards this direction and what we're going to is probably place olivia right behind okay so now we're going to do with here a shot we're going to shoot it low but we need to light them when you do everything we need to get the pose right too and we noticed that this this stump was a bit tall so we got another piece of wood right here which we just basically picked up from well the forest so I'm going to place the vets back put on this and we could just place it right kind of like their weight I want to make sure it looks like good angle of the camera looks pretty decent I'm putting it bark side forward because the backside really is not that pretty to look at and we can actually turn it a little bit more okay so let's go ahea...
d and light now what we're gonna I want to do with the lighting is we still have some pretty good sunlight right here I'm going to set up two silver reflectors right here we'll put him on stands and again these air the standard fiveone reflectors we want to add as much light as we can into them kind of balance them with the background and create well, a much more editorial look to the image with that versus kind of just going with this, which is going to look more sort of lifestyle ask again, we want to go with editorial powerful look, we're probably gonna need another silver side also, which I don't have a third stance. I'll probably have just my assistant hold and he'll hold about right here to fill light into olivia space and also to phil allover the shadow side let's go ahead and do that right now, so I have our stands the reason that we're shooting in a low angles because again, I want this to be a hero shot where our subjects that kind of dominate the frame with athletic shots with these kind of poses. You know what? You don't see this a lot. When the doctor's going to olympic athletes, you get low to give them a sense of power over the frame and give them that kind of domineering stance. You can do this with anybody you want to make a businessman look extra powerful, shoot him a little bottom up, it'll give him that kind of looking authority over the frame so let's, go ahead and check this out now this looks beautiful so what I'm going to do since I do have my cannon here, I'm gonna go ahead and bring up the live you just because it's gonna be super simple and I want to shoot this first for compositional purposes at f to wait because I do want them both to be very sharp, but I want them to be good separation in the background after it will have good separation from the background but they're not going to be well, I don't want that super soft look in the background again I don't feel like it's very editorial so I do want to have a little bit more depth and dimension there on just a little more in focus they're gonna go with two point eight I'm going to bring the shutter speed down, teo one, two hundred second is right about spot on right now when the sun comes out, we will need to adjust this if the sun comes out full were probably to go upto one, five hundred of a second in between, we'll go down to one, two, fifty one, two hundred and so forth, so just kind of keep that in mind. I can see that the sun is getting a little bit brighter as I'm even talking to you guys okay? So again I'll probably go upto one to fiftieth right now just to balance that right away that's perfect. So want to be the second at two? Eight, remember is a one hundred because we want to get as much dynamic range is possible. Let's, go ahead and take this shot real fast. Tony you're a tiny bit in, so just lift up a little bit, okay? So pose wise, I think everything is good. Don't get this shot is perfect. Now you guys gonna hold perfectly still? Okay, what I'm gonna do is I'm gonna switch out to my full frame camera. I want to see what this image looks like. I want everybody else to see it as well. Okay, let's, get down to that same position. I'm framing him the same way lets go and turn on the camera. We were at one to fifteen of a second f two point eight. So I'm gonna go ahead and dial on the same settings here to eight. Perfect and then having the right one third, and we're going to take this shot. Okay? Now, this is kind of crazy because in this camera, all I'm saying is just my subjects. I mean, I frame it so that everything else is out of the image, but in the five day three, we can see every single reflector because you can see how much wider that full frame view is versus the crops interview that's it for this tutorial. Hopefully you all out there understand the difference. Now, between a crop, ear's is full frame camera, essentially the change that's gonna have, or the effect it's gonna have over the effective focal length of effective you of your lens. But you guys can see that. Hey, we have a crop sensor camera right here. We have a rebel and a basic thirty five million lens and were able to create some awesome images. Professional images just by setting up our lighting setting of our post and getting everything right in scene. All right, that's it for this video will see you on the next one.
Ratings and Reviews
I watched this class "live" and was simply amazed at the amount of information Pye covered. Yes, he talks a little fast, and since I was streaming the class I couldn't stop it to review anything, but this guy really knows his stuff and explains it very well so I absorbed quite a bit. Bye is enthusiastic, clearly enjoys his craft, and delivers excellent information to students in a light heartedI and fun way. I think some reviewers are a bit harsh about his humor. Lighten up, people! His examples and the additional information his co-host provides are very worthwhile and you can tell the course was well thought out. I plan to buy the class to help me get back into DSLR photography.
I really enjoyed this class. I am not a beginner, but there were still things I learned here that I found helpful. I really enjoy learning from Pye. He is quick, gets to the point and doesn't spend a lot of time going over and over the same point. There is a wide variety of things that he covers, so really something for everyone. I would recommend purchasing this class if you want to understand your camera better, improve your technique and start taking better photos.
I have tried to learn photography myself via the internet / YouTube but always felt like I was missing something in my foundation. Sure I can zero out my meter...but why? How do I know the settings I've selected are the correct ones? I've been circling this drain for a year until this course. WOW! Pye has SO MUCH information in every video. He doesn't just stand in a classroom and talk, he's out in the field actually putting his settings into his camera, talking about why and why not and then shooting. He's hands on the entire course. You don't just hear him, you see exactly what he's doing! I'm a visual / listening learner and this is my eureka moment! Thank you Pye! Watching the Exposure video and how you changed the settings yet maintained the exact same exposure was mind blowing. Awesome course! I would recommend this to anyone new to photography or anyone that feels like they don't have all the info.
Student Work