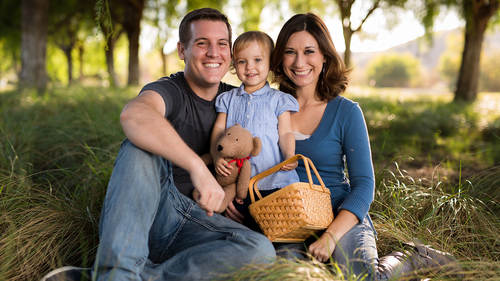 Lesson Info
Single Shot with Portrait Session
Now, what we've done here so far is again, we've placed events back to the light, okay? So lights coming in behind her, but we get beautiful kind of highlights all over the background from the trees, too. The cement will. Whatever we choose to do in this scene, we're going to have beautiful back lining and also gives us the life's little hair light as well. What I need to do is I'm gonna have tony come onto this side tony's gonna actually help me fill light to create a stronger sort of sidelight on her face and just kind of even out the lighting, all right, let's get started right here, and I'm gonna go ahead and do a couple things with my settings in focus mode. I have it on single servo a f for my f area mode, I'm also selecting single point f the reason is, again, I don't want any of these auto area f modes that air kind of choosing based on an area I want to able to sign those things myself, I want to take the control back, okay? So that looks great now all we need to do is get the...
right kind of composition, everything, and I said he'd been up here for another reason, too, we actually have this. Nice tree in the background that has kind of two branches or to route that air going in different directions it's all backlit it looks lovely I'm actually trying to use it to frame our subject so you better why don't have you stand up for a second okay? And I might have you take a step back and I'm gonna see if I liked the stronger hair light on your hair better or the lighter one so go right under the cement real quick okay, so that would be the stronger hair light and it's actually pretty nice and create a good separation there and why don't you bring in that light tony and show what it looks like so bring it all the way in right to the side of her face and just kind of get there you go right there. Okay, so adding as much light as we can right there and then let's check this out so at one, eight hundred of a second and take my first shot and the hair light is a little bit on the strong side but that's okay let's go ahead and try that one more time let's have that come forward out of that direct light so we have a softer backlight so that kind of take a step maybe yeah, like right there's purse okay, I'm gonna take a fairly close up portrait I have eight hundred shutter speed, I'm a little bit on the fast sides. I'm going to slow down just a bit to one six, forty second that looks great. The situations where single shot is really awesome because you're just the subject is static, so it's very easy mode to use, and even if when we say sub biggest static, it doesn't mean that the subject can't a moat or basically give you expressions. They still can't it's just that we don't want her moving forward or backwards. So event, I'm gonna have to give me like a fake little laugh here always haven't do a fake laugh because when they realize how silly it is and then they give me the real laugh right afterwards. Perfect. Give me just a soft smile of the lips. Perfect. I won't have you do, my dear. Now is let's. Lose the jack it real fast. It's actually warmed up a little bit so we can take the jacket off. Okay, so, tony, have you let's have you come out a little bit and I'm gonna have you, um, back up to about there? There you go and then give me that white side. You can see how beautiful this fill light is right there. I'm getting it as much light as we can over here and then we're just gonna put it in the position so you can see how much light we're getting on that. And then even I'm gonna have your chin come down into this side. We're going to step back a tiny bit more let's get a couple more shots here. Beautiful. I'm going to step back a little more because I want to get basically like a three quarter shot. Well, basically, a five shot. We're gonna cut off right at the thighs. We get both your hands in the shot too, so I'm gonna step back just a little bit. I'm on. The eighty five stills have to come back a little bit further. Perfect again one sixty forty of this second, you can see how balanced these shots are as faras the overall highlights. We have a little bit of highlights that are on the cement that are getting blown out, but otherwise our history rams, they look absolutely perfect.
Class Description
Learn how to create, edit, and share stunning digital images.

To a photography beginner, the gleaming complexity of a new camera seems to demand an arsenal of expensive equipment and a long legacy of training. This is a common misconception – beautiful, professional-grade shots are within reach to any with a mastery of the basic mechanics of photography.
Join Pye Jirsa of SLR Lounge for a thorough, practical exploration of the fundamentals. Photography 101 teaches you how to use standard, inexpensive equipment to:
Explore the inner mechanical workings of your camera

Learn how to recognize good light and modify it to your needs

Make the elements of manual mode - aperture, shutter speed and ISO - work for you
Take advantage of the flexibility and control offered by your camera's manual mode by shadowing Pye on 5 days of shooting at 8 different locations. You'll learn how to capture both crisp action shots of moving subjects and classic portraiture with posed models. You'll also gain a sense of what makes a great photograph, and how to mix professional staging with candid, humanizing moments.
You will walk away from Photography 101 with SLR Lounge's Pye Jirsa as a better photographer, and 
you'll have the creative and practical skills to create, edit, and share stunning digital images; all
 with no more gear than you started with.