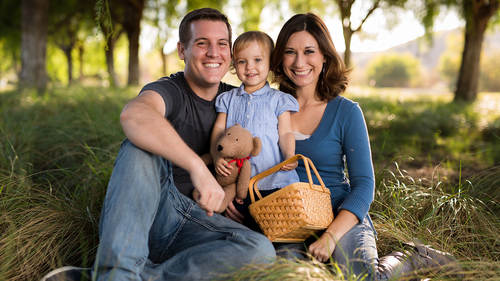 Lesson Info
Starting with Automated Modes
So I've got the basics now what can we shoot yet just waiting for you oh right waiting on me now okay, so here's what we're going to d'oh we're going to set up the scene will put our cameras on full auto that way we're going to take a look and see what the camera wants to do how it wants to do it and then we'll flip the switch to manual yeah okay well and what we're going to find out like you said with each scene we're going to set up our lighting and we're working with models were gonna pose if we're doing food we're going to get everything the right position get our compositions and so forth and you'll find that well otto is actually going to do a pretty good job when we do these things beforehand but maybe not creatively yes maybe not creatively it might not make the right decision certain times but shooting and auto it gives us a good chance to kind of talk about what the cameras doing where it's making decisions that we wouldn't necessarily make creatively and then we're going to ...
shoot in manual we're going to get our final shot manuel weaken dialling all the settings on her own what we would want teo get the right composition the right everything take over so after completing a video we would like for you to complete the assignment yes, absolutely and don't shotgun this entire course like she does manual's I don't shotgun okay, so I like to read the manuals of all my care from cover to cover she's the only person I know reason not the only person that does that okay, but what I want to have to do is is rather shot getting the entire course don't just do it all in one sitting will want to do is to sit down taking a video taken a chapter if you want but go and complete the assignment like she said if you guys go and complete the assignment, it'll help to really hammer in the points that we're talking about well and then you also have cool stuff to share on s r labs dot com the goal what is the goal? Well, the goal is to really master your camera all the way through take each element, break it down and really learn it and the best way to do that truly is toe pause after each of those elements and then practice absolutely when you guys pick up your camera we don't want you to think about the setting we don't want to think about anything technical we just want you to know how to get to your creativity all right? So we're done with this video I think so let's go I want to shoot already haven't I've been waiting on you next week, right
Class Description
Learn how to create, edit, and share stunning digital images.

To a photography beginner, the gleaming complexity of a new camera seems to demand an arsenal of expensive equipment and a long legacy of training. This is a common misconception – beautiful, professional-grade shots are within reach to any with a mastery of the basic mechanics of photography.
Join Pye Jirsa of SLR Lounge for a thorough, practical exploration of the fundamentals. Photography 101 teaches you how to use standard, inexpensive equipment to:
Explore the inner mechanical workings of your camera

Learn how to recognize good light and modify it to your needs

Make the elements of manual mode - aperture, shutter speed and ISO - work for you
Take advantage of the flexibility and control offered by your camera's manual mode by shadowing Pye on 5 days of shooting at 8 different locations. You'll learn how to capture both crisp action shots of moving subjects and classic portraiture with posed models. You'll also gain a sense of what makes a great photograph, and how to mix professional staging with candid, humanizing moments.
You will walk away from Photography 101 with SLR Lounge's Pye Jirsa as a better photographer, and 
you'll have the creative and practical skills to create, edit, and share stunning digital images; all
 with no more gear than you started with.