Goodbyes and The Definition of Success
Jasmine Star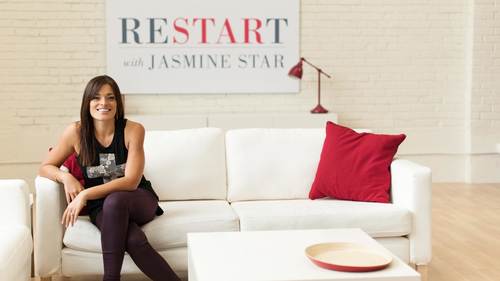 Goodbyes and The Definition of Success
Jasmine Star
Lesson Info
28. Goodbyes and The Definition of Success
The reSTARt community closes the course, yet the network and relationships continue. What are Jasmine and community members' most important takeaways? Change isn't always constant - what can you do if you don't see changes in your expected timeline? What actions can you take right now?
Lesson Info
Goodbyes and The Definition of Success
We have made, um, a few short videos, a montage and each photographer toe end and conclude our three month journey with them. We're going to start first with seattle's own nicky closer. The most important thing I learned about restart so far has to do with how I present myself to clients. If I want to attract the type of clients that I want, I need to portray myself in a certain way, really what it comes down to is you being confident with who you are as a photographer and not trying to please everyone else except for your clients, if I could go back in time and prepare myself would probably give myself a little bit of a pep talk you're putting yourself out there and there are gonna be times when it's a little embarrassing, but that's okay, because I'm growing in the process and others are learning from it as well. I'm so grateful to be in this position and it has truly help me to become a better business person and a better photographer. I'm more confident in who I am as an entreprene...
ur, who's was not feeling so great about that part of our feet first thing I'll do when I get home from restart is probably hug my husband and maybe cry both happy tears and sad tears. Going to be bittersweet that it's over I feel like from now on I'm gonna be referring to life it's like life before restart in life after restart l b r l a r it is really important to me to be able to pay it forward to other aspiring photographers or current photographers I want to make sure that other people know that they can always ask me questions and I want to make sure that yes in the end I'm helping others as much as I can I want to tell nikki that I think that you are I think that you're more confident as a businesswoman and three months later I think that restart is giving you the permission to push your dreams. And one thing that I was so impressed with nicki is that she dreams that these huge dreams and she doesn't let people stand in her way and she doesn't settle that's one thing I immediately got to know nikki I was like this girl will not take no for an answer and I like it I think she strives anything she pushes and you are very thoughtful about your process. I finally see cohesiveness in your brand I see the girl that you want to be where you are and that makes me really proud and when I follow up with you in a few months, I can't wait to see how things unfold for you I want to thank you for being part of this process and allowing me teo be part of your life thank you you have anything to say thank you really grateful and like I said, I do want to make sure that I'm helping others and this whole process has just been it's pushed me in ways that I in areas that I needed to be pushed so I just think it's awesome I'm so excited for the future and I know that I have a lot of work after this it doesn't stop stop here I need to continue working after this process and I will and I want to make you proud and are proud but you know thank you thank you so much and you guys please help me think thank you now going to move on teo our very own sack belly right? I have no regrets process I knew what I was getting into I made my sixty second video because I wanted to better myself, my business and that's exactly what I feel like my brain ing words creative fun and really every time I shoot a session now I shoot for those words the conversation map is really kind of help me format of the conversation when I talk to clients so there's no like dead space like you know and then also when I'm honest shoot, I tried to talk to them a lot more piece of advice that I would give another photographer just believe in yourself don't quit there's somebody days that I just wanted playing my bed with the covers over my head and just not do anything you know, photography wise, I definitely feel like I'm on the past success now that I have a former brennan website new logo just starting fresh, and I feel very confident in myself and my business. I didn't know what to expect when I walked in the restart and it's totally exceeded my expectations. It blew my mind, I can't go back in time and tell january ryan something and I would say to hold on because this is going to change your life. I am so happy to have a friend told me once that if you clear your throat to dry up your tear ducts, so I'm tio I see you more confident as a photographer. I'm sorry, okay, I've seen you blast him and see how company you are, and I think it's time you were waiting for this, I saw you come in. I'm sorry, I think I'm losing it. I think you're really losing it, okay, okay, he's comforting me and this is his brother, okay, I'm finally happy to see that you have a website and that you don't have to wait tables that's the goal I see that don't I fear personality, shine anything but you're such a beautiful person and I want to thank you for allowing us to join you and to support you and for you to change radically change sacramento. And I know that there are people who support you have a wonderful family and a wonderful support structure. And now it's up to you. I'm going to check in with you, and I can't wait to see all the weddings that you booked in two thousand thirteen, and I'm so proud of you, you know it, I don't know, it's just it's this whole process has been so amazing and hearing you say this now you're someone I've looked up to for such a long time, so I'm very grateful. Thank you, thank you guys, please help me. Thank thank I'm now going to show a three month montage of gig harbors melissa coleman having to do so much self reflecting in such a short amount of time has been hard because I think I've really tend to wantto think about things a long time and who am I and what I want and what you know. That the end then you know, like looking back now I'm like, oh no, that was probably a really good that that's how it iss least favorite moment of every star was episode one sitting down and going over stuff was was really cold with a shoot like that that was hard and it sucks and I think I was so concerned that people online and they mean to me or that you know, and so I think I mean, I'll ever receive this love doing the shoot from episode to I felt like I had, like redo myself and I felt like I got to show people who I was it's a photographer when in the first episode I felt like I didn't do that very well through this process, I've had a lot of awesome input and people that have told me how much they related to my personality or that I'm fun or I don't know that about myself I delayed my goals for this year is to book more weddings and his shoot more and shoot what I love and I feel like the last few months I've had similar opportunities it's amazing photo shoots and so now that I've experienced this I'm like, oh there's like no going back like this is what I want to be doing for the rest of the year thank you I feel like you came in a cz please forgive me a mom with a camera on what I see three months later is somebody who has dr determination and I feel like you know who you are as a person outside of motherhood and outside of your photography career I see you more confident and that is beautiful and I know that you wear your heart on your sleeve and that is beautiful and that you have encouraged so many people and it has been beautiful thank you for sharing your story about your husband for your beautiful family and I thank you for your honesty and your candor and your support. I knew that the three photographers that we picked would connect with people I just didn't realize that your stories would change my life as well, so I would just want to say thank you from bottom my heart for allowing us to push you guys and I know that there was plenty of time that they were emailing and they hated me I'm sure I'm sure of it but I just want to say thank you it has been an honor and it has been a joy so thank you know I think you like I just bring the whole box up here right now I just I never knew going into this I had no expectations honestly it was just I want to go in there and give it my all and show my cobwebs. And I just I never knew that this was gonna change my life. And tio finding the power of knowing who I am e thinks so powerful, you know who I am and what I want. And I know that this process could have taken me years and the fact that tomorrow I'm gonna leave here, or they get a lead here and know what I want and go do it like that's that's an incredible get so thank you. Thank you so much. Please tell me. Thank. Killer. Okay, well, jasmine, yes? I just want to read amanda lane says one of creative lives, three words is crying, believing that you're really ready. You teo, doesn't it? Yes. So I have a question for you. Yes, these are amazing stories, thes success stories. And I mean, we've watched these people change and unfold right in front of us. It's been amazing. And there are so many people watching from around the world from from countries all over. And I know just from my personal experience in business and just life for every person that succeeds, there are many, many people that don't succeed. Okay, so what? What would your what would you say to all the people who have been following you for the last three months and I've been going to this process as well and don't feel like they have succeeded in the way that they want teo okay that is such a good question my knee jerk reaction will be don't give up but that's not gonna be enough but it actually is a great segue way for what we're gonna talk about right now so thank you that's perfect this is perfect so we we started today's conversation with this idea of struggle and then we spent the past three months working through the restart process and so often my father has reminded me that the fight does not go to those who are the strongest but to those who finish what they set out to do now I have to ask you what have you set out to do how many of you have listed your goals for two thousand thirteen because we started this process three months ago and I asked you write down your goals I talked to these three photographers and I said what are your goals and now you're both could have changed in the past three months but how many of you actually went home and wrote them down if you haven't written them down I want you tonight to write down at minimum where you see yourself at the end of the year starting with a very basic question how many weddings do you want for the year because sometimes photographers express how bum they are when they say, well, I only have three weddings on the books for the year. Well, my next question will be, how many weddings did this person want and what was a realistic goal? Because if this person says I want ten weddings, then I think that's totally awesome, because if this person has three weddings and they want ten weddings, well, then they're already third there. Now, on the flip side, if they wanted thirty weddings, then I have to ask, well, what kind of what was these numbers based on whether or not your businesses structure for this type of growth, but either way, this all just boils down to knowing what you want and knowing what you do to set out for the year so that you can look back in december and tangibly measure your success? If you've ever wanted a boost of confidence, then make a list and then set out to make that list happen. So let's, let's expound on this example and see if we could learn something together. Leave. Your goal is to book ten weddings for the year and you book three already. I want to talk about three ways that we can drum up business to book seven more weddings, and the first of that would be to make friends being here today is an absolute great start taking time off from work are watching from your cubicle is a great start as well because this is the best way to build your business by getting referrals from friends. It increases a wedding when let's say I'm booked and then I refer laura well I'm saying that laura is a great photographer I'm saying that she's probably that person's price range and our prices are similar I had recommended and vouched for laura so they a pre qualify you this is going to be the best start that you khun dio and it doesn't mean that tonight as we go through our un camera that cocked till our but I don't want you passing out your business cards okay because guys already know each other but when you guys go to future events that's not going to be the goal the goal will be to get involved with their lives I want you asking about their children I want you following up about their pets I want you seeing what's going on with him personally. This will actually make a fundamental shift in changing how you care about not just your business but there's two I want youto offer three free engagement sessions to your friends or your friends of friends because this will one build your portfolio and he will build your portfolio in a way that has trans versed restart process because we started by saying we wanted to rebrand our words right so your existing with an old portfolio but now that you know you're branding words and you want to go through it, why don't you go through and refresh your portfolio with three new sessions because now you know what you want this gets people talking about you because that's all that marketing is people cut sometimes give me a hard time about marketing and all I'm saying is I'm just trying to get people to talk about me if it's good or it's bad either way give me a link and spell my name right well you want to know is you want people talking and then you want them to post them on facebook because we went to the facebook process right now here was the thing when I first started my business I wanted people to talk about me not just as jasmine the girl who just got a camera I wanted them talking about me as a professional so if I wanted them talking about me as a professional I needed to start posting professional photos you can't just sit there and say I don't know why my friends aren't sending me their friends from work well they just think that you got you got a nice kanaan rebel to them the camera, the camera what we need to do is have them talking about you as a professional photography photographer three thanks for laughing those great I connect with past creative teams earlier ryan had said, is there a past point that gets too long? Well if you have shot weddings say back in october and things just got so crazy in the hub above of the holidays send them previous weddings that you had already worked on remember sending that e mail? We talked about that exact email sending that e mail and say please forgive me time has gotten away but jack and jane's wedding back in october thirteenth was so phenomenal I wanted to make sure you had images from the event if there's anything that I can do for you please let me know I also noticed that you didn't have a head shot on your website please let me know when I'd be more than happy to update that for you complimentary great that's marketing that's getting them talking about you and getting to know that what you care about them more than you care about their business it rekindles a conversation and it puts you back on their radar so I want now I want you to give yourself a deadline now you have to make this happen because if you don't make a deadline if you don't do it right now and say this is when I'm going to do it this is simply going to be another thing on your things to do it it's not going to be a set of action the minute you put a deadline got to say I have to make it happen by march thirty first because if you're struggling in your business you're going to have to change and we started this day by saying change and struggle go hand in hand it's the struggle without change that makes people feel stuck it makes people frustrated and it makes people walk away I do not want you to be a photographer who walks away at the three year mark or the four year mark I want you to look back at your ten and say I have changed and I have brought others along with me I thought of a couple exercises for you to go through and prepare for change right? Because it's not enough for me to say, well, suga ll really sucks and you're gonna have to change so there a few things that I try to do our few exercise and they might sound absolutely silly but hey, they helped me and they might help you my best friend was training for the olympics and she moved to san diego, california she was training for the long jump and what they do for their new athletes as they make everybody sit with a sports psychologist and she sat with her sports psychologist he turned to her in the astor bar donna, can you please define success and before she could actually define it for him, he preemptively answered and said, success is not the gold medal success. Is you standing at the end of the runway, running twenty two steps to the white line, jumping into the sand pit and marking your personal best? That success, the gold medal goes to the person who happened to have their personal best. This was a jod dropping thing for me because I started realizing that to me, my success was being a new idea of what somebody else was doing, that this idea of this person traveling the world to the bahamas and getting me twenty thousand dollars and getting in magazines. And that was my idea of sick cess when all of a sudden I realized I don't even know if that's what I want. My idea of success is traveling the world with my husband getting to work with him twenty four hours a day, which I'm not so sure he's happy about, but I love it. I get to cuddle with my dog and sure, I want the mansion in laguna beach. I do, but do I need it to be howdy? Do I need it to define my success, no, what is your version of success? What is melissa's version excess? Is her waking up next to brian every day and taking her kids to school and having dinner for them on the table? And she gets to shoot ten weddings and she says, I am a success, you are you get to define your version of success, basically, this means see differently. I want you to immerse yourself emotionally because it's one thing to say I'm going to do something, but you must believe it in the core of who you are, and then you have to see yourself doing it in the future and not just doing it in future, not just booking your ten weddings, you need to do a book, you're ten weddings and then shoot them successfully. So if you can't believe yourself in your imagination that I'm going to say you may not become reality, so now I wouldn't want you to do second opportunity exercise for change to break the mold. I came into this industry with this idea, I came into this industry with this idea of what wedding photographers were right. I had this idea, I don't even know where I got it from, but this idea of how photographers should talk and how they should act and how they should shoot, so I approached my first wedding season. Acting like a professional, whatever that meant and a struggled well, I'll tell you what I thought acting professional man, I thought that acting like a professional meant dressing all in black. I thought shooting like a professional men wherever there was a brick wall, I was going to place the groom and the bride like that. That was my idea of a professional. My idea of a professional was not to be myself very self conscious of my laugh. You know, growing up, I have a twin sister. When we laughed together, the kids would say that we sounded like two witches like I became really self conscious that goes with my client, I would think, well, that's not how a professional sound, so I would stop myself from laughing. I had this idea in my mind, and it wasn't until I started working with my planes that I realized that I could not get I had this idea of photos in my mind, and then I couldn't get my clients to actually look like the photo I had in my head, and it wasn't until I was actually watching episode of america's next top model. Now what I saw on this episode of america's next top model and I should be embarrassed that's actually admit that I watch it watched it jd always did he doesn't understand what my fascination is with like tyra banks, but I turned to him always say, baby, this is research, ok, I'm watching howto pulls my clients so anyway, I'm watching this episode and this is roughly two thousand seven and I corralled him into watching this episode with me and she brings on for this if you aren't familiar, she brings on different photographers every week and she gives this group of models a challenge and so then I see this photographer and I'll never forget he was from australia and he was on a rooftop in new york city and he's working with these these models and he's talking to them like he's their friend and please forgive my aussie accent but he's like good run, jump roar you in a lie in your bare your dog bark at me bought and I was like, I turned to jd I was like, this guy is in a professional okay, until we get to the end of the show and then there's tyra banks holding the headshots of all the girls who succeeded because you will become america's next top model and then they show the photos that he captured and he was doing everything I longed to do he was so good it and then I realized that I cannot be tied to the way that it was always done in my mind wherever there's a brick wall I am running the opposite way now I don't care that my laugh is up noxious I don't care that I have to act like a bloody full to make people do what I need them to do if the end result makes me proud and makes them happy a men because the way that you break the mold is by being you that's how you easily do a change this means engaging with your clients in a way that represents your true personality because the moment you act like somebody else is the moment that you are dissatisfied with your work moving in to confidence the third and final way for you to actually get in front of change because we know that changing struggle are coming right so one thing that I should go with to be completely honest is confidence but I want you to do is to do things that will put you in control of what you want so because I'm not a confident person I need to do things that will make me feel confident in the future. So how does this happen? I mentioned I believe in episode one how I wanted to learn how to shoot back late but I didn't have a subject was willing to sit for me for long periods of time so I shot an orange tree in my backyard again and again and again for hours at a time and every time the sun moved I knew howto change my settings so by the time we actually shot a subject backlit during an engagement session I was confident because I had done things to make me that way this couple is just the orange tree in my backyard don't freak out I'd planned my first silent shoot my third year of business because I needed to be in control of how editors perceived my ability to photograph details to them I was just a new kid on the block who was just starting and so I couldn't land a professional shooting gig in regards to wedding commercial work because I was young I was an experienced I put together my own first I'll shoot and said I know what I can do and I did it without any barriers if I totally blew the chute didn't matter with this boiled down to was simply doing the work in my mind confidence and control go hand in hand in order for me to be confident I need to be in control and in order for me to be in control I need to have done the work in advance which basically boils down to nothing more than practice practice practice and one of my favorite quotes is by peel action is the great restorer in builder of confidence in me ction is not on ly the result but the cause of fear perhaps an action you take will be successful perhaps a different action or adjustments will have to follow, but any action is better than no action at all. We've got here today and we knew that being here was a sacrifice need it flying here from wherever you were to be in the studio audience to watch online, to have our three photographers dedicate three months of their lives. It was going to be a sacrifice, but what I need to clarify is that sacrifice isn't enough. How many of you know people who are sacrificing for their dreams? Sacrifice doesn't guarantee success. Sacrifice is merely a pre requisite of success. Sometimes we come teo events like restored, we go to conferences, we by creative life courses, and we think that simply by walking through the doors by pushing the buy button, we think that that's enough. But too many times I have seen people get motivated and then they go home and they don't make any changes. The only thing that will bring about change for you is to go out and do the thing you want to do. So, yes, being here is a sacrifice, but my question to you is, what are you going to do tomorrow, what is your action plan and what are the steps leading you there? That's. What restarted about I've said that from beginning, and I'll say it again. Now restart is about your plans. Restart is about our plans, and restart is about the struggles that we will face together. I know that the struggle is here. We've tried to walk through as many of the struggles that we possibly could throughout restart, and then we've offered insight to each other and the process of making over our business is merely the beginning of who we are as people and who we are as a business person. If you've made friends through this process, please hang on to those friends. Please keep each other accountable and please encourage each other as we face the struggles in our lives and in our businesses, because change will bring about huge results. But we know that it will be the struggle that's, making us better when the process is made easier. We have friends by our side because together I believe that we will go farther than trying to do things on our own. Thank you very much.
Class Materials
2 Week Message on Feb 6.pdf
2 Week Message on Jan 23.pdf
Ratings and Reviews
Jasmine Star is a "star". I was so inspired by her and her marketing. She has got her brand defined perfectly. She is a brilliant woman. The way she thinks about building a brand and never deviating from her vision is amazing. She is also very humble and her stories about growing up were so heartfelt. She is a true story of rags to riches. I came away with a ton of respect for her and a wealth of information. If you are exhausted trying to be a photographer for everyone, and not going in a strong direction-buy this now! The transformation in the three photographers that participated, from their improvement in shooting to their amazing new websites, will inspire you so much. Do you want to transform your business? They grew in three months the amount it will take you three years to do on your own.
THANK YOU Jasmine for this precious lessons, you teach us! only i re-start watching my course today and i already feel some new inspiration to take my business to next level, you talk a lot and that good energy always helps to put this motivation on. Still do a good work! CS
Student Work