Field Day: Working with Models
Alex Strohl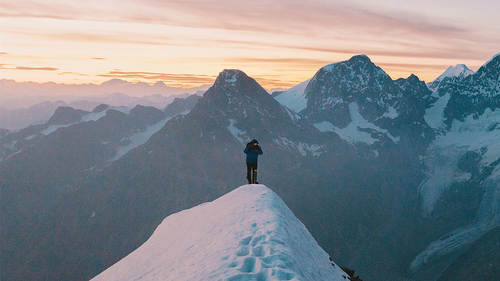 Field Day: Working with Models
Alex Strohl
Lesson Info
10. Field Day: Working with Models
Lesson Info
Field Day: Working with Models
(calm music) Hey. Made it happen, man. Yeah, man. (laughter) You found the spot. Yep. We're gonna get the kayak out. Sweet. Tandem. Tandem. Yep. Not too bad. Let's do it. (laughs) Yeah, thanks guys for coming. Yeah, dude. Appreciate it. Of course. Josh and Rod just met us. They're, uh, actually Rod is a long time friend that I met through photography and one important thing for me is to, I really don't work with professional models, unless I have to, but otherwise I'd rather shoot with my friends. Just because I know them better, we're comfortable, and we know just what we both expect from each other. But let's assume I don't know them and I'll take you through kind of a little prep talk I gave them and how we stay open for them. Available during the whole shoot. We'll say I know Rod and Josh but if I didn't know them I would welcome them, offer them some water, some food. It's always important to bring stuff for them. I don't wanna be too tight with the d...
irection. I wanna let them live and just interact with the environment. That's very important for me. I don't want to see them too rigid. (calm music) Rod is gonna go on the kayak and the lake is blue, the kayak is black. So I want to have a pop of color. I wanna have Rod wear a red jacket, or a yellow one, just so I can see him in the water better. Color is a big deal in adding harmony to the image. There's this thing called the color wheel which shows you what color is the complementary color of what. So orange, for instance, the complementary color is blue. Purple is green. So you can just look at that wheel and just pick the colors that resonate with you the most and try to use it for your photos. Just make sure you try to use that wheel and how you choose your environment and your clothes and talk to your models. Ask them to bring these colors. That sounds like a small details. Like what colors go with what but it can mean a lot when it comes to the final product. Sunset is my favorite time of day. You can see the sun's behind me, the mountains are just right there and they're gonna get pink in color. So it's my favorite time of the day because it marks the end of the day. I mean usually dinner comes after. But more importantly, the light gets super soft and the shadows get soft. It looks kinda surreal and I just love shooting that environment because it gives it extra atmosphere. So sunrise, sunset, both important, but I like sunset better because you're kinda going to the darkness and to my second favorite time of the day which is blue hour. Being flexible is super important. Last week we were here and there was a foot of snow. The place was just covered in snow and it looked cleaner than now. There's patches of snow and grass but that's okay. I think it's super important to be flexible. But if the conditions turn bad, that's okay but at least be prepared and give it your best shot. We did some research here. Looked at the weather, asked people if the lake was frozen or not, so always have the odds in your favor. So obviously I know Josh and Rob pretty well so I don't have to make them feel extra comfortable. But if you have some models that just showed up, just try to make them feel comfortable. Tell them that you're there for them. They don't have the easiest job. They're gonna be standing around in the cold for you. So just show appreciation and be there for them. What's important also is to share your goals and what you wanna get out of the day. So for me here, the goal is to get this feeling of the last petal of the season. The snow, we're gonna see the orange trees are kinda turning. So I wanna make sure I can get photos of that so it's gonna affect which direction I'm gonna send them in the lake. So if I wanna get the Stuart mountains, they go that way, and if I wanna get the orange trees, I'll send them that way. We have some walkie talkies we'll use and we can get them from the drone. So just being super open but not too strict so they can do their thing. So it's more like, Hey head that way and let them interact with the environment. I don't wanna keep them too tight in what they can do. When it comes to assembling a team, I think it's important to have somebody who's in charge and who takes care of everybody. In this case today it's Andrea, my wife, who has kindly offered her time just to bring some food, firewood and some beer just to make it a more enjoyable night for everybody. So the light is getting good so I'm gonna send Rod and Josh into the kayaks towards that peak there. I'm gonna give a radio to one of them, keep one here so I can steer them, and just put the long lens on and roll. So I wanna put the long lens on. I like to turn off the camera before because the sensor that has electricity attracts dust so I'll just turn it off. That's it. I had the 100-400 on and it turns out that the mountain's too close for that one so gotta be quick and flexible. I got the 70-100 on which is gonna work way better. So I'm gonna have them go towards the Magellan peak. That's getting all that sweet light. It's gonna be even better. In terms of settings here, 320 is my shutter speed, 4.0 is my aperture, and ISO 125. I got the white balance on automatic, 'cause I'm shooting raw, and I'm just waiting for these guys to get in position. 'Kay so I'm seeing I have the lodge in the way, so I'm gonna walk on the shore so I can move outta the lodge. Rubber Ducky can you aim, yeah that's the one. Holland Peak. Straight at it please. (camera shutter clicks) It's like the other range looks even better. Well this is what being flexible, this is what it is. (shutter clicks) Can you go a little more left, Rubber Ducky? Little more left, Rubber Ducky? (radio chirps) (shutter clicks) Just as I'm doing this I've noticed that there's another set of mountains behind. That's even better. That's taking the light even better so I'm gonna send them slowly towards that way and I'm gonna walk on the shore just so I can get more of that range. So the more I can go this way the more I'll see that way. So I'm seeing that the silhouettes of Rod and Josh are kinda blending with the shore so I'm gonna try to get a little higher. Yeah, that's it. This is enough. On being flexible again, I was hoping for the lake to be calm and it's clearly not the case. There's a lot of ripple so I'm noticing that this shore here is way more calm. So I'm gonna have them come back and shoot them with a wide angle. So I'm seeing that the sun is gone from most of the range. So it's time to get the drone before it gets too dark. Then I'll hop in the kayak. Shooting with drones. Before I get started, I wanna give you this great little tip I'm very proud of: when it's a bit cold, I keep my battery in my pocket. If I've got two I'll just stuff two. They tend to fail when it gets cold and I wanna make sure I can fly tonight because it's gonna be a good sunset. Make sure you're in a legal zone to fly. There's a no-fly zone map you can check. This one is legal so won't get in trouble. When it comes to settings with a Phantom Four I like keeping it at 100 ISO, aperture between four and four point five, if it's super bright I'll go up to 10, but that's rarely the case. I'd rather go into a big aperture and keep the ISO low. Even low shutter speeds work well because it's a pretty wide angle and if you're not going fast, if it's not windy, you're gonna be good. If it's a bit soft, you can sharpen in post. Two point eight's great. Yeah, let's take it for a spin. The light is on the mountains there, so start heading towards the end of the lake. Straight at the V. See the V there? Thank you. (drone whirs) When I'm moving in between places I'll just stick it into Sport mode so I can be fast. Then when I'm back in shooting, I'll put it back in normal. (calm music) It's pretty windy up there. So the conditions kind of suck now. We haven't got any alpenglow that we were hoping for, but it's okay. The trees are pretty dark and the snow shines a lot compared to the trees so it's not ideal. I'm gonna rely a lot on the blue hour and I'm gonna hop on a kayak later and chase them around with a headlamp and just a 24/1/4. Thank you. We're floatin'. Fancy seeing you here. That's it man, we're in blue hour. This is blue hour. It's when the second day begins. Alright, so, you can see how we're starting to see Rod's headlamp a little bit. So we're gonna get to 'go' time. Head somewhere cool. Closer to Magnolia Peak. And wait for the sky to turn blue. The tricky part with blue hour photos is that you wanna have a right enough lens, one point four, two point eight, anything above that, you're just not gonna catch enough light and then you're gonna have to use a tripod and for blue hour photos I just, don't wanna be using a tripod, I wanna be playing around. Because I fucking hate tripods. So why do I hate tripods? I feel like they limit me when I'm trying to take photos. I like to move a lot and find different viewpoints and the tripod is so static and, Oh this is my viewpoint. And I'm also second-guessing myself a lot. So if I'm there and I think it's good, maybe one minute after I think it's no good so I'm gonna be moving again. So I wanna be nomadic with my gear, and my life so not using a tripod reflects that. (laughs) Next thing we know, we're in Missoula. Looks good right there. No that's good. Stay there, I'm gonna move around you. We're going back closer to the shore 'cause the water looks to be more still. Hopefully I can get Rod's reflection. The water looks pretty cool, too. The fire. (shutter clicks) Interim settings it's one point four, 1600's and 1/40th of a second. I changed plans. The lake was getting choppier and choppier so I knew this little nook on the end of the lake that is usually calm. So we just rushed over here and now we're getting some shots. Okay, yep. Well I think I got some stuff, man. I made a makeshift tripod. This rail here is my tripod tonight. I'm shooting at 1/30th of a second, one point four, 300 ISO. (shutter clicks) Yeah we got a couple of keepers. You can see the light's kinda making the kayak glow. He's aligned with Holland Peak. And even at 1/30th of a second, he's sharp enough and this is a motion blur but that's just the way it is. It's real. So I'm pretty happy with this. So we went to Plan C today. We had A, B, C. B was shooting from the kayaks, it just kept getting windier and windier so we ran up this bridge that's at the end of the lake and it's usually more calm. That's why it's important to kind of know your locations 'cause I knew just from experience that this is always calm. So if I'm in a bad spot I can come back and just shoot photos here, and that's what we just did. Today was a good exercise in being flexible. I'm glad it all turned out this way. So a few things we had planned for worked, and that's good. We had planned for sunset. It didn't happen. We had planned, hoped for a still lake. It didn't happen. But we just adapted to every single little issue and ended up having images. Okay, we're good, men. I like to tell models when I'm finished they can go back but actually it's not true. I'm not finished. I just wanna get them doing life. Sometimes the best photos happen here. So this is an old trick but I use it a lot when it's dark. So I'm shooting at 1/30th of a second. I like to flip the camera upside down and just put it on my forehead and actually using my forehead as a stabilizer. It's way more stable and I can shoot instead at this speed. And I can get the focusing right. So we just finished dinner and assembled the tents around the fire. I'm gonna talk about positioning them in a way that looks beautiful but is also functional and natural. So let's do it. At least I'm able to get some good I guess. Rod, you wanna move your tent one more time? Okay Josh bring the back here. Little bit, just the back. Yeah, that's good. So we just positioned the tents in a way that looks functional but also balanced. So they're almost mirrored, and the fires in the middle and we'll have the kayaks in the back. So now we're good to go, get started. Alright I'm gonna shoot this on a 16/ and I'm gonna grab a tripod 'cause this is the only time where I need a tripod. I'm gonna be shooting three exposures. One for the sky, the stars, one for the tents, and one for the foreground and we'll just merge them all after in light room and then finish in Photoshop. So I usually like to shoot scenes from above, from the highest point I can find. But here actually, there's trees on each side of the scene so I'm gonna use the deformation of the 16 to my advantage. Just so it warps the trees a bit on the corners and makes the subjects even smaller than they are. And before we go, we wanna put a two second timer so there's no vibrations going on on the tripod. Make sure it's pretty sturdy. There you go, see? So we got the short release timer at two seconds. Do a little test shot. So I just did six exposures of the same scene with the same framing. One for the foreground one for the tents and the fire, one for the sky and then some in between so I can do real soft layering so it doesn't look like I did what I just did. Another thing that's important is that I just didn't place them. We just built a fire, give them some beers and they're just interacting with the scene and I'm not telling them to be still. I'm not placing them. I want them to be, even if they're staggered sometimes and it doesn't look perfect, it's better that way for me because it just looks natural. It's not perfect, but natural, and for me that's more important. (drone buzzes) I have an idea and I wanna try to get into the water with the tripod and try to get the reflection of camp and the trees. So we'll give it a try. Oh yes, I feel it now! Test shot at four seconds. Rolling. Alright, that's at four seconds. That's at 15 for the foreground, at 30 seconds for the sky, we could get a little more. That's another four seconds, that's 1/6th to make sure the tents are not overexposed. And that's it. I'm gonna get it one more for the sky at 6400 ISO and then we're good to go. We're done. It's a wrap. This was such a cool afternoon.
Ratings and Reviews
There's a lot of useful information on how to start up your bussiness or your carreer as a photographer. Great advices, he shows his personal workflow, from the beggining of a shooting till the end. That was what I was looking for. The editing process maybe could be reduced in only one chapter. Worth it.
Student Work