Get The Most Out of Your Photos With Capture One Pro 12
Editing Colors in General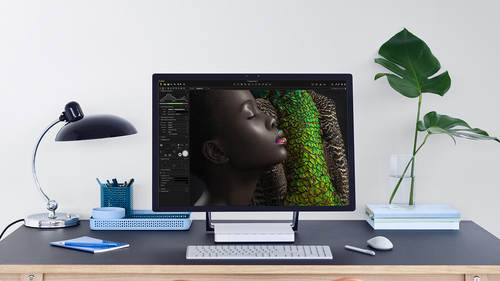 Get The Most Out of Your Photos With Capture One Pro 12
Editing Colors in General
Lesson Info
Editing Colors in General
a couple of general Let it s so we got this fantastic image here like so before we it's going to collapse The color editor. If you want to keep it floating, you can just click on this arrow here and then it becomes collapsed. Like so. So if you want to keep it up, Azul doing a lot of color work, but a kind of tired with docking it back in here. Just collapse it down and then you can keep it floating. So first of all, before getting too excited, it's pretty much edited as well. I'm just gonna warm with up ever so slightly. Let's just change the crop to something like that and color wise again. Pop out our color editor. Really easy fix. Grab the picker pick on the blue sky around here. Turn on view. Selected color range. It's pretty obvious to see it's just those nice sky tones, and then it's very easy. I can just darken that down a bit, bring up saturation like so really simple Easy fix just for creative effect wasn't necessarily that blue in the first place, but it's an easy fix. Weake...
n do quite often. I like using the color editor to get rid off distractions or colors that I might find distracting. So we've got these two gentlemen here. We've got the curtain in the background, but it's it's a little bit dominating, you know, my eyes drawn to it. So quite often I just pulled the colored it around. Grab a picker, sets go over here, turn on view, selected color, range. It's nothing else in the shot that's going to be affected. And Aiken dropped saturation like so. So just so that the focus is on these two guys here. I find that really simple and quick to do on a lot of things. Same goes for this shot. Here again, the focus is this gentleman. Do I find this distracting? Probably a little bit. So we grab her picker, click on this, and then we can take saturation out and maybe darken it down a bit as well. So it's not necessarily about fixing color all the time. Changing the appearance of color as well toe lend better to the image itself. I grabbed this example here because there's Mawr. If you like data in the image, then you probably give it credit for. So if we just do a couple of other quick edits, So when are levels? Let's just say auto, let's have a bit more clarity and a tiny bit off contrast and looking at it, you think, well, there there isn't really anything to enhance because it's really pastel colored, but you'd be surprised what's possible. So if I grab the color picker and I'm gonna go for just on the edge of the show here so you can see where the pick point is, it's quite a way down in the saturation range. But there's enough data there. If you like that, we can manipulate that color how we want. So in this case, if we wanted to really showing in terms of saturation, I can grab saturation slider. Maybe not that much Darken it down a bit, and it's quite amazing how much potential there is, even on something without that's, you know, just a little small amount of pastel color. So don't think you need some, like big primary, red, blue or green or something like that to really see the effect on the color editor. Okay, so what about some, um uh, limitations? If you like
Class Description
AFTER THIS CLASS YOU'LL BE ABLE TO:
Understand the interface and terminology in Capture One Pro 12
Setup your workspace and shortcuts to fit your habits
Build a workflow and editing strategy to save time and maximize results
Control the dynamics of color and texture with Capture One's RAW conversion engine
Tackle a wide variety of image problems with photo editing
Learn the new features inside Capture One Pro 12
Master advanced image editing techniques
Shoot tethered photos -- and edit as you shoot
ABOUT DAVID'S CLASS:
Capture One Pro 12 allows you to seamlessly capture, organize and edit your images all in one space. But the wide variety of tools and customization options in the photo editing program from Phase One can make the software a challenge for new users.
In this course, David Grover, a Capture One educator and expert, shows you how to overcome the initial hurdles of learning this program so you can hit the ground running. From basic techniques to advanced edits, you'll learn start-to-finish photo editing and asset management inside Capture One Pro 12.
Whether you are new to Capture One, are coming from an older version of the program, or are switching from another photo editor, you'll master everything from import to export. In this class, David shares everything from workflow to editing, exporting and even shooting tethered- all the while giving you helpful examples and visual aids to drive home each lesson. By the end of this intensive course, you'll be ready to manage and edit your photos in one streamlined process.
WHO THIS CLASS IS FOR:
Beginner and intermediate Capture One users
Photographers in need of a post-processing workflow that are working with one of the more than 500 compatible camera models
from Sony, Fujifilm, Nikon, Canon, Phase One, and others
Photographers who want to enhance RAW images and make them look extraordinary
Photographers incorporating tethered shooting into their process
Professional photographers switching from another editing program
SOFTWARE USED:
Capture One Pro 12
ABOUT YOUR INSTRUCTOR:
As a member of the software team behind Capture One, David Grover is an expert on the ins and outs of Capture One Pro 12. But with experience running weekly webinars on the photo editing software, David is also a respected educator in the industry. Shooting since the age of 16, David is both a photographer and a photo editor. He lives in the UK with his wife and two children.
Reviews
This is a superb course. David is an excellent teacher. I'm coming to the end of it and have learnt so much. I've been using the software for a year, self-learning as I went along. I had watched the odd David Grover video on YouTube, but never got much further in my understanding of the software. Capture One is brilliant software and to do it justice you need to learn it properly from an expert. Highly recommend this course if you want to produce professional results.
Excellent course and a very engaging speaker. If you are starting with Capture One 12, this is the best class to take. The lessons are presented and explained in an organized way that it shortens the learning curve. Thank you, David. Cheers!
One of the best course I've purchased. Very helpful and I learned so much more with this course and in a short period of time, than all the official Capture One You Tube videos put together! Anyways David Grover is the same guy who does the Phase One C1 official YouTube videos, so there's no better person to conduct this course than him! Truly excellent and if you think you know all about C1 Pro 12 interface, wait till you watch this course.