Image 8 - Action in Lowlight
David Grover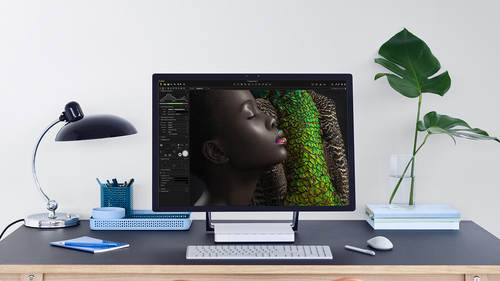 Image 8 - Action in Lowlight
David Grover
Lesson Info
48. Image 8 - Action in Lowlight
Editing low light images is often a challenge -- see how to tackle this type of edit. Work with gradient masks, selective brightening, color grading and more. Finally, gain additional insight from student questions.
Lesson Info
Image 8 - Action in Lowlight
So this is how it comes out of the camera. So again, a little bit too dark. But I mean, this shot doesn't look right. If we open up the exposure to the technically correct amount, then it kind of loses some of the atmosphere and so on. So I would probably keep that relatively dark, open up the shadows somewhat and a little bit of clarity on, and the only other thing I would do instead of a radio mosque. I like the fact that we can see the light coming in from this top right hand corner across the back of him. Eso I think a radio mask would sort of ruin that, but this corner is perhaps a bit too bright. So what we could do is we could grab a linear Grady int mask. Linear, great master, not just for landscapes. Everyone thinks that's that's their only use. But if we just drag this him from the corner, something like that, I might make the fall off asymmetric. And we do that by holding down r O key. And then we can change the parameters on Move that out. So that 10 Why radiant is looking ...
So now I just take exposure down on that corner and a bit of brightness as well. So we're not going to dog. And then do I want to lift his face a bit more? Probably ever so slightly, But I don't want to lift the shadows because it's kind of ruining the drama. So this was my left corner left corner and let's make another one and we call that face Andi. I forgot to fill that. Let's say Phil Mosque and looking at his face, probably shadow lift. It's gonna work. So now all right, click and clear that mosque. Grab my brush once more nice low flow again so we can build it up gradually, even lower than that, and then just opened up the face and tiny bit like so. If it's too much, let's just take the A pass ity down to something a bit more natural. And the last thing I might do with this one kind of lends itself to a color grade. So let's add a new filled layer and go to our color balance, too. Where did I put you? Color balance. You are down here, so let's open it up bigger, so it's easier to see. And I don't want to sort of make this shadows cold because it sort of messes up his face a little bit. So why don't we go in the other direction and have warmer shadows and let's like the cooler highlights and warmer mid tones to And then we could darken that down a bit as well. So just a slight touch of color tinting and grading as well. So where did this one start off? If I hold my okie down, you can see before and after. I mean, there's an astonishing amount of dynamic range in any camera, pretty much for the past 3 to 5 years. So if you have an image that looks like this, so let's get a new variant, you might look at this and think, Oh, wow, I fluffed the exposure on that. Next, I just bypass it straight away, but a good exercise. What you can do is grab your exposure slider, and you can really see how much available detail there is in an image. Uh, this is, I think, Sony a seven or three, which has bags a dynamic range. But as I said any camera in the past 3 to 5 years. It's pretty amazing what you can pull out of the raw file. So it's a good reason to shoot raw and not J pick because you've got all this flexibility in capture one. Okay, so I think we have a couple of questions from the Web. Any questions from our audience, first or happy? Okay, let's go to their Web question from Phil, he says. Can you increase the limit of layers? Now the limit. Our reaches 16. Now, unfortunately, that is the maxed out limit. The reason for that is because capture one is a non destructive editor. So all these changes that we've been doing, we never edit the raw file, which is creating instructions to give our final Jay picked if and so on. The reason for having the 16 layer limit, as I understand, is full performance. So as you can imagine, the more layers that you add, the more mathematics there is as the calculations of spread across 16 different layers. So the more layers you add, the potential that the performance decreases, so 16 is a good compromise between, you know, flexibility and performance. I guess what you could do if you then say Got to this far on this image and thought I need two more layers you could export is a 16 bit tiff. Bring that back into capture one and then do some more work on it. But you will lose the flexibility of the raw file to some extent. So it used to be only six layers back at a point in time, and now it's 60. So who knows? Maybe it will get increased at some point from Phil again. Is it possible to copy one single layer? Let's say the one I degrading on duplicate this lay throughout images from the same shoe. No, it's not possible, Which is a big pity, actually. Because if imagine our color grading here if I wanted to copy paste that across to other images, it takes every single layer. So you are actually seeing the layers tour. It's the one tool that doesn't have this preset adjustment here. Um, it does have the copy paste, but you can't see the layers. It's essentially all or nothing. So if you did want to do that, Phil, you'd have to copy paste the layer with the grading and then you'd have to go through and delete all the others. It's not very practical, and it is a bit of an unfortunate limitation. But who knows? Maybe that's something that will get improved in the future as well. Okay, Eso This was a well, the image edits. We did So who speed at its in a in an hour s. So I hope you found that segment useful. I think. You know, capture one is very deep application to learn it thoroughly from top to bottom, you'd probably need three days. Four days? Maybe. The important thing is finding the tools that make sense to you on also using them in their best way. But don't forget, you don't have to go crazy. You don't have to use every single thing. But the potential is there for the taking. If you want to use it. So many. Thanks for joining us today on creative life. Hope you found this course on a capture. One very useful. I'd be very pleased if you had some great takeaways from this. And it made your life easier working in capture one. And ultimately you get better quality out of your images too. So thanks for joining and see you all soon.
Class Materials
Windows Keyboard Shortcuts
Ratings and Reviews
This is a superb course. David is an excellent teacher. I'm coming to the end of it and have learnt so much. I've been using the software for a year, self-learning as I went along. I had watched the odd David Grover video on YouTube, but never got much further in my understanding of the software. Capture One is brilliant software and to do it justice you need to learn it properly from an expert. Highly recommend this course if you want to produce professional results.
Excellent course and a very engaging speaker. If you are starting with Capture One 12, this is the best class to take. The lessons are presented and explained in an organized way that it shortens the learning curve. Thank you, David. Cheers!
One of the best course I've purchased. Very helpful and I learned so much more with this course and in a short period of time, than all the official Capture One You Tube videos put together! Anyways David Grover is the same guy who does the Phase One C1 official YouTube videos, so there's no better person to conduct this course than him! Truly excellent and if you think you know all about C1 Pro 12 interface, wait till you watch this course.
Student Work