How to Sell on Amazon: Step-By-Step to FBA
Erik Rogne & Eric Campbell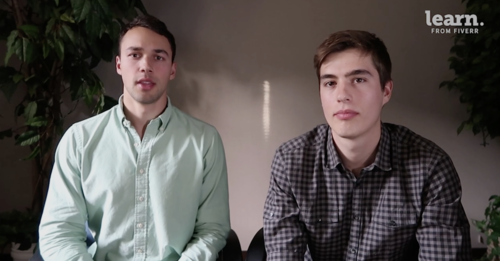 How to Sell on Amazon: Step-By-Step to FBA
Erik Rogne & Eric Campbell
Class Description
ABOUT THIS CLASS:
Have you ever wanted to sell a product to millions of people around the world? You can! And the great news is that Amazon's Fulfilled-by-Amazon platform will do all the hard work for you.
Don't have a product yet? That's ok! In this class, we will take you step-by-step in finding a profitable product to import or manufacturer, set up your product listing, and start selling it on Amazon! We will teach you proven techniques for launching a successful business on Amazon.
This class is for individuals and small business owners that are looking to build their own brand while leveraging the Amazon customer base.
Unicorn Smasher no longer offers a free version of their Chrome browser extension. In order to use this tool, you will need to install the paid version which is now called Unicorn Smasher Pro. This paid tool can be found by clicking here: https://unicornsmasherpro.com
Class Materials
AFBA 2.4 - Basic Product Criteria.pdf
AFBA 1.1 - All Course Resources.zip
AFBA 2.2 - Product Categories.pdf
AFBA 2.3 - Product Categories.pdf
AFBA 2.5 - Advanced_Product_Criteria.pdf
AFBA 3.1 - Product Categories.pdf
AFBA 3.3 - Choosing_Product_Cheatsheet.pdf
AFBA 3.4 - Choosing_Product_Cheatsheet.pdf
AFBA 3.6 - Basic_Product_Criteria.pdf
AFBA 4.1 - Advanced_Product_Criteria.pdf
AFBA 4.2 - Advanced_Product_Criteria.pdf
AFBA 4.3 - Advanced_Product_Criteria.pdf
AFBA 4.4 - Advanced_Product_Criteria.pdf
AFBA 4.5 - Advanced_Product_Criteria.pdf
AFBA 4.6 - Advanced_Product_Criteria.pdf
AFBA 4.7 - Advanced_Product_Criteria.pdf
AFBA 4.8 - Advanced_Product_Criteria.pdf
AFBA 4.9 - Advanced_Product_Criteria.pdf
AFBA 4.10 - Product_Comparison_Sheet.pdf
AFBA 8.2 - All Course Resources.zip
AFBA 10.2 - General Sample Questions.pdf
AFBA 10.3 - Create Your Own Sample Criteria.pdf
AFBA 10.4 - Taking Product Pictures.pdf
AFBA 10.5 - Communication Cheat Sheet.pdf
AFBA 11.4 - Buying a UPC Code.pdf
AFBA 11.5 - Creating Your Barebones Listing.pdf
AFBA 12.3 - Supplier Order Checklist.pdf
AFBA 12.5 - Selecting a Single FBA Warehouse.pdf
AFBA 12.6 - Send _ Replenish Inventory Guide.pdf
AFBA 13.2 - Listing Your Product.pdf
AFBA 13.3 - Listing Your Product.pdf
AFBA 13.4 - Listing Your Product.pdf
AFBA 13.5 - Listing Your Product.pdf
AFBA 13.6 - Listing Your Product.pdf
AFBA 13.7 - Listing Your Product.pdf
AFBA 13.8 - Listing Your Product.pdf
AFBA 13.9 - Listing Your Product.pdf
AFBA 15.2 - Why You Need a Viral Launch.pdf
AFBA 16.1 - Create a Coupon.pdf
AFBA 16.2 - Facebook Product Promotion Spreadsheet.xlsx
AFBA 16.2 - Facebook Review Group Templates.pdf
AFBA 16.2 - List of Facebook Review Groups.xlsx
AFBA 17.1 - Introduction to Amazon PPC.pdf
AFBA 17.2 - Campaigns, Adgroups, Keywords.pdf
AFBA 17.3 - Amazon PPC Key Metrics _ Terminology.pdf
AFBA 17.4 - What the Bid Price Does.pdf
AFBA 17.5 - Ideal ACoS Calculator.xlsx
Ratings and Reviews
Student Work