Welcome to Part 2!
Erik Rogne & Eric Campbell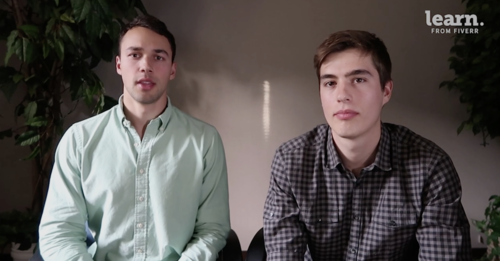 Welcome to Part 2!
Erik Rogne & Eric Campbell
Lesson Info
43. Welcome to Part 2!
Lesson Info
Welcome to Part 2!
Welcome to Part two of the Perfect Product System. And this second part is all about getting your products live and for sale on amazon. And to do that, you're going to be placing an order for your product sample evaluating that product sample, creating a listing on amazon and having your supplier ship your first order directly from their warehouse to the amazon FB a warehouse. So this is an exciting time for you. I mean you did all that research, you found the products you want to import and now we're actually turning that into a real business and we highly recommend that you complete this entire process of ordering your first sample to getting it live on amazon in less than two weeks. And I know that may seem a little intimidating now two weeks but don't worry, we're going to take you step by step through this whole process And I think you'll be surprised at how easy it is and two weeks from now you're gonna look back at this moment and being disbelief that you have a live product for...
sale on amazon. So this section is going to be a lot of fun and I can't wait to get started in this video, you've got an introduction about what this second part two of perfect product is going to be about in the next video. We're going to take a deeper look at how this part too is designed and also go over the resources that you're going to be using inside of Part Two
Class Materials
AFBA 2.4 - Basic Product Criteria.pdf
AFBA 1.1 - All Course Resources.zip
AFBA 2.2 - Product Categories.pdf
AFBA 2.3 - Product Categories.pdf
AFBA 2.5 - Advanced_Product_Criteria.pdf
AFBA 3.1 - Product Categories.pdf
AFBA 3.3 - Choosing_Product_Cheatsheet.pdf
AFBA 3.4 - Choosing_Product_Cheatsheet.pdf
AFBA 3.6 - Basic_Product_Criteria.pdf
AFBA 4.1 - Advanced_Product_Criteria.pdf
AFBA 4.2 - Advanced_Product_Criteria.pdf
AFBA 4.3 - Advanced_Product_Criteria.pdf
AFBA 4.4 - Advanced_Product_Criteria.pdf
AFBA 4.5 - Advanced_Product_Criteria.pdf
AFBA 4.6 - Advanced_Product_Criteria.pdf
AFBA 4.7 - Advanced_Product_Criteria.pdf
AFBA 4.8 - Advanced_Product_Criteria.pdf
AFBA 4.9 - Advanced_Product_Criteria.pdf
AFBA 4.10 - Product_Comparison_Sheet.pdf
AFBA 8.2 - All Course Resources.zip
AFBA 10.2 - General Sample Questions.pdf
AFBA 10.3 - Create Your Own Sample Criteria.pdf
AFBA 10.4 - Taking Product Pictures.pdf
AFBA 10.5 - Communication Cheat Sheet.pdf
AFBA 11.4 - Buying a UPC Code.pdf
AFBA 11.5 - Creating Your Barebones Listing.pdf
AFBA 12.3 - Supplier Order Checklist.pdf
AFBA 12.5 - Selecting a Single FBA Warehouse.pdf
AFBA 12.6 - Send _ Replenish Inventory Guide.pdf
AFBA 13.2 - Listing Your Product.pdf
AFBA 13.3 - Listing Your Product.pdf
AFBA 13.4 - Listing Your Product.pdf
AFBA 13.5 - Listing Your Product.pdf
AFBA 13.6 - Listing Your Product.pdf
AFBA 13.7 - Listing Your Product.pdf
AFBA 13.8 - Listing Your Product.pdf
AFBA 13.9 - Listing Your Product.pdf
AFBA 15.2 - Why You Need a Viral Launch.pdf
AFBA 16.1 - Create a Coupon.pdf
AFBA 16.2 - Facebook Product Promotion Spreadsheet.xlsx
AFBA 16.2 - Facebook Review Group Templates.pdf
AFBA 16.2 - List of Facebook Review Groups.xlsx
AFBA 17.1 - Introduction to Amazon PPC.pdf
AFBA 17.2 - Campaigns, Adgroups, Keywords.pdf
AFBA 17.3 - Amazon PPC Key Metrics _ Terminology.pdf
AFBA 17.4 - What the Bid Price Does.pdf
AFBA 17.5 - Ideal ACoS Calculator.xlsx
Ratings and Reviews
Student Work