The Right-Brain Business Plan
Jennifer Lee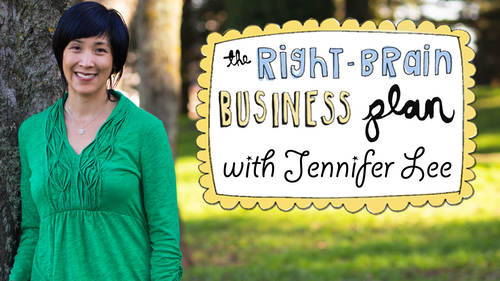 The Right-Brain Business Plan
Jennifer Lee
Class Description
Learn how to grow your business in a profitable, sustainable way using that unique, imaginative brain of yours.
Join 6-figure success coach and best-selling author, Jennifer Lee, for "The Right-Brain Business Plan" - a class dedicated to mapping out your business plan in a creative and visual way that is both fun and simple.
In this class, Jennifer teaches you how to craft a business vision and takes you step-by-step through the planning process. You'll learn how to select a business team, manage your money, evaluate the competitive landscape, and much more. Jennifer will help you develop a clear idea of how to set and achieve your business goals while using your creativity and having fun.
Class Materials
Biz-Landscape-Example.pdf
Corralling-Your-Creative-Cohorts-Roles.pdf
Getting-the-Word-Out-Resources.pdf
Hearty-Highlights-aka-Exec-Summary.pdf
Managing-the-Moola-Goals-Actions.pdf
Managing-the-Moola-Moola-Making-Methods.pdf
Passion-and-Purpose-Proclamation-Worksheet.pdf
Recommended-Reading-Resources.pdf
Rid-the-Red-Grow-the-Green-template.xls
Right-Brain-Entrepreneur-Assessment.pdf
Tailoring-Your-Plan-to-Suit-the-Suits.pdf
Graphic Recorder JennLee_Day3_HiRes.jpg
Graphic Recorder JennLee_Day3_LoRes.jpg
biz-landscape-play-sheet.pdf
creative-cohorts-play-sheet.pdf
getting-word-out-play-sheet.pdf
smart-goal-play-sheet.pdf
Ratings and Reviews
This is one of the best classes I've taken on creative live. I'm trying to start a business while also juggling a time consuming day job. Jennifer makes the process simple & fun, and opens you up to the vision you are trying to create with your business plan. It's been an exciting challenge for me and I feel like I'm going to actually going to achieve what I set out to do because of this class. I love that the sections are bite sized so I can spend a half hour a night on this and make progress over time. Thanks for your right brain approach to business Jennifer!
When I first realized that I wanted to walk the path of an entrepreneur, starting a business seemed like it would be an impossible venture. But Jennifer Lee's method helped me work through each piece of the process in a way that felt fun and exciting. That being said... when I bought the book, I had no idea what kind of business I would ultimately build, so I didn't get through it all. When I bought this course, I had the same issue at first. But roughly every 6-10 months, I returned to them both to revisit my vision and add new pieces that would ultimately land me where I am today. As I'm writing this review, I am in the process of filming the first round of content that will be offered on my digital fitness studio site. For the first time ever, I made it to the end of this course! I already had a plan in mind. But this helped me get it all down on paper and it even prompted me to do more research into my "competition/creative cohorts" to see what the possibilities for my business are down the line. I'm more excited than ever to dive in and soft launch my site this fall, so that come 2021, it will be optimized to give community members the kind of fitness programs they need. Thank you so much Jennifer!
This course is clearly changing people's lives - the energy that's created by so many people realising that yes, they can get their heads round creating their own business (and one that works) - and have fun too! Thanks Jenn - and thanks to the Creative Live team too - you've given Jenn a great platform where she can really help a lot of people move forward guiding their own futures.
Student Work