The Right-Brain Business Plan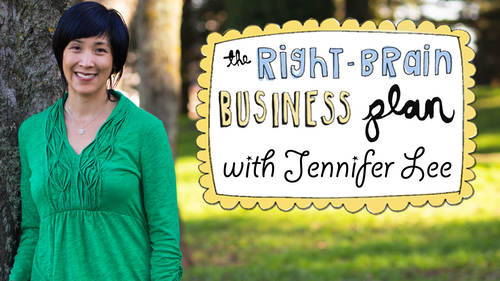 The Right-Brain Business Plan
Class Description
Learn how to grow your business in a profitable, sustainable way using that unique, imaginative brain of yours.
Join 6-figure success coach and best-selling author, Jennifer Lee, for "The Right-Brain Business Plan" - a class dedicated to mapping out your business plan in a creative and visual way that is both fun and simple.
In this class, Jennifer teaches you how to craft a business vision and takes you step-by-step through the planning process. You'll learn how to select a business team, manage your money, evaluate the competitive landscape, and much more. Jennifer will help you develop a clear idea of how to set and achieve your business goals while using your creativity and having fun.
Reviews
This is one of the best classes I've taken on creative live. I'm trying to start a business while also juggling a time consuming day job. Jennifer makes the process simple & fun, and opens you up to the vision you are trying to create with your business plan. It's been an exciting challenge for me and I feel like I'm going to actually going to achieve what I set out to do because of this class. I love that the sections are bite sized so I can spend a half hour a night on this and make progress over time. Thanks for your right brain approach to business Jennifer!
This course is clearly changing people's lives - the energy that's created by so many people realising that yes, they can get their heads round creating their own business (and one that works) - and have fun too! Thanks Jenn - and thanks to the Creative Live team too - you've given Jenn a great platform where she can really help a lot of people move forward guiding their own futures.
I really enjoyed Jennifer Lees' RBBP course! I already owned the book, but I decided I needed the additional structure of the online class. I enjoyed the slower almost "real-time" pace of the Creative Live class and the live studio participants. Both motivated me and allowed enough time to do the exercises. I recommend this class to any creative entrepreneur who feel overwhelmed by business planning!