Smokey Eye Makeup
Simona Janek, Sue Bryce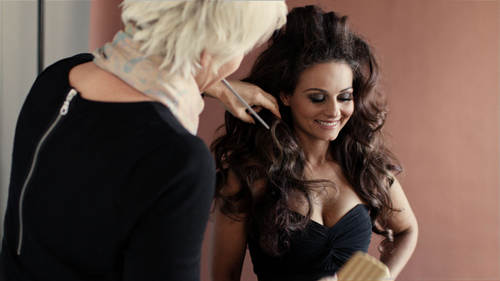 Smokey Eye Makeup
Simona Janek, Sue Bryce
Lesson Info
9. Smokey Eye Makeup
Lesson Info
Smokey Eye Makeup
I'm just gonna do a timid it quick, um, smoky, dark eye. So she already has eyelashes on on dh eyeliner, top and bottom and close your eyes for me and just really noodle it. Um, so I'm gonna go in, sir mac, um, paint, which is like I should've primer cross first of its clothes for me. So I'm just gonna paint that on thiss primer makes the shadow last a lot longer and also keeps the color quite intense. I'm just putting it on at my bar lead up to suck it, keep close to three and then I'm actually gonna use I don't want to go all the way black right into the inner corner on tiffany's ice I'm gonna use this smoky, warm gray color just on the corners and about halfway across the lead and then we'll go straight into really dark, so I'm using a really dark charcoal gray again writing to this corner here and extreme gonna choose a different brush to apply it with and I'm just pushing the color in I'm not wiping backwards and forwards, I wanna deposit a lot of that grain, sam, just darkening t...
hat corner and then I'll grab my blender brush just blend that into previous color that I put on the first one that I put on was makhachkala setting talked. One of my favorite it's got a little bit of sheen to it it's, not a sparkly, frosty one, but it's nice on that in a part of the eye and using a mat on the out of socket gives you that dips that you want to create. Okay, I'm gonna put on some gel liner and I'm using quite a big tangled brush, someone to get it right on their clothes. And I'm also going a little bit across her false lash because I can see the big loose. I'm just darkening that office. Well, now these are great because they give you that. I put angle already see with one strike, I'll get a beautiful line first and look down. Sometimes I get my client to just look down instead of closing. Um, so I can see the placement of my eyeliner a little clear. Actually, one extend this one a little bit more. Now I'm gonna switch brushes. Goingto, faina oneself get right on the inner top water line. Look down for me down that way down the other way. Whatever, then liked to do he's with q tip close for me. I got over the gel liner with a really almost black shadow, and just smoke out that age a little bit. So it doesn't take long to do a smoking, if you know you're going to do when you can go straight to your dark colors, you know, no point putting the really nude ones. First, if you know you going quite dark, just go straight to it. So just clean away some of that for hat, for me and the liner that tiffany had before, just moved down and let a little bit more. So I'm gonna remove some of that as well. Okay, I'm just gonna pack with the other side. So you know what? Straight with my black and so look up for me and I'm going underneath the luscious and sort of over the lash line, and then I will go in with a shadow and push some coloring with that comes from the inner corner. I'm keeping it really tight. Close to the lashes. Makeup peak eighty nine is wondering what is the difference between a gel liner and a cake liner and due to prefer to use more? And why one of come for me, I used to use cake. Linus jill lines have been around for quite a while now. Jail is more of a jewel cake liner is it looks like and I should over you activate it with water or kind of like a setting lotion. Um, sitting what a seal I should really dark underneath. Just look down for me. I've got a little light spot there that I want to film in my bottom out a corner is now joining that line that I created on top before d with us wondering. When do you know how our went to extend the line using the eyeliner like how do you know when to do it? I always wanna extend the eye open out most of the time yet on everybody except maybe in that first stage the natural makeup that we did but on everybody else I'm always extend that corner out okay? So I'm not gonna worry about all the fallout because we didn't do foundation first anyway what hubble do now is our show that line that soup really likes I'm just going to use a meat tone grey come down for me tiffany so it's the continuation off the socket but I just bring it further in ride into that in a corner what colors going on? They're so not too dark something that you can blend quite easily and then maybe just look down for me just a really quick blend up here and that's it it's us quick is that I just come from gonna do your water line again okay with it quick and easy it's really not hard it's just the same thing just using darker colors and um yeah then I would clean away under their re concealer and just fix up her foundation so you didn't put any even light color on that lid it's just that was the lightest color it was that slightly um shimmery on there that is the lightest color, but I went over it. You wanna waste the paint? Yeah. So although I should've stuck really well, so there's nothing like it on there is just sort of a medium color to quite dark. Ok, thank you. Um, I'm gonna finish off all the hair, and then we'll get over to shooting. So I'm gonna move over to this side and I might start with katie. Could I take your chair swap into the store, treats a couple questions for you while you're in the gang of one is trump uh, I lost it. Okay, from mishka and maria in germany, do you use a mat or shimmery highlighter for the inner eye or for the inner eye corner? I do usually use something with a bit of a pill here, and I'm one of my favorites is vanilla by mac it's, a pigment love that one. Thank you. And brenda from atlanta is wondering if you ever applying mascara after you have applied the false eyelashes. Yeah, that's what we were talking about before sometimes going over them with one of those little rake brushes.
Class Materials
Hair and Makeup Keynote Morning Slides Part 1
Hair and Makeup Keynote Morning Slides Part 2
Hair and Makeup Keynote Afternoon Slides
Ratings and Reviews
This is a great course, Simona is very good explaining the techniques. The only thing I really wish was the video could zoom in when she is talking about different makeup brushes. It's a bit too broad for me that has little knowledge of the appropriate makeup tools and brands, a list of good makeup brands for concealers and even a good starter/ essential eye shadows kit would have been very nice. The class is great, just need more material on how to put together your own kit to support it. Thanks CL and Simona, as always very nice, I'm glad I bought the course!
I love this course and came to it because I saw Sue's Glamour Photography course. I learned so much. The BIGGEST missing piece from this course is a handout that lists Simona's kit contents! There was a hair product that I wanted so bad, but had to stop the video ten times to try to see what it was! So a list of Simona's must haves would have really rounded out this course nicely. I was so happy to see a photo of her key brushes in the slides, so I can fill in my kit with what is essential. I loved the self esteem discussion at the end, because I find Sue Bryce just so compelling and inspiring. Beautiful. Just a few picky things to make the next one even better...I would have liked the camera on the face of the subject more during Simona's demos because it seemed to show Simona talking (which is nice) but then I couldn't see the make up process. The demo with Ms. Lobdell, was great, except the side of her face that Simona was doing her makeup on was the furthest from the camera. BTW, her make up was so pretty.. Thank you so much for this wonderful series! Hope you keep having them!
Student Work