Student Makeup Review
Simona Janek, Sue Bryce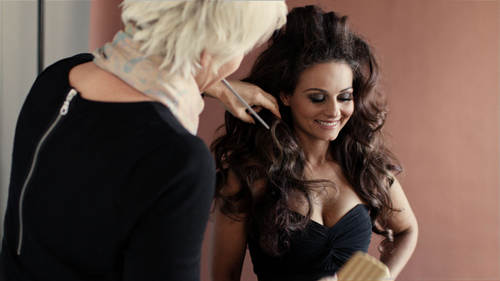 Student Makeup Review
Simona Janek, Sue Bryce
Lesson Info
7. Student Makeup Review
Lesson Info
Student Makeup Review
I would maybe stretched the liner that looks great slashes head of a feeling fine. Yeah, I would maybe too strict the liner on the inner corner stuff there. Yeah, just through there and just take that shading. Just shaved two dark amador e to take it to the next step. I would probably, um do a little bit more smoky underneath just blend out that line always a shadow and just smoke up that corner for me. I wouldn't put any more dark in here because she's already got natural dips there, so we don't want to make that eyeball popped back anymore. I would keep all this dark and smoky around the lashes so you could actually go around the whole lash line, add a third and smoke it out a little bit sideways way and you can feel the embarassing us. Well, good. Come up. So this probably good duty it's really nice. Um, I'd probably just go through and re concealed underneath the eye just touch up that area. We've got a little bit of fallout, but if you're doing, I leave first, you avoid that whole...
problem? Um, but that's probably as dark as I would go with senate um, maybe would avoid the, um schumer just under he and just keep the natural foundation or the concealer color and it and don't put anything. They're just blend up to that area, um, anyway, old again, dark. And it is just by blending out that outer corner and just putting stronger color there. Wouldn't. This is dark enough in that socket in that crease area tonight, and then maybe just hire like, a little bit through this as we age way, sort of get these natural fold street. He so that's an area that you can also correct by using light of foundation, or a lot, a lot of concealer, just to push that well, push that back intellectually lightened the shadows that the creases there, causing there. So just like a two shades lighter than the rest of your foundation. Okay that's great does it nice and we're asking about that earlier so are you underneath the line kind of kind of writing because that puffy a bit there is causing a shadow there so that's the way you wanna lighten so looks flatter thank you. Okay, so just maybe go ahead and dark and a little bit underneath and just that little corner there and then re conceal underneath and doesn't blend back um tiny bit off yet the shame around in the dark thank you there so he's faking being a senior yeah um she's got naturally quite deep said I so when she looks straight ahead straight ahead see that my bartlett disappears back and then she's got quite a prominent brow bone there so I wouldn't make it a lot darker but a little bit underneath the eye here and take a sort of all the way through it's the same what I was doing with some look up for me with susan if that's the lowest part older and this doesn't have to be done with the black this could be done with just a soft brown color um good tight along the lash line here and then bring this corner out a little bit you know what I mean? Yep and should I do any of the she's not blinky and comfortable? So should I go dark in that line underneath see if you can get in and, yeah, and get a little darker. That'll be good. And then maybe just smoke out the corner off the line of there so just with a black shadow just soften it up for me a little but that's nice and then just repaired at the center of the face so we don't have to shine thank you let me finish your lips and then you're done I'll just do lips while we talk through that she was a bride process would you photograph she was getting makeup done would you wait to call down there would you photographed every state well state writhe weeks and months picking her makeup artist makeup doing a trial and uh I think the actual details shots on getting ready is beautiful beautiful but I do tend to wait till the foundation is on sometimes people get a little bit paranoid when they're first basis not on once the first bases on they're quite happy after them and that often the battle here will already be sit or be prepared in some way you know getting ready so once the foundation is on lots of details lots of details that woman has spent a long time creating those details so you've got a caption for him I have a question um women live like rose asian just super room watching things where you're having good tips for covering that some minor will give you about ten really good tips you know, to remove all of those things but the best tip I think you could have this photo shop without irritating to do because remain but she's, a professional makeup artist, and I'm a heck mega bodies that just does it for the shoot. Uh, I know what I could fix in post processing, and I don't want to give myself work to do like I don't want to create work, eva, uh, and say, I'll just fix it and finish up. I mean, she can deal with it, but if it's something that is really easy to fix and finish up, I don't really get I don't get too worried about it. Although is long as the client doesn't feel like if she's got red blotchy face and she looks in the marriage is not gonna feel beautiful, so we'll try to cover it as much as possible always for the client client experience above everything else moment. Do you have any tips for may be concealing back to the concealer and foundation, but large pores? Uh, um, if you buff foundation with your brush, okay, different directions that kahn intends to fill the port a little bit you can get poor minimizes. That is prime missus. Well, some of them worked really well, but I find buffing the foundation into the skin works really good rather than sometimes sponge. It'll sit more on top, but the brush and it will get them ok. Scylla, please sew on your before. After you said, a lot of women are uncomfortable being photographed without makeup to those women. Have any makeup on or on your ba fours, or do they have a base about fifty fifty? Yeah, with base without, um, you pretty much know when you come to me is a photographer. When you've seen my before and after, uh, gallery that you're going to heaven before shot, nobody ever says no. What if somebody said no, or can I have something on then? I have no problem doing it. Also, if my clients don't look really great in the before shot all fetish albert, I don't want them to look tragic. I just wanted to look like a beautiful transition, right? Yeah, ok, yeah so it's um also I've been seeing all the before and afters coming through and there's just too many before that don't look different enough from the after so what's happening is people are coming in with the here down like this and they're taking it before shot I always do it before shot with here pulled beg or in a manner of ponytail because if you want a transition or transformation and I also think it's really important, teo, just keep it really basic let them sit comfortably in a cheer with these shoulders rolled forward, let your arms stay by them sides, you know, get them, took the camera and engage them and get it get a genuine smile um it but try and keep it as basic as possible because you want them to see the after and just see that you don't want them to be embarrassed by their for either, you know? So you're also a really good tip. I put a little sign on my mirror in the studio about twenty years ago, headed right at the glamour studio. If you are unhappy with your here and make up at any time, this is the time to tell us, you know, and it gave people permission to say just one thing could I change this? You know you meet people halfway on their own idea of what they like with their makeup and what looks good client first client first and never just cover it up with, are you beautiful? Never, never, never, but there's little sign it just sits in the bottom of the mira mounted just gives people an opportunity to speak. And I think, it's, um, yeah. Also, I've made a lot of makeup artists cry a lot to make a lot of make about us crying in my, um, years, because, you know, they they work in it. It's like saying to a photographer, I don't like the shot you've just taken, and most photographers will be that, yes, a, um, you have tio maybe speak to make about this beforehand and say, if for any reason, my client or I do not like what you have done, we're going to change it up. So this is how I'm going to speak to you and this is how I'm gonna do it in front of the client I do it gently, but they still can't take it very personally put a few tantrums never from some minor can explain what you're afraid because I did the base first I was just sort of going around in touching up with a present powder foundation just give me a little bit more coverage and to dust away any fallout that I've had under there under the eye and I say bring that down like every assert did bring it down her neck and down her dick attacks because I think this is what she's wearing anyway this is where I start getting really excited that I'm gonna be photographing okay, so a couple of questions um steiner is, um as we start going up from our medium look from our natural to our medium look it's a very slightly darker contour but uh more eyeliner right more eyeliner and what I do is on the out of um outta on top I start to stretch the island up towards the contour so dad started dark in that whole corner that outer corner could you show that on susan's I exactly here so you mean the little contouring triangle this close promises um so this is darker than the medium but I've got my liner here already, so I start to blend through he and start to stretch that up to the soft contours that I had just to add a bit more depth and look up for me. And then I'll just run a little bit of shadow underneath the lash line as well. So at this point, if you use, your client sees their make up. Just before she went up to that dark, a medium and said, I don't think my makeups dark enough, and you start to contour dhaka. This I would be a really good time for you. Make about us two chicken with your client and say, house that. Like if I hit that mark and if the client looks at it make up and says I want more I wear a lot of makeup I wanna she can't keep going right so but teo just keep asking until she gets to make up that she loves she's not a model she's not doing a catalog shoot and there's not a brief on what the shoot's gonna look like every single woman will be you know, asking for something different as we go up now you can see a beautiful transition and this keynote from a medium I actually videoed simona with three different cameras doing this makeup right through to the transition at the end which is a full smoky lid and you could just see that it's still the same working makeup it just keeps getting darker and darker the fish we've added black on the water line and underneath as well. So intense intensified the eye a little bit and um actually looks a little bit small other eye by putting black there but at the same time or defined a year that's so interesting when you put black on the inside wit line and samantha said the ice looks smaller they also look six year so you know as soon as you make the eye smaller essentially what you're doing is creating that look when your eyes are coming down into this sort of smaller relax six year I which I think looks really great. Also, nothing has changed. The lips even changed your bases and changed her blush has not changed. She's just going up on levels and eye makeup if you practice this eye on yourself, uh, and you practices I repeatedly on as many different types as you can. You're just nail it is such a beautiful look. And then all you have to do really is to try and create the little contouring secrets which will put on the pdf for you. I just want to talk a little bit about this before we go on. Because this is samonas beautiful mother and at sixty six with no photo shop, she is just absolutely beautiful. She has a classic over fifty five. No top lid now very, really where you find anybody. Fifty five plus. Whether whether defined lid, unless they have had a brow lift on this, they're having bo tox. So this would be the most common complaint for most women, and it stops around city with cities. Would you say rolling could make rolling lids? Sats? I've had talks e just said that to, like a few people write few people are watching. So obviously, this is the biggest complaint and one of the things that how you get around it because that gets quite waxy up under there too. So when you stripped the lid out, put product on it, it moves around quite a lot. Say also, when you put the product on, it doesn't show essentially, you know, you stretched the lead, put it on there, but then it disappears straight back. So you're not saying it, would you say there's, no point contouring and I that you do not see from the front anyway, only that you know that you can't see it, but you kind of fill it in just for when they're looking down that it doesn't look odd. Um, so mom doesn't like too much make up. Um, I probably would have gone a little darker, you know, I would have gone up a little dark going there, but she doesn't like shadow to go too far um, so qualities is delicious gel eyeliner. Ride around her eye and underneath, and the underneath is also blended with eye shadow. Um, and she's got short individual lashes on I would she would, but she was saying, getting right, yeah, um, I would I would darken this to make that I look a little bigger through there, but you could do that looking straight ahead. You don't actually don't there's no point in closing their eyes, looking straight ahead, seek and see exactly where they were, the fold seat and where things disappear and come back into view. In there, working on my mother is much harder than working with anybody else. I can tell you exactly what it would look better this way. That's, impassioned. I think most women uh most older woman that I photograph look better with least makeup on most young women that I photograph look better with less makeup on in fact um I find that that smokey lived really only suits that age range between twenty twenty, twenty eight maybe because it's just a very heavy make up and you have to have a very young lid to pull it off and uh yeah so this is more I'm sorry to continue but um so there's no it's not consistent always that you have to do that water line sometimes it's like in this situation it's okay wouldn't line really is the top line okay, nothing bottom well there is a bottom morning on but you don't always have to doc that's what I continually look at even when we go and pick out lashes she picks out lashes uh that even in the picture is on the cosmetic package that line is consistently schoen's and for some reason I find it I don't know maybe that I'm not supposed to be but maybe that's just a personal preference but I see it's it's just well everyone has got it and there's what um pencils out there that you can put on that that in a water line to actually open up there and make it look whiter and brighter so why is okay having that gap between the eyeball and that line is something that yes, just not between the line in the eyelash is something you can keep that line close to the island. She, khun, leave the wit line. If it's a full, smoky eye, then you would dark, but I think what you were saying before, don't line the waterline and then never space. Oh, the less just come out from and then have another line underneath. So you've got these three black, you know, black, white, black lines going on exactly the right way, come around and have a look, bring them that way. Ex crate like that may be a little bit more like probably would, um, darker a little bit more color and actually do a pencil. So come do a pencil outline as well, and just relax your forehead for me, maybe bring change breast. Just relax your forehead. So whenever I do, brass clients tend to lift him up, but it actually does he show you the shape that they have got. So what I want to do with midori is relax, he's, just make this a little straighter under here with them and with powder. Yeah, so would you have gone straight to, um, when I've got a lot of, um, space between the head and they're quite so fast? Then I do pencil okay. And then sometimes I said it with a powder on top as well. So just that line on the bottom I find stops him from going up too much. Same under he see her there's, lots of space. They filled in the star and then I actually would go through and I am doing light strikes, but I'm almost trying to create a line because I want it's already soft on top. So I do want it consistent. Line at the bottom to define the brown, take it to about there, and then just feather it out. Someone. I have a question from l one who says, what if the eyebrows are not even when you do your best, to pencil them in, to make the movement and some people's, you know, we'll never six that's. Just the way they are, a little bit off the eye will usually sit higher or lower with the brown. Um, so you'll brush them in a way that makes him look the most even. And then. Do them both at a time like do a little bit there a little bit on that side um try and bring him to his closest possible as you can so a combination of the brushing and then the filling yes so rather than brushing all the hair up just brush him in the natural direction that they grow um but some people that have really thick brows I brushed them up and then just brush the top across so actually makes him look a little um not as dense but it gives you still a nice line thank you that's right? Just do her lips for me thank you for doing it. So I just like to say that these girls are doing makeups that are better and my skills I've seen trained and here in my car you know a guy put but I well over four hundred makeup at us and one of the face things I did is I try to be in here and make up it amazes me so often how many people can do a beautiful natural makeup like this so you kills girls I would employ you that's what statements? Yeah. Wow, yeah, sorry I've been so just one thing I wanna point out within it uh makeup looks beautiful see how the lead faulty naturally sometimes you get like a little fold he that creates a a shadow and makes the eyes look downcast went actually they're not um so I grab a bit of concealer and I light in this area there because that hopes to lift it so another good reason why I do the eyes first I can do all my shading I could look at my client go I've gone just a little bit too far and I've got no based on so there's nothing to run I will either spread a little bit off the back x plus on a q tip um orbit of eye makeup remover and just run it up and just take away what I don't want clean it up and then put my concealer down smart what was her mac quick uh it is called a fixed plus it's ah it's a sort of a setting makeup lotion but you can also use it to hydrate the skin and I just use it to spray on um a q tip and then we'll clean all my fallout thank you question from l a photog is the eyebrow pencil different than the eyeliner pencil in essence not really um the ones that I like I wind up so I don't have to sharpen them they kind of create their own little edge and they're quite fine um and I think the wax in them is a little harder than possible then like a lip pencil burning this instead of the same thing two different colors so for blondes are like to use really, really light torpey um braun's nothing with any warm, so orange in it. Um, because it just doesn't go with blond hair. Um, and then I've got actually even all the other brands that I use a quiet sort of issue brown's rather than anything really warm way could highlight the inner corners off the air here a little bit just to add um, just that in a corner there and I don't do that here, you've got just find one here clean rush. Okay, well, if we're going to darken it off a little, then I'd probably go with a eyeliner around little we'll just make it a little darker older, but he was standing look up for me, so I'm going into the water line and actually trying to draw right on the roots. They're after lashes well, some laying the pencil down and not just using the tip, but using sort of the whole pins and you go all the way across from here whenever you do the waterline don't stop halfway because it doesn't make sense to just go halfway up for me, and then I could go weigh in there as well and then for the little bits, because eyes we've been stuff the you just get a q tip in and clean up a little bit, and it is something that you do have to touch up through the shoot. Sometimes people eyes water differently. Some makeup stays on really well. Other people water it off really quickly in that water line. So there is something that I do touch up through the shoot, that you can't really avoid that, okay, just looking down for me in sideways. So I'm just gonna go in and do a little highlight there. That's. What the weight weighs almost it's, it's, kind of a biscotti. What look up for me to put some bottom a scar on this. Well, since I was trying because they're long you want sekar, maybe just on this side, then just on the outer corner. Here, let me just blend the top timing, but I gotta go say, you're sorry. You look down for me. Yes, I'm just gonna blend just at a socket, he a little more. I just find that that could use a little more blending. Mica paris best friend katie tips for the highlights you well for the c I like ones that um I can kind of put it into the crease uh something with a point um or a short bullet brush like that um or I've got another small angled brush um it's like a half a bullet brush clothes for me and you just learned that with slight I'm just losing sort of medium bone color and then just use the key if you don't want to have any lines they're just so it's a really nice graduation of color a couple more questions on eyebrows yes on fashion tv from singapore and the worldly are both wondering about having to draw the eyebrows on completely for those people who are you don't have any who don't have any evidence whatsoever um yes why not completely I use a pencil and draw their hair strokes and then I'll probably flirting with powder as well um you can actually get really good brass stencils so you could do both the same and they're just little plastic cut out brow shapes of different sizes and different thicknesses you pop it on philippine it's just a really quick way of doing it they're great but it's also a good way few wanting to reshape your client's brass um you know you can put the stencil on color it in leave their own bushy brow underneath and then watch out the hairs that you thinking of getting rid of so they get a view of you know, this is what my braque and look like you can do this with just filling in with pencil but the stencils air just a quick, easy way to do it. Great. I think that we might take a bit of practice. Can you imagine how you feeling today, my browser? Morning in one way. Come with instructions on where to place the template. Yes. Great. Thank you. So just mascara on the bottom yet misguide the bottom. And then just, um, more reset the t zone and do it again for you. Put mascara on the lashes after your false lashes. Um, sometimes I do sometimes I amusing to bring their own lashes up into the lash. Um, just depends. So it's, nice to check. What I do is first pick the lash off and just place it on their lash on their own less and see. Because sometimes you've got there unless going this way. And then you've got the faith of the four slash going this way. So, you know, I make sure that are really cool their own lashes. To try and push that and you can also, then I'm just grab you tweezers and just go through and not squeeze the island, but just the left to their own life, very carefully. What you do to salvage the scare attack. Um, but if they're in saliva, is the best way, because if you go on with eye makeup remover and you've got everything sealed, you just break everything up. So, yeah, their own get their client and their own saliva will remove it. Not your saliva, not your fellas. It has to be, oh declined.
Class Materials
Hair and Makeup Keynote Morning Slides Part 1
Hair and Makeup Keynote Morning Slides Part 2
Hair and Makeup Keynote Afternoon Slides
Ratings and Reviews
This is a great course, Simona is very good explaining the techniques. The only thing I really wish was the video could zoom in when she is talking about different makeup brushes. It's a bit too broad for me that has little knowledge of the appropriate makeup tools and brands, a list of good makeup brands for concealers and even a good starter/ essential eye shadows kit would have been very nice. The class is great, just need more material on how to put together your own kit to support it. Thanks CL and Simona, as always very nice, I'm glad I bought the course!
I love this course and came to it because I saw Sue's Glamour Photography course. I learned so much. The BIGGEST missing piece from this course is a handout that lists Simona's kit contents! There was a hair product that I wanted so bad, but had to stop the video ten times to try to see what it was! So a list of Simona's must haves would have really rounded out this course nicely. I was so happy to see a photo of her key brushes in the slides, so I can fill in my kit with what is essential. I loved the self esteem discussion at the end, because I find Sue Bryce just so compelling and inspiring. Beautiful. Just a few picky things to make the next one even better...I would have liked the camera on the face of the subject more during Simona's demos because it seemed to show Simona talking (which is nice) but then I couldn't see the make up process. The demo with Ms. Lobdell, was great, except the side of her face that Simona was doing her makeup on was the furthest from the camera. BTW, her make up was so pretty.. Thank you so much for this wonderful series! Hope you keep having them!
Student Work