Today's Images
Simona Janek, Sue Bryce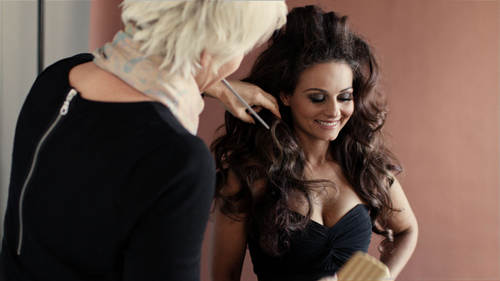 Today's Images
Simona Janek, Sue Bryce
Lesson Info
16. Today's Images
Lesson Info
Today's Images
We took before shots of the girls. We've just gone unloaded an image. Just one image each, unfortunately. But what I'm gonna do is I will load the wrist so that you can see the rest of the shots that we took today because I think it'd be really cool fee to see, but I just wanted to be out of show the girls there before and after. Um, I just wanted to reiterate the importance of the before and after. So in terms of marketing it's, one of my most powerful marketing tools beyond doubt. So let's have a look who would get first. You need to go around so you can have a look. You can see a really good tip here. Uh, majority, obviously it's. Nice lean arms. But even my lean clients say to me, don't make my arms look fat it is probably the most requested thing in a shot using a scarf over the neck and shoulders just draped for color, you can run it down the sideline of the arm and it looks really slimming and it's really beautiful connection. And this image comes from the fact that her chin is ...
all the way around. Down and that their shoulders forwards it has a beautiful body language and as you know, she was just sitting against that wall really, really simple. How do you mean you're in your forties? You're forty. You're just in forty year. Absolutely gorgeous. I got the key now I always ask people if they want to be photographed with the glasses on. I think it's really, really important if people were glasses all the time that you photographed them with the glasses on. But I always give them the opportunity to be photographed without the glasses as well. Because, um, you get to see how incredible there isa and, um, just great color for you. Any vibrant colors like that photograph beautifully gorgeous, gorgeous girl. You're so adorable. You really, uh, you love that before shot. Was it any anything done? Yes, I just loaded it off now and, um, process them and put it straight through. You say, uh, gorgeous ten expand, uh, season roderick coming, tio here's uh, such beautiful blue eyes. I want my before shots to look like they're having a good time and there before shot in an amazing time, and they're aftershock. I don't want it to look like a head and mood of that sort of you know, I want there to be a significant difference in the hero makeup, but I still want it to look like them. That's, why they're bringing their own clothes and makes a really big difference, because I want them to look like they look just the best vision of themselves. And if you can use your before and afters in marketing, then it's gonna help you, you know, it's just amazing. It's, this way, this way to market yourself, beautiful, always using that shoulder, always using that front shoulder all the way around. Don't close up there, get watch the bear, camas. Well, so many people load up that phantom and forget to do something with that. They can keep it in, keep it back. Don't let it sit forward, because it'll sit there and open up the body in the back, and it looks wrong.
Class Materials
Hair and Makeup Keynote Morning Slides Part 1
Hair and Makeup Keynote Morning Slides Part 2
Hair and Makeup Keynote Afternoon Slides
Ratings and Reviews
This is a great course, Simona is very good explaining the techniques. The only thing I really wish was the video could zoom in when she is talking about different makeup brushes. It's a bit too broad for me that has little knowledge of the appropriate makeup tools and brands, a list of good makeup brands for concealers and even a good starter/ essential eye shadows kit would have been very nice. The class is great, just need more material on how to put together your own kit to support it. Thanks CL and Simona, as always very nice, I'm glad I bought the course!
I love this course and came to it because I saw Sue's Glamour Photography course. I learned so much. The BIGGEST missing piece from this course is a handout that lists Simona's kit contents! There was a hair product that I wanted so bad, but had to stop the video ten times to try to see what it was! So a list of Simona's must haves would have really rounded out this course nicely. I was so happy to see a photo of her key brushes in the slides, so I can fill in my kit with what is essential. I loved the self esteem discussion at the end, because I find Sue Bryce just so compelling and inspiring. Beautiful. Just a few picky things to make the next one even better...I would have liked the camera on the face of the subject more during Simona's demos because it seemed to show Simona talking (which is nice) but then I couldn't see the make up process. The demo with Ms. Lobdell, was great, except the side of her face that Simona was doing her makeup on was the furthest from the camera. BTW, her make up was so pretty.. Thank you so much for this wonderful series! Hope you keep having them!
Student Work