Color Considerations
Mark Sposato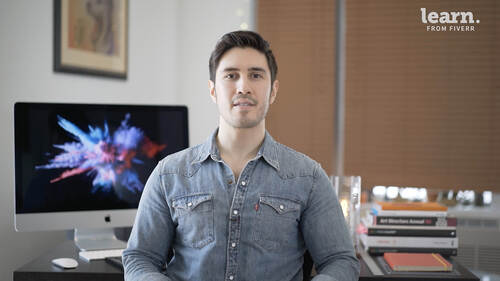 Color Considerations
Mark Sposato
Lesson Info
19. Color Considerations
Lesson Info
Color Considerations
now it's time to think about color considerations. Remember these are just guidelines. They're not hard and fast rules. But we're going to talk about my thoughts color theory and the various color spaces available. Remember the color scheme you choose for your logo should always be appropriate to the tone and the feeling you want to convey. Some people get really deep into color theory and that's fine. But personally for me I just kind of feel it, it's intuitive. So if you're anything like me and you want to use your intuition, please feel free. There's nothing wrong with that. But it's also important to know the various color theories out there and what the significance of certain colors can mean. Color can be a really powerful tool in your arsenal when reacting to a logo, color is one of the first identifying features and there's a psychology to how people are going to react to the various colors and color combinations you choose according to Research by color crumb. It takes just 90...
seconds to make an assessment about a product 60 to 90% of that assessment is based on color alone. Humans see colors as light waves of different frequencies, various combinations of red, green and blue make up all the colors we see. This is an additive process and it's also how colors work on the screen. Whether it's a tv computers or mobile devices, the stronger the light, the brighter the color, an equal amount of all three colors at full intensity will produce pure white. C. M Y. K. Is a subtracted color process and it comes from mixing various amounts of cyan, magenta, yellow and black. It's considered subtracted because as you add color, you subtract light from the paper. It has its roots in mixing paint dyes or pigments, but its most commonly associated with the printing process. While color theory is really subjective, here are some common attributes associated with various colors. Red conveys confidence, youth and power. Orange is friendly, warm and energetic. Yellow is associated with happiness, optimism and warmth. Green calls to mind peace, growth and health. Blue is trustworthy, secure and stable. Purple can be luxurious, creative and also wise. Black generally is reliable, sophisticated and experienced. White conveys simplicity, calmness and cleanliness, analogous colors sitting next to one another on the color wheel. An example of this would be the sequence of red, orange and yellow with an analogous color scheme. One color will dominate, one will support and the other will be an accent. These color schemes are pleasing and easy on the eye, complementary colors are opposites on the color wheel. An example would be red and green because there is a sharp contrast between the two colors. They can really make the image pop but over using them can get tiresome. Using a complimentary color scheme offers contrast and clear differentiation between elements, traumatic colors are evenly spaced around the color wheel and they tend to be very bright and dynamic. Using a traumatic color scheme creates contrast and harmony at the same time, making each element stand out while making the overall image pop. P. M. S stands for the pantone matching system. It's a universal system for matching and standardizing pure color. One way to approach picking colors for your logo is to start with PMS colors and then convert it to various other formats based on the use cases of your particular project. There's a great online tool from pantone for picking and converting PMS colors to C M Y K, RGb hex and other values and you can find a link to the site in the downloads folder of this lesson, The C N Y K color space is used for traditional four color printing processes and it should be employed for anything that's going to be printed in the real world, basically anything that's not digital. It stands for cyan, magenta, yellow and black. I know it's not be, it's K, but for some reason black is K in the printing world. The RGB color space on the other hand, is for anything that's going to be used on screen. It stands for red, green, blue and it comes from the pixels that are used to create all the colors you see on your screens and monitors. It's a good practice to convert your PMS colors into RGB and C M Y K breakdowns. This is really useful when developing brand guidelines and that might be something that your clients are going to ask you for in addition to your logos
Ratings and Reviews
Amazing course, Really helped me a lot. Thank you
Great! highly recommended this course for all designers.
Student Work