Presentation Tips
Mark Sposato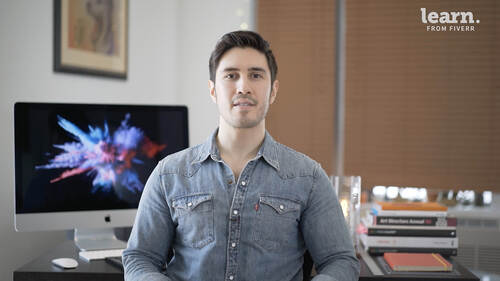 Presentation Tips
Mark Sposato
Lesson Info
38. Presentation Tips
Lesson Info
Presentation Tips
this section is all about presentation tips. Now we're in the homestretch, we'll go over setting up your files, what written information you need to include and formats for final deliverables. Be sure to set up your presentation in a clear and organized manner. This holds true whether it's giving voice over over the phone and email or an in person presentation. Try to resist the urge to just send your art files. I know you've worked hard, you have a few art boards, you made a pdf and you think you're ready to go but take this extra step to set up a proper presentation first to create this presentation document you can use PowerPoint, keynote or anything you want but personally I prefer in design so it's a great feeling when you've worked so hard and you come out with a logo that you're happy with but now it's time to bring it home, you have to present it to the client and my suggestion is to set up a very clear, very easy to navigate and very visually appealing presentation. So I'll pr...
ovide you with the template that you can use. Of course all of it can be adjusted to your own liking. But for me this is something that is worked in the past and it's really easy to follow. So I set this up in 1920 by 10 80 pixels and the reason for that is it's optimal for viewing on a desktop screen and it's also the perfect size if you're on your mobile device to view that in landscape mode if you just turn the phone sideways so start off with your title, it should be the name of the logo that you're doing and what it is that this presentation is about. So in this case it's our first logo exploration. So on the next page it's really important to reiterate the challenge and the assignment to remind your client that you've been paying attention to their needs. It gives them less of a reason to doubt your choices and it lets them know that you've been listening and it kind of brings them into the process. So following that, I just put together some competitive logos and also competitive color schemes. I know that they wanted to really stand apart from a lot of their competitors. So this was important. I suggested color palettes. The first one is the one that I actually wound up moving forward with, but the other two were just some other thoughts that I had and here is an explanation of the color breakdowns. So it's always good to explain why you're choosing things. My favorite palette is presented bigger than the other two. It's important to choose both the primary and a secondary color and there might be more than that. That could be tertiary. But whatever your color scheme is, it's really important to make your client understand why you chose those colors. So some of the attributes of this particular blue found out that they were responsible dependable, trustworthy, authoritative and loyal and then the secondary color was fresh, energetic and wise and I thought all of that was really appropriate to the brief. So that's why I chose the first palette to be the winner. And as we get into the next page, we'll see the first option. I always recommend leading with the one that you feel strongest about and it's clearly labeled logo option one. And I like to show it in 25% scale as well. It's also a good idea to show it in black and white. But for this particular presentation, the clients said they were really concerned with color schemes. So I wanted to make sure that that was front and center, but the size is important too. So you can see how it looks big And small and everything in between. Here's another option. So it's the second one. We're using the favorite colour scheme, we're showing the large option and then 25% scale and finally the third option. So I wouldn't recommend going with more than really three is the great number. 2 to is great when you're into further around with the client and you really want to narrow this down and get a decision if you do any more than three, you're just gonna confuse the client and in this case, uh, this worked out really well. So I provided you guys with the template, you can choose to use it or not. That's totally up to you. But this is just a simple way that I present logos when I'm ready to show the client, my thinking and again in person presentations are great. You can always show this on the screen while you talk them through a presentation or if you have to send it through email, this is a great way to do that. And the last thing I want to show you guys is the right way to properly export this file because if you do have to send it, you have to make sure it's lightweight and it's easily usable because there's nothing worse than having the client get mad at you for clogging up their inbox. So when you're ready to package, make sure you have the right title. So in this case we're going to call it blaze logo presentation, let's say around one If it's the first round your destination is correct. You hit package hit OK. And in design will package your document, you'll see that in design generated a pdf for you automatically. The last step is to make sure that your pdf is small enough to email to the client. In this case it will be. But let's say it was huge and you wanted to make it smaller, you just open up that pdf a couple of things that I like to do is if you hit command d that's going to set your initial view. Single page is always good. And magnification should be fit page because you never know what device they're going to view it on. Just click through, make sure that everything's right. Everything looks good. The last step would be to go to file save as other reduced sized pdf so you click yes, click okay, click save and replace and there you go. So acrobat has just compressed all the information to be the smallest possible file size. And you are ready to send your logo presentation out to the client.
Ratings and Reviews
Great! highly recommended this course for all designers.
Student Work