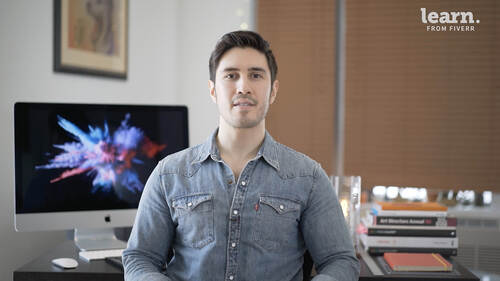 Lesson Info
4. Inspiration
Lesson Info
Inspiration
now we're going to look at some inspiration. It's really important to see examples of great logos and to understand a little bit about the designers behind them. We're going to go over the work of Milton Glaser, Saul Bass, Sure, Maya and Geismar, Herbal Ballon, paul rand, paul A share and Stefan Sag meister. Milton Glaser was active from the 50s through present day. He's famous for the I love New York logo, which is one of the most recognizable in history. He's a prolific designer and illustrator who brought conceptual ideas and a whimsical intelligence to all of his work. Her blue Ballon was a contemporary of Glaser. He was primarily a type designer. Most famous for creating the avant garde typeface as well as american typewriter along with many others, avant garde started as a mast hidden logo for a magazine in the sixties, luke Allen was well known for his simplicity and typographic solutions that also carried a lot of conceptual weight. Paul Rand is best known for designing some of...
the most recognizable logos from the 40s. All the way through the 80s. He's made hundreds of the most iconic logos in the world and the principles he believed in are just as true today as they were back then. These are some of his most well known Principles. Number one, a logo derives meaning from the quality of the thing that symbolizes not the other way around. Number two. The only mandate and logo design is that they be distinctive, memorable and clear. Number three presentation is key. Number four, simplicity is not the goal. It's the byproduct of a good idea and modest expectations. Saul Bass, who was active from the fifties through the eighties, he is a legend of graphic design and best known for making movie posters and onscreen titles. He also designed some of the most iconic logos for the world's biggest companies. These are some samples of his logo work. Sure, Maya and Geismar. Even Sherman and Tom Geismar were a dynamic duo. They specialized in branding design and partnered in the late 19 fifties to create some of the most enduring corporate logos in the world. They're firm is still active today as Sherman, Geismar and Haviv Paula Sher and she is a partner in the legendary design firm Pentagram. She made her mark in the eighties with logos and posters for the public theater as well as many other new york city landmarks. She's as vital today as she ever was here are some samples of her work, Stefan Sag Meister, He's a founding partner of Sag my Stern Walsh, he made his name in the 90s with bold and unconventional typographic and lettering treatments, as well as designing aggressive record covers. Now he's partnered with Jessica Walsh to focus on pushing the vanguard in the branding world. One thing they've really done well is incorporating motion masterfully in their brand design. This adds another element to the overall experience of the brand and helps to push the concept of identity forward into the future
Ratings and Reviews
Amazing course, Really helped me a lot. Thank you
Great! highly recommended this course for all designers.
Student Work