Merchandising for Photos
Sue B. Zimmerman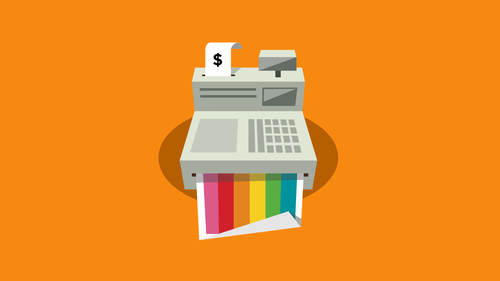 Merchandising for Photos
Sue B. Zimmerman
Lesson Info
15. Merchandising for Photos
Lesson Info
Merchandising for Photos
a couple people in the live audience shared stuff with me, and I want them to briefly share with everyone at home the successes that have happened on Instagram right here in the moment. You guys tamari yammering about the Mason jars that I loved, and I reposted it using a repost app on my profile and called out the woman who does the mugs. And then she says on the same photo, she says, I need an angel reading and you need love bombs. Just checked out your website and love it. So you guys gonna swap were whatever we're gonna do. But I'm having a fangirl moment because I love her and she's in it for the love. If anyone wants to look for wow, that's great. And they also redid my bio and head shot over the lunch break while you had a photographer. In that I get that headshot done right. Anybody else Real quickly. Want to share? Yes. Yes. So I read in my bio as well. And have, um I basically used the little the little image of the of the arrow going down for people. DOJ click on a Bentley l...
ink to lead them to a retreat that I'm hosting in February. And so I am now watching all of this traffic from Instagram going to this retreat. So you say you logged into bit Lee, and you saw so share with us how many clicks U s so like, in the past two hours, there's been 150 people that have clicked through that link from Instagram to the bed. And I only have, like, 450 followers at this point. So that's great. And we talked about the Bentley link yesterday in the power of the Billy Links. So I love that you read it. You did the Bentley Two hours. A lot of clicks. That's great. Anybody else want to share a success moment? All right, you will Soon. Yeah. Yeah. Okay, so we're talking about photography and merchandising, and I'm excited because I love to merchandise for my store. And I'm gonna be sharing with you exactly what's going on in my brain as I put products together in the store. But first I want to show you again back to this account that does such a lovely job at really not just posting products but staging products and showing them from the creation of what's going on in her mind as an artist with the color palette to making these amazing stones that look like a piece of art and then transforming them into bracelets. And she sent me one of these lovely bracelets that say Instead, Gal, I've after the first show, and I just love how she runs her feet. I think it's really important for all of you artists out there, all you jewelers out there to take note because she's not just creating jewelry at heart. She is an artist, and the next slide is from my daughter Slide, who were going to be seeing tomorrow. Lila. She started a featured account called Fret, Fresh fit and Fearless, and she's absolutely fearless. I'm excited that she's gonna be here and you'll get to see her spirit, and her photos are very clear, well lit, and she shares how to, um, put together. She's a college student, so she's creating what she's eating, and then she's posting with value by telling you what the recipe is. So I want to get a look at all of her pictures and give her some love. She'll be here tomorrow on stage. So merchandising for photos as I mentioned my store, Sue Be Doo is on Cape Cod, and I do a lot of different things to merchandise. My murder two to display my merchandise. And I try to think it's a very kind of anthropology esque way that my brain thinks where I take items. A lot of them are from the Wellesley dump where I live, we have a dump that's a take it and leave it section, and it's kind of amazing people. NPR actually did a little news piece on it. People travel far to try to get to our dump because people are leaving such great goodies. And so I often find things to use glasses and bowls and wooden pictures to use to merchandise my products and chairs that I have on the wall in my store. And it's amazing. So in this situation, I actually do sell these wine glasses so you know there's wine charms that go on wine Jack glasses. So I thought this would be a really great way to showcase Amillia roses, hearing said. I sell. In fact, I actually have appear on right now and they do really well and they look a little bit like sea glass. So I wanted light to shine through from them. And you heard Beth here earlier. Talk about her. See glass jewelry. So this gives that kind of sea glass feel with the glass with the light. Then often when I'm on the beach, I will find driftwood that I love, and I will showcase it with jewelry that I sell. And then, of course, my dog, you're gonna love the dog. This is Cody. You might have seen him in my personal feed and he's my cock a poo. And I love these bags their seat belt bags that are made out of that air, that air bleach died and then sewn into these wonderful bags. It's probably my best selling items on the Cape, and I just put him in the bag to get the picture because I think it it adds that element of humor. And, um, some people have little dogs might say, Maybe I need that bag to carry my dog. Who knows? I got a couple bod soggy. People here are sitting here, so these are just ways that I that I showcase photos and post them to instagram. And now I'm gonna show you how my brain operates for my business and give you a demonstration of when I merchandise. And I've been merchandising ever since I was a young girl selling products. Okay, so I'm starting with some elements that I actually packed in my suitcase. Um, so obviously netting gives you that ocean feel. So whenever I do a trunk show and I have a table, I put burlap like burlap is my tablecloth. I did not bring the burlap. I had a lot of hashtag signs in my bag. So? So I will put this on a table and over the burlap, so it feels nautical. What's really cool about the netting is that often I can put, um, starfish in it as well in the front of the table. So picture a six foot table or in my store, I have the netting on a wall and I put the starfish in it. So this you immediately feel kind of ocean fishermen like Michael, right? So far, so good. I feel like manna wide a little bit here. Um and then, um, I have my nautical flags. So I sell an amazing line of bags called scout bags. And these are patterns of the bags that I sell. So I would tie this Teoh the ends of my tent. If I'm selling outside or around the table, I would have to get pretty crafty here. So who wants to come up and help me can ever help her from the front row of service. I jump up. Okay. So because their strings on this sources, So we're gonna just tie this around the top? Um, does it reach? Maybe? No. Okay, so I would have tape or glue or something. Toe. Hold it. Does that reach to that? So let's see if you can just tie that. And if not, you could just help me hold it right there, and we can actually weight it down. So then I'll go to places like marshals, TJ Maxx, air HomeGoods. I spend a lot of time there, and I'll find things that a representational of the ocean and I love would natural wood, anything that gives that feel and I'll put my products on things like this. Maybe we could just wait it down, right? And same with coasters. So I found these at the Christmas tree shop. I don't know if you know, this is something that people in the New England area might know about. This is like, um, shells and it's a coaster, so I'll merchandise the jewelry on that. So this basket is empty, and I might even if I've carried something in this, I might like, tip it upside down. Drape the burlap over this if it works and use that. But this is the wrong color for May. So I'm not going to use this. But there's another basket with more merchandise, lots more merchandise. So service. I'm gonna give you that and you can You can actually stay. Can't help me. So it's really important to have texture. It's kind of like a garden for those of you that are that. Are gardeners having height, texture and color all kind of work well together. So we're gonna take the products that is, Oh, that basket that we put away, we could put it. So this is one of Lindsay Tia's bags that we had before, and I would stuff it to make sure that it has structure, or I'd put the basket in it with a wonderful fit. Um, I think we're good equipment. So as you can see, there's like, the nautical rope on this and I might even drape a necklace over that. We'll see if that works. And then here's a starfish that we talked about, so you can just keep handing me. Thinks so on idea would be to tuck this in here or toe lean this against this. First, we're gonna do this. Bet this over here, the Fodor's. So I'm kind of just building off the stage and the feeling and I'm always thinking of the lighting. And if I met a show, I'm in a corner I'll use a wall just free those of you that sell it shows like I'm always the first vendor at a show in case I don't like where my table is. And I want to move it so that I can say to the show person, this is not working. I need to be over here. And if you say it in a nice way and you say and here's a headband they might like or something just be nice about it. They might let you move Because I think placement is always important when you're at these shows. So, um, I brought my foot doors. I sell a ton of fedoras, and in the fedoras, I have shells. And I have, um, plastic. These were on lights that I take off, and I would put the Fedor here. And I would also Sprinkle, um, glass, the's air glass shells. So I would actually I have a lot of shells when I travel. This is all I brought, and I would Sprinkle them all over the table. And yes, when I'm done selling, I clean up all the shells. So I was thankful these on the table, along with some shells and some of the shells have shapes that I can actually use toe display my jewelry on. So we might be able to get to do that in a minute. Um, come over here. So then I have jars. A lot of ideas. A lot of glass jars. These are old. This is the only thing in the world that I collect. So any of you that want to know that I love old bottles because they have a history? There are a lot of um, a stamped. And there the story behind these bottles are amazing, and a lot of the sea glass that you see comes from these old glass bottles. So I have a lot of old bottles in all different shapes and colors, and I usually stuck them together on a shelf so they tell a story, and then I'll put my jewelry on them. So let's pour this into that. Pour this into that. So, um, the other thing I mentioned is that it's on the, you know, my stores on the Cape, so there's a lot of seersucker and Madras fabric, which is very much Nantucket and Martha's Vineyard. Cape Cod. So I saw these cute little pajama pants and adults and kids sizes. And in this for this particular demonstration, I would just to get a splash of color, maybe turn it into something where I'm using it for. Maybe it's coming out of the Mason jar, and I'm putting something on it. I'm just putting the look and feel of the destination, and it actually matches the inside of of Lindsay's bag. She has seersucker inside of the bag. It's just another nautical feeling. I think so. I sell these nautical headbands, anchors and stripes. And this is something I might drape over the hands, all of the bag or put it on the Mason jar. So the idea really is to stage things. Um, so they look more expect. Like it doesn't look like it was mass produced. It looks special. It looks like it represents the destination of where you are. I have these little boat wheel bracelets that I put on fabric pillows. And then I would lean them, um, against a glass thing. Okay, so now we're bringing out some jewelry, and there's a lot of it. Yeah, So let's just total out. Yeah, and I need that white enough. Okay, so I sell a lot of Fodor's, so I, in addition to having them hang in different places, I use them to put things in like I did with the shells here. And I think as soon as you see if a Deptford or you think of summer or vacation or it's just styling fashion, So, um, it just might be on the table for the effect, and then maybe I would use the top of it to put something so it's building nicely and of course, she, Leiser said. I have to showcase the dolls one more time. But in addition to the dolls, I have the taffy box who was a want to definitely get the cameras on this? The taffy box sent me this instant gal live necklace that she made for me, and she's one of the accounts was featured earlier, which is so sweet I really appreciate it. I want to give her a shot and let her know that it's on Tricia's doll. So many pretty So So now that's sitting there, and she's having a good time on the beach looking at all the, um and so there's a lot of there's a lot of bracelets here. So, um, Scout as I mentioned the flags, um, this faded cause it was outside. But this is one of the items that they sell, so I would have a lot of these bags around the table down here on, and then I would have some on, um and near my products as well. So this thing is another one of those, like really cool items that I found at T. J. Maxx Marshalls from France, and I just love like this old tin look and feel. And not only can I put jewelry in it, but I can merchandise on it. So I want to show you like what that might look like. So I have a lot of bracelets that I sell. I'm wearing one of the ones that I have here and there. Magnetic. And so isn't this. So what's cool about this? This container is that the bracelets actually can be, like on it and attach. I didn't know that when I bought this, but it's kind of fun. Let me do it. So Hey, we're good. Got it. Thank you. Thank you, Thank you. So now I would stack different bracelets a different way. So while I'm doing this, if anyone has questions here or at home, um, and wants to know how my brain is just kind of putting this all together quickly. I'd like to hear it from you. And I'm gonna continue to merchandise and talk Teoh as well. Anybody have anything to say, but sells products? Yeah, well, I don't sell products, but it just kind of like thinking of, you know, like my clients or just somebody else who does something a little bit different and isn't nautical. Like, how would you kind of start putting things together? I mean, you're just you're obviously super creative and, like, you know, this is your look, But say somebody does, um, you know, certain kind of jewelry, or I mean, even in these fares, they have a certain, um, like angel reading or something. What? How would they display it if it's a service? So, um so angel reading There's cards, right? Yeah. So there's cards and there's color. So if you're branded color is pink, let's take pink cause you're wearing pretty in pink. Um, I would put I would use the cards and the terrence of the cards as like what you're doing and then maybe glitter for magical dust or glitters just so pretty. And I would have glitter. Or it might even have, like, the glitter tattoos as a side thing. Um, because I think when you're selling and you can have entertainment with it often at my store, I'll have face painting. We'll do nails will do tattoos. It's like activity. So coming to sue be doo is not just going shopping, it's taking instagram pictures. It's It's chalk. It's using talking our hair, putting feathers in our hair and having fun. And so the memory becomes something fun as a destination in addition to shopping. So ah, lot of stores in the town where I live that I consult with. I tell them to do author, uh, signatures book signings so local authors might need a place Teoh promote their books. And then there might be a retail store that can host an event. And at night they can have a wine cheese tasting author signing. So I think when you create a reason to come, especially to the retailers that are having a challenge getting traffic in the door at their store, that you can absolutely create activities around that. So to the service based industry, I think it's really important to come up with that that memorable branded look and feel, and to be consistent with that. So you guys have heard me and see me. So whether it's my anchor necklaces that I'm selling everything I'm always kind of with strike wearing stripes, Um, you know, if you look through my instagram feed, you can get a sense of that nautical vibe and all that I dio So was that help? Oh, good busy bee boutiques asking that shows Do you list the prices of your products? I don't cause it takes too long, and I sell it too fast, Okay? And I don't like the way prices look on my products. It looks too much like it's a store and I have it all on my IPad. So if anyone says, How much is this? I'd rather engage. And when I see anyone interested in, like eight, you know, let me know the first thing out of my mouth. Just let me know if I can help you with anything. It's not what you want to buy, or and then it would be like you visiting like were you visiting from? Because everyone's visiting from somewhere striking up a conversation. If they have a dog, it becomes about the dog. That's the kids. I have stickers. I let every kid pick a shell when they're in my store. If you behave and here's what I do, I pour the shells on. I say to the mother, the you know who's ever then they can take any shell they want and the kids throwing a fit or they don't wanna be in the store. Mike, I pour the shells on the floor and I said, You can pick the one you want so they go through all this up and then I say if to put them all back in the bucket. So while the kids putting them back in the bucket, the mom has time to shop. So I just know how to make sure the moms happy and the kids happy. That's that's what it's about in my store. Yeah, yeah. So, um so I just think you have to figure out what your the vibe is. So it's memorable, like make yourself memorable. I showed all those branding sides on Day one and how I know it's my high energy. It's my colors. It's my nautical feel that those become memorable, and so you gotta figure out what it is and just own it. Handstands for Paul Tree pose. Julie, you know, like, what is it right? Another view is asking, What tips do you have? Super styling. If you really only have one product, well, that's challenging. I'd like to know what that one product ISS share that with us on? Do you have any? How would you photograph this display? And what would be? Yeah, that's a great question. So what I was going to do once I got this set up is to actually do a in phone video using the instagram app. I was going to do a little quick 15 2nd video and show you guys what I would do. I would definitely take pictures of this, but not the whole thing. I would take elements of the glass, um, and not shoot the whole display. So I thought by doing a little video, I can show you, like how I highlight my products. So this is a again, back to starfish and anchors. So I'm just putting this on top of a shell as opposed to, uh, just on the netting. So it just feels like that's a starfish that exists in the sand that you would find it, um, of everything I dio I'd love instagram. I love merchandising. Like my store is just so like for me, it's like just the artist in me is setting things up. This is this is, like, so fun for May vendors A lot of interest Don't like setting up. I love it cause it's a challenge every time. I have no idea what I'm gonna be looking at when I get there, and I have to kind of figure it out. So I embrace that these air little hair ties with nautical charms on them. I know a lot of people make these hair ties, so I decided, Okay, there's too many hair ties in the marketplace. How can I make them different? Let's put on nautical charms. So now I say, not only is the here tie, it's a bracelet. So now I can film for $7 instead of $3 because it's a bracelet in its a hair type. So so And they do So So, um yes. So everything I'm taking out has a nautical by a lot of shells here. See, glass. Um, I use a lot of I work with a lot of Etsy artists. I research on etc. And I find things and I have them make me exclusive products. I see their work like this one. This is a vintage button leather with thread, hand don all over the leather. And, um, I said to her. If I place an order for my story, it's like a button clothes closure. So I say, I want to buy this What's your minimum? So it's exclusively mine and you won't sell this anymore on your site, and I can make it my colors. So I work with a lot of artists. A lot of you out there. You might want to be pitching me some of your products as long as it has this nautical vibe. I really love supporting artisans, and also I work in Nepal. I've had bracelets made from Guatemala and Nepal. I love supporting Third World countries where I know they're getting paid the amount of money they should be making for what they're they're putting together. And these, like handmade bracelets, are just absolutely gorgeous. Those of you that know hide ranges on Cape Cod, my favorite flower, that's these are my hydrangea bracelets, so, and I'm putting it on the purple glass bottle for a reason. This is not me, just like putting it on a bottle. I know that it will look good on purple, and so if things don't work, I'll turn the bottles different way. Based on the way the lights coming through. I put a lot of hearings on the bottles. Um, yes. So this we need to do some of that. So this is stretchy. So here's something like that. Right. Um, and then this is thes air, the old bottle tops. And if you find one of these, this is really special these old sea glass tops. So I will turn him upside down and use them to put my rings on. So I can pretty much look at anything like I love sticks. And I love driftwood and shells and, um, the feeling of would like this floor, Like, I wish this was the floor in my sore. But this is kind of what the feeling you would get if you came to visit Suu BDO, right, Ceresa? Does it feel like Scooby Doo? Okay. How does that look? You guys good? Okay. So I'm gonna go to my phone and do teach you guys how to do. Um, how many people here have done a 15 2nd video on instagram? Stop and go. Okay. Wait. How many have not cause more? Half. All right, So we're gonna have four people in here and uh, you have no idea what I'm talking about, right? You could do a video of me doing a video if you want. That's very challenging. Oh, I don't waken talk about Yeah, sure. Let me get through the video. We'll talk about because you can hold it and do the whole video in 15 seconds. I love the stop and go because it's like editing. Um, and also there are great third party APS. I love pick play post, but I love worth video. Hance Ben Wong, who did ward swag, also created a video app that I love and I edit in video. Hance we talk about this all in the first course. In fact, been gave demonstrations that were amazing how to use it for your business. These acts costs money. They are so worth it because you can edit your videos right on your phone and then be ready. Go. And by the way, so many people do not use videos on instagram so that when you see them, you get more eyeballs on them, and more curiosity like to click and watch 2nd video. That's about all the attention span. I think people have that's why. 15 2nd you know, like anything longer. That's too much time on Instagram. So, um so to go. So I'm on my phone and absolutely to stop. So I would go to the camera button. The same button as you do to upload a photo is what you press on Instagram to get to the camera. So impressing that Yes. Paying attention? Yes. And now I'm pressing on the video camera, turning it video. Okay, so you see the little flashing dot That's the dot of movement. That's when you're done at the end. That's when you have 15 seconds. Oh, this could be fun. I want to get you guys in this video. Okay, so this is a good little vignette. So I would say, Just got in my Lucite bracelets. And I always have a soupy do logo sign. I would start the video with my logo sign or end it with my logo sign. So soupy deuce here in Chatham today selling new products, These bracelets. So So let me just for the spirit of this. So we have, um, ribbon bracelets. It's good to hear. See glass airings. Oh, so pretty. Okay. So I'm gonna delete this because it's so many pretty. So the delete button you can delete just a segment. The last one you did by pressing the back arrow and throwing it in the trash. So I said the wrong name. So I'm doing again. So this is so many pretties, and we're gonna give a shout out to the taffy box because this is so cute. I'm just celebrating all my artists that are watching. OK, the taffy box. And so maybe I'd get out here and do a little here. I am a creative life. Oh, even better you can flip it, You guys. So last segment is you guys. Hands up, member of my like it's to get a live real quick. Ready? Yo. Okay, so that was the end. Andi said you would press next and you get to pick which cover you want on this. So that's that's kind. Of course I'm thinking you guys, it's all about you guys were talking about merchandise, But I love these guys, all right? And then you can enhance it. So once you've landed on that cover photo, that's a photo you pick. Even if you go back to enhance it. You can pit your filter, and the lighting's pretty good in here. But I might adjust it to that, actually like it a little bit better. So now you're seeing it. This is what it would look like. And this is if I press next. This is where I am, Okay? Having fun, teaching merchandising at CREATIVELIVE. Okay. And I would do Okay, so I need to go back in and add the at mention because we want to tag creativelive And then, of course, um, at instigate alive. And then I would hash tag and still alive, and then I would actually so that this curates in the hash tag hub. Okay, So before I press okay and share this, I'll take questions. Key things to think about when you're staging for your photo shoot and shooting any products on before uploading to instagram. Now, this questions come from a jewelry makers gotta focus on rings. So I really think lighting is so important. If I'm looking at a dark photo, um and I can't really see the details of the art or the jewelry. It's it's hard. So Holly, who's coming on soon on a Google hang out. I know that she loves to take phone board, Bring it to the window. Phone board is white board. Bring it to the natural light, Put the product on the natural light and shoot it that way whenever I'm outside at my shop or, um, affair. The lighting's never a problem. So I think lighting is so important, especially on instagram. Something like rings. Of course, they're going to be very, very small. So do you want to make sure that whatever props you're using or not swamping them, right? That's why things like this little bottle top is perfect or a shell that you could put it on. But yeah, you want you don't want to just have the ring. And if this so this is a flower. So I would actually even consider putting it on a flower or petal or relief. So something to add a little bit to the to the item that's being purchased. The other question. I would photograph that if that was Yeah, well, you the doctor says you talked to everybody and tell people you, Caroline, I loved it from both of you. Yeah. So everybody that's watching grab your phones so you can look up a hashtag that this will be educational. Um, So what you want to do is if you have something really small, like she was just saying You want to make sure that it can stand out and that it's not cluttered with everything else. So what I would dio is I would pull that ring so that there was a pretty extreme difference from the things Yes, yes, all the way towards the edge. And then if I was taking my phone, I would actually be about right here. So that way, this is really close to me and everything else is far back in the background on your phone. If you grabbed and look at the hash tag, you're gonna learn an art word. It's Boca be OK e h. And that basically gives you that really pretty blurred background. So ensues. Case your ring would begin focus. But if you look at that hashtag, you'll see like thousands of examples. But that ring will be in focus and everything behind it. You'll still be able to see if it will be more of a texture in the background rather than a distraction cool. Do you want to take a picture of that? Sure. Good. For later. So I could yes, wait. Photograph lots of products at once, which, when you're taking pictures, would you focus more on individual? I would probably dio like Su said. I would do like a whole table shot to be something in the background. Maybe like a timeline photo vignette? Yes, exactly. And then do those little focus points Because if I'm a client, I'm looking at a small photo. I'm gonna look at this and be like Sparkles Pretty's. I'm overwhelmed, you know? So those little like you said, the little vignettes are really, really how to do this, and we'll we'll, We'll show that after and we'll hash tag Boca is that we broke a B o K E h blossom. See, it's great to have a couple of photographers in the house, right? I think that's what sources said is perfect. You can put you can like buy construction paper. You can buy burlap in different fabrics and put those in the background. You can go near a window. You can get a bunch of cheap flights at the hardware store and plate and just play with those product photography is amazing because you can do it anywhere. You can do it in a hotel room. You could do it at the beach. You could do it in your car. I mean, it's really you have a lot of freedom with product photography? Yes, So if anyone in the chat has questions that serous are, Caroline can answer because I'm not a professional. So I love my phone. I love my filters and I love my absence of Instagram and I. My photos are really high quality. What I don't ever do is confident. Compromise the quality of my pictures. Just oppose something. As I said earlier. Yes, yes, Thursday. And there's actually, um, like lenses for your IPhone that you can get that do macro photography. It is a small investment, but I think it's worth it. How much is there's so many different ones thinking about a photo Jo Jo Or they can just google, you know, IPhone lenses. And so if they're selling a product that has lots of tiny, tiny details, Ah, macro lens for their IPhone is really what they want. That's gonna really I mean, I took a picture of, like, Lincoln's I on a $5 bill and it showed every detail with my IPhone. Wow. So that's like you don't need a professional camera. You really don't. Especially for products. Okay, I'm posting It. Will be on immersed photography right now in about 30 seconds. A great I love that merchandising because we're gonna have Johnny come up and talk about this truck, so we need to just clear all this. So So this is going away. We're going to do another going to do another set up. Oh, yeah. Can't tag know where that's been. Tagged photos. But you can't take a video. So it would be really important if you're doing a video to tag in the description at mentioned because you can't tag a video. Thank you. I was going to say that
Class Materials
7 Instagram® Time Saving Tips
Sue's Top 10 Instagram® Strategies
Cure Your Hashtag Headache
How to Create a Microblog
A Beginner's Guide to Instagram®
Ratings and Reviews
What a phenomenal course. Thank you, Ann, and the team at Creative Live for this jam-packed class. I'll be honest, when I signed up I wasn't sure how there could be three days worth of information on Instagram. However this content-rich class was filled to the brim with wonderful ideas, tools and inspiration for cultivating success on the platform. I'd been struggling with attuning as to how to best use Instagram for my business - I didn't want to be posting pictures of my lunch, cat or shoes; and I didn't want to simply recycle graphics from Facebook. What I really wanted was to learn how to fully utilize this platform to build my tribe, market my business and connect with others. This course delivered all that and more. Sue is a great teacher and her heartfelt style of marketing and sales really fits with my own approach to business. Every day I learned dozens of ideas that I could immediately implement and my mind is buzzing with inspiration and ways to authentically use Instagram to connect with my tribe. I've been recommending this class to everyone I know. I loved it so much that I purchased Sue's first class, Instagram Marketing for Small Businesses. A lovely bonus of taking Sue's classes is that you can connect with her Instagallive tribe, too. I've been meeting wonderful people and making great connections in the community. If like me, you're a solo-entrepreneur looking for a way to bring authentic marketing to your business, I highly recommend Sue's classes. (P.S. I was blessed to get to attend this class in studio at Creative Live. It was beyond amazing. If you ever get the chance to go to a Creative Live event in-studio or take one of Sue's live classes or events, do it. You will come away feeling inspired and energized for sure!)
Thank you to Sue and to Creative Life and everyone who helped for this course. I enjoyed every minute. So many great tips, amazing guests, useful informations. The amount of information is amazing! I could watched all over again. I'm so grateful for Creative Life community to have such a great course like Sell more with Instagram with Sue was. the course really have helped me grow my Instagram account. I have leared so much from the first course, but now I learned even more and I'm doing on IG better and better every day.
Buy Sue';s course. It's a no-brainer that you will NOT regret! Sue highlights real people with real businesses and demonstrates how they are building their brands and sales on Instagram. She walks you through the process of effectively setting up your Instagram page, teaches you about different types of accounts and how to determine what is best for you, highlights how to develop strategies for growing your presence on Instagram, and shares information about how to implement engagement strategies. Also included: the importance of being authentic and how to do that, providing value to engage followers, running contests, encouraging user-generated content, creating graphics, the best apps for creating graphics and managing accounts, how to get and interpret analytics, how to improve your account based on analytics, and so much more. Her enthusiasm is contagious and you'll look forward to the new content and audience interaction in each new video. These videos are FUN to watch! Every business should be on Instagram, but first watch Sue's course to learn how to be there effectively and sell your product or service. You will not regret this purchase!
Student Work