How to color the background of a page in InDesign?
Daniel Walter Scott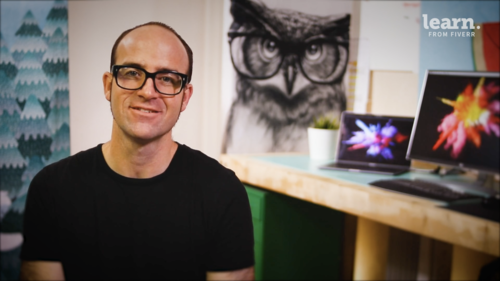 How to color the background of a page in InDesign?
Daniel Walter Scott
Lesson Info
9. How to color the background of a page in InDesign?
Lesson Info
How to color the background of a page in InDesign?
Alright in this video we're going to make a nice big colored background. It's gonna have no stroke around the outside, a little line but a nice big colored Phil. Let's go and do that. Okay, before we get started and put the big box in the background. We need to understand the difference between a fill and a stroke. Okay, it's reasonably easy. Okay, but let's quickly look at it. So we're going to use this tool down here, The rectangle tool, you've got to the frame tool. Okay, If I draw out a frame or draw rectangle tool, they kind of look the same. We all kinda look the same. You can actually fill these guys with colors if you want to and I never ever use the frame tool. It's totally up to you. Okay. The frame tool generally gets used for like a placeholder. This is where an image is going to go. Okay. I never didn't really have that problem. So I just leave a big hole where the image is going to go. You might like this little line through the middle. Okay. And I'm going to use the regu...
lar old rectangle tool. The whole course one thing is you might not be able to see it. It's because the last person that used your computer might have clicked and hold down this rectangle tool and use the ellipse tool. Okay, enjoy the lips. Okay. It just means it's always set to a lips now. So hold it down, you might be able to find the rectangle tool. Let's draw a rectangle any old size. Okay. And it might have a fill it might not. This is where it's going to come up the top here. Okay, we're going to use this option. There's a few different ways is this way, there's this way, there's this way and there's this way they all do the same thing. If you're using any other method, you're fine. Okay? But this way here finds the easiest to learn and it just means this top one. Here's the fill. The next one is the stroke? So the fill is obviously the fill in the inside. Okay, So we're gonna pick Phil okay, And I'm gonna pick the mid green. Okay. And in terms of the stroke, I'm gonna click back on that lara and there's the stroke and at the moment it has a little red line. Red line means none. I've got no Stroker on the outside. Say if I want to put a black stroke or on the outside. You see I clicked on it, it added a stroke and you can kind of see it there. Okay? There's the stroke, is the line around the outside to adjust the size of that stroke? You can see just next to it. There's a one point. It's always done in points, not millimeters or inches, Okay? And I can increase it up. Okay, I'm gonna make a nice thick Stroker on the outside. What I actually want from this rectangle is I want to have no stroke. Okay, so I'm gonna go back to the stroke one. I'm going to click none and at this top one here, I don't want this green, I want the light green. Okay awesome. If it's not changing, you've got to make sure you've got it selected to grab the selection tool and just got your selected and then make these adjustments. What I wanna do is I want to stretch it out because remember we're using bleed in this case we looked at bleed earlier on. Okay. So what we're gonna do is it's really hard to see the edges here. So I'm going to zoom out a little bit zooming is command minus on a Mac or control minus on a Pc and I'm going to go back to my selection tool, the black arrow. I'm going to grab this bottom right and I'm going to drag it, drag it to the edge of the white or all the way out to the red. Okay, The answer is red. Okay, same with this one. Here I go. If I leave it just there, remember the bleed might get trimmed Okay. And it might leave a little white liner on the edge because there's a lot, we need a little bit of overhang to make sure it can get chopped off nice and clean and crisp and clear and remember anything over this edge here is going to get probably chopped into the bin. So that is how to color the background and then design, There's no way of going in and setting like the default bit of this to be anything but white. Okay. I'm gonna undo. And we do it with a nice big rectangle. Alright, that's it for this video. Let's go and start looking at importing and scaling and flipping and stuff of images. All right, See you in the next one.
Ratings and Reviews
I think Dan is very good at explaining and breaking down complex content. I like the way there are lots of small sessions which is good for keeping focus. I would advise anyone who does this course and is taking notes to label which session the notes are referring to as I have struggled to find a few looking back and this helped me. It really made me realise how much I didn't know and had been fudging. Thank you Dan I will be taking plenty more of your courses in the coming months it's been a great help.
Excellent course, instructor is great well spoken, clear and a great teacher. I highly recommend this class for beginners and those who learned indesign on their own.
Student Work