Money Management for Couples
Robyn Crane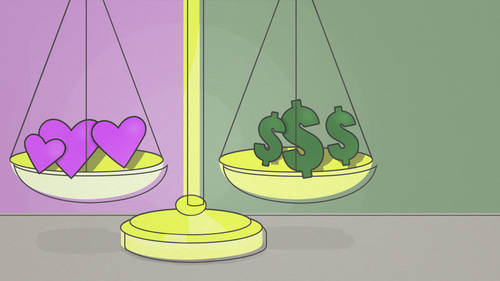 Money Management for Couples
Robyn Crane
Class Description
Strong financial management skills are a must-have for a thriving, healthy relationship — but conversations about money can trigger feelings of guilt and anxiety. Simple financial discussions don't have to turn into emotional minefields. Join Robyn Crane and CreativeLive to learn the skills you need to manage your money as a couple, without letting your finances get in the way of your relationship.
This course will teach you everything you and your partner need to know to manage your finances effectively – without stress, guilt, or conflict. You'll learn concrete tools for communicating about finances openly and honestly. You'll also build strategies for recognizing and correcting flawed beliefs about financial management. You'll explore why money issues are among the most common reasons for break-ups and divorce, and learn how to safeguard your relationship against the friction financial disagreements can cause. You'll also create a concrete, easy-to-implement system that allows you to achieve financial health by playing to your and your partner's strengths.
You'll leave this course with strong personal finance skills and an understanding of how to collaborate with your partner to work toward a thriving financial future.
Class Materials
Robyn Crane - Book - How To Overcome Your Money Issues To Have A Richer Relationship.pdf
Robyn Crane - Money MaSK Worksheet.pdf
Robyn Crane - NetWorth.pdf
Robyn Crane - The Know It Grow It Money System.xlsx
Robyn Crane - Mouth Watering Money Manual.pdf
Robyn Crane - Money Management Map - Final - Side 1.pdf
Robyn Crane - Money Management Map - Final - Side 2.pdf
Robyn Crane - Daily Qs For You And Your Partner.pdf
Robyn Crane - 10 Mind-Blowing Qs To Uncover Your Limiting Money Beliefs.pdf
Robyn Crane - The Financial Future Prediction Test.pdf
Robyn Crane - Money Quiz.pdf
Ratings and Reviews
as a participant in the course, and now a week later, going back thru watching the videos, following along with the book, doing the homework again, i have to say i am still 1000% overjoyed that i put my business launch on hold to attend Robyn's course and Attend to my Life and my Relationship and put them first for the first time in my adult life. i went into this with an open mind, believing whatever i got out of it would be greater than what i came into it with and by the end of the first day i felt like i had won the lottery! i was terrified to sit down and figure out our net worth, believing we were Billions of dollars in the red. but lo and behold, when i just put the battle ax down and did the work it turned out our assets had us sittin' pretty. Imagine my shock! my entire outlook changed, my beliefs were able to shift and i've been able to make grand changes in the way i deal with money in even the smallest of ways since then. i found that piece to be so phenomenally empowering habits i thought i'd never break are totally conscious decisions now, before i reach in my wallet i ACTUALLY THINK do i WANT to spend this on that right now? or would i rather SAVE it for later. I don't even have to have a goal in mind. the image of our assest growing is a serious turn on! Robyn's light hearted approach really brought my guard down, she gave me facts and knowledge first, when i was handed that 150 page book, i said to myself, "self i said, knowledge, cool." then she walked on stage with her sense and humor and i said, "AND Robyn's funny- BONUS! i'm definitely learning something, let's go!" and learn i did. I'm thrilled at the follow up and i'd say to anyone considering if they should invest in this course, it's unorthodox in the least, and if you're open and willing to do the work, it can, as i am living witness, be absolutely transformative. personally and triangularly- that being between you, your hunny & your money. take it if you dare to break free of whatever bonds are holding you from living with your love in your highest purpose, calling, and love light! If i could gift one thing on this earth this moment to everyone i love it would be taking this course with Robyn. (holdin the space, prayin n holdin the space...)
I absolutely LOVE Robyn Crane. What a great teacher. My man agreed to go through the video course and complete the workbook with me based on a clip he saw one clip of the course. We've gone through half the manual workbook and have been able to communicate better outside of the work, already. I am feeling better about talking with my spouse about money than ever, and we're both learning more about each other's ideas about money and our beliefs. Wow. That's an eye opening experience, I thought I knew what he thought about money and goals but I was surprised a lot at the answers he wrote in the workbook. Sharing with eachother is key-- I'm so pleased with the results and we're not even half way done! That you Robyn and thank you Creative Live!
Student Work