What's Next for You?
Robyn Crane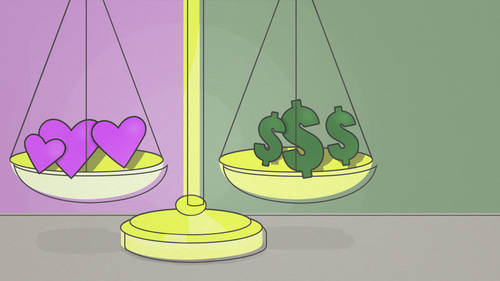 What's Next for You?
Robyn Crane
Lesson Info
31. What's Next for You?
Lesson Info
What's Next for You?
what's next for you. I want to make sure that this doesn't end here. You know, when I was thinking about this section, it's like, this is really important when you've learned so much and you have all the tools you have, everything you need to have everything you need inside you. So you're set. And I want to make sure you have that success. Because, as you said, spinning around, right, not being able to see perfect analogy, life comes up, challenges will arise and you get to choose. I was gonna be a setback or a set up. Now you know you have the choice. So this is your commitment. Commitment to your success. Do you remember the story I told the first day? You remember way back then. Seems like it was two weeks ago. I remember I was talking about the guru and the guy who wanted to be wealthy want to be successful. And he went out to the ocean. Right? What happened? The guy threw him under the water. If you want to be successful, if you want to be successful, you want as much as you. I wa...
nt to breathe. Remember that you have to want it have to be committed. You have to have a plan. You have it all. So all you need to do is just take one little baby stuff. Another little baby step. And what happens if a man that was a bad step ups? I mean, a mistake set me back. What happens? What do you do, Dio give up? How long do you give the average baby to learn how to walk? Still walks whatever it takes as long as it takes. So you step again, you step again and you may notice that those setbacks even though some may may throw you way back way back here, you're like, How can I ever get back there? Sometimes when you get thrown so far back, it's like a slingshot moving you forward. So when that happens, because it might decide that this was just a slingshot pulled back. And now because I'm going to continue to take baby steps, I'm gonna continue to take action. Let go! Let yourself sore. But most people do. They get way back there and now they beat themselves up. See what I did wrong? How awful am how stupid am remember talking to yourself when you were three years old? You idiot! No more of choice. You're amazing. It's OK. You fell down. I'll help you up. Yeah, right here. The four s is of success. It's so simple that the first step is simple. Start to think about what can you do? That's really simple. How can you make it so easy? It's just no issue, right? Please. You're your brain. Your system is gonna want to make it complicated. It's gonna want to make it complicated. It's mastery you don't want make it complicated. Just remind yourself simple. So I say baby steps. Thank you. How do you keep it? Simple? Well, groups the easiest way using the map. This couldn't have been any more simple or any simpler. Which one is it? Nobody cares. If you haven't filled these infield filament, We're gonna do milestones in just a sec. Vows vision, values, mask, Net worth. Don't forget to fill out the path. You might not have seen this beliefs emotions you're aiming. This is to remind you to keep aiming. But guess what? If you just hit this one now, you can start here and be closer and aim again. Now you're closer and aim again Going to get closer and closer. Simplest thing you dio after you filled this out and maybe you've done three versions of it. Maybe you've done 10 versions you perfectionists out there Do the first version Put it on your wall If you don't like that one Onley, take it off When you have the second version the make sure it's there, Put it on your wall to remind you Oh yeah, The money ABC is if things get really complicated You're like, Oh, I have bills. I got the stuff I gotta make decisions also complicated. What do I have to do? First step, Become aware Next step, take appropriate action. It's right here to remind you just all you have to dio look at it. That's a simple, simple way to do it. Second side. I wanted to make sure to point out here This is also a reminder. So let me just go over the four keys you have clarity is a little review here. Now you already have this clarity for money types. So you have this on your wall, probably side by side. Or maybe have one in the bathroom. I don't know. It's You can print a double sided. If you want to turn it over, just toe. Have some variety or you could just having both to look at. So your money type? It's not good or bad, you might say. Well, what are the money? Types of the wealthy? All of them? It's not necessarily bad. Whatever your money type is now may be wealthy. People don't avoid their money, but they avoid other things in their life. We all have these characters. It's OK, but it's good to know where you're at. And you can remember some of the things you can do to do better. Oh, I'm spent through Sally. I have that tendency. Great. That means I'm gonna remember. That's when I want to go to the mall. Oh, yeah. I'm spent their Sally. You know, you can joke about it. Okay, Stop for Spencer. Sally Online's time for spent there, Sally, Or maybe not be so impulsive. Does now. You know you have that tendency and you pay attention. You're aware you might take a different action. What are the things you challenge yourself? I'm going to be a partner. Maybe I'm gonna have more abundances has scarcely in my life. These are just reminders. You get to choose. It's your personal money mastery road map, clarity. Clarity, by the way, also includes Kim Jim. We put that in the monthly so I don't have it here. But if you want to remember clarity about your money you can write Kim Jim, know your money to grow your money. Whatever you want can add whatever you want. You can take this and make a new one with pictures creation. The second key as a reminder You want to get clear about your goals, what you want most by when and how much. If you can't figure it out and you can't, you're having trouble making big decisions. You have these exercises to remind you. Oh, yeah, pain, Pleasure. Your plan is here. It's been here all along. All you have to do is follow it. You make it for you customized to you pain a pleasure closer to and further from that's creation. If you haven't filled it out, fill it out. You don't have to fill anything out here. This is just to remind you communication. This is so important. It feels like it was two weeks ago when we talked about this multi 1,000,000 herself. Talk, remember? What do you need to say to yourself? Now, if you just put this map in your book, you close your book and you put it on the shelf. So it turns into what self help. You're gonna forget what to say to yourself, because all the old all those old patterns are gonna come up. You're gonna tell yourself, Oh, money. You know, money is hard to make. Money doesn't grow on trees. I'm stupid. I can't do anything right. But maybe if you took this and maybe you took a little picture of yourself, perhaps put it on your money map right there. So you see, little baby Rachelle, don't you? You can't do anything right, Michelle. No, you're gonna want to say that like a little baby army. He's a little maybe. You idiot. You're not going to say that. It's just to remind you, because it's all inside you now why is it important for me to change? Always remembered have the leverage. But since it's on your wall and now we want to think of how amazing things they're gonna be. You can focus on the positive. Well, if I change so important, because then I'll have more energy be able to give to the world. Rina. Okay, I don't want to be the dead horse. It's obvious, but just make sure you go through these daily the rules. I don't even write them in because you have it on your sheet Weekly. You have it. That one chat. Weekly format Monthly. Kim Jim four Things Goals, Net worth Money, mask action. Remember creating lasting change. Those five habits Remember what they were. This five ritual that Sorry The 1st 1 is, I think, getting leverage, right? I'll just write these in because I want to remind you get leverage, Pull it out. That's right. At the beginning, in the seas section, the second was remember moxie, habits and rituals. Good. Give me another one. Change the meaning. Change the meaning. Remember, I had a client who wasn't happy with me and made me feel terrible. And that had to change the meaning that she just had to go through her stuff on breakthrough. And she did, because I kept through and kept with instead of giving up and saying I'm not good enough. I had to change the meaning. What else? Your peer group Did that give you a peer group? All the people watching this. You can all come together on the Facebook group. Tell us what's going on. Everyone wants to hear right here. Challenges get involved. The more involved you get, the more you will benefit. Do we miss one strong emotional experiences? You got it. I had lots of them. Lots of those, Right? Remember the darts? That was an emotional experience. If I just told you, you need to set targets. You guys, you already know that. So this is your money? Money, mastery map. Last thing. Commitment. I'm going to read this. It's on your map toe. Have money, mastery and a richer relationship. I must be totally committed. I am committed to my partner to a vision to our vision and to implementing our plan. What if you read that? Thank you. What if you read that every day? Do you think you'd be more committed and lastly? Thank you. Improving my money. Blueprints. Remember the beginning when I had you predict your financial future and if you got a high number that was said, you're more likely to be wealthy. And if you had a low number, we're more likely to be. What? Brooke, are you stuck in that forever? Is that really your fortune? Oh, you get to choose. So this is giving you clues, By the way. You could make them into in can't ations. And it's just instead of now giving yourself a rating, It's just done. I have total clarity. Remember when you gave yourself a rating? It probably wasn't a but you're already closer. I bet the numbers higher, isn't it? Okay. Did you guys do the beliefs? Okay, good. I think making and growing money is easy. Go through these. And I bet you every single one of you will have ah higher score than you had. Do you think that's true? I know it's true, right? You can just do right now and everyone is proud. Has at least one point Maura at the in the 1st 1 because you all have more clarity about your money. Now, isn't that true? And even though most likely your bank account has not changed by much, your money blueprint has a higher score. What do you think's coming next? More money. I'm sorry. It's just gonna happen. You're just gonna have to get used to that. They're gonna have money. Okay. You're gonna be wealth. You're gonna be one of those wealthy people who gives and gives and gives and is the best person you can possibly be. Sorry you came to the course. You did it. So let's let's take a moment to find out. What did you guys do? How did it change your beliefs? Did you do it over the break? Yeah. Okay, great. So give me the page counting on you guys. Won 33 34. All right. Okay. So what did you notice? I just want to pull out, like, first of all, did you change? Did you notice any of your beliefs? Did any of your beliefs changed change? Yes. What change? Specifically, Arena. That's how I felt about answering all the questions. What do you mean, Justin answering them? I Well, it's funny, because for one, when I had first looked at the page, I had I had thought in my head. Okay. You know, one is completely disagree in tennis. completely agree. And I started filling out 11111 But then I looked at the directions again on and it was one I completely agree. And I completely disagree. It's funny, because I hadn't really high numbers when I completely agreed with all of these things. But now I have really high numbers that I completely disagree with. All of you pick one out so you can give us an example. So we know you're talking about so, like, a cool change that you're happy about, right? Yeah. Um, uh, if I really strive for wealth and don't succeed, I feel like a failure. If I really strive for wealth and don't succeed, I feel like a failure for me. Because I did. I did change it to 10 being agree. Can you just tell me before? Approximately since you might have done it differently, right? How much did you agree with that? I totally agreed with it. And now I totally disagree. Just totally in Totally. That's it. How do you think that's gonna impact your life? Well, for once, the word failure has no charge for me like it did in the beginning. Wow, Oh, it's kind of funny, isn't it? It's just like, isn't it funny that our whole lives we we let those thoughts and beliefs and stuff control us, And then in three days, it's like you just changed it. Like, why haven't I been doing that my whole life? So when that stuff comes up again, which it will remember if I had a breakthrough once. If I believe this once, I can believe it again. Like that, right? Yeah. That's how long it takes. Ready set. Believe it. Wait. Let me get ready for this. Ready set. Believe it. Done. Great. Anyone else wanna sure. I had, um, before before. I pretty much didn't believe any of these. Anyway, there were two that I I I really strongly believe that my partner should take care of the money because I'm not good at it. And I realized that in college the only good grade in math I ever got was an accounting. So I totally disagree with the statement now. Awesome. Great. You'll see all the time. So you have for everyone at home cause I realized that what I did is I have this messed up at the beginning, and then I fixed it, but I didn't fix the last page. So everyone in your just so it's not confusing anymore. And you can compare just a typo on 1 33 Make sure 10 is I completely agree, right? That's what you did. First you want to be the same. Otherwise it's really gonna be confusing. Make sure you get this and one is I completely disagree. So when you do it again, it will be a lot more obvious that your beliefs to change. Obviously you guys see it, But thank you for for helping me with that. Cool Anyone else? Arbit, I wanna ask you because you've only been here today and you didn't get to do that before, right? But without even just looking at it and maybe knowing just knowing yourself, knowing what you knowing what you know yourself and what you typically have believed. Is there anything that you see there that you think? Well, you know what? Before it came this morning, I probably would have said rated at this, But now I would rate it that and it's OK if it's not just wondering, you know what, not so much because over the course of my life, I've had the experience of coming up in a very poor household and building a really solid career and being very well paid and how being back in the position where I'm on the lower end of the scale, um, so pretty much seen all of these things in action and experience them. So I think I know what I want us faras money goes It's just trying to find a way to get there with my partner now. It has been a bit of a challenge, awesome. But I'm pretty confident in my beliefs about wealth and earning income and what it takes to get there awesome. So that's a great example, because there's someone at home going, What's wrong with me? My beliefs haven't changed. I'm totally messed up. Or maybe someone's gonna know this didn't work. My beliefs haven't changed or cool. My police haven't changed like you're all sorts of people out there, right? Everyone's having a different experience. Whatever your experience is perfect, you may want if you find that you have a lot of limiting beliefs. In this case, you don't think you have many limiting beliefs I would still advise you to go through it and then maybe do it three months later just to check. Just curious. But maybe if you find that you have a lot of limiting beliefs and maybe they're not in this, By the way, these are just examples. You start to notice you this you become aware of this limiting belief. Oh, that's just because of my beliefs. Now you're gonna be so conscious of it. Like things they're gonna happen in your office. Whoa, whoa, whoa. It's like lights going off. Just start to notice things you never noticed before in your brain. So wherever you are is perfect. Notice it. Learn from it. Grow from it so that you can have you want It's easy. Cool. Okay, so I want to share something with you. It's talked about the first s a simple right. Do you see how using the tools that I've already given you make it very simple? Yes. Yes. Let me ask you this. At the beginning of this course, when you got 150 page manual and they're like, Here you go, boom. And those of you home who had to print this. I'm so sorry. You're like my pages of my, uh, my printers running out of a got a lot more paper work. I know it's big. Did you feel that? It was simple. Even just getting this book even think the way you thought about money? No, not when I first came in the door. So we're gonna get through this whole thing, right? Some people might thought Thought it was overwhelming. Some people just might have been excited. Yes, both of information for my Well, I got Robin, son. And this is good. This is good. It's awesome. Just showing you different perspectives, how people look at things and also how that ends up. You know how that ends of affecting their experience as well. Really, really cool. So now whether you thought it was simple, when you got it or when you just think it's simple, you don't know it just even still feels complicated. What I am telling you is it is simple and to always remember that because just the language you use, it's hard. It's complicated. It's difficult because a lot of times people talk about money that way. Instead, say it's easy. It's simple. And I gotta tell you, I have had the tendency to talk about things, being hard about some things that that that's my go to. I think it's hard. And it's not even that I think that it's just that that's That's how I talk sometimes. And my husband always reminds me No, it's simple, especially when I'm speaking like Don't say it's hard now They think it's hard say it's simple now they think it's simple because that's how easily I can influence you around. Your beliefs tell you it's simple. You believe me great. And why not choose that belief over the belief that its hard
Class Materials
Robyn Crane - Book - How To Overcome Your Money Issues To Have A Richer Relationship.pdf
Robyn Crane - Money MaSK Worksheet.pdf
Robyn Crane - NetWorth.pdf
Robyn Crane - The Know It Grow It Money System.xlsx
Robyn Crane - Mouth Watering Money Manual.pdf
Robyn Crane - Money Management Map - Final - Side 1.pdf
Robyn Crane - Money Management Map - Final - Side 2.pdf
Robyn Crane - Daily Qs For You And Your Partner.pdf
Robyn Crane - 10 Mind-Blowing Qs To Uncover Your Limiting Money Beliefs.pdf
Robyn Crane - The Financial Future Prediction Test.pdf
Robyn Crane - Money Quiz.pdf
Ratings and Reviews
as a participant in the course, and now a week later, going back thru watching the videos, following along with the book, doing the homework again, i have to say i am still 1000% overjoyed that i put my business launch on hold to attend Robyn's course and Attend to my Life and my Relationship and put them first for the first time in my adult life. i went into this with an open mind, believing whatever i got out of it would be greater than what i came into it with and by the end of the first day i felt like i had won the lottery! i was terrified to sit down and figure out our net worth, believing we were Billions of dollars in the red. but lo and behold, when i just put the battle ax down and did the work it turned out our assets had us sittin' pretty. Imagine my shock! my entire outlook changed, my beliefs were able to shift and i've been able to make grand changes in the way i deal with money in even the smallest of ways since then. i found that piece to be so phenomenally empowering habits i thought i'd never break are totally conscious decisions now, before i reach in my wallet i ACTUALLY THINK do i WANT to spend this on that right now? or would i rather SAVE it for later. I don't even have to have a goal in mind. the image of our assest growing is a serious turn on! Robyn's light hearted approach really brought my guard down, she gave me facts and knowledge first, when i was handed that 150 page book, i said to myself, "self i said, knowledge, cool." then she walked on stage with her sense and humor and i said, "AND Robyn's funny- BONUS! i'm definitely learning something, let's go!" and learn i did. I'm thrilled at the follow up and i'd say to anyone considering if they should invest in this course, it's unorthodox in the least, and if you're open and willing to do the work, it can, as i am living witness, be absolutely transformative. personally and triangularly- that being between you, your hunny & your money. take it if you dare to break free of whatever bonds are holding you from living with your love in your highest purpose, calling, and love light! If i could gift one thing on this earth this moment to everyone i love it would be taking this course with Robyn. (holdin the space, prayin n holdin the space...)
I absolutely LOVE Robyn Crane. What a great teacher. My man agreed to go through the video course and complete the workbook with me based on a clip he saw one clip of the course. We've gone through half the manual workbook and have been able to communicate better outside of the work, already. I am feeling better about talking with my spouse about money than ever, and we're both learning more about each other's ideas about money and our beliefs. Wow. That's an eye opening experience, I thought I knew what he thought about money and goals but I was surprised a lot at the answers he wrote in the workbook. Sharing with eachother is key-- I'm so pleased with the results and we're not even half way done! That you Robyn and thank you Creative Live!
Student Work