Creative Cloud Essentials
12 Pre-Show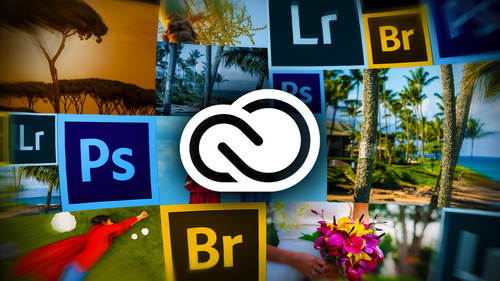 Creative Cloud Essentials
12 Pre-Show
Lesson Info
12 Pre-Show
Hello, Internet. Welcome to Creativelive. This is Creative Cloud Essentials with Lisa Snyder. This is John Marie Milk of it. And this is Christian ing. We're gonna be your host for the next three action packed days filled with Creative Cloud. So thank you for joining us. We're gonna take 10 minutes to just make sure that all of our audio and video are set up and shot a little bit about the next three days. I'm really excited about this summary. Yeah, this is the essentials of Creative Cloud. You know, when I think about the cloud, I think anything is possible. It is possible. I know we have a fantastic instructor here who is no stranger to Creativelive. Lisa Snyder has spent a lot of time here before. She's taught a number of courses, So if you're not familiar with her, you definitely will be. And this is gonna be a great three days. Yeah, this is just a continuation. You know, Lisa, how many courses? Like dozens and dozens. You know, she's been here since the beginning of Creative Lim...
e really has helped to shape the experience of creative live and set the bar for the kind of world class instructors we have here. So you're in for a treat. That's your are in for a treat. And if you aren't familiar with creative life, it's a very interactive learning experience. So we rely a lot on all of you out there watching as well as in our studio here. So it's a collaborative learning environment, and we can't do this without you guys. Yes, it's great to have you all watching. And the best way that you can actually collaborate with us is to click on that chat with a live participants button. That's just below the video that you're watching right now. Let us know where in the world you're joining us from. This is a global audience here, creative life. And hey, why did you show up today? What are you looking to learn? What? What practical tactics, techniques, tips. What do you looking to take into your business or into your projects? We want? We're gonna cover a lot, and it always helps to know where you guys are coming from in the specific instances that you're using Creative cloud. So we're gonna try to meet all of your questions throughout the next couple of days. That's right. But to the students here, starting with good old are Bart Bill, also known as Frank Bellafiore. Let us know, Frank. You know who you are, where you're joining us from, how we can find you online. And what's your experience with Lisa Creativelive? Why are you here today? Well, my name is Frank Bella Fury. I'm from Salinas Area, Monterey County, Monterey Bay Area. I'm a photographer, and I'm here because I want to learn from Lisa. How do you master my tools of my trade? Both for photography, for business, for marketing? What brought me here today was my Honda court. Hello, everybody. And we're looking forward to a great class. Thank you. That you made it welcome. Let us know your name and everything that Frank let us know. Sure. My name is Holly Strauss, and I'm back in San Francisco Was in London when I first discovered creative life. So now that I'm so close, I have to jump on bar here because I'm a huge creative life and Lisa fan, and it's so nice to see you. Everybody in person. Yeah. Welcome, Holly. All right, Alicia. Welcome back, Munnings. I used to think this is my back because I think that both of you before and I feel like I feel really bad. I'm gonna be making out to you throughout the day about I'm a photographer, hair stylists, makeup artists and been using creative life for the last, uh uh, nine months, I guess. And I really want to be able to use it to Mexico as an independent. Freelancing, um, entrepreneurial type person. I just want to be able to make sure I cover all my bases. So from my website to editing my photos to contacts and input. So I'm looking forward to kind of seeing how it can tie it all together and whether the stuff I don't know, you know, I'm looking forward to finding out it has a name finder on it. Like the name reminder Name Finder. Creative cloud. Help me out. All right. Welcome. Hi. I'm Michelle Marquel, and I actually happen to be up in the area from Redlands, California, which is down between L. A and Palm Springs and everything I learned about photo shop. I learned on creative life before I started watching these classes. All I could see was crop and rotate. So I was actually a glass and jewelry designer. And I'm looking now to expand my photography business and looking forward to getting at my website glass and jewelry. So that's really that must be a really interesting endeavor. What kind of glass? JT stained glass and fused glass. And I also do Lamport glass remake beads. Wow. I mean that that's what's great. About the next three days, you're gonna cover a lot here. That's gonna be good for no matter what sort of industry work in whether it's glass, whether it's photography, no matter what, you're gonna be able to use a lot of that we were talking about. Absolutely. Alright, welcome, welcome to create a fly. My name is Val. I'm actually from Seattle and know the creative life family up there and I love Lisa and want to learn more than the big top three in Creative Cloud. So that's why I'm here. Sweet, Yeah, what's what's the difference between being in Seattle and being here in San Francisco? Theo competition with Waking Trip. Good morning. My name's Harvey Abernathy. I have a photography business located in Nevada, California called Night and day photos, www dot and the photos dot com. And as a fine art photographer, I like to capture the experiences of my life and share them with others. And I specialize in night photography long after the sun goes down and, uh, enjoy the magic that comes out of the viewfinder after capturing an image because at night or eyes don't CIA's well, Azaz, the camera does, which is opposite during the day. And so I like the long exposures at night. That's wonderful. Thank you for showing up this morning because I have a feeling that you're a night owl, Actually, not really, like, get up really early before sunrise. A lot of times, that's when the light really is the bastard, right? But I dio as a business, I really want to expand my Web presence and redo my website. So the opportunity to be here today I'm very interested in behinds and its opportunity. We're gonna cover all of that. All right. Great. Well, thank you so much for sharing. Sure. All right. And as we did mention, we've had a number of courses here taught by Lisa Snyder over the past couple of years and It's good because she's covered a wide variety of topics. And, you know, as we mentioned here with all the students, everybody has their own little niche of creative cloud that they've been using. And maybe you have forgotten about some of the other features that they have, and that's what we're looking to bring about today and over the next three days. But we do have some comments from previous courses that people have left. We want to give a sense of what people have been enjoying about the courses and what your in store for for the next three days. So Genre and I pulled some of these comments from our course review pages for previously system later courses. So we're going to share a few of these. You want to get started? All right here ago, Norman J. This is for the photo shop Deep dive. When Lisa was getting into content, aware and cloning, which is so awesome. Excellent course downloaded this prior to watch on the plane. What a great what a great thing to do because the value of having this course is that once you own it, you can download it and take it anywhere you don't have to worry about. Does this plane have WiFi? Doesn't matter. You have your creative life with you. Yeah, that is super value. But I know how many times I've been on a plane that does have WiFi, but the wife lies not fast enough. You don't want a battle that you don't want to mess with that, so it's great to have the ability to download them and take them wherever. So we have another quote here from Abaco Velarde, and this was during the photo shop. Deep dive blend modes, course that Lisa Tot. And they said, Great workshop. Lisa has a way of explaining things that makes it easy and makes it stick. I think that's important. Sometimes it takes a while to get these all these features to stick in your head, and Lisa has a great way of teaching. She doesn't actually speaking on that. My mother was washing during Photoshopped week. She was like, I am going to learn photo shop, and when Lisa came on, she's like my favorite. I'm actually understanding this. It's actually staying. So that's the sticky part. Good, Dickie. Yes, all right. And my three lands during the adobe Photoshopped. This was when new features were coming out on CS six. Do. Lisa is taking me forever to start my online class. I guess I'm more disciplined in the classroom. But I've just started your course, and I'm so excited because I've recently been asked to do a fair amount of graphics for a very small company. So thank you so much for all of your awesome courses. I love your personality and makes it so much fun. And my three lambs, their real name is Terry C. And they say, Thank you. It's great. And finally, this is from Olivia, 28 this is from the photo shop Deep Dive Bridge course. But Lisa and she says, You really make it seem so easy with your presentation. I used to find this topic to be something that I thought I could never understand. It seemed too complex and very broad for me. Now I'm sure I'm gonna get the hang of it, so it just goes to show, no matter what level you're at, you can get something out of these courses and kind of quickly improve your skills within Creative Cloud. Now I know that while we're here and we have our students here, I'd love to dive in a little bit and ask you guys, what is it that you've been using and Creative Cloud? And are there aspects of it that you haven't touched yet? Frank, I know that you mentioned that you've been You've been using this for a while. You have been around. You've been to some creative live courses. Is there an aspect of creative cloud that you've never used before? But you're intrigued to see if it could maybe work for your business. Yes. Well, I haven't used enhanced. I just started using it, logged on, and I haven't used pro site yet. And I need a website. So now that pro sites available, I want to see how to move everything onto pro site and start making that my main website drive all my traffic over to their to increase my business and show my art. So it's the web features of it primarily. Yeah, that's great. I know a lot of times people sort of get in there rut of using the same software over and over and maybe not knowing other aspects of creative cloud that could help them. I know that's one of the big things. At least is gonna get across over the next three days Ways for you to kind of make your business run smoother with some software that maybe you hadn't thought about before. Exactly. Anyone anyone else generally used photo shop, and I used in design a lot. So I'm like, Frank, I'm trying to sort of get all of my different social media presences and my Etsy shop and everything under one umbrella of a website that looks a little bit better than the WordPress block. I've been using assistance. We're already paying for it. We might as well use as much of the cloud as possible. That's right. Yeah. And that's an important point. I know that Lisa is going to be talking a lot about getting the most out of the value of Creative Cloud. And, yes, you are really paying for it. So it's good to get the most out of it and know what you can do to sort of enhance that value for your business. All right. That's great. Yeah. Anyone else? Go ahead. Um, yeah. I used, uh I have the photographer's version of Creative Cloud, which is a limited version. Primarily I use my workflow is a bridge to photo shop and plug ins. I've never really gotten comfortable with light room, although I know light room has some nice capabilities to it. But adobe camera, raw in the bridge to photo shop function is is pretty much where I go with most of my work. And so I I do want to increase web presence. And I think that's the opportunity that I see from today is learning a little bit more about that. And I'd love to get in the light room, but I just can't stand the organizing part of the the left hand side of light room. Well, hey, maybe after three days, you'll get the hang of things will shift for you. Well, we'll see. All right, we will all see, it will be a great three days, and we're all gonna learn a lot. So I think we're about ready to get started. And I know all of you in the chat room Do jump in. John Gray's gonna go and chat with you guys right now, so keep a conversation going for sure. Now we are getting started. And today we're on the photo and video channel with Lisa Snyder, and I think we're about ready to get this course started. So I would love to introduce Lisa Snyder. Now, as we mentioned, Lisa has been here before. She is an internationally acclaimed author and speaker. She's the author of several books, including the best selling series Photoshopped. The Missing Manual. She's one of the founding instructors here at Creativelive. And as we said, she's taught dozens of courses here, and we love having each and every time. She's also a regular columnist for Photoshopped, User Photographic Elements Techniques and Macworld magazine. So please welcome Lisa Snyder. I'm so honored to finally get to be the host for one of your courses. It's great to have you here. Thank you. So you got the check in the mail wear happy to have Lisa here once again. So I'm gonna let you get right to it. We're looking for the next three. Thanks.
Class Description
Adobe Creative Cloud is an essential toolkit for photographers — but navigating its many programs can be overwhelming. Join best-selling author Lesa Snider for a comprehensive course on how to harness the power of Creative Cloud to build a thriving photography business.
Lesa will show you how to grow your photography business with Creative Cloud's suite of applications. You'll learn how to build promotional materials, how to create and customize a professional-grade portfolio website with Behance, add compelling elements like slideshows, audio, and video, and display your portfolio on any mobile device — even in printed book form. You'll also learn how to use Photoshop to create a professional and engaging video portfolio to showcase on your website, iPad, Behance, or burn onto DVD.
Lesa will also cover how to use Kuler to grab a color palette from a favorite image for use on your website or promotional materials, as well as how to use familiar drag-and-drop tools in Adobe Muse. By the end of this course, you will be able to create a full-blown website worthy of your work, with light boxes and slideshows to showcase your portfolio, and contact forms to gather leads.
Software Used: Adobe Creative Cloud 2014 

Reviews
I have watched the day one and part of the day two classes -- this class is chock full of creative ways to use the cloud to expand your business -- and to help photographers help their clients get more for their money as well as save money in creating beautiful marketing tools. I had been so confused over the lightroom/photoshop thing, and Lesa makes it so easy to understand how to use each program for their strengths or super powers -- so I'm ready to power up my photography business !
Lesa makes learning easy! Thank you Lesa!