Creative Cloud Essentials
Anchoring Your Ad & Sharing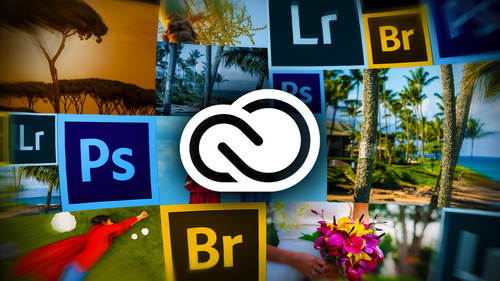 Creative Cloud Essentials
Anchoring Your Ad & Sharing
Lesson Info
Anchoring Your Ad & Sharing
So let's call that good. Now let's build our color bar at the bottom. The color bar is a neat thing. Toe add because right now, our our peace is top heavy. So if we add a solid bar color at the bottom, not only is it going to draw attention to our contact information, which is great, but it's gonna anchor the ad. It's going to give it a base on which to sit on, which is gonna make it more visually pleasing. So let's go ahead and add our color bar. We're gonna grab the rectangular Marquis just like we did earlier. I'm just gonna eyeball it. Let's say that looks about good. Now let's come down to the bottom of our layers panel this half black, half white circle chew solid color. What color? We're gonna make it. We're gonna mouse over to the image and snatch up that nice red. I always do that. Yes, I've had color theory. It's been several years. Yes, I own a color. Will I know how to choose complementary colors? This is faster. It's more efficient. If you steal the color that already exis...
ts in the image. You are 100% guarantee that those colors are gonna work well together cause they already exist together. Click. OK, now let's add our text Skewed over just a bit. Well, press t to grab the text tool click with in that bar. We're not gonna be able to see our text if we don't change the colors. Let's go ahead and change that Teoh a gray. So I'm gonna mouse away from the photo and I'm gonna pick up that. Agree? That may be too dark. I might try the gray over here in this ladies shirt. I think that's gonna work out better. I never set solid white type. Never. Never, never, never. Why two high contrast on dark ground, Dark background. It will just be too bright. Do an almost white but not pure white. It will just look a little bit more professional. You're paying for color anyway. Why not introduce a little bit of color? Now we're ready to type our information so we'll say info At vivid portrait. It's dot com And if you want to look professional, used an email address with your domain name that sends a message that you are more professional. You cannot help. First impressions. And when people see an email address that is not associated with your domain, they think you're a startup or worse. Okay, so now I need to scoot my text over. I'm not going to switch to the move tool. I'm simply gonna mouse away from the check so that I get that arrow cursor, and we're going to drag it over here, and we're gonna assess it. And that gray works really well. They worked Really looks white. It's not. Now let's bring in our texture. So we're gonna choose file place again, cause we want the ability to resize it. And also this one, I think, is a vector, which means it was created with Adobe Illustrator. And if you bring in an adobe illustrator file as a smart object photo shop, but a shop remembers any super powers that are inherent to the file format, like an illustrator file or a camera raw file, which means that you get the ability to double click that layer, and it will open up the program that created it. So if we brought in a raw file, we double click that layer camera raw would open up. We brought in an illustrator file. We double click it Illustrators gonna open up. Another super power inherent to illustrations is infinite scalability because they're not made from pixels are made from points and pass. So I'm gonna go way, way, way down in zoom level on this because I need to make that pattern honkin big because, as you can see, it consists of a bunch of different patterns, and I only want one. So let's press and hold the shift key to keep it proportional, not walking job when we stretch it or resize it. Rather also include the option key on a max, a shift option on the Mac er shift Ault on the PC and grab any of the corner handles. And we're just going to make it big enough to where that leopard pattern takes up the full size of our document press return. Now we can use our fit to screen command again to resize that backup. Now let's adjust the layer stacking order, so let's drag that texture. Beneath are head shots in our color bar, so it ends up in that empty area back there, and now it's just drop capacity something like that. Not too shabby, huh? And not too difficult, you know. Now, this is the third example of the exact same techniques that we've used over and over and over. And I'm telling you, people their tried and true is this the only option? Heck, no. But it works and it's easy and anybody can do it. It looks classy now is talking about how this is really a photo path will hide my my rulers here. So our I enters over here top left of the piece. That's just the way our brains and our eyes work. Then we read to the right, at least here in America e I got that. I was like, Oh, no, not everybody. At least here in America. Then our eyes dropped down and slide down. So you're leading. And this could be easily be a product. Add. You could put your products here and you're leading the eye leading I and the eyes gonna drop down that right side right to the logo. Perhaps the call to action and then further on down to your contact information. So this kind of layout really works well on because we split up the campus and kind of odd ways. This is pretty visually pleasing. Any questions on that one? If you don't have a question, this one to say, I wouldn't have typically done this in design. And this looks way easier, way faster, way I'm relieving you. You're welcome. I'm really glad you brought that up because it used to be that you didn't want to do this kind of ad design in photo shot because of the way Photoshopped handled text. It's but a shop used to be notorious for producing jagged looking, blurry, soft edges of text. That's not the case anymore, so there is literally no difference of building a piece like this. And Photoshopped is there is in design. That was not always the case. So don't beat yourself up because you didn't think about this because it used to be different. We used to really need to use in design to keep our text edge is crisp and clear. It's just not so much the case anymore, but you could. You could do this in in design as well, but in design doesn't have the whole smart object thing going on. So if you're pieces predominantly imagery like this one is It's just a simple if not easier to use a tool that you use more often to do this kind of thing. So that's why we did it in photo shop. But the great thing is that when you do need to go to in design, you're not gonna write a book. And Photoshopped, my Photoshopped book was not laid out in photo shop. It was laid out in design. So in design is a serious text handling machine. You know, multiple pages, master pages, etcetera, etcetera. But one off things like this, you're totally easy to use and Photoshopped and you probably spend more time in photo shop. So you're more comfortable with the keyboard shortcuts and all that Anyway, so thanks for mentioning that. OK, Any questions from the Internet on on that particular ad in design? But I think you may have touched on it. But just to clarify photo man just wanted to know, Can you adjust the picture within the frame, for example, to adjust the head room on your subjects in the portrait? Because he says, direct select does this and in design, is that still able to be done here? Yeah, you can do that. I'm really glad. Got ya. Questions perfect. So let's take a look at that. So if we grab a move tool and let's say we want to move these two guys up within their their masks, their by default When you create a layer mask onto a layer, Photoshopped thinks that you want to move the the content of the layer as well as the mass together as one piece. So, for example, if I click on our lady down here as I'm moving her around, the mask is moving to you. But if you want to move the photo inside of the mask, what you need to do is click that tiny little chain mark chain link icon that appears between the layer thumbnail and the mask thumbnail that will unlock the two so that you can move them independently of each other. So let's do that so I'll click that little chain link. See how it disappeared. It's gone now. Now I can click the thing that I want to move. Is it the mask, or is it the photo inside the mask? So with my arrow, my moves will still active. If I use my nudge, my arrow keys and nudge her up, I'm moving her inside the mask. Now, if I move her up too far, the edge of the image starts being a parent. So that's how you do that. And then when you finish moving that you could lock them back together or not. So let's do the same thing on Kelly's picture here, so we'll click to activate that layer, click the chain link icon to unlinked the content from its mask and then using the arrow keys, we can nudge him up as faras the edge of the picture allows, which we got a couple of clicks out of it. So now they're a little bit their heads a little bit more, even which is a great thing to do. Then you would click to activate the, uh, layer mask again. Yes, different weight actually do that, which was, um, making a box and then making clipping mask and come pleasing the image in there. I think it allows you to just drag it around, but I think this is a lot faster. Great. So one more thing that I want to take a look at is Kern ing, which is the space between letters, and this is a real protein for you, and nothing really highlights a typographic newbie. So much is bad turning, and what the heck is current? Inglett? Zoom in a little bit. If we take a look at the space between the P and O and compare it with the space between the O and the are, it's different. What you really want is uniform spacing, but some letters take up different wits than other letters. Like an eye takes it far less space than an M or a W. So if you're using professional fonts most often times, the current is fairly good. But there will be places where you need to adjust that spacing between letters, and it's super super easy. I'm gonna show you how to do it with both a keyboard shortcut in the panel. So let's click to activate the layer that we're gonna just if we double click it, then R Texas highlighted. So let's place our cursor in between the two letters that we want to adjust the turning on. If you pop open the character panel, the current in control is right here, This guy right here and again if you point your cursor at these labels, but a shop tells you what they do, so you could either click and drag to the right to increase the space between those two letters or click and drag to the left to decrease it. See how now that looks just a little bit better because of spacing is a little bit more uniform. I like to do with the keyboard shortcut. And the great thing is that again, all these keyboard shortcuts that I'm sharing with you on text working illustrator and in design, all of it so memorized them and you'll be able to use them everywhere. So the next problem area I see is right here that are needs to be closer to that. A. Because that's this too much space in between. So let's click between the letters with a problem, and it's nearly the same keyboard shortcut is letting. So it's a command option, left or right arrow on the Mac or control all left or right arrow on a PC. So as I press those two modifier keys down and I tap the left arrow key, I'm decreasing space as I tapped the right arrow key. I'm increasing space. So now this spacing is really standing out as being huge. Look how much of a difference we got between A and I and the O and the A and R and all that. So let's come over here. Click in the problem area, then with our keyboard shortcut. Adjust that space if you can't get it just right with the keyboard shortcut, go ahead and pop open that character panel, and then you can change it in a smaller value to be a little bit more precise. So that's a lot more professionally set texts than if you hadn't gone in there and adjusted the current ing. So just keep an eye out for it. If there's, you know, like the Grand Canyon, between the couple of letters and not much space between other letters and just remember to go in there and adjust that. So that's turning leads. Um, J e. C. Free air photographer tracked. They also want to know about handling pdf generation from Photoshopped with crop marks and believes, which they usually place an in design. Yeah, you can't really do that Photo shop there are crop marks that you can turn on in the print dialog box, but that's a great reason even if you design and Photoshopped pop open and in design documents, bring the whole dad again psd into in design and turn on crop marks, which is exactly what we're gonna do tomorrow when we build business cards. Another fantastic question. So it is. You can't turn on crop marks when you're designing in photo shop, so it is a little bit more difficult to tell exactly where the pieces going to be cropped when it's printed. But if you ask the printer, how much of a you know where exactly is gonna be Croft and you could put guides in there to visually see the end result of what you're going to get. But that is easier over and in design, and we're gonna do that tomorrow. I love your questions or just so fantastic. OK, so now let's save this document and let's share the file onto the creative cloud in order to get it in front of our client or as well as to access it on a different machine. Say, let's go ahead and choose file save as and remember You want to be saving these master files as as a real Photoshopped document, so that you can always go back to your layered file and adjust things. So go ahead and shoes save. Now, if you were gonna send this off to a printer, you could choose file save as and you could either use tiff or if he wanted do UPDF without the layers because the they don't need that. And then you're going to get this giant dialog box that allows you to do things like said the compression. But there's a some nice presets in this pdf dialog box right here at the very top. So you've got really all of them that you would need and these air professional press level presets. So if you want a high quality print, great, If you're designing a magazine ad, that's gonna be super high resolution that you might want to choose that If you want press college quality, which is, you know, a printing press, small file size for putting on the Web, high quality book proof. And I've got some of my own presets down here. So if I was sending this off to the printer, you might ask the printer which pdf format they want. They may tell you they said, Hey, give me a PdF but used, you know, P f X one a and you've got all that right here. These come built into the program. Or you could just choose high quality print and to save PdF. Now let's take a peek before we go to lunch break and how we can get this file onto the creative cloud. So let's go ahead and close this document and all open up the creative cloud icon. They were gonna choose files, and we can do this in a couple of different ways. We've already looked at opening this Creative Cloud folder on your hard drive, which allows you to will come down to our magazine ad allows you to just click and drag to add the file to your creative cloud storage, and you get 20 gigs with a creative cloud account. So this file only weighs in at 30 megabytes. So I want to show you the other way to transfer files to the creative cloud that we've not yet looked at, and that is to quit the cloud icon and then click created cloud dot com. So as soon as the website loads, this lets you drag and drop as well. So I'm just gonna scoot that browser out of the way, Come back over here to where my ad lives and just drag and drop it. So now photo shop is uploading it, and you get a nice status far here. Super cool thing about this is that you can click the little downward pointing, pointing triangle. Once this file uploads and you could post it straight to be hands, you could send an email link to a client. Your client does not have to have Photoshopped to see this. They can view it in a Web browser. You can change the structure of this, you can rename it, or you can archive it. So all kinds of neat things you can do. Let me go ahead and click on one of these, cause I think I had some comments on it when you click to view it. See, this is what your client would see. You know, this is just all in the Web browser right here, and they could click this little button right here at the bottom right of the thumbnail to make it go large screen. So they could really see the design and see if they like it or not. Also, lookie here. What's that we see is that a color palette that was automatically generated that we could then download and in an import into photo shop in or Illustrator. Why, yes, it is isn't a and e I love this. See, the cloud is fun. So over here you get all kinds of file info about it. And you all aren't going to believe this because you're gonna ask. Well, Lisa, the clients only seeing the back of the card How can they see the front? Don't you have to upload two versions men, and in a new hold onto your seats? Because this is outrageous. Click the little layers icon and you see your layers. That's so exciting. I can't even believe this works. So we want to see the front. Great turn on friends 10. Ah, in that outrageous! Isn't that outrageous? I get so excited about this. So wow. Huh? This all comes with your creative cloud subscription. Now there is one of these that I got some comments on. I won't see if we can see that. Click it. I'm not seeing them. But anyway, when you choose to email these files so we'll just play like we're gonna email this one, I can say send Link. And so then I make it public because Teoh email it around and kind of got to make it public. But that doesn't mean the whole world's gonna be in your creative cloud area searching for your stuff so we can say, make public. And then we get to enter the email address right there and looking here. We cannot allow a file download or not Pretty amazing. So what your client is going to get is this link right here in an email. And if they make comments on it, you're going to see them reflected they actually, when you click the add itself, let me see if it's on this one. I don't see them down there, but anyway Oh, here they are. Comments must be Ellen. We'll try that. One comments. There it is. So when your client makes comments on the file so they click the link in their email client right, that takes them straight to the Web loads this page. They see it just like this. There's gonna be a comments field underneath it. And when they make a comment, you can come in here to your creative cloud account and you see it right there. Pretty amazing stuff. Pretty amazing stuff. So again, all we did I'll go ahead and close this stuff. We went to the creative cloud icon. We clicked on files. We clicked on creative cloud dot com. Automatically, our Web browser takes us to that link. We can just scoop the browser out of the way, and we can. I'll just go ahead and upload one of these pictures just for fun. We can click and drag the item over there and you get a status bar. And now we've got that item. So imagine this for client proofs of your photographer. Not too shabby, huh? Send the link, make it public, enter the email address and decide whether or not you allow a file download. And then, if they make comments on it, all you have to do is is clicked. Open that file and come over here and click the comments part. But when your client sees it, they added comments. The ad comment Field is gonna be down underneath it, but you see them by clicking this little guy right here is now When you, um, archived item on the cloud, Where did they dio? Does it still go towards your 20 gigs of memory or whatever? I think when you archive, they does still count against your 20 gigs. Now the neat thing is that let's say you send this link to the client and they you've allowed the download and they make a change to the file and they uploaded to the cloud. The cloud keeps track of revisions for 10 days. So if somebody else made a change to that image and uploaded it and you wanted to get back to the previous version of it, you could absolutely do that. So, 10 days the cloud keeps track of of your files, but you are limited to 20 gigs of storage space on here. Yes, so I had a question about If you have a Siris of images and you're emailing the same person is an individual links for each or can you group them somehow? That's a great question. I honestly don't know if you can group them together. My first reaction is to say no, but I haven't tried that. That's a great question. No one really quick. One donna from Baja says. Is there a way to set the Creative Cloud folder to be on an external drive so I can have my files on external drives rather than my hard drive and get them to upload automatically to the cloud from that hard drive? That's a great question. There you may be able, Teoh, if you're on a Mac creating automate er script to get that done. Um, I don't know of a way to do that automatically, but with it with a little scripting, you might be able to get that done. His name. Do you have a rule of thumb for, um, file sizes, saving file sizes for certain use cases like for viewing on the Web or printing Or er is trying to meet a certain file size? Uh, no. Because I think, um, you'd want to save as the smallest file sizes you can with the best quality ready? Go to the Web when we go to the Web. Yeah, so do you have, like a rule of thumb for, um, like a limit to get it under. Not really in so far as file size, but I don't really ever post pictures over 800 pixels wide, so I tend to pay more attention to the pixel dimensions, which determines the file size. So I just don't know exactly what file size that IHS, but they were probably keeping image under a Meg, it noted, and
Class Description
Adobe Creative Cloud is an essential toolkit for photographers — but navigating its many programs can be overwhelming. Join best-selling author Lesa Snider for a comprehensive course on how to harness the power of Creative Cloud to build a thriving photography business.
Lesa will show you how to grow your photography business with Creative Cloud's suite of applications. You'll learn how to build promotional materials, how to create and customize a professional-grade portfolio website with Behance, add compelling elements like slideshows, audio, and video, and display your portfolio on any mobile device — even in printed book form. You'll also learn how to use Photoshop to create a professional and engaging video portfolio to showcase on your website, iPad, Behance, or burn onto DVD.
Lesa will also cover how to use Kuler to grab a color palette from a favorite image for use on your website or promotional materials, as well as how to use familiar drag-and-drop tools in Adobe Muse. By the end of this course, you will be able to create a full-blown website worthy of your work, with light boxes and slideshows to showcase your portfolio, and contact forms to gather leads.
Software Used: Adobe Creative Cloud 2014 

Reviews
I have watched the day one and part of the day two classes -- this class is chock full of creative ways to use the cloud to expand your business -- and to help photographers help their clients get more for their money as well as save money in creating beautiful marketing tools. I had been so confused over the lightroom/photoshop thing, and Lesa makes it so easy to understand how to use each program for their strengths or super powers -- so I'm ready to power up my photography business !
Lesa makes learning easy! Thank you Lesa!