Creative Cloud Essentials
Typographic Logos in Illustrator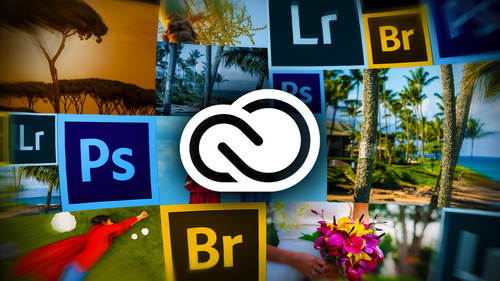 Creative Cloud Essentials
Typographic Logos in Illustrator
Lesson Info
Typographic Logos in Illustrator
So let's take a peek at creating some typographic logos. And illustrator and illustrator tends to scare the fire out of people for good reason. Because it's a vector based program. You know, you've got this pen tool over here in you draw with a pencil by creating points and pass and telling the program what you want to do with those points and pass. So that's how you create art. You're not painting the pixels, your drawing points and pass to create shapes to create art that you then feel or stroke. Well, that's great. But what can we use illustrator for in a practical manner? Typographic logo's So I've got a couple of examples for you. In fact, in the exercise files, I've got the same examples in photo shop, so you could build them in either program. So if we look right here in this folder in the Illustrator folder, I've got typographic logos as a PST, and I've also got them as a AI file. So remember that, uh, that big listing of, uh, different treatments So you're going to get that wi...
th that exercise files, and it's, uh, you can go in there and look at the settings and look at the type sizes and be able to recreate any of these that you like on your own for your own businesses. So I've given it to you in both Photoshopped and in illustrator format because the type tools work exactly the same way. So we'll go ahead and open both of those illustrator files. And my girlfriend, Erica Gamut, is gonna be doing another illustrator class for Creative Live pretty soon. And I believe she's got an illustrator for beginners. That is just a fantastic course, So I I encourage you to take advantage of that. So let's start out with this page right here. So one of my girlfriends in Boulder, I wanted to start this e cig company. That's all the rage right now. Starting up thes e cig businesses where you sell these cartridges filled with like fruity flavors. Or what have you that you contract round and smoke, you know, electronic cigarette. So there's a bunch of these e cig, uh, companies popping up, So I wanted to help her design a logo, so she had the company name already vapor rise, and she said, My idea is to take a V and R and overlap them. And she could not for the life of her figure out how to do that. You cannot do that inward. No. So illustrator is the perfect program to do that kind of stuff. On the way over to the San Francisco studio, I saw ah, one company. Their logo was three circles with a letter inside of each circle. Perfect kind of art to create an illustrator. So let me show you how easy it is. I'll go ahead and just scroll up in this document and you're going to get this document. She ended up not using any of these logos, but they're there for you to play with them. Okay, so this is something that I made up that nobody is is using, so it's totally fine. So we're gonna come over here and press T to grab the text tool, see an illustrator. The T the textile looks just like it doesn't photo shot, same keyboard shortcut. Come over here to the document and just click once, and you get the blinking cursor, and then we can just type. So I'm gonna type of V, and then I'm gonna double click toe Highlight it just like he wouldn't a word processor or in photo shop. And we can use that same keyboard shortcut we learned about earlier shift command Greater than to increase size or shift control greater than on a PC or shift control or command less than to go down in size with same keyboard shortcuts. Work across all of these adobe apse, which is really nice. So now we need to change the font. Well, we've got our type till active. We've got the text highlighted. We've got what looks like an options bar in illustrator as well. So we can change the font right here. See which one I used 1,000,000. So now we can go choose Minyan from the font menu. There we go. And if I want them to overlap, I need to create another line of text that I can move independently. So I'm just gonna switch back to the selection tool. Then I'm gonna switch back to the type till when I was gonna click somewhere else in the document type. My are grab my move. Tool illustrator calls it a selection tool. It's the same. It's the move tool that you get in photo shop me, move this up a little bit. So you guys in the back and see, and now I just click and drag toe overlap my letters so there's no end to the things that you can create. Now let's take a look at how do I cull? Arise them so I can click to select one of the letters shift click to select the next one, or I can click and drag outside of my document and drag across them to select them. Now, if you take a peek in the options bar at the top, you'll see we've got two little pallets here. One is the fill color, and one is a stroke color, so we're going to go ahead and click the downward pointing triangle next to the blacks watch, because I mean my letters or black. So it's pretty, uh, easy to see what you should click on. And now we can come down here and pick a color, so this opened automatically. Typically, this panel appears way up here, but it didn't so just click a color to apply it. An illustrator, you've also got a bunch of swatches colors that are already built into the program. Click this little color palette right here and you can pick any color you want. It's kind of like a teeny, tiny vertical color picker. And if you know the hex code, you can type that in right there. You can also get to cooler. Look what we see right here. Remember those cooler things that you saw that we uploaded from A We got from a photo that we uploaded. They automatically got sink into Illustrator. That's the kind of thing that this creative cloud is so amazing for. It's just everything is connected. It's kind of like, uh, for those of us who use a Macintosh, and I'm sorry that we tend to be those months sometimes, but we really are a little bit about it. You know, we don't have viruses, so we use that as an excuse to be smug all time. But if you use a Mac and you've got an IPhone and you've got an IPad and you've got an ICloud account, which is free, then all of your contacts, all of your calendars, everything is sink across multiple devices. That's where we're going with Adobe's creative Cloud. So I think once folks get used to it and see the power of it, they're really gonna be quite amazed. It simplifies your life, really does. Just for things like this, you know, these color palettes automatically show up in Illustrator. Unfortunately, they don't automatically show up in photo shop yet, but we're still, you know, in barely year to create a ploughed land. So maybe we'll see more features come in the future. So that's how to change the color. So again, we just selected one piece of the text shift click to select the other piece or click and drag to draw selection to grab them both. And the weekend is come up here to the Phil. See, now the palate jumped up there so we could change it. Teoh, any color we want now, a neat thing to be able to do is to create a logo that looks like this. So, in my opinion, just the V in the are It doesn't really scream logo to me, but you put a box around the sucker or you reverse the type and you'll hear creative, say, reverse type a lot. That just means that they have taken colored type or black type and reversed it to the opposite so white type would go to a color or dark color type would go toe white. So that's what reversing the type means. So this is another great logo treatment. So how do we do that? Well, we looked at drawing are creating our letters here. So let's come over here and Illustrators toolbar and let's see if we've got any kinds of shape tools. Then we do. If we click and hold on the rectangular tool and depending upon what tool you use last, that's the icon that you're going to see here, just like in photo shop. So the toolbar is sticky, so we've got right tangle tool. We've got a rounded rectangle tool. We've got an Ellipse tool. We got pretty much the same kind of vector shaped tools. The tools and illustrator matched the vector shaped tools and Photoshopped when they work the same way. So let's go ahead and create a rectangle. So I've got that active that can come over here to my text, and I'm just gonna click and drag to draw a box. Now when I do, it's gonna appear on top of my type. No big deal. We simply tried up to the object menu. Choose a range and we say, Send backwards. Now I can grab my type. There we go and I can change the color and bring it to the front. And now we've got a logo. So let's do that whole mess again. So we'll grab T. Presti to grab the type tool click atop your document. You don't have to click and drag an illustrator to create text. You have to click in Dragon in design to create text, and when we get in the news, you have to click and drag there to create text. We're really creating a text box, but in photo shop in an illustrator, we don't have to create a text box. We could if we wanted to, but we don't have to you. So let's type V. Now let's switch to the move tools, which back to the text tool just because illustrator, if you keep clicking while you got the title active after you've already created a piece of text, I think she wanted edit that piece. So switching back to the move tool and then creating another piece of text, says Seriously illustrator. I want to create a separate, unconnected piece of text that you can then move around, how rely. So we'll type far, and now we can go grab our move tool, and we can position these however we want. Now we can select them and change their color if we'd like. So this time, let's add a circle. So let's go over here to our shape tools analysts click the Ellipse tool, and it may be easier just to draw the shape away from the text and the move that takes on top of it. So let's draw a circle this time, so I'm holding down the shift key to draw a perfect circle. Now we can switch back to our move tool, and let's go ahead and change our type two something lighter and we can click and drag it atop our circle. And now it's just a arrangement situation. So while that type is selected, we can come up here to the object menu, choose, arrange, and she's bring to front, so bring forward and send backward. If you've got several things stacked on top of each other, it will send it either up or down one level. But if you want something to become all the way to the front or go all the way to the back, then you would choose, you know, bring to front or sent back. So let's choose. Bring the front and there's our logo. Now let's say we want to resize one of those elements so we can click the circle if you want to resize it. You guys know exactly how to do this because it works like it doesn't photoshopped. So we would shift drag to keep our circle perfectly circular in shape. And if we want to reposition our letters, we just click and then shift click to grab the other one, and we can nudge the letters into place using our arrow keys on your keyboard. So that's a really neat thing. So now your next question will be, of course. Well, what if I don't want a solid circle? I just want, like, an outline of a circle. Well, click the circle. Come back up here to the top left of the options bar, and you can see that. Okay, That must be where my green Phil is coming from. Okay, so we can either rearrange these. We could click the field setting and click the little Red Slash to turn the fill off. And then we come over here to the stroke. The the panel looks exactly the same for stroke and feel that there's an easier way if I make my toolbar double columns so I can see my color chips that air hiding out at the very bottom past the edge of the screen. I'm gonna click this little little triangle right here to make my toolbar column goat our toolbar go to two columns, works the same in photo shots, so give it a click. See, now I've got two columns of tools. There's my, uh what is the equivalent of color chips and photo shop, But here we have one that solid and one that's an outline. So which one do you think would be the stroke? The one is the outline. So instead of messing with these settings up in the options bar, if all you want to do is change the Phil, the current Phil to be a stroke instead, you could just come down here and click that little curved arrow to flip flop them. And so now we just flip flop because we had no stroke and a Phil, If we flip flop them, then we've got a stroke and no Phil. So if you get into that situation, it's faster to do it down here than it is in the options bar. So if we wanted to use that as a logo, will we need to increase the point, size or the width of our stroke? So we just click to select the thing we want to change. Come up here to the options of are very clear stroke, so you just increase that point setting. So let's say if you were going to do this for this particular logo, you'd want to make the stroke similar in in, uh, heft to the font or else it'll look kind of odd. So let's go ahead and select our text again. It's too light. So now let's go back to that nice green that we had. So that's another another option for you. This art right here was honestly just some art that ah, I downloaded from FA Tolia a little vector flame to go back there because with the vapor pan, you know, vapor rising. We're trying to come up with all kinds of fun things. Logo development is a lot of fun and we even develop some color. So this hot pink gives a worldly feel on the purple gives an elegant feel on the blue is a clean feel. So got to think about what message do you want to send with these logos? So that's an easy way to create a logo. So let's save it out. I'm gonna pop it into a new document. I'm just gonna select it and copy it to my clipboard. Now I'm gonna choose file new click. OK, pop that into the document. Now, how do you save the sucker? How do you use it? So let's shoes, objects. What we want to do is we want to get rid of all this white space. So illustrator has a command similar to that trim command we saw over in photo shots. So the way we get it, that is to choose object art boards fit to artwork bounds, and that's going across the campus down to just our art. So there's your logo. So now let's save it. So we'll choose file Save as. And we'll throw this one down on the desktop if you want it to be. Definitely want to save it as an illustrator file. So this would be like your master PST. That way you can always get back and easily change the colors and so on and so forth so you'd save a master is an illustrator file. But if you want to save a copy ah, high resolution copy that you could drop into other projects. You could save it as a PdF an illustrator pdf right there. Or if you need it to be transparent in the empty areas, then you would choose file Safer Web and from the format menu over here, you would choose either the Jif option or one of the paying options. Now, why would you ever choose paying 24? If you put a drop shadow on this and you want it to be transparent, put it on another color background. Let's say on the Web or in a slide show, and you want that drop shadow to be nice and soft fluffy. Then you need to save it as a ping 24 because a ping 24 format can understand partially transparent pixels, which is really what a drop shadow is, you know, when it kind of gets really soft and it fades out to nothing that faded out part. That's partially transparent pixels, and Ping 24 is the only format that can capture those partially transparent pixels. Otherwise, you're drop shadow would have, ah, jagged edge if you choose Pink 28. So this is how you would create a logo that has a transparent background. He's not too bad. Bill Schneider doesn't buy. It only bites when you use the pen tool. That's the only time it bites. So let's take a look now at Let's Say you want to resize the slugger. Let's say you save it out and you're like, That's too That's too big or it's too little What have you? That's the superpower inherent with, uh, illustrator. And when it comes to text Odor Shop because photo shops text is the same these days as illustrator text. It was not always the case, so to resize it, all we have to do is grab our move tool, select the art shift, drag outward to make it bigger shift drag inward to make it smaller. Now let's go do that re sizing our art board. So we come up to the object menu, choose art boards. Either fit to selected are cause it selected or fit toe artwork bounds. If it wasn't selected, save it out. So the beauty of creating your logos and illustrator like this are honestly these days, Photoshopped is that they have infinite scalability. So if you needed to use this on a letterhead, so that would mean ratcheting down pretty small, it would still hold up. And the edges would be perfectly crisp and clean if you wanted to use this on a billboard. You know, when your studio gets wildly successful and you've got so much money that you're thrown in at billboards here in San Francisco, you could scale this up to billboard size. You could scale this up to building size pretty incredible. So when you're saving this, um, for a transparent logo is the everything white gonna be transparent is just the outside. Yeah, great question. Everything. Why is transparent? Because this is just the art board. It's just the place where we're creating the art. If we were to grab the rectangular tool and we were to draw a box, fill it with white, send it all the way the background Now, it wouldn't be transparent if I save it out because I put a color behind it. But if you don't do that is gonna be transparent. Now, let's take a look at some of those typographic, uh, low goes over here, so it works the same way exactly like we've been doing all day long, in or all week long, rather in photo shop. So I've got a bunch of different examples for you. If you double click on any of these, it activates the text and you can just highlight it. And you can look to see exactly what formatting that I used for those logos and any of these would work. And, you know, we've made a lot of these in class. We've made at least these three in class together. So this is just future at a vastly different sizes. You know, we've got small paired with big. The important thing to remember when you're building a logo is Teoh Typographic Lee is to include contrast, so contrast can take many forms. It can be small paired next a large it could be thick pared within Here we've got thick paired with thin, and we've also got large next to small here we've got large next to small also, you know, thick and thin with this one over here, very sci fi. We've got mostly thick going on. But it works because it's big paired with small. And each one of these logos sends a different message. Like which photography studio here do you think would be the most expensive? Any guess? Which one? The right most column. Um, second, the last. Me, This one. You're right. This one would be the most expensive because look at the way the type is set. So if you want to charge big bucks in whatever it is that you're doing, you might want to do something like that. So the way we created that one, it was just set the text and you'll notice there's extra spacing in between the letters that's tracking. And we looked at that control. I think it was yesterday in photo shop, So if I want to control the tracking, I would hold on command an option on the Mac or Control and all on the PC and you use your left and right arrow keys. See how the letters are getting closer together. As I tap the right arrow key, they get further apart. If I wanted to adjust the leading between these, I could select all the text just like you would in photo shop. And it's the same keyboard shortcut. But we're going to use the up and down arrow keys so it's good to remember. So just look, if you ever have trouble with keyboard shortcuts, especially when there's multiple modifier keys involved, look at your hand placement on your keyboard. So all of these keyboard shortcuts involved the command and option key or controlling all that's right next to your space. Far so sometimes the hand, their finger placement can help you remember the shortcut, whereas maybe you might not be able to rattle off what keys It is just like, you know, when we used to have phones with buttons, I I can dio 10 key by touch really, really fast, and I could not tell you what phone numbers you know were. But I could type them out if I could see the keys and I could tell you what phone number was. So that kind of thing. So, for letting is the same one command option or control Ault and the down a road of increased leading, which is the space between lines or the up arrow to decrease letting. So this would be an expensive photography shop. What do you think this one would be right here? Looks a little distressed. Might be Western in its main, you know? Might be editorial, I think Western when I look at that, So think about the message that you want to send this one over here, which, which one of these is gonna be the most kid friendly? I think there's two of them. I'd say this one up here or this one down here for the most kid friendly. Why? Because the fine is nice, big and open. This one with the script down there could also might be a little expensive. You know, um, I think about it before I call up that photographic studio, you know, But you got to think about this stuff when you're when you're creating your logos. So I'm gonna leave you with that file because it is hours and hours of enjoyment. And again, you've got the same one over in photo shops. If you're more comfortable with Photoshopped, Great double click that there's all of those logos right there, so feel free to experiment with them. And I've even named the layers to help you kind of understand what makes them different. So, you know, we've got big and small. We've got script, a script font and tracked out thick and thin, tracked out lower case, compressed little big Someone and so forth. One more thing. I want to show you how to do in illustrator and close All these guys up is how to trace a logo. You may not have to do this, ever, but if you if you do, this is a lifesaver. So this is another fake logo that I made. And let's say that it on Lee. I only have access to it in this form right here. It's a J pig, but let's say I need to convert it into vectors so that I can scale it. So what we would do is we would open that J peg in illustrator Click the Art to select it. Come up here to the window menu, and we're gonna open the panel called Image Trace. We're going to get this extremely complicated panel. These buttons appear at the top of presets. So if the logo that you're trying to trace is in color, go ahead and click Auto color. Right here is the 1st 1 illustrator saying, Hey, I noticed that this is a pretty large file. It may take me a minute to trace this logo. Hope you don't mind. Fine. Say Okay. So illustrator goes about its business of trying to trace everything you see. Now, this is not gonna work on a scanned copy of a logo that was printed in news print. This trick really only works if you've got a high quality version of of the logo. But if you're desperate to get a vector logo, which you would want for scalability out of a J peg, then you can try this. Let's say you pay the designer 15 years ago to dear logo and she cannot be found at all on this planet. Then you might need to do something like this. So now, uh, we're seeing a preview of the trace, and it turned out pretty good, but we're not done yet. It doesn't yet. It's not yet a vector, and I know it's not a victory, because if I click on it with our move tool here, the only thing that selected is the box. We need each piece to be selected. That's how we know it's actually a vector. So that's Step Two of this process is to go to the object menu and shoes expand. So that's like you saying, Hey illustrator, take your trace, expand it into actual points and pass. So when we click expand, then click OK and the resulting dialog box. Now it's Victor. You see all those little points and pass, you may still you will likely have some cleanup to do. Uh, that's beyond the scope of this class, but in a pinch, this is one of illustrators superpowers, so typographic logo's tracing and existing logo like this. That's when you want to reach for illustrator. But again it uses the same kind of type tools. But if you want to do any of these like overlapping font tricks like we did with the VR logo, you could do it in photo shop. But you can also do it over here in Illustrator
Class Description
Adobe Creative Cloud is an essential toolkit for photographers — but navigating its many programs can be overwhelming. Join best-selling author Lesa Snider for a comprehensive course on how to harness the power of Creative Cloud to build a thriving photography business.
Lesa will show you how to grow your photography business with Creative Cloud's suite of applications. You'll learn how to build promotional materials, how to create and customize a professional-grade portfolio website with Behance, add compelling elements like slideshows, audio, and video, and display your portfolio on any mobile device — even in printed book form. You'll also learn how to use Photoshop to create a professional and engaging video portfolio to showcase on your website, iPad, Behance, or burn onto DVD.
Lesa will also cover how to use Kuler to grab a color palette from a favorite image for use on your website or promotional materials, as well as how to use familiar drag-and-drop tools in Adobe Muse. By the end of this course, you will be able to create a full-blown website worthy of your work, with light boxes and slideshows to showcase your portfolio, and contact forms to gather leads.
Software Used: Adobe Creative Cloud 2014 

Reviews
I have watched the day one and part of the day two classes -- this class is chock full of creative ways to use the cloud to expand your business -- and to help photographers help their clients get more for their money as well as save money in creating beautiful marketing tools. I had been so confused over the lightroom/photoshop thing, and Lesa makes it so easy to understand how to use each program for their strengths or super powers -- so I'm ready to power up my photography business !
Lesa makes learning easy! Thank you Lesa!