Creative Cloud Essentials
Collections & Importing in Lightroom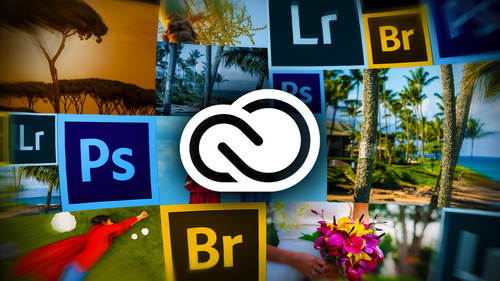 Creative Cloud Essentials
Collections & Importing in Lightroom
Lesson Info
Collections & Importing in Lightroom
So now let's go back and pretend that we have just imported thes photos and I have some some tips for culling for you here. So what a lot of people dio is they'll come through here and they'll they'll look at their initial set of pictures. I'll go ahead press tab here so we can see more of them and they'll assign a star rating to one picture. Let's say those who I really like that so they'll give it three stars and then they'll keep assessing their images and I go, Oh, crap, you'll run across a picture that they like better so they'll make that picture of three star and then they'll go back to the previous three star and they'll to start and you just go down this whole rabbit hole of you know it. It's just impossible to manage, you know? Ah, big import that way. So what I like to do is a sign all of my keepers one stars. Then I filter for one stars, and then I go back and the ones I really, really like, all assigned to stars, too. So that's a little bit of a more manageable way to atta...
ck this whole culling process. So that's what we're going to do. And I want to show you how much fun it is to do in light room. So what we've got is this amazing tool. We've got a little paint can down here, so here's the paint can. So if you give it a click, you see that it kind of liberates itself, and I can spray different attributes onto my photos, and I highly recommend this. It is so much fun to Dio. So we've got our spring, are spray can active, and I know it's active because my cursor, when I mouse over one of the pictures is an actual spray camp. But here's where you can load it with whatever you want to apply. As you spray onto those photos so we can spray on key words, we can spray on colored labels. I use colored labels. If I'm if I run across an image when I'm calling and I go, Ooh, that'd be perfect for a sepia or which is a fancy way of saying brown overlay, or do I want to post that one on the hands or you wanna post that on Facebook? That's what I tend to use color labels for. It's just another system of flagging your photos in some way so we can apply keywords, labels actual flags. You can use flags to reject images we can spray on metadata, weaken spray on settings we can spray on a rotation. So let's say you've got an image that needs to be rotated by 90 degrees or you've got a bunch of them. Load up your paint can with the rotation, and then just spray it on is you cannot believe how much fun it is. In a minute, when we create a collection, let me show you how to make a target collection, which means that collection is active for the moment. And it makes it easy for us to add pictures to that particular connection or collection, rather by pressing a keyboard shortcut or by springing it on. So the paint can is so much fun. And, you know, this is the dreary part of being a photographer. You know, the importing and the organizing and the culling and the yuck. You know, that's the least fun of any of that. But to me, this spray can makes it so much more fun. So that's what we're gonna do. So typically, I'll make my thumbnails. Uh oh. Big enough where I can see them. But but not so big that I that I can't have, like, a least five or six to a row, and then we load up our spray can. And again I just clicked it toe, activate the tool, and then from the menu to its right, I'm gonna choose rating once I choose rating that I get this set of stars here so I could choose to load it with a one star to star a three star or what have you. So I'm gonna choose the load it with a one star because this is our first pass, so I can say, ooh, I like that one. Paint that on. See, now it's got a star underneath its thumbnail there. So let's say I really like that one. And I like that one. And then I scroll up and I like that one and that one and this one and this one and I do highly recommend the, uh, sound effect like a little bit every time you dio When that gets a lot more fun than just regularly doing that. Yes, sir. Uh, can you actually apply that in, like, full screen preview? Like if you're full screen previewing your images, you can't use the paint can on full screen dead coming. But you can apply star ratings of the keyboard shortcut, which is the second way. Great Segway. Thank you. So now I've got a few one star pictures here. I'll go ahead and add a couple more. There we go. So now I want toe filter. What I've seen on Lee, the one stars very, very easy. We're still in the library module right here, and I've got this filter that shows up at the top of my thumbnails here. Well, the star rating system is an attributes, so we're going to click attributes. And now what it's telling me is that no, no photos match this filter. Okay, so let's look at see what our filter is. So, the last time I use this filter, I have the two stars turned on, so I don't have any two stars in that particular batch of images. So let's go ahead and click one star. And now I see all of those images that I gave the one star rating to. Now I'm ready to take my second pass through these photos, so I have two choices at this point. Actually, there's more than that, but to fund choices so we can come back down here, we still have our spray can Paint are pink and loaded, and I know it's It's still loaded because the hole where the tool used to be is empty, so tools and light room kind of stay active until you put them away. So we're gonna have that pain. Can't active until we put it away. And we put it away by clicking back where it used to live So I can see right now and I've still got it set to rating. But it's going to spray on a one star, so I could either set that to two stars, and I could come in here and start my spring. Okay, so now that one has a two star. I forgot to make the sound, but let's take a look at another way to do that. Let's say you want to see your images full screen, and you guys were gonna love this keyboard shortcut that I'm about to give you is gonna blow your mind Arguably worth the price of the entire course. So the way we can go into a full screen mode is we're going to click the image that we want to see, and then we're gonna press the space bar, which takes us into a loop view. And they were gonna press. If so, now we're seeing our images at full screen. Well, now we can apply those star ratings with the keyboard shortcut. But the cool keyboard shortcut that I want to share with you is to turn on your caps lock key. If you turn on your caps, lock key on your keyboard and you assign ratings light room will auto advance to the next image without you having to tap the right arrow. Key it. I know it sounds like a tiny like really, how exciting is that? It's hugely exciting, This one Teoh turning on the caps, lock toe, auto advances, going to save you an entire vacation day. Over the course of like, six months, I promise you, it's just so wonderful. So remember to do that Turn on caps lock and now let's say I think I already gave this one a two star, but all the studio and see how I pressed to data to star in an auto advanced to the next image. So you apply your stars with the distant numeric keys. There's no modifier key or anything so one from one star to for 23 for three etcetera. But the second you click, a key light room advances to the next photo automatically, which is huge. So if I wanted, let's say I want a bypass, that one. I could go ahead and you know, click one just to get it to auto advances. I know it's already, and one let's say I like that one. That said to you, I like that one. That's a to to to too so really fast, really fast to get a nice little indicator down there at the bottom left of your screen that lets you know. Hey, Light Room did indeed change the star rating of that photo. So with this, think about how much time that that could save, and that really makes the whole process of of rating your photos a lot easier, you know, least a lot more enjoyable in my opinion, than sitting there at the computer with the mouse and with the arrow key and oh, my gosh. You know what better way to manage that? So now I can come back in here. Teoh, a grid of you and I got into grew to view by pressing G for grid. And this is grid view. Right here is where you see your your thumbnails. So now I can come up here to my filter, which always sits there in the library, and I can turn on the second Star And now I'm only seeing those two star photos. Another neat thing that you can do with this filtering system is you can dig into the metadata right here. So let's say that Frank shoots with multiple cameras, but I want to get at the pictures taken by one camera individually. That's what I can do is click the metadata attributes or tab up here, and I can see all the different cameras he used to take these shots. Well, there is the one that he took with the five D Mark two. And here the images he took with a 70. So there's all kinds of information in light room that you can use to drill down to just the set of pictures that you want to use. And again, this really is just a teaser. Encourage you guys to check out my light room essentials. Course, it is totally awesome and not saying that just because I taught it. But we had so much fun in that class. And it really will teach you everything you need to know to get up to speed fast on using light room. We spend the whole day in the library holding so take advantage of that class because it's a really good one. So this is really just a little teaser of the things that you can do. So your next question, of course, will be at this point. Well, Lisa, I've got all these filters turned on. I'm only seeing those images. How can I see all of my images again? We just turn off the filters that you turned on. Let's really it. So we started out by looking at attribute, which gave us this set of items right here. Where's which is where our star ratings live? And then we dipped into the metadata which is where I can see all kinds of stuff. I mean, imagine I could even filter down to what lens Frank used for these shots. Now, I personally do a lot of macro photography because I love macro photography. So the ability to find the lens that I took a shot with is important to me. Five different macro lenses, right? So this is really, really helpful. But there is just no end to to the different ways that you can drill down to your images with light room. And it's just all so forgiving. All right, Now, let's take a look at this ratings on another folder that has a whole bunch of images. So I'm gonna come back over here to the left hand side. Remember, the left hand side is where you tell light room where you want to look for a certain thing so we can come over here. Teoh a folder. Where have Udal and gobs of images. So I'm gonna scroll up to where I can see my actual hard drive directory because I was looking at collections a moment ago. So here, let's go to a folder that has a slew of images. So we've got 1100 images to look at here. But if I come up here to my attributes settings, remember, I've taken a few passes through these and added my star rating systems. Then I can come up here and I can say show me all the three star images in that folder. So I went from looking at 1158 photos to 45. And remember, you can change the size of your thumbnail by pressing the A minus. Sign on your keyboard to go down or the plus sign to go up. Now high my panels here again for just a second by pressing tab because I want to show you some of the other images that we've got in here. Look at this. So this thumbnail is actually a PST file. So when we start passing files from light room to photo shop, they're going to show right back up here so I can keep track of my PS DS, everything that I've done with this, let's say master image right here, who have added a painterly edge to it in photo shop. I can see that right here I can see the file extension. So I know if I'm dealing with, um, see, there's my raw file for that image right there so you can see I've done all kinds of things with it. I gave it a painterly edge, this one, it's hard to see, but I used photo shops, blur gallery filters, toe Adib. Okay, effect on the water, which is just I made the water sparkle and it wasn't really sparkling that I did that over and Photoshopped. And then here I made a trip Tik. So I've got a nice little panel here. It's also a PSD, and I can see which one is my actual original. So this is my raw shot right here. CRT. That's the extension that can and gives. They're, ah, raw format so I can see my PS D's. If I have opens the file and Photoshopped from within light rooms, you can send them back and forth. And if you send them back and forth, starting with light room than light room will see that PSD once you save it and it'll pop right up into light room when you come back. So here's a neat little effect. I did photo through text. So I've got all kinds of There's a collage that I did right there, and they're all showing up in the light room. Here's some interesting edge effects where collages a little bit of branding will direct mail postcard there, all kinds of versions of collages. So that's just to show you that I can see my PSD is right here from within the program. Yes, ma'am, since you had different versions, we have the original raw file, and then you have all the various different things that you've done with it. When you're organizing yourself, dio stack them together. So that way they're all kind of contained with one another. Yeah, that's a great question. You can. So when we get into sending images from Photoshopped or from light room rather too photo shopped, there is a stack with original option when you set up your external editor so we can turn that on and the stacking will happen automatically, or you can select the images and stack them. But once you do that, then you can close them up like a drawer. So that means you're not going to see, you know, 500 of the same image. So here's an image that I did so for this one. I did a little bit of teeth repair because he chipped his tooth ball snorkeling, which was crazy. So you can group those together so that you're only seeing 11 thumbnail even though you may have four or five of them. And you can control the information that you're seeing by going up to the gosh. Where is it? The view Is that view options? Yeah, few options. The library view options. You can control all these little pieces of information that you're seeing these little in grid view. These air called sales. So that's what we're talking about here. Expanded cells versus compact sales so you can determine how much information you're seeing on those photos, and you can determine exactly which pieces of information are on. But by default, the file extension is on. Ive also turned on pixel dimensions, so there's all kinds of ways that you can customize what you're seeing inside those individual little sales. So that's the way that you could maybe turn off some of the information. If it's confusing, you don't have to see all of that stuff at the same time, but I like to keep these expanded cells turned on there just a little bit larger. And once you turn on expanded cells using this poppet, many right here you can come down here to the bottom section and, uh, says expanded still extras, so you can determine exactly the information that you can you can see on there. All right, so now so you can tell. I mean, just by this star rating system, you know, I can quickly drill down to just my best of the best images. And we looked. We took a look at a couple of different ways in which that we could add those ratings to the images. So now let's say I'm ready to create a collection so I'll press the tab key to bring my panel's back in the collection. We decided earlier. It's just an album. So right now I'm looking at the directory structure of my hard drive. And how do I know that Because I'm in that folders panel right there, and you can collapse and expand these panels anytime you want. So in the collections panel, this This is where you can create your album. So this is your subset of keepers that then you want to do something with you want to print them or you wanna, you know, make a book out of them or what have you. So what we're going to do now is create a new collection, and you can do that by going to the collection panel and then click in a little plus sign to its right and you get a little handy menu. So we're gonna say, create selection. Are there two different kinds of collections that you can create? One is a manual collection, which is what we're gonna do in this class, and so that's going to contain images that we physically put into that collection. The other kind of collection you can make is a smart collection, and that auto populates itself as more pictures are as light room knows about more pictures that meet criteria that you sit if you've ever used I photo, it's like smart albums and I photo. So, for example, if I shoot a lot of macro photography, maybe I should a lot of macro flowers. Then I could create a smart collection that gathers up all of the key words are all the photos that have macro flowers, etcetera so that I have a self populating collection, so that could be really handy. We're not gonna do that in this class. That isn't that light room essentials class. But we are going to use Go ahead and create ah, collection. And you can give it a name. We'll call this one. Cleverly. Maui 2013. The next option you get is called a location. Where do I want to put those photos? Well, you have the ability to create a collection set which is really just a folder, a folder of albums. It's just a organizational thing. So if I want to keep the collection we're about to make in my little creativelive realm right here, I'm just gonna go ahead and shoes creativelive from that room. And if I had photos selected, I could include them by turning this little item on. And if I want this to be the target collection, I could turn on that check box there. But we're not going to do that just yet, so I'm gonna go ahead and click, create, and now I've got a couple of choices for populating this collection or album. Rather, what I can do is in the library grid view. I can come back down here and load up my spray can. Right? And I could come over here to rating, and I could say target collection. And then, uh, Lightman's gonna ask me, you know, which collection do I want to add that to? So you could do it that way. Or what we could do is we're up. Use the library filter to drill down to just maybe all of our three star photos. And I could at this point since I'm viewing just the three stars, I could select all the images by pressing command A. Now they're all selected. And then I could drag them over into the new collection right here if I wanted to you. So that is one way to do it. And we could go ahead and do that so I can just click and drag over into that collection. So now I see that that collection has 43 images in it. Now, when you create collections, you're not duplicating any of your photos. And if you delete a photo from a collection that does not do that. It does not delete it from your light room library, right? So you can think of when you put a picture in a collection. You can think of it like an alias or shortcut. It's a pointer to that picture. A photo can live in a zoo, many different collections as you want. There is no limit. It's just another organizational thing for you. So let's say that I'm happy with with that collection out, but I want to go at a few more photos to it, so I want to show you a different way of adding photos to your collection. So let's come down here to another folder here. Let's say malley flowers. Now let's say I want to be in full screen mode and I want to really see my pictures of the large size, and I want to be able to sit, tap a certain key and have those photos go into that collection. That is when you would create a target collection. So let's come back down here to our collection. This is Maui 2013 right here. So I'm gonna click it, and I'm gonna right click on the collection itself and shoes said as target collection. If you you can do that when you're creating the collection in the dialog box that we just saw it had that says Target Collection Button. But I wanted to show you how to get at it after the fact. You know, after the collection already exists, this is how you can set it as a target collection. So all we did again was we disk clicked on the uh collection that we want to set as a target collection. Right click from the resulting menu. Choose said as target collection. When you do, you get a little bitty plus sign that appears next to its microscopic. She might to squint to see it, but it's right there. So now I can go to any other folder. Let's say I want to go to this one right here, and I can do two things. I can either click the little circle that appears at the top right of every thumbnail as I mouse over it toe add to that collection. So if I want to add this image to that target collection, I could just click that little circle. See how the circle appears once I'm mouse over the image or I point my cursor to that thumbnail. So that's how you could add to the target collection. But what I like to do, they go ahead and go into Lugou by pressing space and press the F key to go full screen. Now, I can add these to the tart collection by pressing the B key. Be for what? I wish it was t because then I would remember it. So if I want to add this one to the target collection, all I have to do is tap B. And if you look real quick, you see at the bottom, right? I got a little notification. That light room did indeed add that. Now, if we combine this with that caps lock key word shortcut right, which is gonna let make light room auto advance to the next image. So I pressed be on this one. If I press beyond this one, it's gonna automatically go to the next photo. So I could quickly by keeping one hand on the right arrow key to bypass the ones that I don't want to add to the target collection. Press B. You can see how fast you could get at this kind of thing. So I've got one hand on my right arrow key. Another hand on my keyboard. Poised over the Beaky B is the keyboard shortcut for adding an image to whatever your target collection currently is. Then you can change that any time you want. Okay, so let's take a pic of that one more time. So what we did was located a new selection by clicking the plus sign next to the collections panel. Create collection. And then we came to that collection and we right, clicked it and said said as target collection. Then we came to another collection, and let's say we press the space bar to go into a loop view than F to go full screen actually zoomed in too far, and now we can tap that Beaky bees a shortcut for adding to the target collection. And if you make sure in turn on the caps lock key on your keyboard, my room will auto advance to the next shot. Any questions on that? That's pretty slick in it. You three, maybe bees for bunch bees for bunch of lto, bunch them all together. That's good. That's good. I'll be interested if the if the great Interwebs have anymore. They dio Erin G. Says B is for bull's eye. A good one. Yeah, that's a good one. So that's how you can create a collection. And we're gonna be using collections quite a bit because we're gonna when you create a collection, let me just go back to Grid View here and the collection I just created Let's say we were gonna do something with this, uh, album that we've made right here. I'll make my thumbnails a little bit smaller, oppressing the minus key. The reason you want to start with a collection before you start making a project in light room is because you can arrange the photos in the order in which you want them to appear in, said Project. Far easier to do in a folder. You think of this as a folder collection album. Then it is over in the project where the interface looks a little bit different. So let's say I was gonna make a photo book out of these images and I wanted this ah, little tiki torch image to go first. I would just click and drag it to rearrange those thumbnails. So that's why I like to make a collection for make project, cause that allows me to quickly go in here and rearrange everything, exactly how I want those pictures to be ordered in, whatever it is and I'm building if it's a slide show, if it's a photo book, if it's a Web gallery. So I like to do that first to create the collection populated and then dragged to rearrange your images within it. So another great thing about passing images from light room to photo shop and then back is that I can include some of this artwork that I can create in photo shop in my portfolios and my slide shows in my Web galleries in my photo books, even though I didn't create that are in light room, so I'd really like the designers out there who tune. And I know there's some of you out there to think about this kind of stuff, so I don't care if your photographer light room is still useful for you for managing organizing rating, creating projects from your images, taste so you could bring in. You could tell a light room at all the logos that you created and create a slide show of your logos that you upload to be hands or upload to your own website. So the possibilities air literally endless. But that's another great thing. Is the ability to, um if you're managing your PSD is in light room as well, or even some of it doesn't have to be all of them, then, that you can include them in the slide shows and photo books Very, very handy. All right, so I want to come in here to the develop module, and I want to give you just ah ah, hint about what we're going to be doing shortly. What we're gonna do now is use light rooms, develop module to color, correct our image and let me go ahead and select this image. I'm just selecting by clicking on the thumbnail itself. And then we're gonna press d d for developed to enter the develop module. Or you could click the thumbnail and then just click developed up at the top of the screen there. But we're gonna press d for develop. Come on, light ring. There you go. All right, So now I'm gonna go ahead and hide my panels again. My pressing tab and I'm gonna press the why key to show you a before and after an Actually, I'll hide that bottom panel to you so you can appreciate how far we're going to go on this image. So I had a nasty, nasty color cast when I was shooting this stuff. It was just so awful. But as you can see, we've got a pretty good result over here on the right hand side. And this is another great thing about light room. I can see this before and after. You can't do this and Photoshopped to do this and Photoshopped, you'd have to open up another instance of the window and you'd have to windows side by side. You cannot do before and after previ easily in Photoshopped unless you do all your stuff on different layers and you turn off the visibility of the layers. But this side by side businesses so useful in light rain because you can spend hours correcting an image. But if you can't see the original, how do you really know how far you went on it? So the ability to see the original next to what you've corrected is really amazing. I mean, that's just by tapping the Y key. You can also see a quick before and after by pressing the forward slash. So there's the before and you get a little tag of the top right of the screen that shows you what you're looking at, and there's the after. So that's a super anything. So let's go ahead and open that back up. And so we're in the develop module and you can see at the bottom, right? I've got a reset button that lets you zero out all your changes. So if I click to reset right now, then George will go back to that awful yellow instance of himself. I've also got a history pale over here on the left hand side. Look at that. I can see everything I have ever done to. This image is since two. This image since I told light room and exists, Look at all that. So there's no import really late at night. What was I doing there? So everything that you do, every brush stroke that you make is recorded in that photos record. Remember your photos don't live in light room, but there is a record of your photo and all these edits or kept track of via that record, so it's really quite amazing. So when we get into Photoshopped later this afternoon, we're going to do the same thing and photo shopping. You won't believe how hard it is many, many steps versus just a few. But the cool thing I want to show you right now is that this is a great tip for your power users out there. You've noticed that when I've been messing around with these panels, they stay open until I click them and I so I can click the little Flippy Triangle to expand or collapse the panel well, over here in the develop module on the right hand side, I've got a little bit of a different activity going on for her. Still noticed? If I can zoom in a little bit here, see how the little flippy triangle is filled with dots? It's not solid. That means that this set of panels is in what's called solo mode. Oh so Lamu. So what happens at when I click one panel, I click another one. The previous panel automatically closes, see how that's happening. So as I click a panel, the other one that I had open automatically close itself that's really handy and develop. Develop module. So how did I do that? All you have to do is option. Click any of the panels on a mat or all to click any of the panels on the PC. Okay, so I just turned it off. So I'm gonna turn it back on by option or Ault clicking any of the panel headers now, soon as my little flippy triangles were filled with dots, that means that when I click one, the previous one automatically closes itself. Now your next question will be, Well, what if you really need to panels open at a time and you're in Sola mode All you have to do. Let's say if I want my black and white panel right here to be open as well as my split tone panel press and hold the shift key press and hold the shift key and click the second panel that you want to have open. See how they're both open Now that's a really nice time saver. So again, all we did I'll take it back to original. What you've got on your screen is any time you want to go into that solo mode where the panels automatically open and close option or all click any panel header. Then if you find another panel that you just have to have open at the same time shift, click it so you can set that sell a mode on either side of the of the interface here. So you can tell I'm in solo mode on the right hand side because of the dotted triangles. But over here on the left hand side, my navigation area in my preset area, they're still working in normal mode. So if I wanted, I could put these guys in solo mode to So now they are in solo mode. So as I opened one, the previous one, except for the navigator, should shut. Here we go. So that's a needle timesaver for you.
Class Description
Adobe Creative Cloud is an essential toolkit for photographers — but navigating its many programs can be overwhelming. Join best-selling author Lesa Snider for a comprehensive course on how to harness the power of Creative Cloud to build a thriving photography business.
Lesa will show you how to grow your photography business with Creative Cloud's suite of applications. You'll learn how to build promotional materials, how to create and customize a professional-grade portfolio website with Behance, add compelling elements like slideshows, audio, and video, and display your portfolio on any mobile device — even in printed book form. You'll also learn how to use Photoshop to create a professional and engaging video portfolio to showcase on your website, iPad, Behance, or burn onto DVD.
Lesa will also cover how to use Kuler to grab a color palette from a favorite image for use on your website or promotional materials, as well as how to use familiar drag-and-drop tools in Adobe Muse. By the end of this course, you will be able to create a full-blown website worthy of your work, with light boxes and slideshows to showcase your portfolio, and contact forms to gather leads.
Software Used: Adobe Creative Cloud 2014 

Reviews
I have watched the day one and part of the day two classes -- this class is chock full of creative ways to use the cloud to expand your business -- and to help photographers help their clients get more for their money as well as save money in creating beautiful marketing tools. I had been so confused over the lightroom/photoshop thing, and Lesa makes it so easy to understand how to use each program for their strengths or super powers -- so I'm ready to power up my photography business !
Lesa makes learning easy! Thank you Lesa!