Adobe® Photoshop® CC® Bootcamp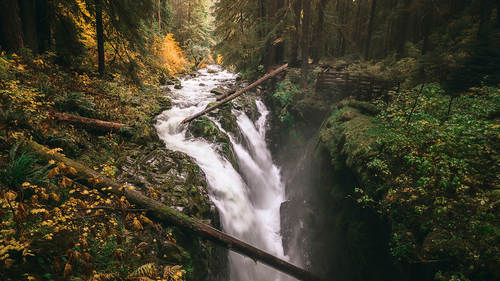 Adobe® Photoshop® CC® Bootcamp
Lesson Info
ACR to Edit Video
We're gonna get into, now, doing an editing video with filters. Like Adobe Camera Raw, as a filter. So let's go ahead and close this down. And I'm gonna go ahead and open up another video that I have in here. I do a lot of time-lapse work. So I'm gonna go ahead and drag and drop this time-lapse into Photoshop, and editing that time-lapse, because it's kind of like a photo. I wanna edit it like I would edit a photo. So I'm gonna edit that using Adobe Camera Raw as a filter. So I'm gonna just drag this up and stick it up to the top. Now, in order to use Adobe Camera Raw as a filter, you can't just hop in here and filter it. If you filter it right now, it's gonna filter this one layer, this one individual shot. So what I need to do is, I need to turn this video into a Smart Object. So I'll right-click on this layer, I'll go to convert to Smart Object, and now if I go up to filter, and I go up to Camera Raw filter, I've got all of the tools that i would have with Camera Raw to edit this ti...
me-lapse. So I can brighten things up in the shadow areas, I can maybe use my White Balance tool to white balance this image out, to get the white balance a little more accurate. I kinda like the way it was when it was more of that sunset kind of color there, so we'll just keep that. I also have the ability to go into any of local tools. So when I adjust this shadows, and bring the shadows up, I can't quite open up all of the stuff that I need to open up within this image, so if I were to go into my Graduated filter, I could turn my mask on. So I see my mask, press and hold Shift, bring that mask up so I just get it in those darker areas. Use my Range mask to block out anything that's light, to get all of that dark area into that mask. Adjust my smoothness there, to adjust my mask. And then, if I turn that mask off, because I'm in a graduated adjustment, this is only going to take place on those dark areas. So I can bring up the exposure, highlights, bring up those shadows a little bit. Might wanna drop that saturation down a little bit. Add some dehaze. And looks pretty good. If I were to come over to my Radio filter, I could maybe pop a radio burst right back here. And it's way too high on the exposure. We bump this up, add a little bit of magenta to there to give it that kind of sunset kind of glow. Add some contrast. Boost the saturation there. That's like a little dark contrast, a little spotlight that I can put pretty much anywhere I want in this video. Bump that up. Looks pretty good. Press OK. The really cool thing about this, especially with Adobe Camera Raw, is using Adobe Camera Raw's Noise Reduction features in video. That is awesome. Because a lot of times you get noise in your videos, and this artifacting that you can't get rid of. So let's go ahead and hop back over into Adobe Camera Raw real quick and I'll show you that. We can zoom in into these dark areas, look at that. See, we got some really bad, after I open those up, we got some really bad stuff going on there. So I'll click on the Detail slider, or the Detail tab, bump up my luminance, drop that luminance detail up or down, so I can start fixing, especially the color noise that's happening within that area. Zoom out. That looks pretty good. Drop that luminance down just a little bit more. And again, you can even sharpen things here in Adobe Camera Raw. So if I press OK on this, every frame is gonna have that Adobe Camera Raw as the filter applied to it as a Smart Object. This is where things are gonna be very, very slow on the export. Even on something like a time-lapse like this one is, I think it's maybe a total of maybe four or five seconds? That's gonna take probably five to ten, maybe 15 minutes to export. Quite possibly, depending on how much is there. 'Cause what's happening is Photoshop is telling Adobe Camera Raw, "Hey, every single frame that's in here, I need you to apply all these settings to." So, if you can think of five seconds times 24 frames a second, that's over 120 different frames, if not more frames ... That means basically what's happening is, Adobe Camera Raw's being called up, it's applying itself on that one layer, it's shutting down. It's being called up, applying itself to that one layer, or that one frame, closing down. Getting called up, get the point? So it takes a while to render those things out. So just know that if you use Adobe Camera Raw as a filter, it might take a little bit of time for that to happen. So what I've done is, I've just kinda pre-baked that a little bit, and I've made two different videos. Here's the original, so you can see what it looks like without any Adobe Camera Raw work. And you can see the time-lapse, where we get a little bit of boost inside the shadowy areas, and then an overall boost of all the colors that are happening within that sunset. I pre-baked that 'cause I didn't wanna stand here for five to ten to 15 minutes. And it really just depends on how much other things are going on in your computer, and what your video card is, how much ... Rendering video is a very labor intensive thing, that's why, when I buy PCs, I buy gamer PCs, because gaming PCs tend to have a lot more video rendering power in them, because they're designed for video games.
Class Description
Adobe® Photoshop® CC® is a valuable tool for photographers, but it can also be intimidating. In this all-inclusive 20 lesson course, you'll go from opening the program for the first time to creating images that really stand out. Join Blake Rudis, Photoshop® expert and founder of f64 Academy, as he shows you how to maximize your use of Photoshop®. Topics covered will include:
Week 1
• Class Introduction & Bridge, Adobe Camera Raw, Setup Interface, Cropping and Layers
Week 2
• Layer Tools, Masks, Selections, Clean-Up Tools and Shapes & Text
Week 3
• Smart Objects , Transforming, Actions, Filters and Editing Video
Week 4
• Custom Creative Effects, Natural Retouching, Portrait Workflow, Landscape Workflow, and Composite Workflow

Don't let the many aspects of Photoshop® prevent you from maximizing your use of this amazing app. Blake will help you develop the confidence to use your imagination and create the images that you will be proud to share with your clients.

Software Used: Adobe® Photoshop® CC® 2018