Adobe® Photoshop® CC® Bootcamp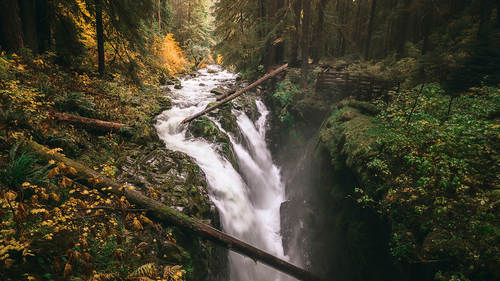 Adobe® Photoshop® CC® Bootcamp
Lesson Info
Gradients
I wanna show you a different tool that I don't think we've touched yet, and that's the gradient tool. The gradient tool, the gradient map, and the gradient are all very wildly different, okay? The gradient I use for my own custom effects, the gradient map I use for my own custom effects, the gradient map I use to map out the tones, the colors in my image to give it tones or map out the darkest areas of my image and apply colors to it, whether I'm using color or I'm using black and white. When I'm using a gradient, I'm trying to make these, like, bursting type of spotlight looking things, and when I'm using the gradient tool, the only thing I'm really using that for is masking. We have the graduated filter in Adobe CameraRoll, right? Think of this as the graduated filter mask from Adobe CameraRoll. Unless I'm working with text or shapes, really the only time I use this is to make a nice transition from one area to the next on a mask. And if that's the case, what I would do is I would ju...
st grab right here, pull up, and that area, my mask, is coming in from white at the bottom and black to the top. I probably wanna reverse that for this image, so I'd press Command or Control + I to reverse that, and that's gonna allow this mask right here to only apply itself from here up and not apply itself to here because of the black that's blotting that out. Let me click on here and move this down. I don't know why that moved up when I did that, but there we go. That's okay. We're not just stuck with that mask, either. If we press Alt or Option on that mask, just because we use a graduated, just because we used a gradient tool to make that mask and that graduated difference, we can still go in there with our brush and brush in with the color black on there to get other parts outta there. Another place that I use these all the time is with, like, these gradient spotlight-looking things. So one of the things that I'll do with this is I'll open up the gradient, I'll make it a radial gradient, I'll have it set to the center like this, and I'll set this color here to a yellowish color, yellowish cream color like that, press OK, and then I'll get it set up to wherever I want it to go, press OK, set that to either something like hard mix. Hard mix actually works really well for this. Hard mix. It's gonna add a ton of contrast and not look good at all. But we drop the fill. Hard mix is controlled by fill. Fill is the calculation for what's gonna happen with that hard mix blend mode. Drop that down and then look at that. Double click there, move that around, and I have basically, like, a spotlight that I can put anywhere on my image to really boost it up and add light where light was not. That's the whole point of things like this is to add light where light was not. Put that right over there or something like that. That looks good. All the while I have to, I guess, inform you that I'm gonna go ahead and turn this eyeball off and look at our Creative Live boot camp panel. You see right here where it says Gradient Spotlight? I've already done all the hard work for you. You just click the button and you get yourself a darn good gradient spotlight. And you can just move that around. Look at that. You create light where light was not. Look at that. It's like you're taking a flashlight in Photoshop. (audience laughs) Kshhh. You're panning the horizon. Look at that. That's amazing. On that note, too, we also have the color grade warm, with that gradient, color grade cool, that gradient, the cinematic map effect. Look at that. That's gonna be in there, as well. And what it's gonna do, it's gonna pop up, it's gonna tell you, hey, look at your selective color properties here, hop over to your blacks, 'cause that's what's happening here, and it's gonna create that cinematic map effect with a little bit of blue on your image. (mumbles) It's also got a black and white conversion in here, just like we talked about at the beginning of this. Hit the black and white conversion, and look, we got the black and white with the color modifier underneath it. I'm already setting you up for success with this thing.
Class Description
Adobe® Photoshop® CC® is a valuable tool for photographers, but it can also be intimidating. In this all-inclusive 20 lesson course, you'll go from opening the program for the first time to creating images that really stand out. Join Blake Rudis, Photoshop® expert and founder of f64 Academy, as he shows you how to maximize your use of Photoshop®. Topics covered will include:
Week 1
• Class Introduction & Bridge, Adobe Camera Raw, Setup Interface, Cropping and Layers
Week 2
• Layer Tools, Masks, Selections, Clean-Up Tools and Shapes & Text
Week 3
• Smart Objects , Transforming, Actions, Filters and Editing Video
Week 4
• Custom Creative Effects, Natural Retouching, Portrait Workflow, Landscape Workflow, and Composite Workflow

Don't let the many aspects of Photoshop® prevent you from maximizing your use of this amazing app. Blake will help you develop the confidence to use your imagination and create the images that you will be proud to share with your clients.

Software Used: Adobe® Photoshop® CC® 2018