Adobe® Photoshop® CC® Bootcamp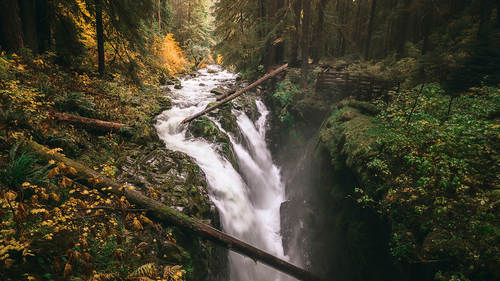 Adobe® Photoshop® CC® Bootcamp
Lesson Info
Adjustment Layers and Video
Just like any other photograph, we're gonna be using things like adjustment layers on this. And with specifically when we wanna modify the look and feel of an image when we use an adjustment layer on the top, it automatically applies itself to the image and we have that adjustment layer above it and that's how it works. Well in video it can be a little bit tricky to think about things like that because if it's in the same video group it might add itself to the end instead of onto the top. This is where that thief, the clipping mask, is really important. So what I'm gonna do is I'm gonna go ahead and make a new adjustment layer, and let's do a curves adjustment layer. By default it may already add that clipping mask there for you. If it doesn't and you've got this going on, your curve may show up at the end instead of at the top of the video. If, maybe if it's outside of the video group. Let's try this, if you put it outside of the video group then it shows up on the top in its own vide...
o area. This is one of those things that you have to think about and where it's gonna end up because sometimes it doesn't end up at the top of the video. Right now, because it's at the top of the video it will edit the video. But if you put something in that video group and it ends up on the other side, like another video, for instance, and you want that to be on the top, you have to know where your layers are in that palette. So let's just make sure that all of our adjustment layers are there with a clipping mask to ensure that it is affecting that specific video. If we had multiple videos in here we might wanna have that above because it's in the same video group. Those adjustment layers would be affecting all the videos in that video group. So what we're gonna do is we're just gonna take a curves adjustment layer, pull this down, make it darker, and make it brighter. That's increasing and decreasing the intensity of the contrast within this video. If we wanted to test that to see what's gonna happen, we press play. That curves adjustment is working on the entire video. It's not just working on one frame, it's working on the entire photo. So now with that increased intensity we've got a really nice kind of look for this image. I can add in as many other adjustment layers as I'd like here. I could do something like the HSL adjustment layer. And the hue saturation adjustment layer, if I use a targeted adjustment tool, I can maybe change the color of this water, bump this up and make it a little more on the blue side, increase the saturation of that blue to make it a little more rich. And again, like I said before, if you're gonna bump up the saturation like that you might wanna round it off a little bit with a little bit of darkness there by adding a little more value to it. If I can click on my yellows now and bump up the saturation of those yellows, maybe alter that yellow a little bit to make it a little bit more rich, and enrich the darkness of this. So if I go back to the beginning and press play that hue saturation adjustment layer is working on the entire video. Not just that one frame but the entire video. Our preview didn't look that great, so I'll turn that preview back up to 100%, move this back over here and press play. Now it looks a little bit better. Look at the video before. Look at it after. This is more like video that you would get off of your cell phone or your camera or something like that. And a lot of times our cell phones have these pre-built video editors inside them that gives us really cool effects, but here you do it in Photoshop to get more control over it. I mean look at the amount of color that we added to that, really made this a lot more vibrant. We made it a lot more rich just by using two adjustment layers. If you wanted to color grade this, we could go in, we could add a gradient map, maybe make it black and white. Or because we're using a gradient map we can change this to any colors that we want. I'll use this color because it's accessible. Drop the color down and then drop the opacity. So now it's color graded with that yellow or that cream color and the blue. If I want to change those colors I can either choose any of the gradients that I have within here or click on the color and change the color grade of this image. (mouse button clicking) You can see it working kind of on the fly as we edit this. Press OK, press OK. Now because the opacity is down pretty low it's kind of hard to see. But color grading is really important when it comes to video. With this image, maybe not quite as much, but if you've ever seen any TV production-type quality films, movies, basically anything that's gonna be a blockbuster movie is gonna have some type of color grading in it somewhere. Where you go to a place it's hot, how do you show hot without having fire there? You add a really red color grade to the image and it'll feel hot, feel a lot warmer than it actually is. How do you add the sense of cold to something without actually putting ice or water there? Well, you add a blue color grade to it. So you can manipulate the viewer as they're looking at your video just by color grading, just like we've talked about color grading when it comes to a photograph.
Class Description
Adobe® Photoshop® CC® is a valuable tool for photographers, but it can also be intimidating. In this all-inclusive 20 lesson course, you'll go from opening the program for the first time to creating images that really stand out. Join Blake Rudis, Photoshop® expert and founder of f64 Academy, as he shows you how to maximize your use of Photoshop®. Topics covered will include:
Week 1
• Class Introduction & Bridge, Adobe Camera Raw, Setup Interface, Cropping and Layers
Week 2
• Layer Tools, Masks, Selections, Clean-Up Tools and Shapes & Text
Week 3
• Smart Objects , Transforming, Actions, Filters and Editing Video
Week 4
• Custom Creative Effects, Natural Retouching, Portrait Workflow, Landscape Workflow, and Composite Workflow

Don't let the many aspects of Photoshop® prevent you from maximizing your use of this amazing app. Blake will help you develop the confidence to use your imagination and create the images that you will be proud to share with your clients.

Software Used: Adobe® Photoshop® CC® 2018