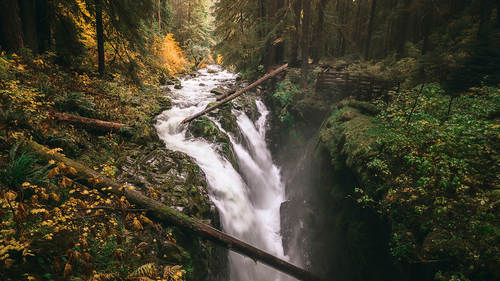 Adobe® Photoshop® CC® Bootcamp
Lesson Info
Clipping Masks
There is another type of mask that we haven't talked about yet, and that other mask is the clipping mask. And this mask, this mask is a thief. And it's a thief that steals any of the properties of what's happening below it. And a clipping mask is a very powerful tool to use when you have a great mask that you've built, and you want to steal the properties of it with the next layer, without actually taking the mask from it. So, we have our smiley face here that we've been using, that is a great opportunity to check out these clipping masks. So, we have the eyes, they're all separated, we have the mouth separated from the head. Let's say, if we look at this, let's just first look at this layer, press Alt or Option just to preview this layer. See where this layer has a transparency around it? That transparency is all, basically it's saying that the yellow is the most opaque portion, the transparency will reveal anything that's below. So, essentially, this yellow shape is taking up that sp...
ace within this layer. We can steal that with any layer that's happening above. We can steal that transparency, or we can steal any of the properties that are happening within that circle down below. So I'm gonna go ahead and add a color fill, and let's change this to a red angry face, okay? Now, what I could do, there's many things that I could do for this. I could try to make a selection for this head and then use that to make the mask, because I want this red to fill that yellow area, but there's this clever little trick called a clipping mask, where I can either right-click this and I can say, make this a clipping mask, where is it, Create Clipping Mask right here, or I like to use hot keys, press Alt or Option and click right in between those two layers. You see how we went from having a hand with the finger that now goes to a square with a thing that says hey, go down. What that's doing is, it's filling in that yellow circle with red, by stealing it's properties from below. The clipping mask, it's telling this red, notice, that we don't even have a mask on the red at this point, right? Because, we're telling that red color fill to take all the properties of the layer directly below it. So, any of the properties that are within that layer, it's going to steal. It's going to steal it's transparency with that edge that's around it. If that head has a mask on it, it's going to steal the mask qualities of it. If that circle, that yellow circle, has any Blend If principles in it, it's going to steal those Blend If principles. So, let's go ahead and just add a mask to this yellow circle, we'll turn the preview off on this real quick, and I'm just gonna go ahead and use my black mask and just paint right across. So now, you can see that this yellow face that we have here, we've gone away from the smiley face at this point, has a black streak across it in the mask that is allowing the transparency from underneath to show through. If we were to click now on this red, it's stealing all the properties of what's happening below. Any of the properties that would be happening below this red color fill, it's taking those properties on. If we press and hold Shift and click off of that, it's gonna give us a preview of that mask not being there, but it's also, again, that red is going to take on all the properties of what's happening below that. So, if we turn on these other layers, or add another solid color fill, maybe make that yellow, press Alt or Option, click on this, it's borrowing the properties of what's below it. But it's not going into any of the other properties below that. So that clipping mask is strictly restricted to whatever layer is directly below it, and those are the properties that it's going to steal. If by chance we had any Blend If settings that were in there also, it would take those Blend If settings, it would take those opacity settings, and it would even take on those Blend Mode settings.
Class Description
Adobe® Photoshop® CC® is a valuable tool for photographers, but it can also be intimidating. In this all-inclusive 20 lesson course, you'll go from opening the program for the first time to creating images that really stand out. Join Blake Rudis, Photoshop® expert and founder of f64 Academy, as he shows you how to maximize your use of Photoshop®. Topics covered will include:
Week 1
• Class Introduction & Bridge, Adobe Camera Raw, Setup Interface, Cropping and Layers
Week 2
• Layer Tools, Masks, Selections, Clean-Up Tools and Shapes & Text
Week 3
• Smart Objects , Transforming, Actions, Filters and Editing Video
Week 4
• Custom Creative Effects, Natural Retouching, Portrait Workflow, Landscape Workflow, and Composite Workflow

Don't let the many aspects of Photoshop® prevent you from maximizing your use of this amazing app. Blake will help you develop the confidence to use your imagination and create the images that you will be proud to share with your clients.

Software Used: Adobe® Photoshop® CC® 2018