Vector & Raster Layers Basics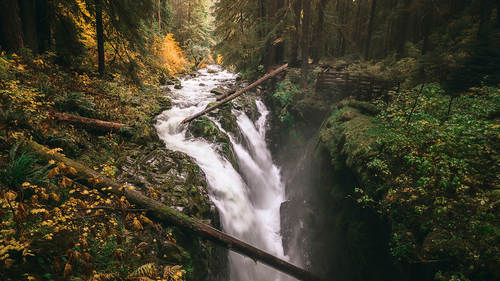 Adobe® Photoshop® CC® Bootcamp
Lesson Info
Vector & Raster Layers Basics
And we're gonna go ahead and move on to rasterized versus pixel-based layers. Now, at this point we've looked at a lot of things that are pixel-based. Everything we saw in those composites were pixel-based layers and not necessarily things that were raster-based. These names will show up a lot in the future, so when we talk about smart objects and we talk about text, we'll talk a lot about vector-based images when we're doing smart objects, text, and shapes. But it's important to understand this at the layer understanding level now to understand the difference between a vector-based layer and a rasterized layer. So if I press V for my move tool, and I click on this vector-based layer here. I'll press Control click, now with the move tool, you see this thing here that says Auto Select? I like to have that turned off. I like to be able to select my own layers, and to do that I press the Command or Control key. If you have this auto select here when you click on a layer, it's going to ass...
ume that the layer that you're clicking on, if that layer has a lot of content in it, that's above it but's also transparent, if it's set to auto select, it may not select the layer that you want it to select. So I make sure that that auto select is turned off so that I make the decision on what is selected, and by doing that, I press the Control or Command key, and notice, it switched from the background, Control click, it now clicks on the vector shape. So now if I Command or Control click on this vector shape, I now have that shape selected without having to go into my layers palette. So if I press Command or Control T, this will allow me to transform this. And we're gonna talk about transforming in the future here, but if I press and hold Shift and Alt, and move that up as I do that, that is a vector-based image. Notice how it started out very small, very small, but as I moved it up, we got to see all the stuff that's happening within that vector-based shape. If I Command or Control click on this rastered layer here, press Control T, Shift and Alt and move this up, those shapes were the exact same thing. So what I did when I built this diagram was I built this diagram from a vector shape, copied that vector shape on both sides, and then rasterized the one layer. And what you see from this is that the vector shape maintained the stroke path, whereas because that rasterized layer was so small, when we blew it up, we were basically interpolating all the pixels, just like you would if you were blowing up the image size of a canvas. The difference between a vector shape and a rasterized shape is a rasterized shape is made up of individual pixels. So when you increase the size of those individual pixels, you're telling Photoshop to insert information where information doesn't exist, so you get all that blurriness that's happening with the photos. But notice over on the vector-based shape, the vector-based shape was actually a shape made of a stroke path and not a full fill of red color. So what happens there is as we blow that up, it's doing all the calculations of the line work and all the calculations of the shape, so that no matter what size that vector is, when you make it small or large, it's gonna be the exact same thing. So this, I say typically the vector and raster thing comes in when you're talking about shapes and text versus pixel-based image editing that you would do from a photo that you get from your camera. Our cameras do not shoot vector-based images. Wouldn't that be beautiful if our cameras just shot vectors, because then any picture we took could be the size of a thumbnail or the size of a billboard, with absolutely no problems. I don't know when or if that technology will ever exist, but we right now are shooting in pixel-based form. That's why if you take a five-megapixel image and try to blow it up to a 24 by 36 canvas, it's not gonna look right. It's gonna be blurry because the pixels are interpolating or information is being added there. Making things smaller on a raster image is typically no problem, so if we started with this vector larger and made it smaller, it wouldn't have a problem getting much smaller but getting bigger is the problem. Whereas vectors, they are line and shape calculations that happen as they grow and expand and contract. Where we can see that is if we were to just go into a regular pixel-based image. This is a pixel-based image. Anything that we pull in from our camera is a pixel-based image, so this is just a background layer that we would get from say, we go in from Adobe CameraRoll and we come into Photoshop defaults to a background layer. This is a pixel-based layer. So if you're trying to wrap your head around this whole pixel and vector-based thing, just think of a pixel-based layer as any layer that comes in from Adobe CameraRoll that you're pulling into Photoshop as that background layer. You will know when you're in the vector world, you will. Because it'll typically be a shape or it'll be a text layer.
Class Description
Adobe® Photoshop® CC® is a valuable tool for photographers, but it can also be intimidating. In this all-inclusive 20 lesson course, you'll go from opening the program for the first time to creating images that really stand out. Join Blake Rudis, Photoshop® expert and founder of f64 Academy, as he shows you how to maximize your use of Photoshop®. Topics covered will include:
Week 1
• Class Introduction & Bridge, Adobe Camera Raw, Setup Interface, Cropping and Layers
Week 2
• Layer Tools, Masks, Selections, Clean-Up Tools and Shapes & Text
Week 3
• Smart Objects , Transforming, Actions, Filters and Editing Video
Week 4
• Custom Creative Effects, Natural Retouching, Portrait Workflow, Landscape Workflow, and Composite Workflow

Don't let the many aspects of Photoshop® prevent you from maximizing your use of this amazing app. Blake will help you develop the confidence to use your imagination and create the images that you will be proud to share with your clients.

Software Used: Adobe® Photoshop® CC® 2018