Adobe® Photoshop® CC® Bootcamp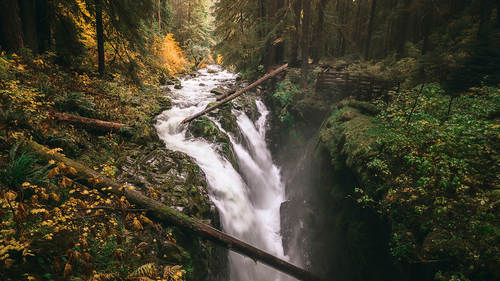 Adobe® Photoshop® CC® Bootcamp
Lesson Info
Shape Basics
This is what I would call one of my splash screens. So I'll just give you my tricks of the trade on how I build these splash screens. To build this, you can see that it's a couple different layers of text. And then we also have a shape with some layer styles in it. And then we also have all the other stuff that's building what's going on in the background. With this we can just control E, flatten all that down. And then just basically work with what's going on here. I'll turn this off because now working with shapes is really not that much different than working with text. Once you know how to work with text, working with shapes becomes a lot easier. So if I were to click on a shape here. I'm just gonna make a regular old rectangular shape. And just go right along like this. To make that border. Notice I've gone a little bit on the outside of the edges. If you ever want to get outside of your image like that you press control and space bar and zoom out. It'll get outside the bounds of ...
your image. Zoom in gets inside the bounds of your image. We're working outside the bounds of our image. So this shape actually does extend outside of our background layer. It can exist outside that space. And that's perfectly fine. If we go ahead we can press V and we can move that. Get it nice and aligned into the center of this workspace here. And working with shapes, if you just look at the shape as it is right now, after you've made the shape and you go to something like the move tool, you're going to lose all of the properties of that shape and what you can do with that shape. The cool thing about a shape is at anytime if you double click right here it's kinda like a solid color fill adjustment layer. At anytime you can change the color of that shape just by double clicking within here. That will save you a lot of time. Instead of bouncing back and forth between the shape tool and the document that you're working on. So if I go ahead and we'll just make this some other color that is in the image. I've got a color picker here where I can pick my own color, and I can guess. Or I can just click somewhere on the photograph to get a like color that I like within the image. This is a great way to tie together your image. What I'm doing here is, I'm showing this on a splash screen that I would use for one of my videos. But think about how you could use this with one of your clients. If you've got a client and you just got done shooting the Smiths. And you want to showcase that image on your favorite social media platform or even your website and you wanted to build something like this, you'd use the exact same process I'm using now by building the shape, lowering the opacity of the shape, building the text within it. So I'm showing you this from my perspective on what I do. But think about how you can adapt this to your perspective based on what you do. So we'll go ahead and press okay on that. If we click on the shape here, we get back to our shape styles. So we don't have to really worry about ... We can change the fill here just like we change the fill of the shape by double clicking here. Or we can go ahead and go into the stroke and we can put a stroke path around here. So if we put a stroke path around here and let's just pick a color. Stroke path set to an orange color. And then we change this little bit bigger. Now we have a stroke path on there. Now I wanted to show you how this can extend outside the bounds. Because if you build a shape and it goes outside the bounds, and you build a stroke path, you're like, "What's going on with my shape? Why don't I see that stroke path on that side?" Well all you have to do is press command or control T to modify that shape at any time. Just like you'd press command or control T to transform text and pull in from the side. And now you're back to normal. Press enter. We're still in the confines of our workspace now. So that's adding a stroke path. For this, probably wouldn't add a stroke path. I might do something different with the drop shadow instead. What we have up here with shapes is if you have multiple shapes on the same document, I'm just gonna show you how to do that here. You can either build your shapes on their own individual layers. Or you could build your shapes within the same layer. And building your shapes within the same layer would be if I were to have my shape tool selected here, I've got a shape already selected, and I just draw a shape on here. Notice how we have two different shapes here. Well it's not on the same layer. Let's get that back to the same layer. Press shift. So if I press shift and draw that rectangle it's gonna make another rectangle within that space. Now there's two shapes here. I can still move one of those shapes though. So if I'm in the shape tool and I grab the top of this and press control, I can move this shape where ever I want. And these shapes because they're on the same layer will interact with each other based on how I tell them to interact. Right now, this is set to a new layer. Meaning it's making a new shape on top of that shape. But I can set it to combine those shapes. I can set it to subtract the top shape from the bottom shape. I can set it to intersect those shapes so that where those shapes intersect we now have a box. And I can also set the to exclude overlapping shapes. So where they overlap, I now have a space there. This can be useful when you're building things like logos and you want everything to be on that same layer and you're working with these shapes. Because at anytime I can press control. And look, I can move around and it's still intersecting those shapes. No matter where I put that, it's going to intersect those shapes exactly how I tell it to with this box. Now if I set this to combine shapes. It's just going to combine them together so both of them are the same color. But I'm not gonna worry about that. Let me just go ahead and delete that. And it's going to delete that one shape because that was the shape I had selected. Working with shapes, it's important to know that sometimes you can work with shapes on multiple different layers, and other times you end up finding yourself working on shapes that are within the same layer. So instead of freaking out like I used to do and deleting all your work. That is how you control what happens within those shapes. If I were to make a new layer and add that shape on the top, whatever I do here, it doesn't matter. All it's doing is it's not interacting with the shape below that. It's only interacting with the current shape that I've created. So it's not going to do anything to that shape below when I change those settings. It's only going to interact with the current shape that I have on that own layer. Because it's on its own layer and not in the same layer as that shape there. So when we talk about shapes, shapes also have a bunch of different settings within them. Let's just talk about one more that's pretty cool here to kinda take a look at. If we go to the line tool, and we look at the line tool and we drop down these settings here. You can see that we can add arrow heads to it. So if you want to point something out to somebody you can go ahead and put a start arrow head, and where ever you start that, that's going to make an arrow head on top of your line work. If you turn that arrow head off, and make a new one, it's not going to have that arrow head shape to it. You can make all kinds of shapes like this. You can make star shapes like this as well. So those are some different settings that you can find within each one of the shapes that you have available to you.
Class Description
Adobe® Photoshop® CC® is a valuable tool for photographers, but it can also be intimidating. In this all-inclusive 20 lesson course, you'll go from opening the program for the first time to creating images that really stand out. Join Blake Rudis, Photoshop® expert and founder of f64 Academy, as he shows you how to maximize your use of Photoshop®. Topics covered will include:
Week 1
• Class Introduction & Bridge, Adobe Camera Raw, Setup Interface, Cropping and Layers
Week 2
• Layer Tools, Masks, Selections, Clean-Up Tools and Shapes & Text
Week 3
• Smart Objects , Transforming, Actions, Filters and Editing Video
Week 4
• Custom Creative Effects, Natural Retouching, Portrait Workflow, Landscape Workflow, and Composite Workflow

Don't let the many aspects of Photoshop® prevent you from maximizing your use of this amazing app. Blake will help you develop the confidence to use your imagination and create the images that you will be proud to share with your clients.

Software Used: Adobe® Photoshop® CC® 2018