Cropping for Composition in ACR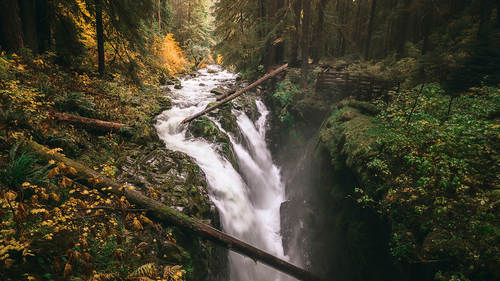 Adobe® Photoshop® CC® Bootcamp
Lesson Info
Cropping for Composition in ACR
So if we open up our first example image here. And this image is already kinda pre-staged, and pre-baked for us to have all of the settings already set for us, so now we're just really just talking about cropping for this instance. And cropping entails not just the constraints of the image, but also cropping is also related to the straightening of that image too. So we have to keep that in mind, that when we straighten our image, we're actually cropping things as well. So the crop tools that you're gonna find in Adobe Camera Raw are essentially gonna be your straighten tool and then your crop tool. And just like every tool in Photoshop, if you ever see a little drop down little angle there, that little triangle underneath that crop tool, that means there's more information there for you. So if you click and hold on that, this is gonna give you a bunch of different things that you can use when you're cropping your image. So you have the ability to show your overlay, you have the ability...
to set a custom crop, or if you're doing a one to one, a square crop, or a two to three, or a three to four, or if maybe you have a print size, a very specific print size that you know you're gonna print to, you can use this custom button and you can change this to a a crop ratio of something like 20 by let's say, 24. Press okay. And that is gonna set you up with a crop that is set up to 20 by 24. Notice how when I clicked and dragged here, if I click and drag from the top, it's constraining that to a 20 by 24 crop. So that's helping me out when it comes to the print process of how I would crop this for print in Adobe Camera Raw. But if I click and hold on here, and let's just make this normal. Normal will allow us to not constrain it at all, and not have anything that's going to affect the size of the crop. So now if I click and hold here, I now get a free form crop where I can crop wherever I want, and not concern myself too much with the constrained property there. So if I go ahead and click and hold on here, and so we see the show overlay, and we turn that off, that's gonna turn on and off the rule of thirds overlay that you get inside there. Because the rule of thirds is the one overlay they do give you here, I would just go ahead and keep it on, 'cause it does help when you're making your adjustments. The next thing is the crop as the straighten tool, in cropping. So if we click on the straightening tool I can see that back here that this is probably the straight part of my landscape, so I'll click right here, and over to here, and that will straighten my image. But you notice just how when I hopped into cropping, what happened when I hopped into cropping? It made a little overlay outside of the border of my image that's gray. And that gray space is telling me what's gonna be pulled out, cropped out, and not exist anymore. So if I commit to this, Adobe Camera Raw is gonna throw that information out. Not throw it out. It's gonna be there still. So if I press enter, and then go into the crop tool again, it's gonna show me exactly what it did. So it doesn't throw it out, it's temporary. And it's actually saved within your xmp sidecar file. That little sidecar file that you get in Camera Raw. So that data is still saved, it's not deleting it, it's not getting rid of it, it's still being saved right there within your xmp documentation for that file. But, we lose that outer area in the image. And as it stands now, Adobe Camera Raw doesn't allow you to go outside of the confounds of this crop, unlike Photoshop, which does, we'll talk about the benefits of Photoshop cropping in a minute. So if it tried to pull this up and make it give me a little bit more, it won't do it, because it's staying within the confines of the image, it doesn't wanna give me anything outside of it, because if Camera Raw did that, it'd be giving me data that doesn't exist outside the image. Camera Raw doesn't know how to handle that. So it just says, this is what you get. This is the crop that you get. So if I press enter, and I commit to this, that's the crop that I'm gonna have for this photograph. It won't forever be that way, 'cause I can always go back in here and I can change this crop to a one to one, or whatever crop that I would see fit. That's actually a pretty good one to one right there, look at that. So I press okay, and that would be where I would leave it with that. But, Photoshop has a lot more capabilities for cropping than Adobe Camera Raw does. So, typically if I'm gonna do something in Adobe Camera Raw it might be just straightening the image, and doing a very mild straighten. But there are times when I straighten that image and it's cutting off really important data. And if that's the case, I'm gonna do that in Photoshop because I have some fill tools that can fill in some of the area around it, so that if I am cropping out and I do have some transparency on the outside, I can fill in those areas. Where you cannot do that in Adobe Camera Raw. So that's the basics of cropping in Adobe Camera Raw.
Class Description
Adobe® Photoshop® CC® is a valuable tool for photographers, but it can also be intimidating. In this all-inclusive 20 lesson course, you'll go from opening the program for the first time to creating images that really stand out. Join Blake Rudis, Photoshop® expert and founder of f64 Academy, as he shows you how to maximize your use of Photoshop®. Topics covered will include:
Week 1
• Class Introduction & Bridge, Adobe Camera Raw, Setup Interface, Cropping and Layers
Week 2
• Layer Tools, Masks, Selections, Clean-Up Tools and Shapes & Text
Week 3
• Smart Objects , Transforming, Actions, Filters and Editing Video
Week 4
• Custom Creative Effects, Natural Retouching, Portrait Workflow, Landscape Workflow, and Composite Workflow

Don't let the many aspects of Photoshop® prevent you from maximizing your use of this amazing app. Blake will help you develop the confidence to use your imagination and create the images that you will be proud to share with your clients.

Software Used: Adobe® Photoshop® CC® 2018