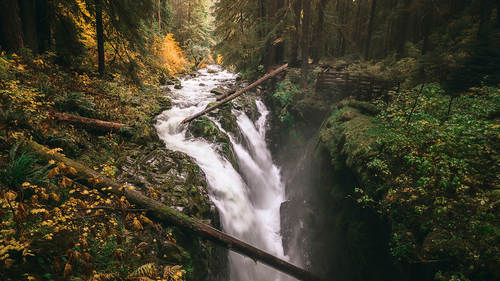 Adobe® Photoshop® CC® Bootcamp
Lesson Info
Mask Groups
Let's go ahead and take a look at how we can make a group of things that affect an image and make a mask on that group. I'm gonna go ahead and add the same thing that we did before. The curves layer dodge, the curves layer burn. Show you that again, bring this up to make it brighter. Make another curves adjustment layer, I could just duplicate this one by pressing Command or Control + J, and it will duplicate a layer. Call this burn, and then bring this down to about here, to darken this up. One thing about this too with the curves layer dodge and burn. As we talked about, with any curves adjustment layer, as we bring it down it's going to affect the color that's happening there too, the red, the green, the blue. If we make this curves adjustment layer dodge and burn and we don't want it to affect the underlying colors of the image, all we have to do is click on this area here that says normal and change that blend mode to luminosity. Now we're only working with the tones in the image ...
and not working with the color. We've effectively separated the tones from the colors. I click on the dodge, change this down to luminosity. I'll go ahead and turn the burn off for a second, again, I'm gonna press Command or Control + I on this dodge and I'm just gonna start painting around to reveal certain areas underneath the image. I'm just gonna start painting around to reveal some of the dodge that I'm working on here with white. Paint here to make that building a little bit brighter, paint around here, make that a little bit brighter. Again, I'm really just going through here and just painting things in that I want to be a little bit lighter. I want this side to be a little bit lighter of this building, and then on this building, go to the burn, Command or Control + I on that mask to invert it, now I want to reveal that effect, I'll paint with white to dodge or burn that side of the building. Burn a little bit of this, burn a little bit of this, this. Click on the dodge. Dodge around to brighten certain things up. Brighten up this building, brighten up this building, brighten up the sky a little bit. Right now, if we look at this, I've got a dodge, I've got a burn. They're affecting the entire canvas. Each one of them, they're independently affecting the entire canvas. I can put these into their own group. If I click on the top one of burn, click on the bottom one of dodge, press Command or Control + G, it'll put them into a group. When they're in their own group like this, I can rename this curves dodge, I'll just call it D and B. When I open this up, whatever's in this group, when I turn this group on and off, it turns off the preview of that group. Let's say I did something to the image that I didn't necessarily want with that curves dodge and burn. This is where we get another added level of protection by adding a mask to this curve. If I click on this curve and add a mask to it and I click on this mask, I can now brush with black on there to reveal the underlying layer through the curves dodge and burn. I'm painting with black, this is not allowing that curves dodge and burn to affect the underlying image because this mask group right here takes precedence over everything that's happening inside that layer. If we want to see that a little bit better, let's add an adjustment layer in here, like a solid color. Remember that solid color that we like to use is magenta? 255 red, 255 blue. As I look at this group here, anything I paint on this group starts to reveal the underlying area. Notice how I'm not even painting on that magenta layer, right? The group here is the master mask that controls everything that's happening within there even though they have their own independent masks. It's the next level thinking on the mask. You can essentially get two masks out of any layer by just putting it into its own group. You can put a single layer into a group if you want to, you don't necessarily have to use multiple layers into a group, you can put one layer into that group and now you have two masks for the one mask. This happens if you're masking on an image and as you're masking on that layer, you make a mistake, or you like what you did with the mask but you want to see an alternate method for it. Put it into a group, that way you don't have to alter what you did with the mask below and just use that primary mask in the group to reveal what's happening in that bulk or mass between that layer. Right here, we're not actually even doing anything with that color fill layer but as we paint on this group, we're revealing everything that's happening within that group underneath, as we paint with black. Again, if we look at the density of that mask, the density of that mask is not very strong. We could, in turn, go up to image, adjustments, curves or levels and we could darken it down or brighten it up.
Class Description
Adobe® Photoshop® CC® is a valuable tool for photographers, but it can also be intimidating. In this all-inclusive 20 lesson course, you'll go from opening the program for the first time to creating images that really stand out. Join Blake Rudis, Photoshop® expert and founder of f64 Academy, as he shows you how to maximize your use of Photoshop®. Topics covered will include:
Week 1
• Class Introduction & Bridge, Adobe Camera Raw, Setup Interface, Cropping and Layers
Week 2
• Layer Tools, Masks, Selections, Clean-Up Tools and Shapes & Text
Week 3
• Smart Objects , Transforming, Actions, Filters and Editing Video
Week 4
• Custom Creative Effects, Natural Retouching, Portrait Workflow, Landscape Workflow, and Composite Workflow

Don't let the many aspects of Photoshop® prevent you from maximizing your use of this amazing app. Blake will help you develop the confidence to use your imagination and create the images that you will be proud to share with your clients.

Software Used: Adobe® Photoshop® CC® 2018