Smart Objects and Filters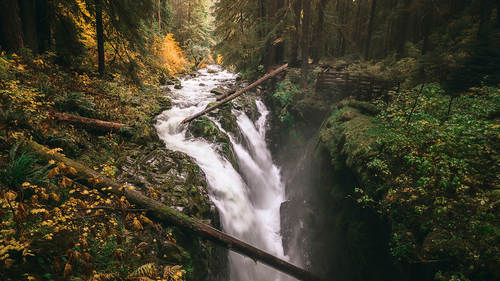 Adobe® Photoshop® CC® Bootcamp
Lesson Info
Smart Objects and Filters
Now we're gonna look at smart objects as they pertain to filters. So with this image, what I wanna do is, and I know we haven't talked about filters yet, but I do wanna talk about filters as they pertain to smart objects. So what I'm gonna do with this is I'm gonna create two copies of this. I'm gonna make a background, I'm gonna take this background and I'm gonna duplicate is so we can see what happens between using a filter on a regular layer, a raster layer, and a filter on a vector layer, which is, or a smart object, which is a pixelated then becomes a vector layer. So we'll press command or control J and duplicate this. With this, we're gonna call it Non Smart, and double click this. Oops. We'll call this Smart. When I right click this, I'm going to convert to smart object. So from Adobe Camera Raw, when we pulled it in, we pressed and hold shift and it goes from opening the image to opening an object, here if we wanna turn any layer that we have in our layer stack into a smart ob...
ject, we just say convert to smart object. So now there's nothing different between these two right now. The only difference is happening between these two layers is that this one is a smart object, and this is one is not so smart. It's just a regular pixel layer. So what I'm gonna do is I'm gonna do something, let's just do some type of a blur on here. So I'm gonna go to Filter, go to Blur, go to Gaussian Blur. And I'm just gonna blur this quite a bit for that background area there. Just kinda get that kinda boca kinda look. And press okay. Now what you'll notice is that once I use that filter, that filter is now all over that entire image. And if I wanted to mask on here to get rid of that stuff, the only thing I could do is maybe make a duplicate before I did the filter, and then I could go ahead and mask out. And I'll show you an example of that in a second here. But if I go to the smart object, and I go to Filter, and I use Gaussian Blur, or if I just press Alt Control F, I get the exact same settings that I used before, press enter. You'll notice that now we don't just have the smart object here, we have a bunch of other stuff that happens below it. And the bunch of other stuff that's happening below it is I get all the settings of the Gaussian Blur, and then I get something called a smart filter mask, where anything that happens in here will be masked within this area. It's really cool. So let me go ahead and just double click here on this Gaussian Blur, and you can see here that if I didn't like the settings I had before, I can boost them up, or I can make them less. It happens right there within that Gaussian Blur. Press Okay. If I turn this top layer off first, that probably would help a little bit. The difference here is that if I click here now on this smart filter, and I press B for my brush tool, I get my handy dandy watermark, I'm gonna go ahead and use a soft focus brush, I'm gonna make that brush a little bit larger, and then I'm gonna paint areas on this mask where I don't want that filter to show up. And if I make sure I have my brush tool selected and not my clone stamp tool, that would be another great thing. So I'll press B for the brush tool, right click, there we go. So now, oh, I know what's happening. (laughing) I'm actually, see if you look right here, I keep accidentally selecting the clone stamp tool which was one of the last tools that was used here. So I have to go to a regular brush, there we go. That's a big brush, very big brush. So I'm gonna press my left bracket key and make that smaller. And then I'm just gonna start brushing with black on here, and brush out that area where I don't want that effect to happen. Maybe I'll even do that up here. Now that effect is not happening on anything I want to be in focus, but it's kind of giving me a soft focus view of what's happening on the outside. Make sure my black is selected and paint this area out. Okay, that looks good. So what's the difference between doing it that way and duplicating a couple different pixel based layers? So let's just go ahead and do this. In the history palette, I'm gonna teach you something new. If we press this button right here, this button in the history palette will create a new document from all the stuff that's happening right now within this one. So if I press this button, you'll notice I have all the exact same layers, the only thing I don't have is my history palette. So let me go back here. And I'll go back to the very beginning of this. If I wanted to do this without using smart objects, what I would do is I'd have to press Command or Control J, I'd have to use all of my filter settings I have for that Gaussian Blur on this background layer. I'd have to make a mask on there, and I'd have to brush on that mask to get rid of that. It's the same thing essentially. The only difference that's happening here is that this is happening on two layers, which can easily get convoluted and mixed up, and this is happening on one layer. And at any time on this one, I can't go back to this Gaussian Blur. If I said, you know what, after masking that out, that is just way too blurred, I can't go back. I'm stuck with that. I can go back in history, and I can keep building it up. But then if I go back in history, I have to keep re-brushing my mask. So with this, if I double click on this Gaussian Blur and I say, you know, that was way too much, we just drop that down. You can watch right now how it starts to slowly go down, still contains that mask within it. Pretty cool, huh? Now anything that happens within this smart object that smart mask is going to cover all of them. So let's just do something crazy. Let's go to filter, let's go to distort and do something I never do, but just to show you an example. And I'll use something like Twirl. And if I twirl this, like that, and press Okay, really kinda trippy. What happens here is that this smart filter mask is not allowing that twirl to affect any of the rest of the image because it's all clumped in with that smart mask. All of the things that are happening within that smart filter are being blocked by the smart mask. So if you go, well I'll just Gaussian Blur this, and then I'll get another mask for the Twirl, that's not necessarily gonna be the case. That filter applies to everything that's below, you can see there's a hierarchy here. If at any time you don't wanna see that, you can just click the eyeball off, click the eyeball on, and you don't see what's happening with any of the smart filters that are happening below. If we just wanna turn one of them off, we can just turn Twirl off and not see the Twirl, and if we don't like it, we can right click it and we can delete it and just get rid of that smart filter and we still have the Gaussian Blur one. So this is a great way to take a little detour with your image. What you notice there is I did do the history swap there, so you could see that I took a little detour. So anytime I wanna take a little detour in the process, the workflow process, I'll use that button in the history palette to pop me over, give me a new document, so that I can work between both of them. That was just basically just to show you the example of what's happening with smart objects and non-smart objects and filters. But using a smart object on a layer with those filters just gives you the opportunity to try something new on your image that you might not have been brave enough or bold enough to try. Because you can always go back. After I'm done with this, I'm like, you know what, I really don't like this, I can right click, and I can delete either the filter mask or all of the smart filters that are below. Right click, delete smart filter. Oh, sorry, delete smart filter, not disable smart filter. And now I have nothing in there. And I still that smart object. So if I wanted to start from square one, I'm good to go. Again, if I like that, and I like the way that blur looked, I could right click, and if I rasterize that layer, that smart data that's in there, let me go back here real quick, I disabled the filters. If I right click and I rasterize that layer with all those filters on there, you'll notice that we no longer have the smart object there anymore, and all that data has now been plopped onto that image. And now it's stuck there, forever. We cannot go back. Unless we go back in history. Control Z, Control Alt Z, keep going back. But that can be a really added benefit when you're working with filters, if you wanna just take a little detour, see what's gonna happen with your image, go ahead and hop into those filters real quick with the smart object, that way you can always double click and play around with them. Otherwise, you keep chasing your tail over and over and over again, trying those filters and getting different effects.
Class Description
Adobe® Photoshop® CC® is a valuable tool for photographers, but it can also be intimidating. In this all-inclusive 20 lesson course, you'll go from opening the program for the first time to creating images that really stand out. Join Blake Rudis, Photoshop® expert and founder of f64 Academy, as he shows you how to maximize your use of Photoshop®. Topics covered will include:
Week 1
• Class Introduction & Bridge, Adobe Camera Raw, Setup Interface, Cropping and Layers
Week 2
• Layer Tools, Masks, Selections, Clean-Up Tools and Shapes & Text
Week 3
• Smart Objects , Transforming, Actions, Filters and Editing Video
Week 4
• Custom Creative Effects, Natural Retouching, Portrait Workflow, Landscape Workflow, and Composite Workflow

Don't let the many aspects of Photoshop® prevent you from maximizing your use of this amazing app. Blake will help you develop the confidence to use your imagination and create the images that you will be proud to share with your clients.

Software Used: Adobe® Photoshop® CC® 2018